LDS church company to bid on Easterday properties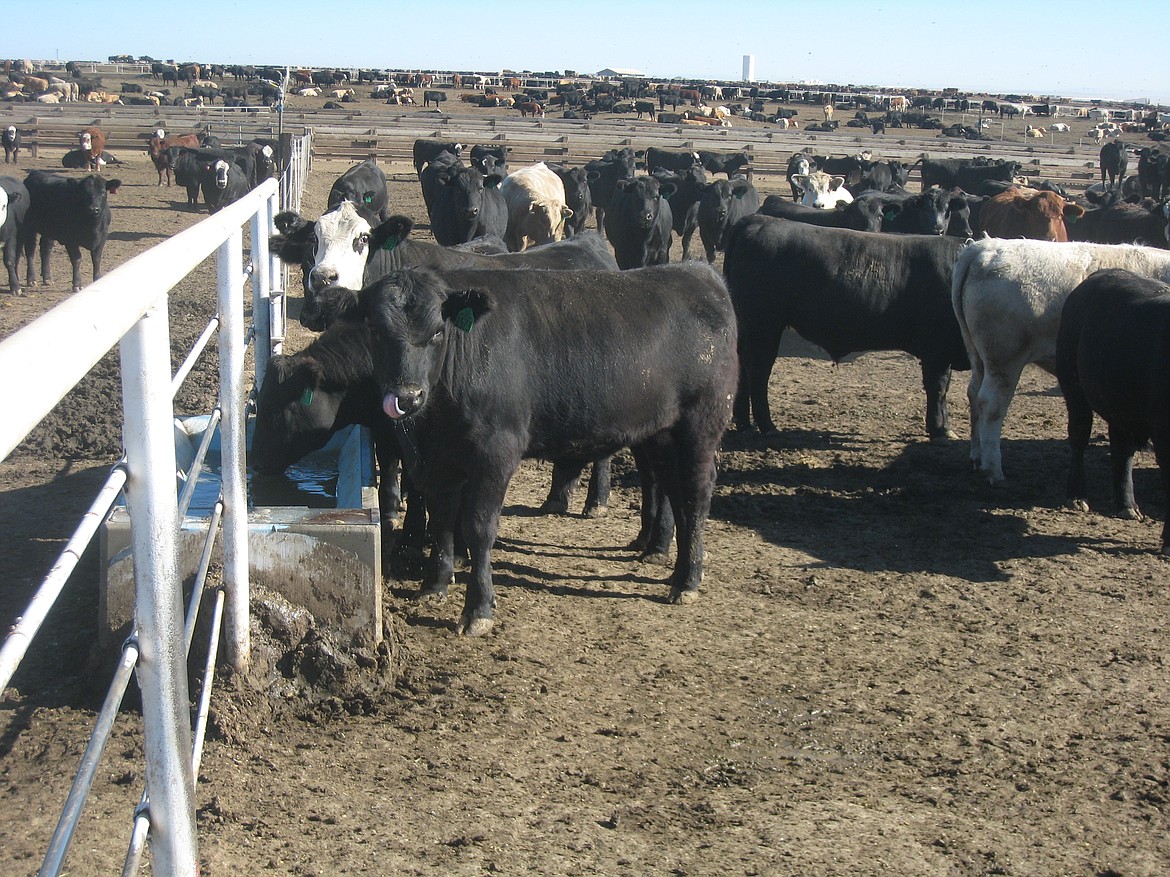 Cattle feed at a trough at an Easterday Ranches feedlot near Pasco.
AP file photo/Shannon Dininny
by
CHARLES H. FEATHERSTONE
Staff Writer
|
May 21, 2021 1:00 AM
SPOKANE — A Salt Lake City-based real estate company associated with The Church of Jesus Christ of Latter-day Saints is preparing to bid nearly $200 million for all of the property owned by bankrupt Easterday Farms and Easterday Ranches.
During a court hearing Wednesday, attorney Richard Pachulski, who is representing both companies in federal bankruptcy court, said Farmland Reserve Inc. is prepared to make a $196 million "stalking horse" bid, or reserve bid intended to maximize the value of assets or avoid low bids, for the two companies' property when they go up for auction on June 14.
"They are bidding on all of the property," Pachulski said.
However, as a "stalking horse" bid, the offer — $188 million for the property, $5 million on completion of the deal, an estimated $3 million in transfer taxes normally paid for by the seller, and $500,000 in legal fees — is a minimum bid. The real and personal property of the company can still be sold off piecemeal during the June 14 auction to higher bidders, Pachulski said.
Easterday Ranches and Easterday Farms both filed for bankruptcy in early February following revelations that Cody Easterday, the son of company founder Gale Easterday, had lost over $200 million between 2011 and 2020 — more than $50 million in 2018 alone — speculating on cattle and corn futures.
Easterday, who is awaiting sentencing on Aug. 4 after pleading guilty in federal court in late March to two counts of fraud, billed Tyson Fresh Meats, the beef processing arm of meat processing giant Tyson Foods, for 266,000 head of cattle that did not exist in an attempt to make up for his trading losses.
The two companies reported total outstanding debts of $420 million, including a $44 million line-of-credit extended by Washington Trust Bank on Sept. 3, 2020, and $234 million to Tyson Fresh Meats.
Pachulski said the Farmland Reserve offer is not contingent on support from the Easterday companies' many creditors, but he hoped they would support the bid.
"The core issue is to get the assets sold, put together a plan so we can move through and try to get a settlement between the Easterdays and the committees and the various creditors involved in the case," Pachulski said.
If all goes well, Pachulski said most of the sales could be closed by August and most creditors paid before the end of the year.
Timothy Conway, an attorney representing Karen Easterday, widow of company founder Gale Easterday, said his client is very supportive of the deal and believes everyone in this case has a common goal of maximizing the sale price of the companies' assets and completing the process as efficiently as possible.
Attorneys representing the separate Easterday Ranches and Easterday Farms creditors committees said they needed more information before they could agree to anything, but were cautiously optimistic.
"We're not there yet, but we're hopeful," said Julian Gurule, an attorney representing the Easterday Farms creditors.
A hearing to approve the "stalking horse" bid is scheduled for Thursday, May 27. Lawyers representing all of the parties in the Easterday bankruptcy case have been meeting monthly with Federal Bankruptcy Judge Whitman Holt to discuss the case since it was filed in early February.
Charles H. Featherstone can be reached at cfeatherstone@columbiabasinherald.com.
---