Big Bend volleyball splits doubleheader with Blue Mountain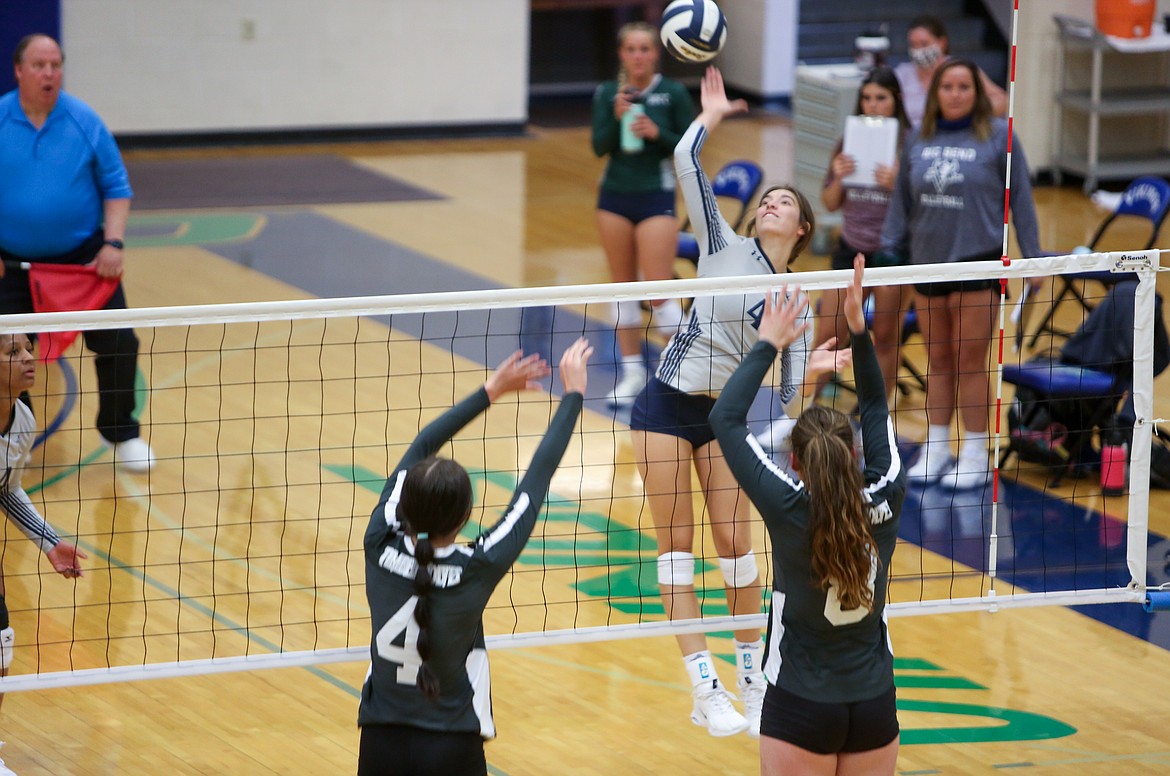 Gabi Rios skies up for a kill for Big Bend Community College on Tuesday evening versus Blue Mountain Community College.
Casey McCarthy/Columbia Basin Herald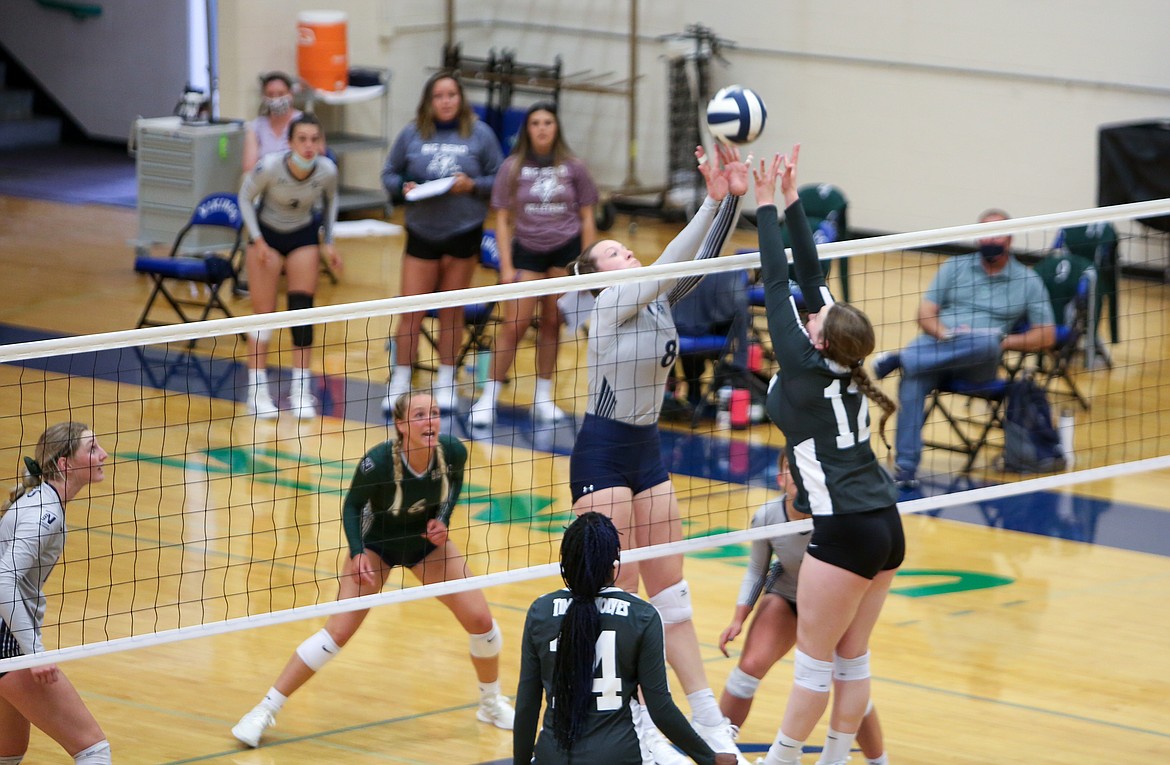 Big Bend's Elli Rogers (8) goes up for the block in the first match Tuesday against Blue Mountain Community College in Moses Lake.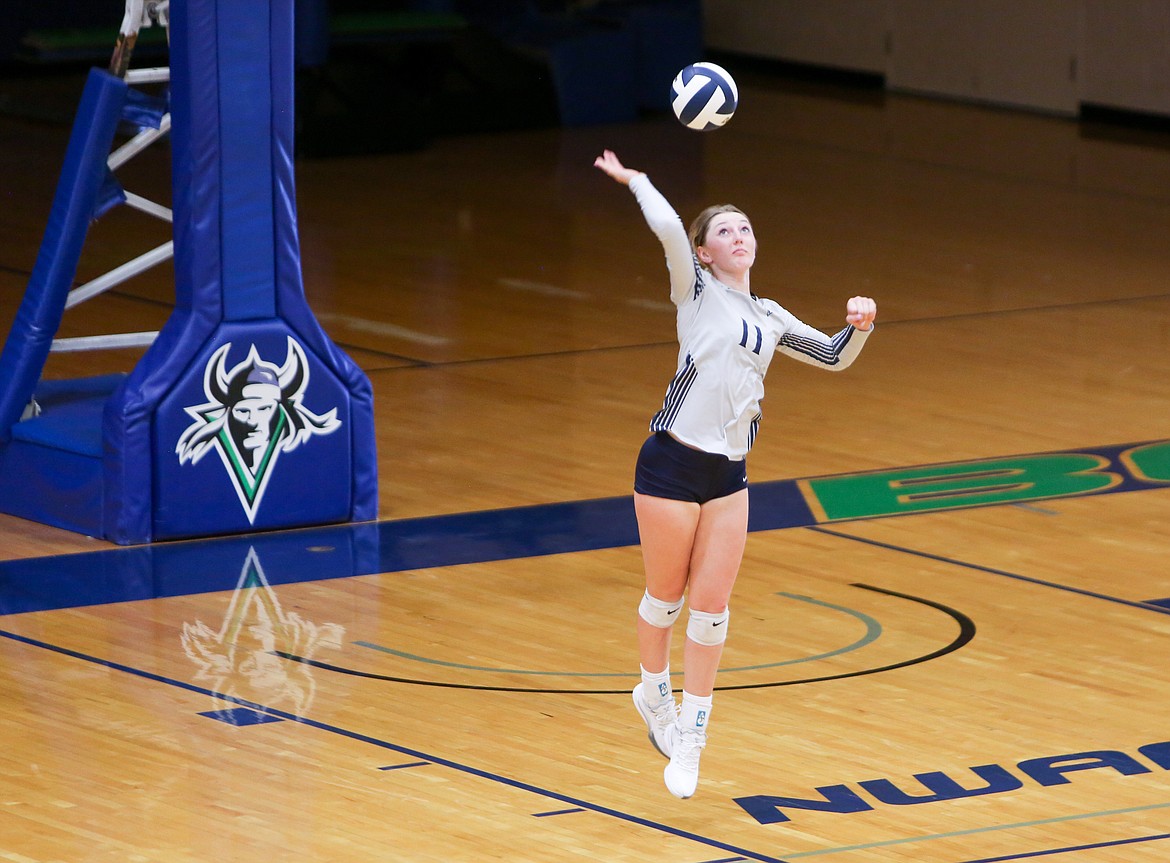 Madee Owens serves the ball for Big Bend in Tuesday evening's matchup with Blue Mountain Community College in Moses Lake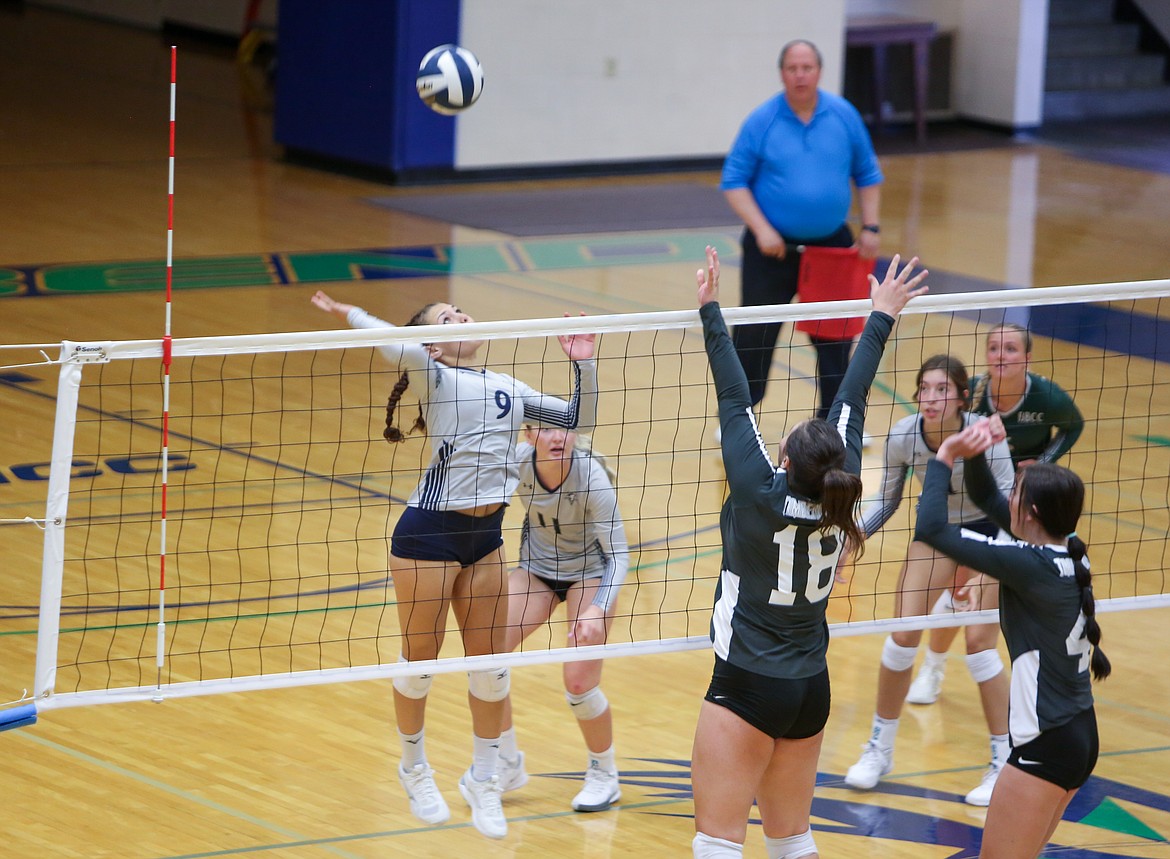 Mikayla Thompson skies up for the kill for Big Bend in the first game of the afternoon on Tuesday against Blue Mountain Community College.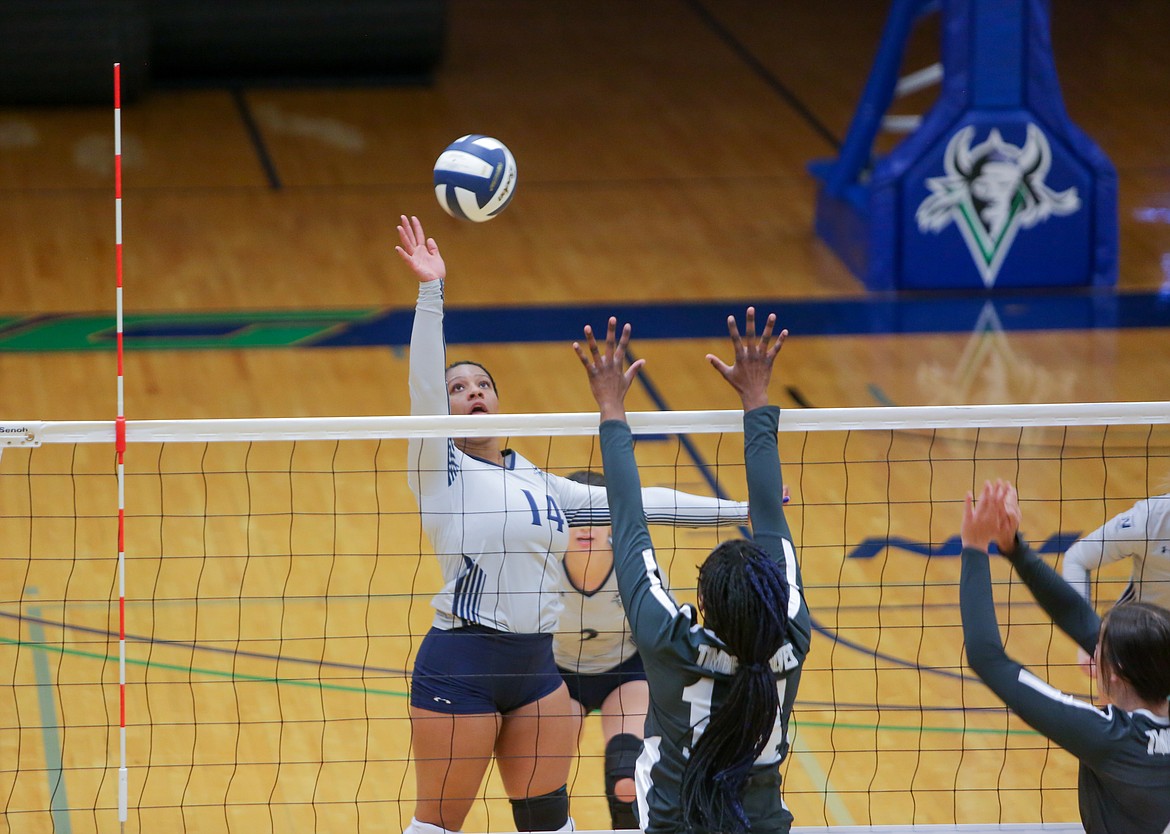 Big Bend's Tashena Ashby tips the ball over the outstretched hands of the Blue Mountain players on Tuesday afternoon at Big Bend Community College.
Previous
Next
by
CASEY MCCARTHY
Staff Writer
|
May 20, 2021 1:00 AM
MOSES LAKE — The Big Bend Community College volleyball team picked up its first win of the season, splitting a doubleheader with Blue Mountain Community College on Tuesday evening.
The Vikings lost the first match 2-1.
In the first set, Big Bend trailed but pulled within two points midway through. From there, Blue Mountain surged and took the set 25-19.
Big Bend took the lead in the middle of the second set, holding off a late surge from the visiting side to even the score and taking the second set 25-23. The Vikings fell behind early in the third and final set before tying up the set at 13-13. Blue Mountain took the next two points to take the set and match 15-13.
Sophomore Paige Davis finished with an efficient seven kills. Gabi Rios added six kills, while Elli Rodgers finished with four.
The Vikings opened the second match with a narrow win in the first set, 25-23. Blue Mountain evened the match at 1-1 with a narrow victory in the second set at 25-22. Big Bend held onto its momentum in the final set, winning 16-14.
Freshman Gabi Rios led the Vikings on offense with 10 kills. Elli Rodgers added an efficient five kills on just nine attempts. Mya Buchert finished with three aces.
With this victory, Big Bend's record moves to 1-11 for the season.
Big Bend head coach Michael De Hoog said Rios was solid all night for the Vikings. He said Paige Davis had a phenomenal offensive night as she adjusts to the midseason move from libero.
De Hoog said Elli Rodgers had a good night too for the Vikings, with very few errors. Overall, he said, Tuesday's win was successes his team has had all season on both sides of the ball coming together.
"We've had nights where we've been strong offensively, but the defense was just off a little bit, and then nights where we were defensively strong, but the offense just wasn't there," De Hoog said. "Last night was kind of a culmination of putting everything together."
The Big Bend head coach said his team has dealt with adversity from COVID-19 and injuries all season. The Vikings had just eight players available on Tuesday night compared to 16 for Blue Mountain. De Hoog said athletes are used to a routine, and this season was surrounded by uncertainty, never being sure they'd be able to play their next match or if a positive test would throw a wrench in the schedule.
"It's just part of being a strong person is learning to adapt, and I think we've adapted pretty well," De Hoog said.
He said he told his team from day one he expects continued improvement "until the final whistle of the season." De Hoog said he doesn't expect drastic changes every day or there not to be hiccups along the way, but would like to see his players work on improving from where they were the day before.
"I don't know that I'm going to do anything different, just have the same expectations, same goals, same level of execution that we had last night that will hopefully carry over," De Hoog said. "We've only got two matches left, so hopefully we can continue to build on that success and still have a high expectation for them."
The Vikings will host Spokane next Tuesday for the final doubleheader of the spring.
Recent Headlines
---