Walleye tough, bass fishing good on Potholes Reservoir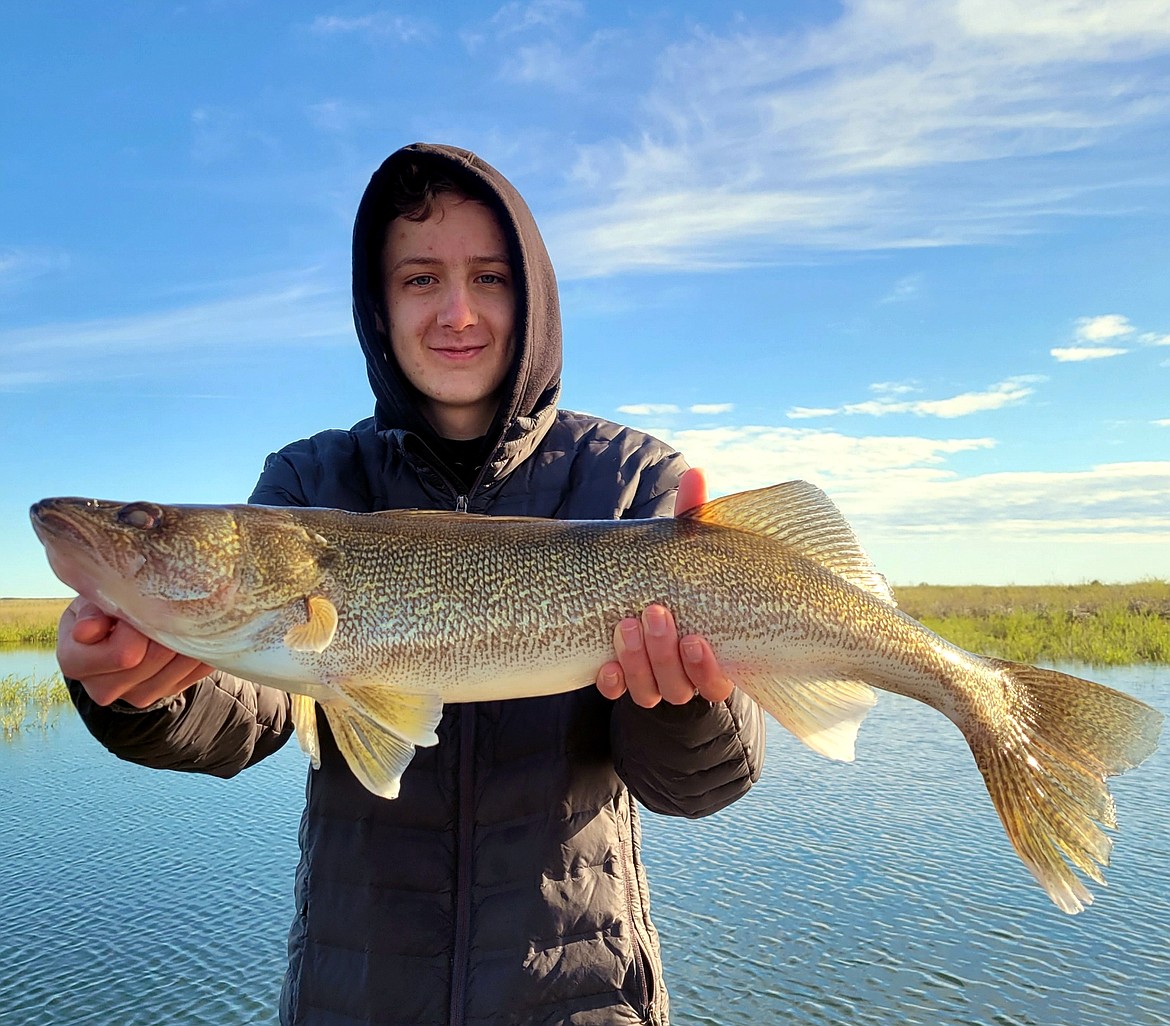 Alexander from the west side caught this beautiful Potholes Reservoir walleye while on a guided trip with Levi Rodello of Ross Outdoor Adventures.
MarDon Resort/courtesy photo
by
Pete Fisher, MarDon Resort
|
May 18, 2021 1:00 AM
The current water level on Potholes Reservoir is 1,041.07 feet, rising 0.05 feet from last week and now 5.43 feet below full pool. The water temperature on the reservoir is in the lower 60s. The water back in the sand dunes is warming to the mid-to upper 60s. The reservoir is starting to fill slowly as water is released from Moses Lake.
Trout: The trout fishing this week has been fair on the reservoir. Trout averaging 2 to 5 pounds trout are being caught on the face of the sand dunes and along Medicare Beach. Troll No. 7 Flicker Shads, Wee Gee Spoons and Wicked Lures Trout Killers in front of Potholes State Park and at the mouth of Lind Coulee to Perch Point. From shore fish Medicare Beach with Berkley PowerBait or marshmallows and worms.
Warden, Lower Hampton, Windmill and Corral lakes are the top-producing Seep Lakes this week. Fish on the bottom with PowerBait, marshmallows and eggs or worms. Use a 1/8- to 1/4-ounce egg sinker with an 18- to 24-inch leader or cast Rooster Tails from shore. You can also do well using a bobber and worms or eggs. From a boat troll Dick Nite Spoons, bobber fish or still fish on the bottom. Corral and Blythe lakes have continued to produce keeper-sized trout and a few holdovers. From shore use Rainbow PowerBait and a 1/8- to 1/4-ounce egg sinker with a leader long enough to keep it above the weeds. From a boat troll Dick Nites or small spoons behind Pop Gear.
Walleye: The walleye fishing has been tough this week compared to last week. The fish are in the normal spots – just not biting very good. The walleye are moving into the mouth of Crab Creek and into the sand dunes. Fish the deeper channels in and on the face of the dunes in 10-18 feet of water trolling a Slow Death rig and worm behind a bottom bouncer. Bigger fish are being caught farther back in the dunes in 4-10 feet of water by anglers fishing swimbaits, swim jigs, chatter baits, and flukes.
Smallmouth bass: Try for smallmouth along the face of the dam and in the rocky area between Goose Island and the dam. Use a drop shot rig with a DS Minnow or jig a Blade Bait in 25-35 feet of water. Fish the sand dunes with spinnerbaits, crankbaits and Ned rigs for the shallower smallies.
Largemouth bass: The largemouth fishing continues to be good back in the sand dunes. The spawn is on with both smallmouth and largemouth bedding up. Good numbers of 1- to 3-pound fish are being reported. Top baits have been jigs with a craw or swimming trailer in black and blue, hard jerkbaits, swim jigs and chatterbaits, and topwater baits such as frogs and poppers.
Panfish: Look for crappie, perch, and bluegills back in the sand dunes in the willows in 6-10 feet of water. Fish a DS Fry or Bobby Garland Baby Shad under a slip bobber.
Recent Headlines
---