Runnin' Vikes come up just short against Spokane, 92-88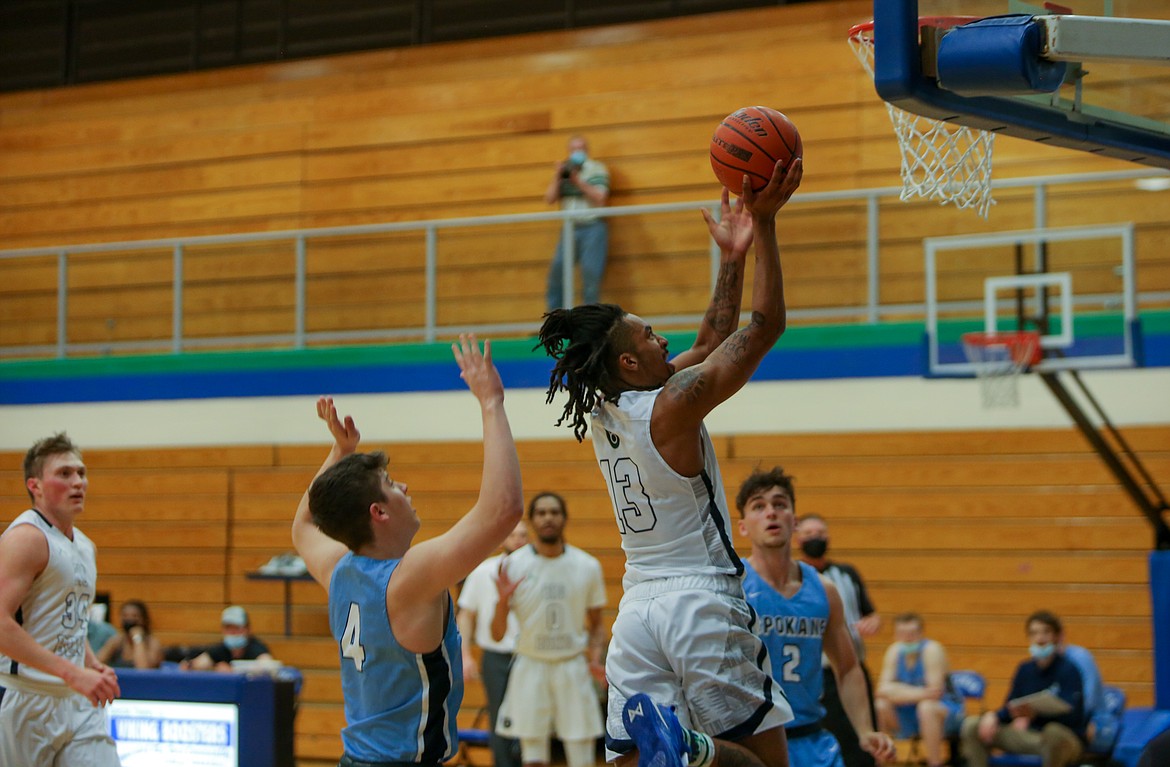 Big Bend's Jahvonta Jones soars to the rim for the layup in the first half against Spokane Community College on Saturday afternoon.
Casey McCarthy/Columbia Basin Herald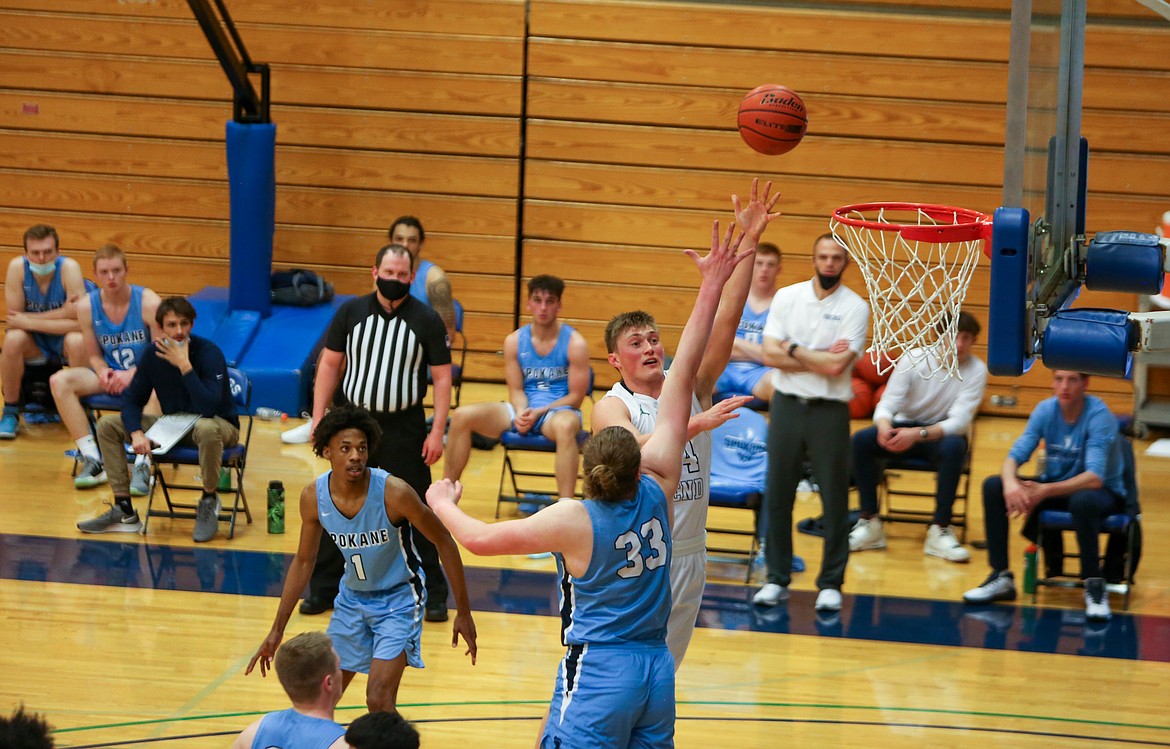 Big Bend's Landon Harrington rises up for the shot in the first half against Spokane Community College on Saturday afternoon at Big Bend Community College.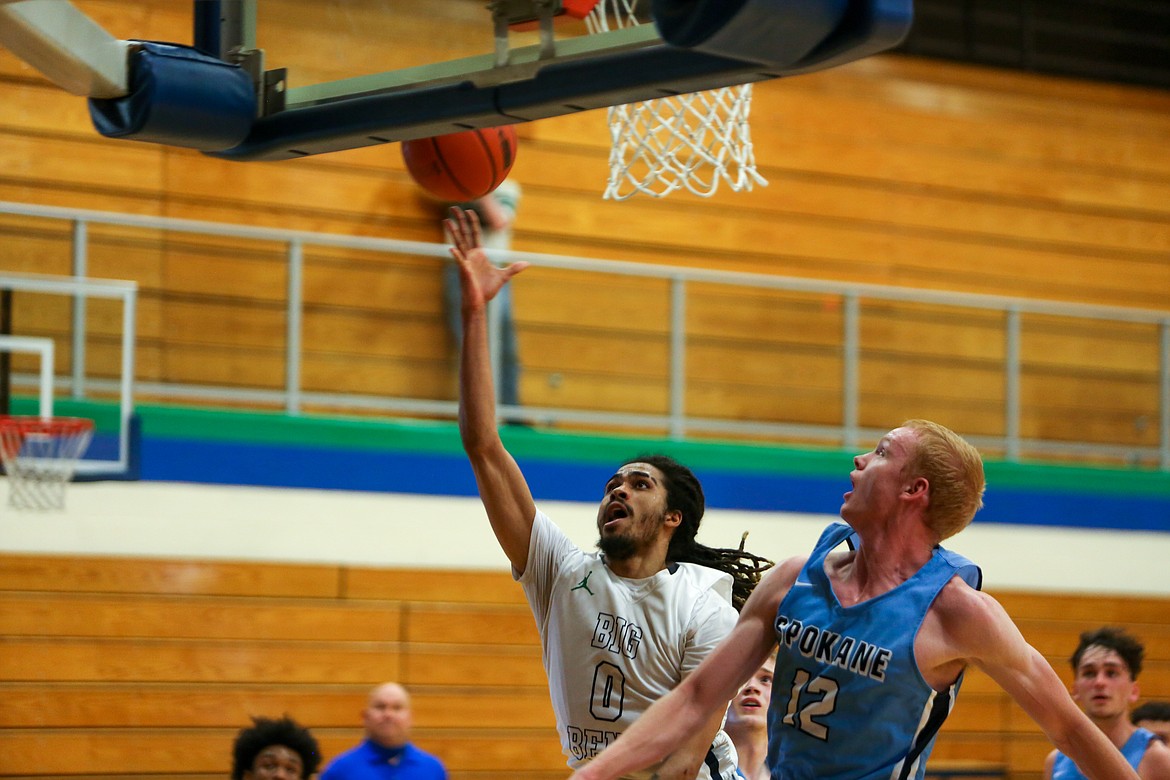 Keenan Miller goes up to score near the rim for the Runnin' Vikes late in the second half on Saturday afternoon at Big Bend Community College.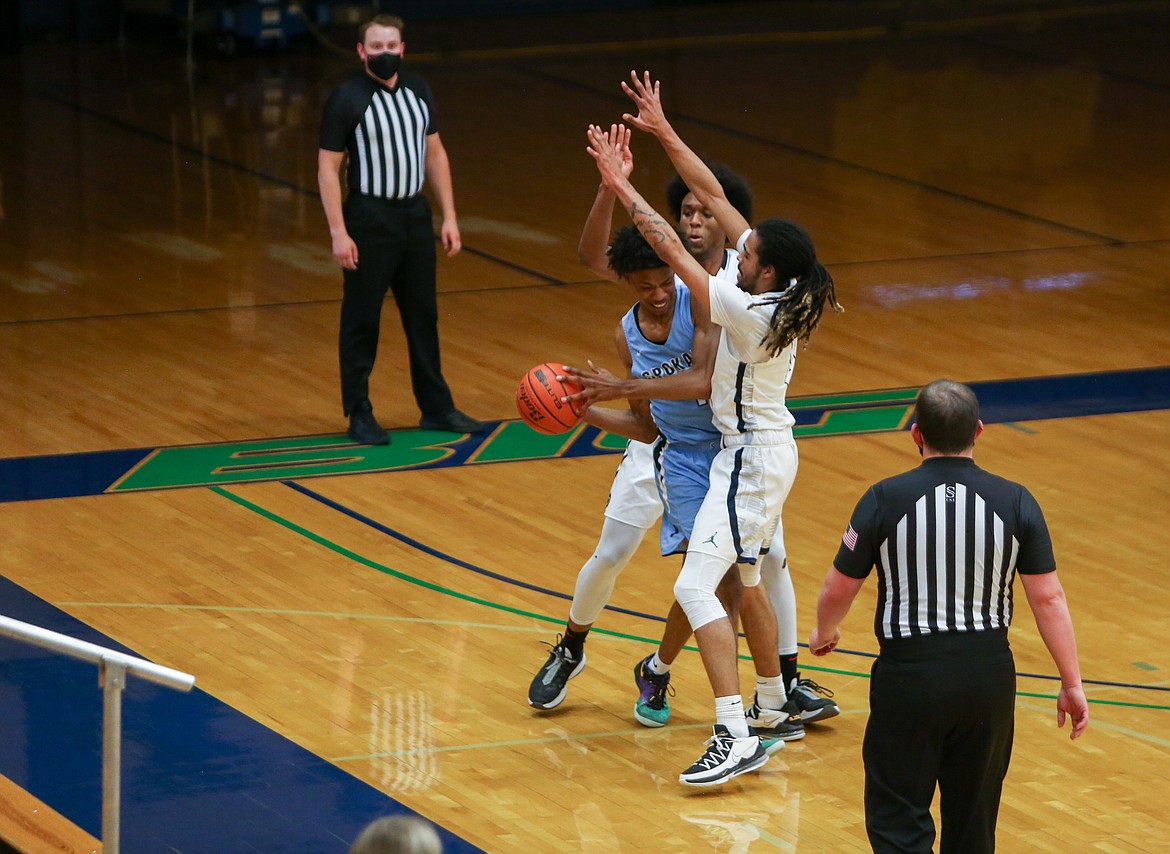 Left to right, DJ Frye and Keenan Miller combine to trap the Spokane player near the sideline in the first half on Saturday afternoon.
Previous
Next
by
CASEY MCCARTHY
Staff Writer
|
May 17, 2021 1:00 AM
MOSES LAKE — The Big Bend Community College men's basketball squad came up just short in a late comeback attempt against Spokane Community College Saturday afternoon, falling 92-88.
Both sides traded leads back and forth in the first half, with the Runnin' Vikes holding a narrow 51-46 advantage at the break. Jahvonta Jones led the team with 20 points in the first, while Landon Harrington grabbed 8 of his 12 points during that time.
The visitors fought back in the second half, taking the lead near the midway point in the half. Spokane led by as much as 11 points, holding a double-digit lead with less than two minutes to go.
The Runnin' Vikes rallied some in the final two minutes, picking up some much-needed defensive stops and buckets to pull within two. Big Bend were unable to get the tying basket with less than a minute to play, as Spokane held on with some late free throws.
Big Bend's Keenan Miller grabbed 15 of his 21 points in the second half. Jones finished with 31 before fouling out late in the second half. DJ Frye finished with seven points, while Isaac Perez and Zack Welch both added six.
Jones, a sophomore, said he's really been focused on giving it his all on the court.
"I know I've put the work in so when it's time to play, I'm really confident in my hard work," Jones said. "I really love basketball; it's important to me and it's something I work on every day."
Jones said as a freshman he often tried to do too much on his own. This season, he said, he's tried to put an emphasis on getting his teammates involved.
Big Bend head coach Mingo Scott said defensively his players weren't able to execute their game play properly, allowing Spokane to utilize its size. Scott said Spokane was able to continuously feed the post without enough pressure from the Big Bend guards on the perimeter.
"Our guys fought back and they got back in the game. We just didn't really play well today," Scott said. "But we've been playing well the last week and a half, it was just kind of a down game."
He added he's confident the team will be fine moving forward and looks to bounce back with a win on Tuesday against Blue Mountain.
Casey McCarthy can be reached via email at cmccarthy@columbiabasinherald.com.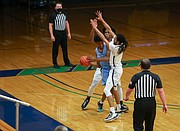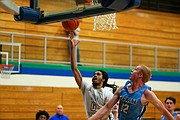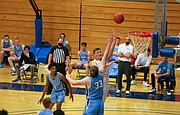 Recent Headlines
---