A 'general practitioner for the eyes': Moses Lake optometrist combines clinics in new facility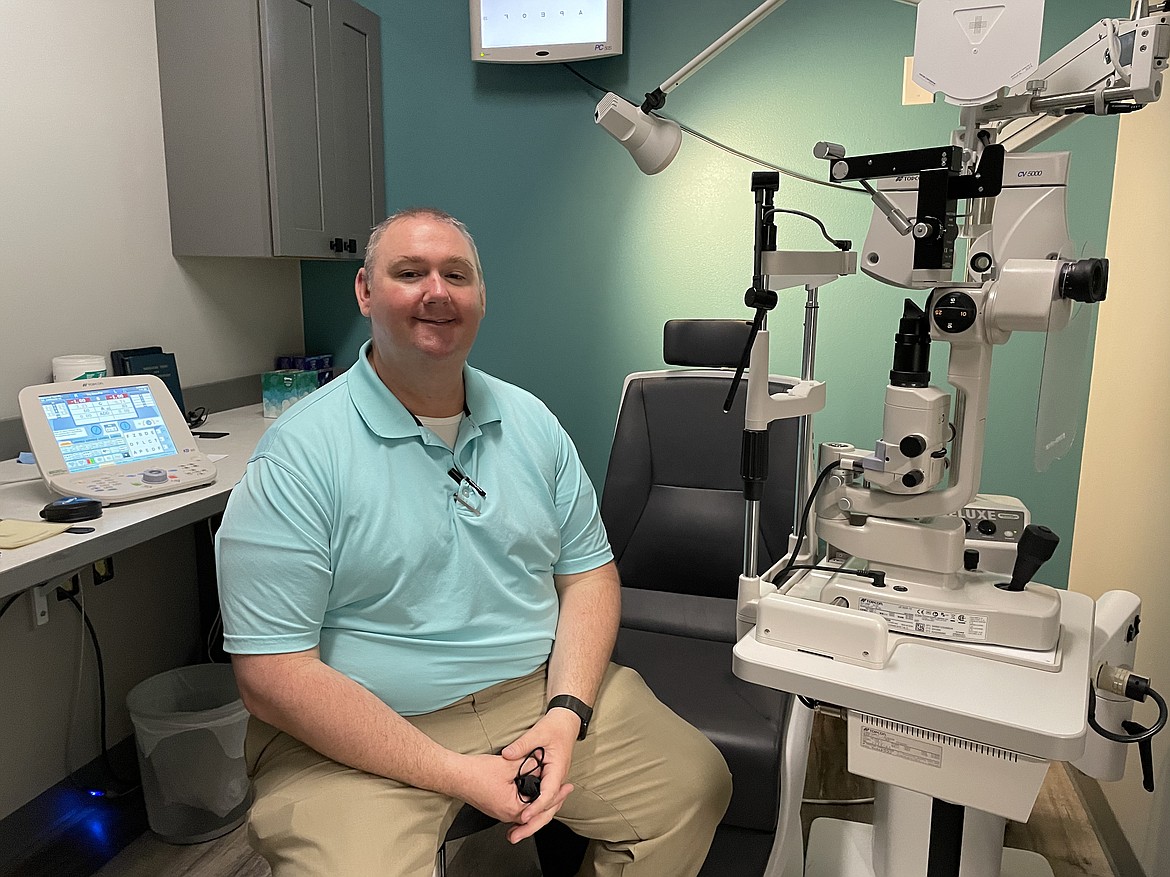 Richard Harrison, optometrist and owner of Valley Eye and Vision Clinic in Moses Lake, in one of his exam rooms at their new location at 845 E. Third Ave., Ste. 11.
Charles H. Featherstone/Columbia Basin Herald
by
CHARLES H. FEATHERSTONE
Staff Writer
|
May 17, 2021 1:00 AM
MOSES LAKE — It starts with something like "read me the letters on the third line from the bottom."
"We offer full optometric care," said Richard Harrison, an optometrist and the owner of Valley Eye Care and Vision Clinic in Moses Lake. "That's our bread and butter, that's what we do all day every day."
"We're the general practitioner of the eyes," he added.
Longtime local business Valley Eye and Vision Clinic recently consolidated its two offices into one at 845 E. Third Ave., Ste. 11, right next to the Fairchild Cinemas. It's a move that has been in the works for more than a year, since Harrison bought the clinic in 2020 from former owner Steven Creviston, who still works there as he slowly eases his way into retirement.
"It never made sense to have two offices in a town this size," Harrison said. "When I took it on, that was always my plan to consolidate."
Before the consolidation, wait times for appointments were more than a month, Harrison said.
"It wasn't that patients didn't want to come in sooner, we just didn't have enough space or people," he said. "We brought in a second exam lane, brought in some new technicians so we could give people the care they need, but also make them not have to wait so long."
Being a "general practitioner of the eyes" means dealing with the everyday stuff, like eye exams, eyeglass and contact lens prescriptions, and basic eye health checks to see if anything worse is going on, Harrison said.
So, as they have you read that line and find out which lens setting for your left or right eye makes things clear, Harrison said he is also looking for more important things — signs of disease, things a general practitioner would, at some point, refer to a specialist.
"We see eye disease along the way, treat a myriad of eye diseases along the way — dry eye, glaucoma, macular degeneration, cataracts," he said. "We monitor those things until they need surgical intervention. We work with different surgeons in the area in order to get that more specialized care."
Because, as Harrison said, with local overall health declining, diseases related to being overweight — especially diabetes — can affect the eyes, as well.
"Just in general, as a whole, our health is going down. There is a lot of diabetes in the area, and we see a lot of diabetic retinopathy, so we do diabetic eye checks that diabetics need every year," he said.
Uncontrolled high blood sugar can damage the small blood vessels in the fingers, toes and eyes, leading to tingling pain and numbness and difficulty seeing, leading in some cases, to a loss of sight. It's rare, but with increasing numbers of overweight people, diabetes and its complications are on the rise, Harrison said.
Harrison said he also sees a lot of glaucoma, as well, a slow loss of vision caused by high pressure in the eye that can sometimes be caused by injury and trauma. Diabetes also increases the likelihood of having glaucoma, which if untreated can also lead to blindness.
But treatment for these things all start with regular visits to the eye doctor, which are covered by most insurance plans.
"Moses Lake needs us here, and we're happy to oblige and to be here," Harrison said. "There are plenty of eye care needs."
---