Shooting for the stars: Moses Lake filmmaker begins work on movie with sights set on Sundance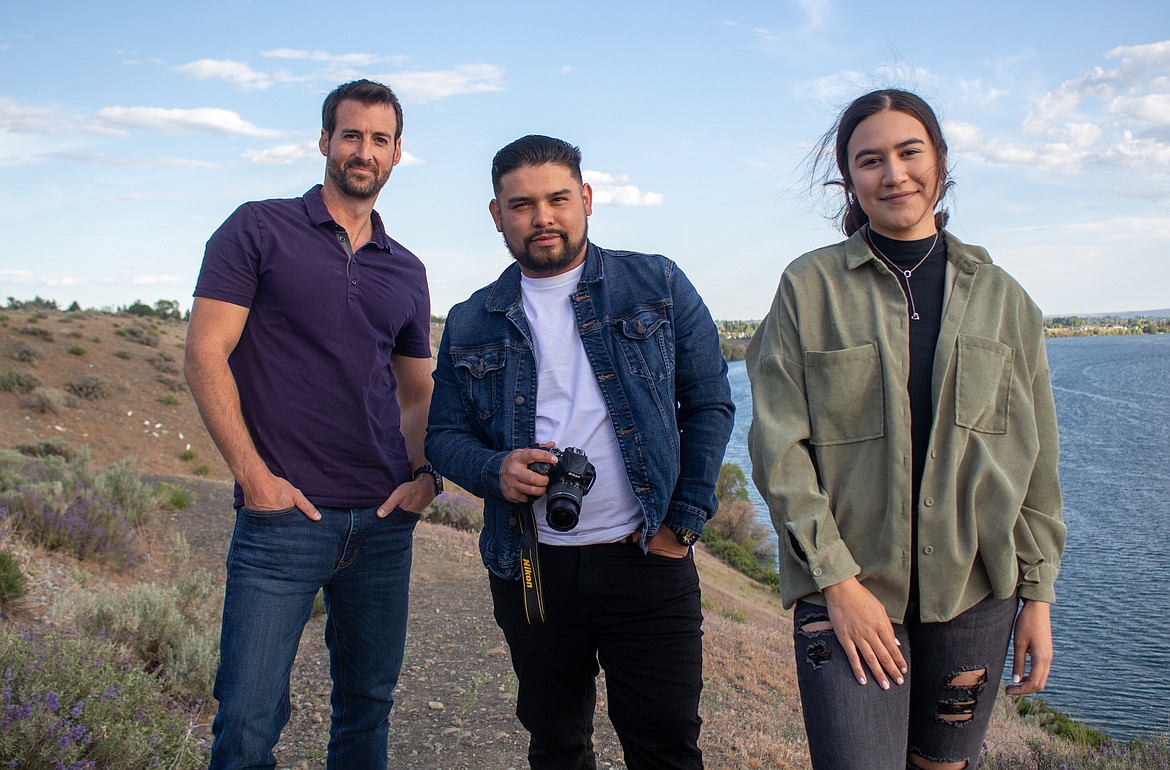 Left to right, Jared Coon, Dino Gonzales and Jewel Mauceri pose for a photo together outside of Moses Lake on Monday afternoon as the three get ready to begin filming a new movie in Moses Lake this summer.
Casey McCarthy/Columbia Basin Herald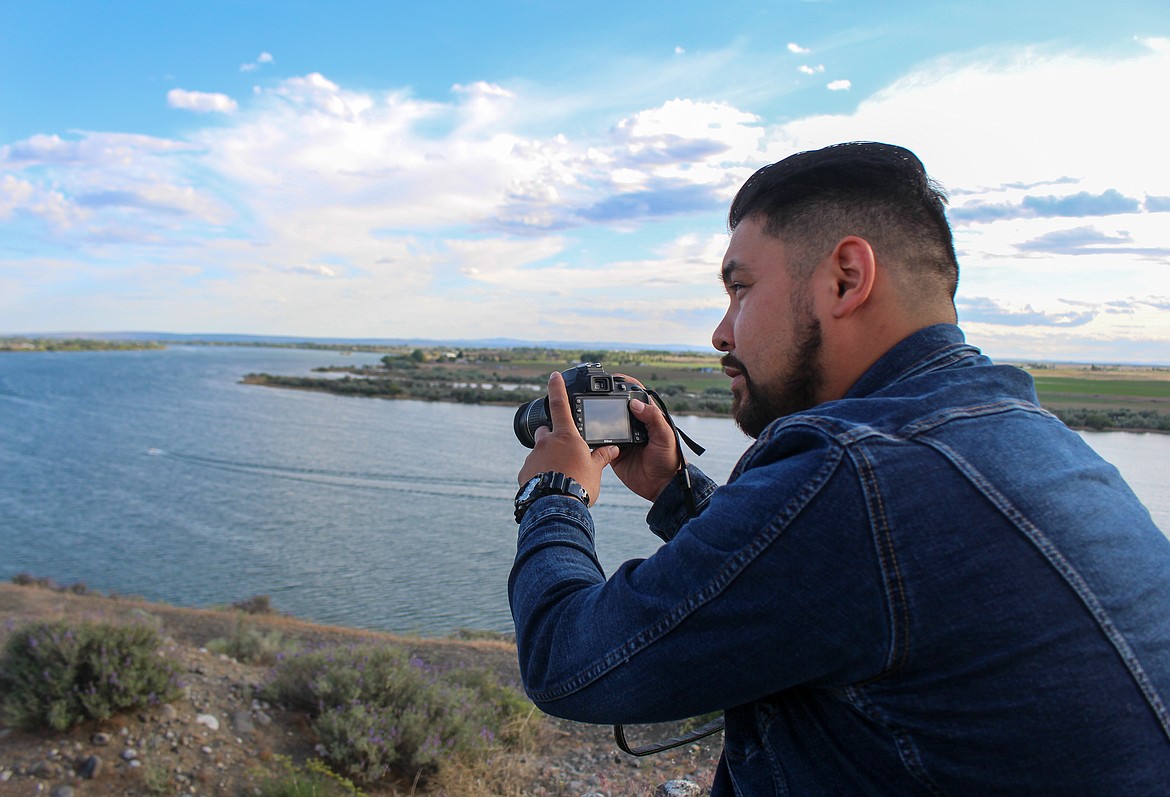 Dino Gonzales holds up a camera looking over his hometown of Moses Lake on Monday afternoon, the sight and setting for his upcoming movie he's set to begin filming this summer.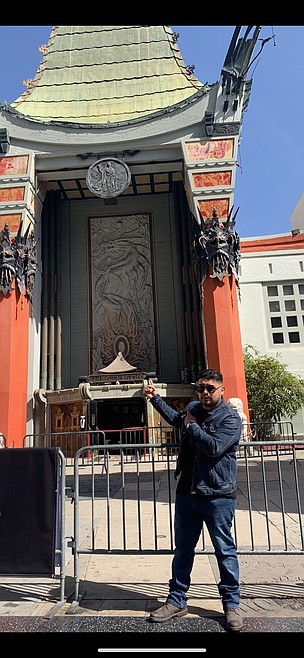 Dino Gonzales points up to the famous TCL Chinese Theater in Los Angeles, California, after visiting recently with his wife on a mini vacation.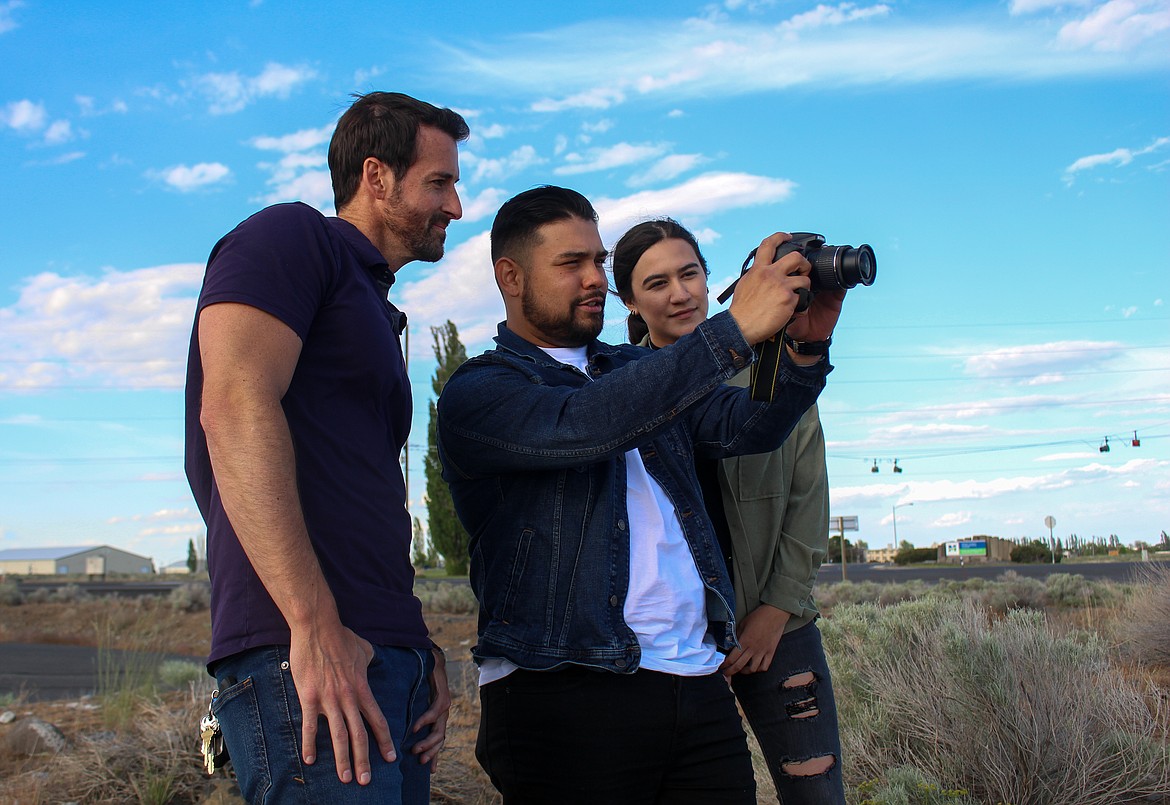 Left to right, Jared Coon, Dino Gonzales and Jewel Mauceri look into the viewfinder on a camera as the trio get set to embark on filming Gonzales' new film this summer in and around Moses Lake.
Previous
Next
by
CASEY MCCARTHY
Staff Writer
|
May 14, 2021 1:00 AM
MOSES LAKE — It's been lights, camera, action for 27-year-old Dino Gonzales Jr., of Moses Lake, as he works on a longtime goal, and takes a shot at it with his first film.
The aspiring actor, writer and director has the groundwork, as his movie production begins filming this summer with hopes of entering his first film in the Sundance Film Festival this September. While chasing aspirations in film like his favorite writer and director, Kevin Smith, has always been a dream, it wasn't until this past year Gonzales finally got into the media.
"I've always been interested in getting into the business, but being from a small town of Moses Lake it's hard to find my own way and get my foot in the door," Gonzales said. "Now, I've reached a point where I'm not gonna allow that small town limitation, it's something I'm going to make happen regardless."
Growing up, he said, he was a kid who felt restricted in the opportunities and activities he could pursue. Theater and drama were pursuits he told himself his parents wouldn't have accepted, outcasting himself instead of being honest with his parents about his artistic dreams.
As he's gotten older, he said it's become easier to express those aspirations. Ultimately, he said the journey has paid off, as it inspired themes he is tackling with his film this summer.
Gonzales finally took the dive into performing and producing a film with the help of his friend Jewel Mauceri's short film produced in town in October, "The Witching Hour." He played a small role in the silent film and added the role "truly ignited" his desire to pursue a film career.
From there, he went online to find a way to pursue his career before signing with Seattle Talent agency. Gonzales said he's been taking acting classes with the agency for about three months.
Mauceri will play the lead female role in Gonzales' upcoming film. She said she's wanted to do a short film for a long time, but life and other things kept getting in the way. After Gonzales asked about helping with her short film project, in any way he could along the way, she said it was a no-brainer to join his project.
"At the time, I didn't know that my project was going to be such an inspiration for him, but I'm glad that it was," Mauceri said. "I'm honored to be a part of his upcoming project."
She said knowing how each other works, after collaborating in October, has made it a lot smoother to work again this time. While she's always wanted to work behind the camera, Mauceri said acting is her true passion and is excited to have the chance to scratch the itch on Gonzales' upcoming film.
Gonzales said he started toying with a novel plot he'd been working on and transitioned it into a screenplay. The film, loosely titled "Alone With Me," centers around a protagonist, Gabriel, who deals with the recent passing of his mother to COVID-19, as a past love interest reemerges in his life.
Gonzales said the story is a look at mental health and gaining a better understanding on dealing with loss and friendship, as the protagonist adjusts to the strangeness of the COVID world. He said he planned to send out final scripts to actors on Sunday and begin rehearsals and breakdowns before beginning filming in about a month.
His ultimate dream is finishing the production in time for the Sept. 27 deadline to submit for Sundance.
"That gives me from now just over four months to get this project completely up and off the ground and I think it's something we can do," Gonzales said.
Gonzales said he was able to secure some aid from a producer who believed in his vision and helped finance equipment, shooting locations and other costs. He said he will be writing, directing and acting in this film, with plans as of now to play the lead role of Gabriel.
"When it comes to Gabriel, there's a certain level of dramatic flair and pain that I think is going to need to be hit, so there's a reason why I'm very strongly looking at taking over that role," Gonzales said.
Filming is set to take place predominantly around Moses Lake, including some shots at Chico's Pizza Parlor, and two other locations in the Leavenworth area and Coeur d'Alene, Idaho.
Jared Coon is an actor from Coeur d'Alene, also represented by Seattle Talent, who will play the role of Gabriel's psychiatrist in the upcoming film. Coon is originally from Los Angeles, California, and said he only recently started acting and Gonzales's film will be his first project.
"I've just been doing some auditions here and there and actually ended up meeting Dino in one of our acting classes," Coon said. "That's kind of where the genesis of this project came about."
Coon said everyone is excited about the project so far. While the whole process is still fairly new to him, he said he's excited to take some positive direction from Gonzales as things continue "full speed ahead."
Gonzales said the last few months have had a lot of excitement and a lot of nervousness as he takes on this new aspect of his life. He said it's one thing to think about these pursuits for so long and another to finally take that leap.
To get his mind in the right place, he said he and his wife took a "mini vacation" for a few days to Los Angeles, California, staying right across from the world-famous TCL Chinese Theatre.
"I took a tour of the theater, took a seat in the theater itself and set a date for myself to return to that theater in about five years time," Gonzales said. "I'd like to return to that theater to watch a film that I'm also a part of."
Gonzales continues to work full time at Bill's Body Shop in Moses Lake during the week while he pursues his film dreams on the side. He said he's had plenty of spare time to meet with actors and write in his downtime.
Gonzales said he's also filming behind-the-scenes production content on his TikTok account for anyone interested in the movie-making process. While his ultimate dream is to premiere his film at Sundance, he said he'd love to rent a screen in Moses Lake to share his film with his hometown before it premieres on the festival stage.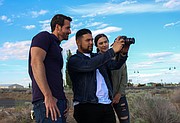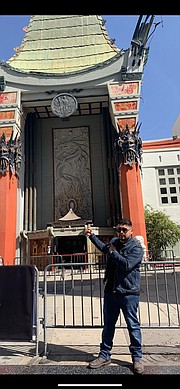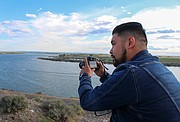 ---