Temple rises: To believers, Moses Lake facility will be a very special building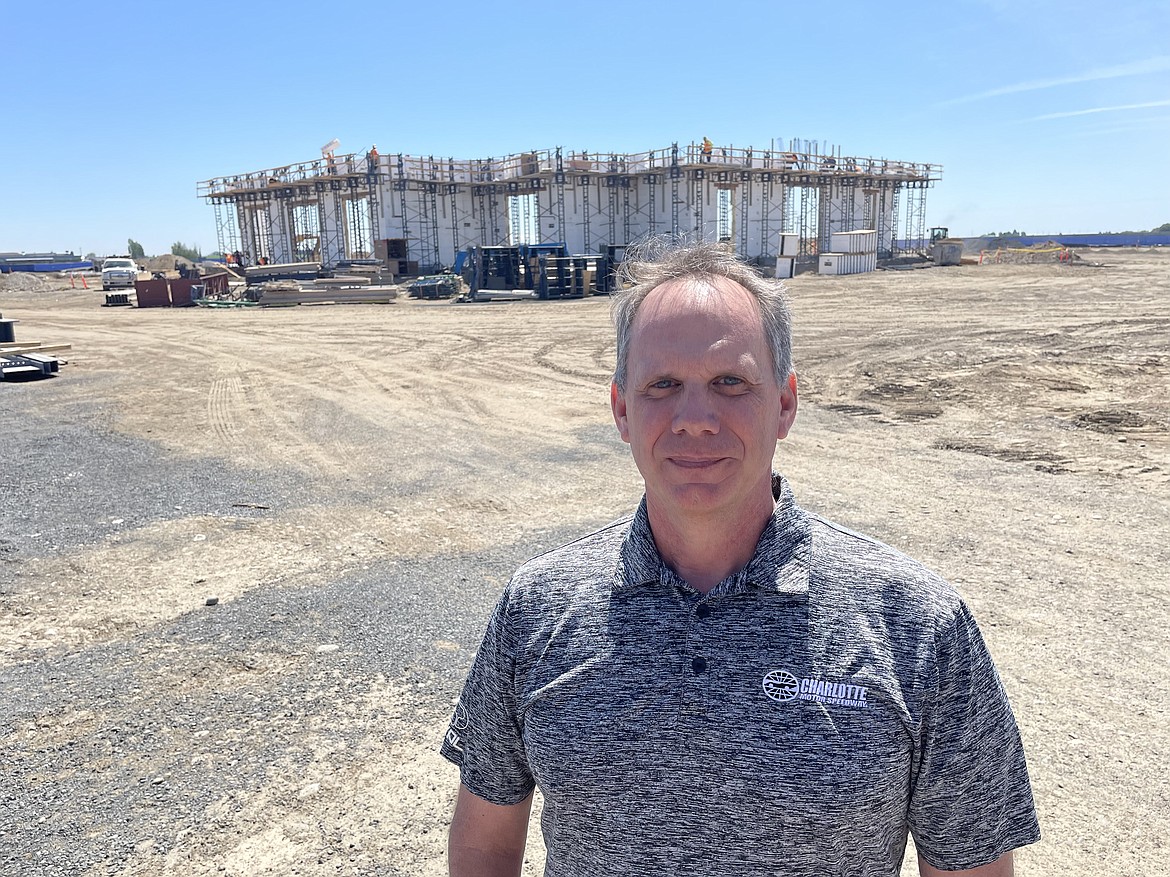 Dan Briskin oversees construction of the temple of The Church of Jesus Christ of Latter-day Saints and a separate meeting house along Yonezawa Boulevard in Moses Lake. Briskin said the temple (its walls seen above) is roughly 15% complete and foundation work on the meeting house is about 80% done.
Charles H. Featherstone/Columbia Basin Herald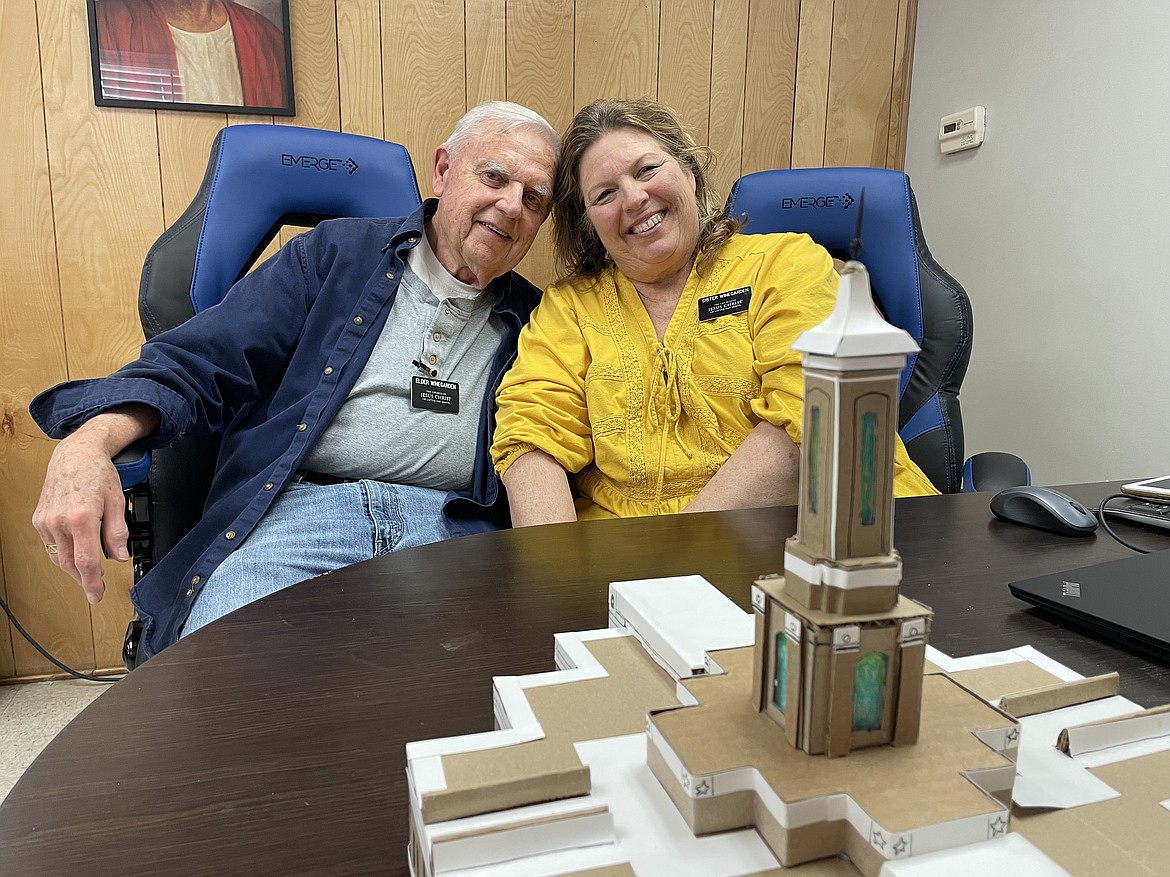 Charles and Beverly Winegarden, pictured with a paper model of the Moses Lake temple currently under construction, are both missionaries with The Church of Jesus Christ of Latter-day Saints at the church's temple construction site.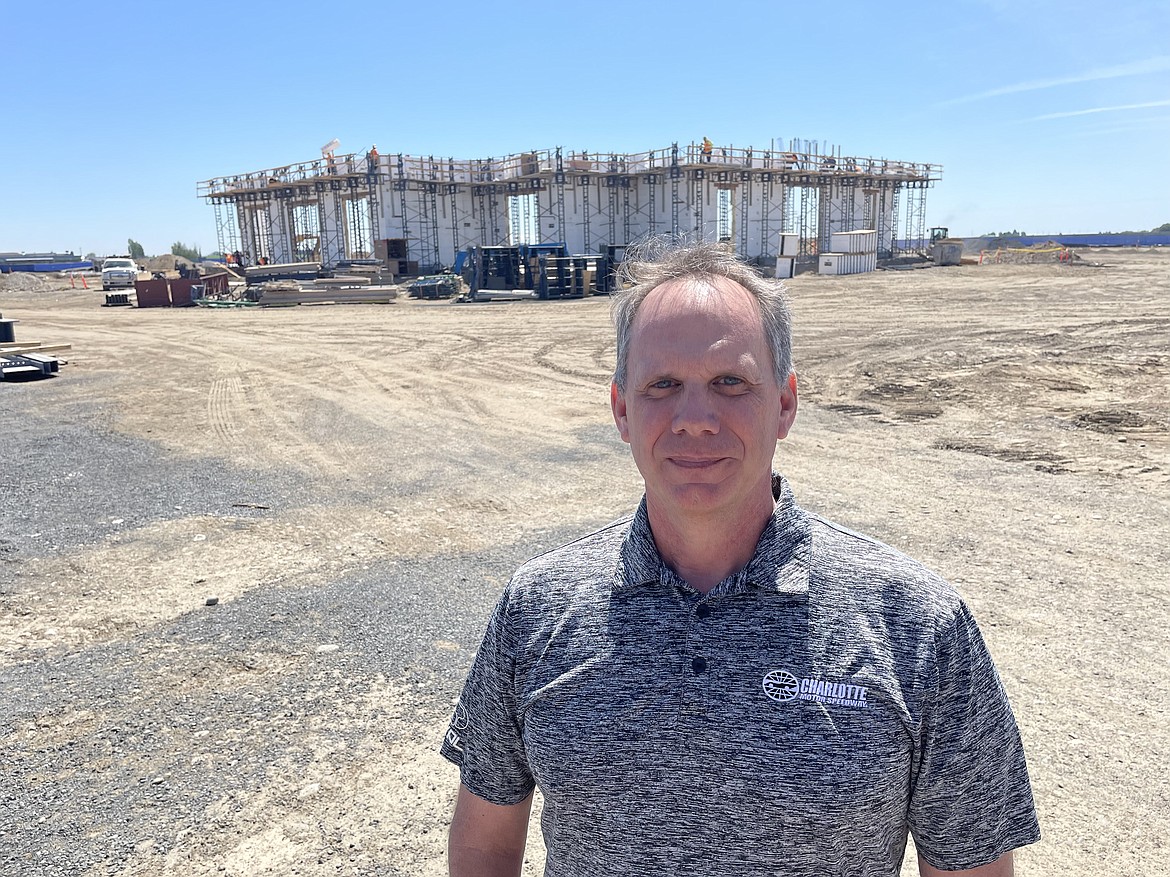 Workers unload rebar to secure Fox Blocks — insulated concrete forms — together which they will then fill with concrete.
Previous
Next
MOSES LAKE — The construction contract itself was a little odd in the things it said construction workers couldn't do while on site.
No drinking. No drugs. No music. No smoking. And no swearing.
"It's a different kind of site," said Dan Briskin, a member of The Church of Jesus Christ of Latter-day Saints and the site project manager overseeing construction of the church's Moses Lake temple. "And construction workers can be a little rough. That's the nature of the business."
A short religious service was part of the groundbreaking in late 2020. Construction started earlier this year at the site, between Yonezawa Boulevard and Interstate 90, for the temple and a separate stake center.
When completed in 2023, it will be the church's fourth temple in Washington state, joining temples in Bellevue, Spokane and Richland.
Briskin said the temple site is a special place, and because of the work rules, it's possible to feel a different atmosphere on the worksite.
He did, however, work to bend the rules on smoking. So even as the contract stipulates no smoking, Briskin said he got a place set aside where construction workers can smoke. A church member himself from Hawaii who has worked in construction his entire life, Briskin said he didn't want workers to feel too self-conscious about who they are even though they are building a religious structure.
"We want this to be a positive experience for everyone. And so I got that approved, actually," he said. "The prohibitions on swearing and loud music are absolutely essential, but I think we can bend this one a little."
It helps, he said, local church members bake cookies for construction workers every now again and have church missionaries deliver them on site.
"And you see these rough construction workers who get cookies where an 8-year-old kid has written 'Thank you for working on the temple,' it really touches them," he said. "It's a big deal."
It would be hard to overstate just how important temples are to members of The Church of Jesus Christ of Latter-day Saints. It's a place where the church performs its most important ordinances — sealing married couples and families for "time and eternity" and offering proxy baptism for the dead. And it's the center of the worshiping community.
"These are the most important buildings on the planet to us," Briskin said. "And we approach them very reverently and with, hopefully, very prayerful insight and inspiration."
"There's nothing like it," said Charles Winegarden, an 82-year-old retired attorney and electrical engineer from Clarkrange, Tennessee, who, with his wife, Beverly, 60, is serving a mission in the construction trailer's welcome center. "You can actually feel God's presence."
The Winegardens, who only arrived last week, are there to help church members with questions about the temple that is slowly arising in their midst. They are another reason this construction is a little different.
"You can think of a temple as a doorway to heaven," Winegarden said. "So this really is God's work. He has his hands open for people to come and be with him for eternity, and that's what we're doing."
Winegarden, who became a church member at the age of 39, said he's done a lot of mission work in his life, including a stint helping the church with legal work in Accra, Ghana.
In fact, because of that, he wanted to apologize to the "friendly people" of Moses Lake for the way he learned to drive in West Africa.
"It's just like bumper cars there, and I kind of still drive like that," he said. "They've been very gracious about it. They haven't honked their horns and shook their fists and all that kind of stuff."
While the announcement of the Moses Lake temple, which will serve church members across central Washington, was made in April 2019, Briskin said planning for a temple began long before any formal announcement. The Salt Lake City-based church has a real estate team that is always on the lookout for land that will work for church sites, as well as architects and designers constantly drawing up and reviewing plans, he explained.
"Once we're confident that it is moving along, that is a factor in announcing that a temple is going to go in," Briskin said.
But sometimes, Briskin said, the leader of the church — who is also held to be a prophet — will decide on his own.
"Then sometimes we have to scramble to find a place to put it," he said.
As he sits in a small construction trailer no different from another temporary construction trailer, Briskin is surrounded by drawings and computer renderings of the temple, which will guide every detail of both the outside and the inside design and construction of the building.
"When we're done, we'll take actual photos of the rooms and match them to the renderings. And if they don't match exactly, I've got some very hard explaining to do," he said.
"I am very much accountable to these," he added as he pointed to the drawings.
From above, the 20,000-square-foot temple will look like a square cross, and sit on the site with a 17,000-square-foot meeting hall. Briskin said the 17-acre site is "huge" for a temple and meeting house — the normal site for a temple this size is four to five acres — and so whoever ends up being responsible for maintaining the landscaping is going to have their work cut out for them.
And to protect the temple from freeway sounds, Briskin said special construction materials called insulated concrete forms are being used to limit how much sound gets inside. In addition, ground crews will build a small berm to shield the temple and meeting house.
But the hope is the temple will become a symbol for Moses Lake, something not only area church members will be proud of, but something the whole community will, as well.
"We want people to be able to see the temple from the freeway," Briskin said. "We want to make the temple a signature piece for Moses Lake. We want people to be proud of this building, we want people to be able to see it."
Charles H. Featherstone can be reached at cfeatherstone@columbiabasinherald.com.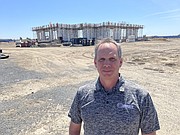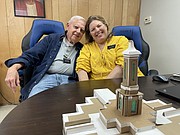 Recent Headlines
---