Inslee sets June 30 for reopening state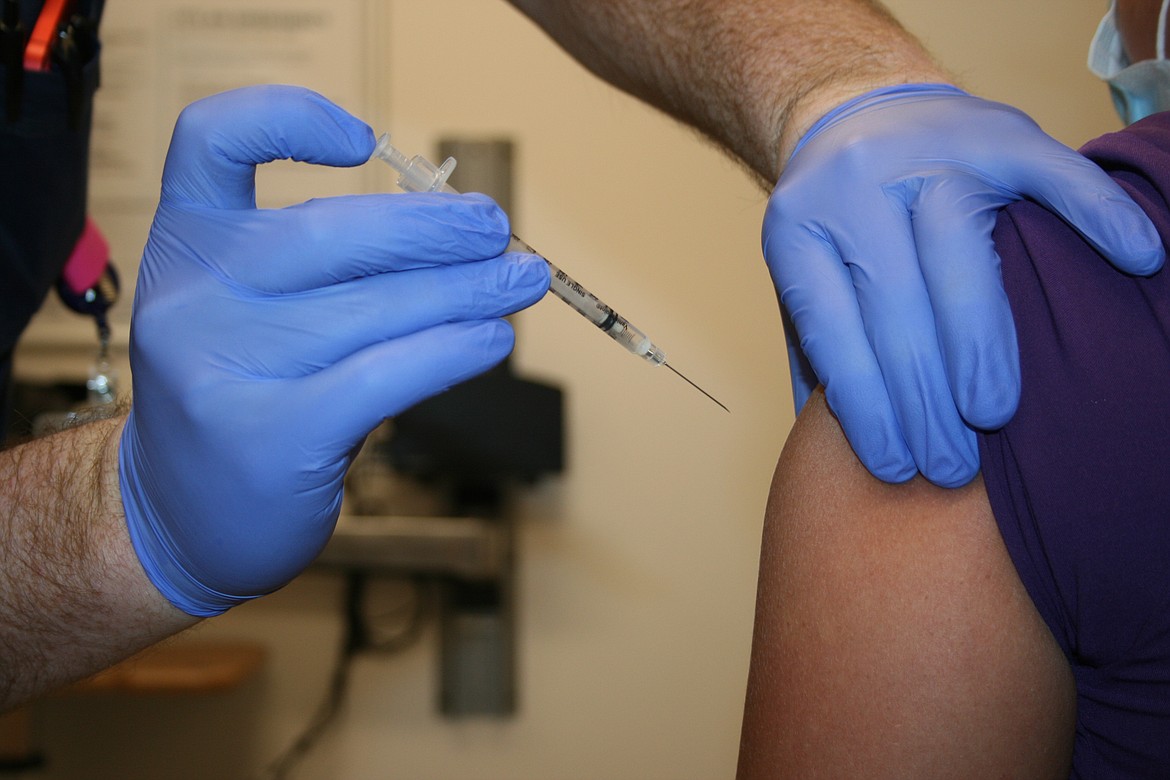 Matt Gilbert, employee at the Samaritan Clinic on Patton, prepares to administer a COVID-19 vaccination. As the amount of vaccine has increased, more places are administering the vaccine to qualifying patients.
Cheryl Schweizer/Columbia Basin Herald
by
CHERYL SCHWEIZER
Staff Writer
|
May 14, 2021 1:00 AM
MOSES LAKE — Reaction was varied among local officials to the announcement by Gov. Jay Inslee on Thursday setting June 30 as the date to reopen the state from the shutdown imposed to combat the coronavirus outbreak.
Inslee said coronavirus case rates and hospitalization rates are coming down, and the number of deaths is among the lowest the state has experienced since the start of the pandemic last year.
Current trends indicate at least 70% of the state's eligible residents will be vaccinated by late June, he said. The 70% target did not include individuals 12 to 16, who became eligible to receive the vaccine earlier this week. Inslee said it would be unfair to include a newly eligible group in that target.
Inslee defined "fully vaccinated" as people who've received both shots of either the Pfizer or Moderna vaccine and are two weeks past the second shot, or people who are two days past the one-dose Johnson & Johnson vaccine.
Inslee said state officials will re-evaluate if occupancy in intensive care units reaches 90%. The restrictions could be lifted sooner if the state reaches the 70% benchmark earlier.
Also announced Thursday, all counties will return to Phase 3 of the state's reopening plan on Tuesday, including those pushed back to Phase 2 on April 20. Previously, all counties were evaluated every two weeks, but that system was put on hold May 4.
The allowed capacity of most businesses, such as gyms and restaurants, will remain at 50% until state officials remove restrictions, Inslee said.
"That's a good direction we're heading in," said Adams County Commissioner Terry Thompson.
"We are all ready to get back to normal," said Grant County Commissioner Cindy Carter.
"That's good. That's good news," said Moses Lake Chamber of Commerce director Debbie Doran-Martinez.
It's good Grant County won't be rolled back to the second phase, she added.
Adams County Commissioner Jay Weise said while he thought the state could reach that goal, it might not.
"I just think that (70% vaccination rate) is a pretty lofty goal," Weise said. "It would be nice if we could get it."
"I think that's great. I'm not certain why we're waiting until June 30," said Grant County Commissioner Danny Stone.
A statewide group representing a large employment sector has been eagerly awaiting easing of the state's restrictions. On Thursday, Anthony Anton, president and CEO of the Washington Hospitality Association, issued a statement on the new reopening plan: "Today, we are excited to see a clear path forward. And we are so thankful to the nearly 20,000 Washingtonians who have joined us over the last week in our petition to the governor for a reopening plan. This is a moment we've all been working toward for 14 months, as we've stayed home, worn masks, and physically distanced from our friends and loved ones. Now, we can all rally around a common goal: If we work together, we could reopen within a few weeks. We stand ready as a united industry to help our state achieve this critical goal and then keep working together to recover."
Effective Thursday, state officials also adopted guidelines, removing most requirements, for fully vaccinated people wearing masks indoors, issued earlier in the day by the U.S. Centers for Disease Control and Prevention.
Senate Republican leader John Braun and House Republican leader J.T. Wilcox issued a statement Thursday after Inslee's announcement encouraging reopening sooner:
"Earlier this week, members of all four legislative caucuses encouraged Governor Inslee to share the vision of his counterparts in California and Oregon and decide that our state should fully reopen June 15. Now that our state is aligning with the new CDC guidance, meaning the mask mandate and distancing guidance are lifted for fully vaccinated adults, we believe June 15 is still a reasonable deadline.
"The governor's announcement today leaves the door open to reopening earlier than June 30, if the state reaches his vaccination target. Either way, we have concerns about what his new guidance will mean for hospitality establishments, grocery stores and other places where people congregate. After dictating for 439 days about what employers can and can't do, the governor is now saying 'you figure it out.' Republicans have pressed relentlessly for that freedom all along. If all employers had already been able to set their own safety standards, whether it's masks, or distancing – or now, vaccination status – there would be less uncertainty and less chance that frontline workers would be put in difficult situations.
"The governor made it clear he sees no connection between lifting economic restrictions and ending the state of emergency. We disagree. It's time to give the authority back to local governments and trust them to act responsibly."
Cheryl Schweizer can be reached at cschweizer@columbiabasinherald.com.
Recent Headlines
---