Digging in: City breaks ground for new Larson Recreation Center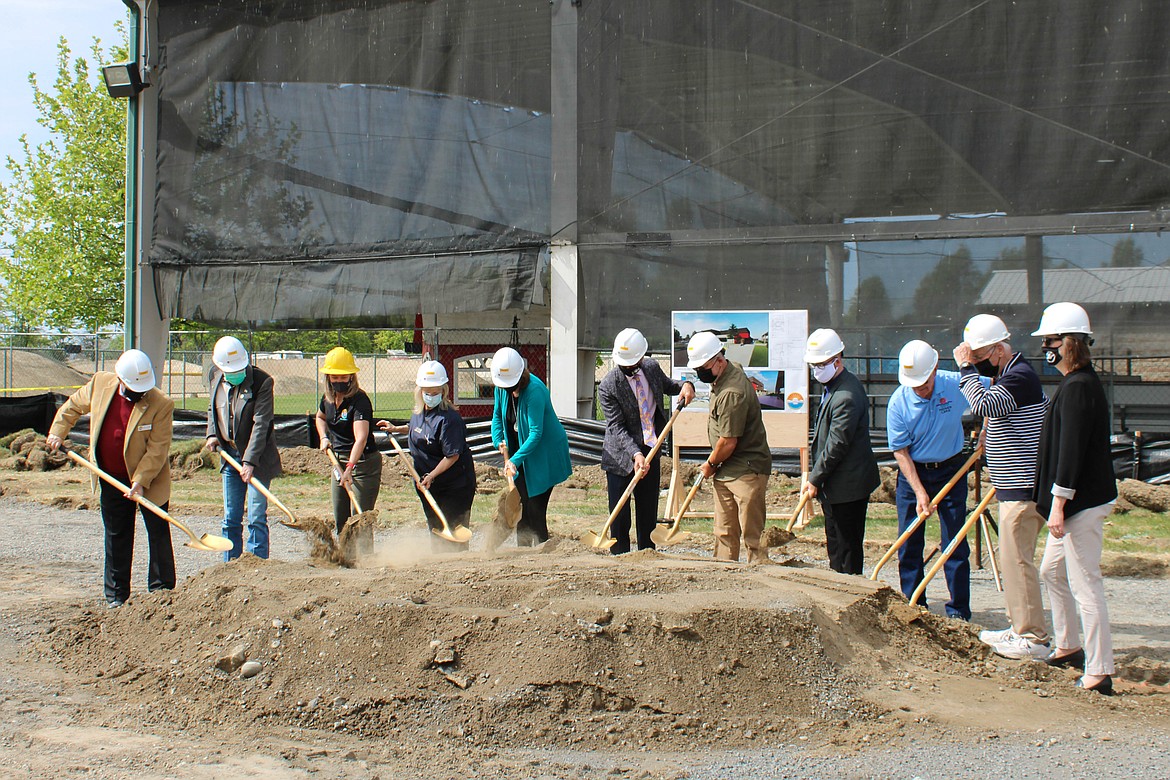 Left to right: Council member Michael Riggs, Rep. Tom Dent, parks director Susan Schwiesow, council member Karen Liebrecht, Sen. Judy Warnick, Mayor David Curnel, former parks director Spencer Grigg, council member Don Myers, Deputy Mayor Daryl Jackson, former mayor Dick Deane and City Manager Allison Williams dig into the dirt at the groundbreaking ceremony for the new Larson Recreation Center on Wednesday.
Sam Fletcher/Columbia Basin Herald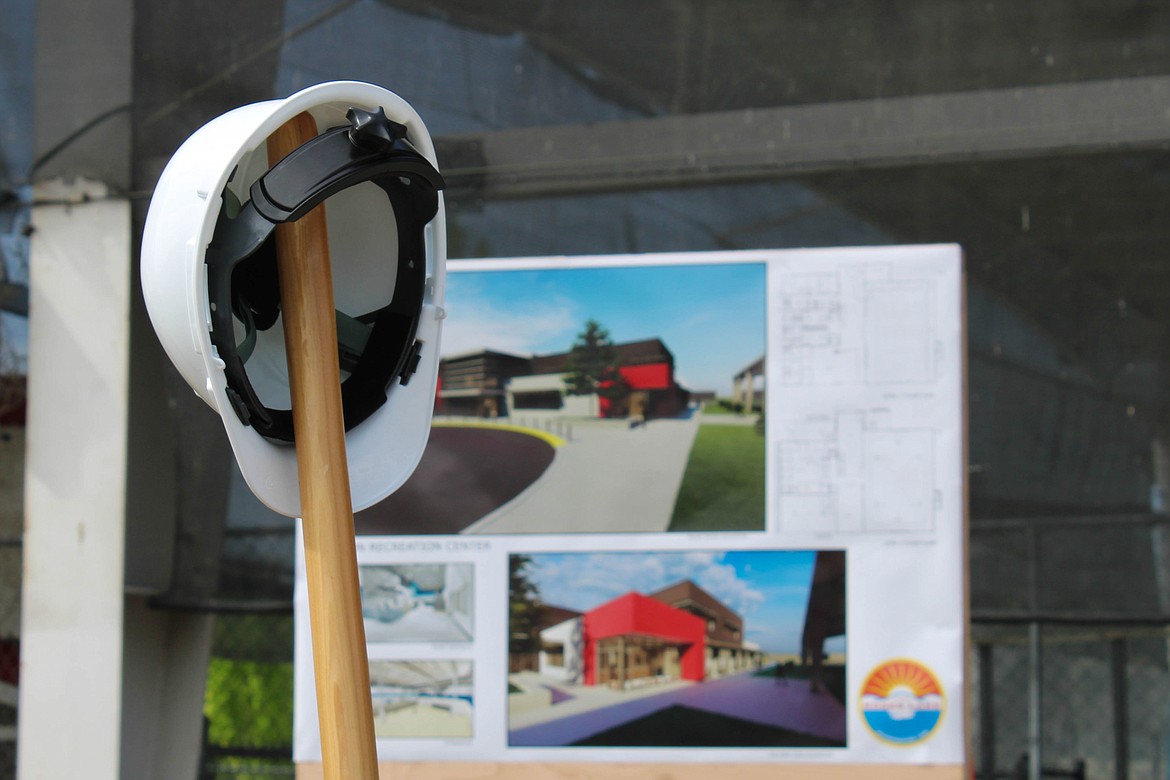 A hardhat and a ceremonial shovel in front of a rendering for the new Larson Recreation Center at 610 Yakima Ave. in Moses Lake.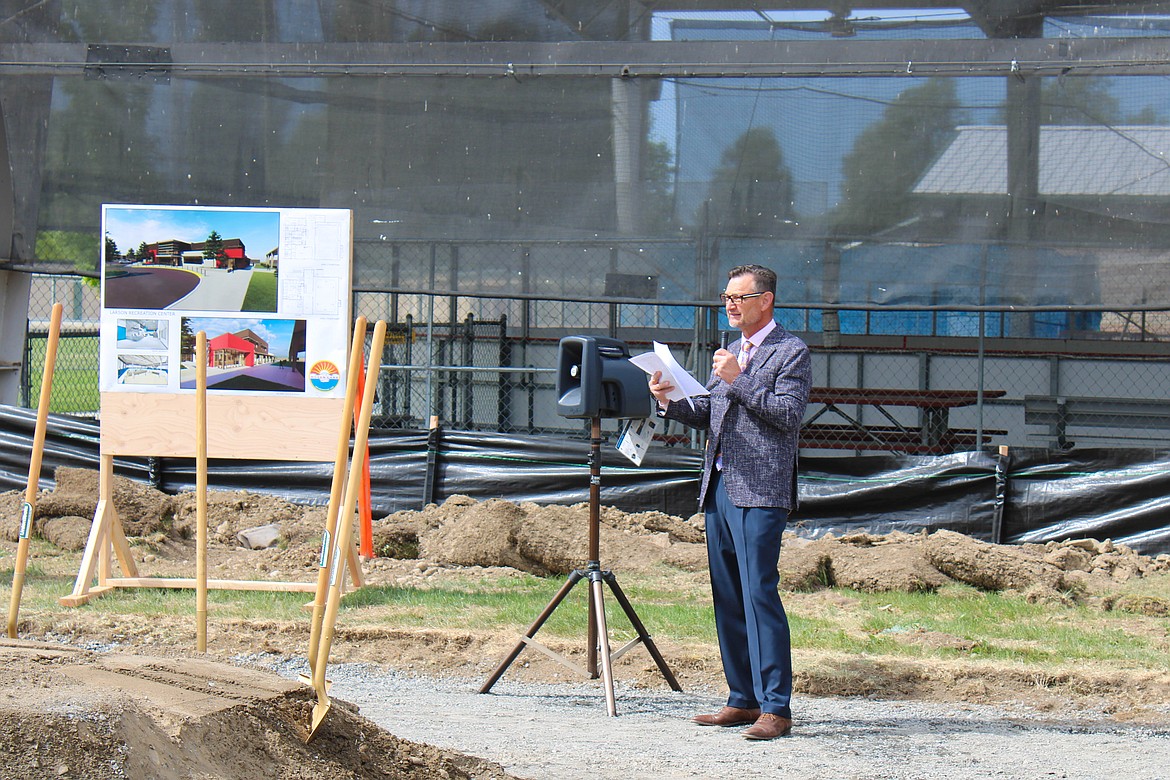 Moses Lake Mayor David Curnel gives a speech at the groundbreaking ceremony for the new Larson Recreation Center on Wednesday.
Previous
Next
by
SAM FLETCHER
Staff Writer
|
May 13, 2021 1:00 AM
MOSES LAKE — "As the Mayor of the City of Moses Lake, it is my honor to participate in the groundbreaking ceremony for our new Larson Recreation Center," said Mayor David Curnel Wednesday morning.
The new 30,000-square-foot facility at 610 Yakima Ave., set to open within a year, will have several locker rooms in hopes of hosting future hockey league competitions on the ground floor, Curnel said. The first level will also have a gym, classrooms and a kitchen.
Meanwhile, the second floor will have new offices for Parks and Recreation Department staff, leading to the expansion of the Balsam Street offices for the police department, he said.
Youth Baseball Inc. donated the playfield, named after World War II fighter pilot Maj. Donald A. Larson of Yakima, to the city in 1967. Through the years, the city has improved outfield fences, bleachers, sprinklers and lighting.
In 2001, the city purchased the former Desert Oasis Batting Cages complex, which had an arcade, driving range, public meeting spaces and a police substation. At that time, it was remodeled with a concession, an ice rink and a party room.
The city reevaluated the former building in 2018, which was only being used for storage and ice skate rentals. At that time, it hired Redmond-based The Driftmier Architects PS for a repurposing effort.
When it was found bringing the second floor up to code wouldn't be effective, Driftmier was commissioned with a complete redesign, with the old building's demolition starting April 19.
After more than a dozen city council meetings, the council agreed on March 9 to move forward, preparing a funding package of a new facility.
The project is being paid through the state treasurer's Local Option Capital Asset Lending program, where the city will borrow $11.4 million and pay $750,000 annually for 20 years with an interest rate of 2.47%. Funds for this debt will come from the city hotel/motel tax, as well as those made available once the Civic Center debt is paid off.
A pile of rubble from the old building remained at the groundbreaking ceremony.
"The old building's not here anymore, and we're breaking ground and moving forward," said project manager Mike Sauer of the Spokane-based construction company Leone & Keeble Inc. "I'd say in roughly a year's time you should have a brand new facility that will be beautiful. Driftmier did an amazing job of designing it, and we're really looking forward to getting this done as soon as possible for this community."
Along with Mayor Curnel, Deputy Mayor Daryl Jackson, council members Dean Hankins, Don Myers, Michael Riggs, Karen Liebrecht, state Rep. Tom Dent, Sen. Judy Warnick, Parks and Recreation Department Director Susan Schwiesow, former parks Director Spencer Grigg and City Manager Allison Williams took hold of the golden ceremonial shovels for the first dig.
Curnel, in his speech, highlighted a March 9 quote from Grigg.
"Parks and recreation departments across the nation, even across the world, strive for social equity, and this is the kind of facility that accomplishes that," Grigg said. "So the members of the community, no matter what income level, no matter what race, no matter what creed, they have a gathering place that makes a community, and this facility will do just that for Moses Lake."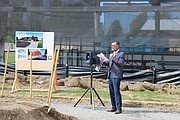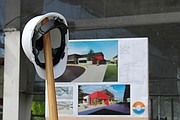 Recent Headlines
---