Sports roundup: Ephrata High School softball sweeps Warden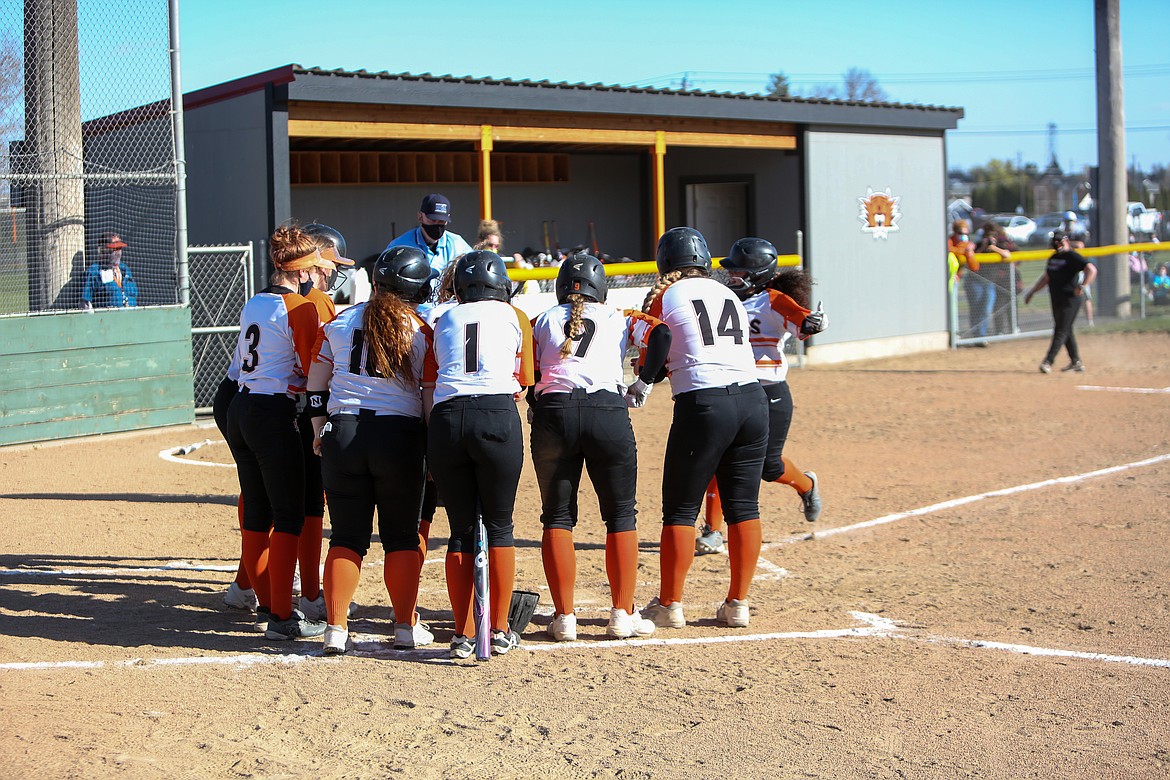 The Tigers wait to celebrate with Crystal Vela after she knocked a grand slam home run in the bottom of the first inning to help Ephrata jump out to an early lead on Wednesday.
Casey McCarthy/Columbia Basin Herald
by
CASEY MCCARTHY
Staff Writer
|
May 7, 2021 1:00 AM
Softball
Ephrata 5, Warden 1
Tigers pitcher Rylee Peters finished with 16 strikeouts in the opening game of the doubleheader against Warden on Wednesday. Jocelyn Eisen finished 2-2 from the plate, including a two-run homer. Paige Wood finished 3-4 with a double for Ephrata.
Ephrata 6, Warden 2
Crystal Vela finished 2-3 from the plate for Ephrata in the second game against Warden, adding two RBIs. Alexis Bicondova chipped in a pair of RBIs on a single for the Tigers. Ephrata's Jocelyn Eisen surrendered just five hits from the mound.
Other scores:
Othello 7, Shadle Park 4
Othello 4, Shadle Park 9
Royal 7, Cascade 2
Quincy 32, Wahluke 18
Almira/Coulee-Hartline 14, Oroville 6
Boys soccer
Moses Lake 2, Wahluke 0
Moses Lake head soccer coach Derrick Gonzales said Tuesday evening's win against Wahluke was the best game his team has had all season, defeating a talented squad 2-0. Simón Ribellia and Alex Landa scored a goal each for the Chiefs.
Othello 11, Rogers 0
The Huskies outshot Rogers 34-2 in a commanding win to remain undefeated in the Greater Spokane League. Jonathan Alfaro finished with three goals, while Anthony Ontiveros and Miguel Ramirez each added two. Jose Cortes, Fernando Peña, Luis Cruz and freshman Anthony Abundiz each added a goal as well. Othello goalkeeper Erick Sandoval picked up his fifth clean sheet of the season, finishing with two saves.
Quincy 15, Omak 0
Eleven Quincy players scored in a dominant win over Omak earlier this week. Adrian Borja, Jose Lopez, Jesus Hernandez and Edgar Guzman all finished with two goals apiece. Juan Gutierrez, Jubenal Ceballos, Noel Hernandez, Jairo Carillo, Osvaldo Acevedo and Jorge Nuñez each added one.
Royal 2, Chelan 1
Angel Vega and Gunnar Anderson both finished with a goal for the Knights against Chelan earlier this week. Eliseo Romero assisted on both goals.
Other scores:
Ephrata 1, Manson 0
Baseball
Royal 3, Warden 1
After a 1-1 tie coming out of the first inning, a pair of runs in the bottom of the fifth for the Knights proved enough to hold on against Warden. Luke Bergeson finished 2-3 from the plate with a double for Royal. Kevin Reyes pitched the entire game for the Knights, finishing with 11 strikeouts while giving up just one run on three hits.
Othello 5, Rogers 2
Tied 2-2 after seven innings, the Huskies rattled off three runs in the top of the eighth to win in extra innings. Othello finished with 12 hits as a team, with Jonathan Gomez, Kevin Garza, Chon Sauceda and Rodrigo Garza finishing with multiple hits from the plate.
Moses Lake 3, Brewster 8
Three runs in the bottom of the sixth let Brewster pull away for the win against the Chiefs on Tuesday afternoon. Blaine MacDonald finished 2-2 (with one RBI for Moses Lake, while Merit Jansen added a double going 1-3.
Other scores:
Ephrata 16, Eastmont 10
Wahluke 0, Cascade 10
Quincy 6, Lake Roosevelt 12
Boys tennis
Moses Lake 1, Cashmere 0
Singles
Kane Andrus ((C) d. Tyler Wiseman ((ML) 6-0,6-1
Joshua Acevedo ((ML) d. Kyle Carney ((C) 6-3,7-5
Doubles
Julian Hernandez/Luis Morelos (C) d. Adam Wiseman/Ryan Hone 6-2,6-0
Dyllion Taylor/JJ Groner (C) d. Malachi Carpenter/Isaiah Carpenter (ML) 6-0,6-1
Zeke Lewis/Micah Guerin (C) d. Daniel Bowen/Colin Lehman (ML) 6-1,6-2
Girls tennis
Moses Lake 0, Cashmere 5
Singles
1s Miranda Sites (C) d. Jenna Young (ML) 6-0,6-1
2s Lexi Neu (C) d. Sara Carpenter (ML) 6-0,6-2
Doubles
Laren Kert/Faith Kert (C) d. Allison Davis/CeCe Trinnaman (ML) 6-1,6-1
Katelyn Cooper/Sophie Graybill (C) d. Julia Pimentel/Natalia James (ML) 6-1,6-0
Ellie Martin/Reese Westlund (C) d. Eden Figuroa/Krithica Suresh (ML) 6-0,6-0
Men's basketball
Big Bend 70, North Idaho 98
The Vikings couldn't come back from a 16-point deficit at halftime, falling to North Idaho on the road Tuesday evening. Jahvonta' Jones led the Vikings with 27 points and six rebounds. Keenan Miller added 15 points, six rebounds, three assists and a pair of steals. Chandler Pincock was the only other Viking in double figures, with 11 points and five boards.
Other scores:
Big Bend 99, Blue Mountain 89
Women's basketball
Big Bend 75, Blue Mountain 49
Savana Stephenson and Kelsey Sorenson both finished with double-doubles on Wednesday. Stephenson finished with 14 points, 12 rebounds, three assists and three steals. Sorenson racked up 11 points, 15 boards, three assists and two steals. Kaitlyn Callahan led Big Bend in scoring with 18, while Emma Wilhelm contributed 12 points off the bench.
Casey McCarthy can be reached via email at cmccarthy@columbiabasinherald.com.
---