Mother's Day 2021: Brunch is back; flowers always a hit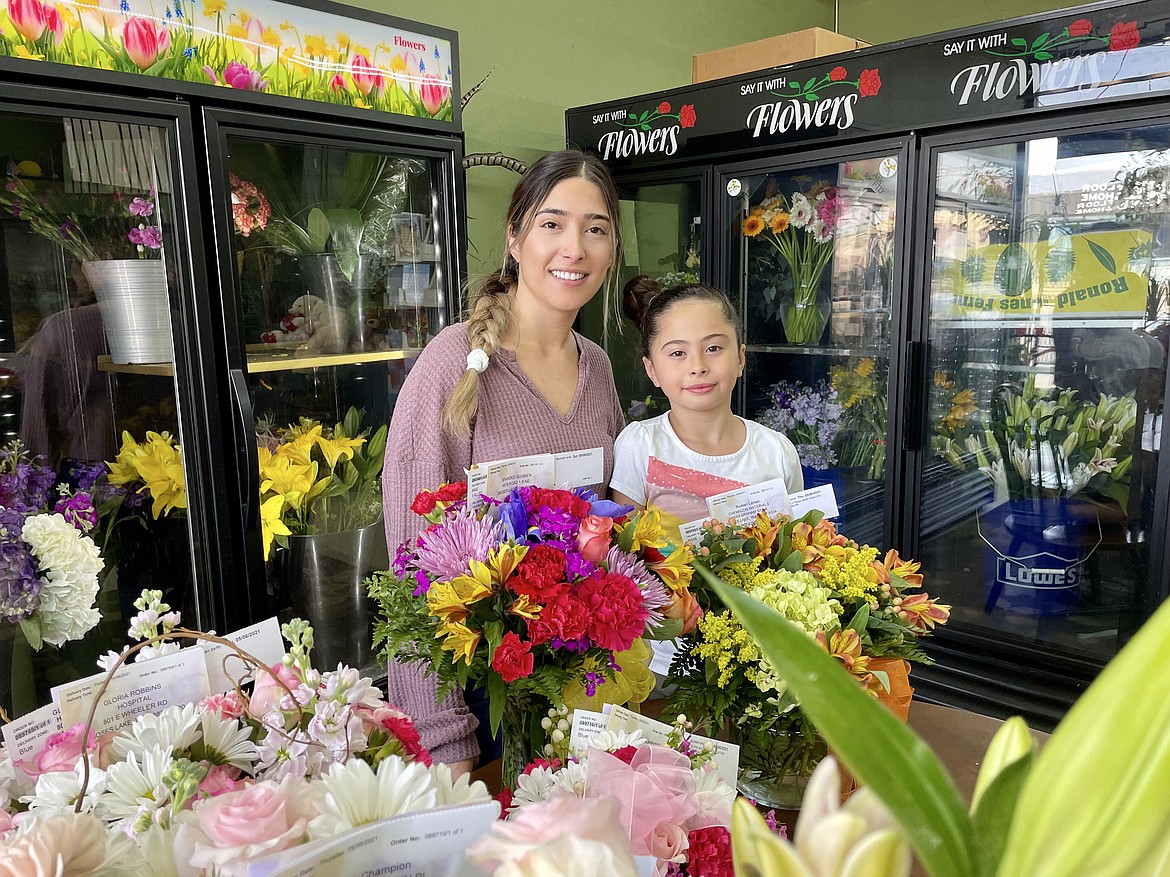 Rosa Guerrero, manager of Florist in the Garden in downtown Moses Lake, and her daughter (and helper) Melody Madrigales, 7, behind bunches of flowers being given as gifts for Mother's Day.
Charles H. Featherstone/Columbia Basin Herald
by
CHARLES H. FEATHERSTONE
Staff Writer
|
May 7, 2021 1:05 AM
MOSES LAKE — There's not going to be a buffet at the Porterhouse Steakhouse this year for Mother's Day like there usually is.
But as Cale Russell, the CEO of Ten Pin Territories (the name given to the collection of companies that includes Ten Pin Brewing, Papa's Casino, Lake Bowl and Arcade, Ten Pin Inn and Suites and the Porterhouse), noted — at least restaurants can be open for Mother's Day this year.
"There was no Mother's Day last year," Russell said. "We were in the thick of this thing (the COVID-19 pandemic) last year."
Even with capacity limited to 50%, restaurants and retailers, like florists, are gearing up for one of the biggest sales days of the year as the holiday — inaugurated on the second Sunday in May in the early years of the 20th century — heralds the proper arrival of spring.
"It gets really busy and a lot of people get happy to receive flowers, especially with COVID-19 going on," said Rosa Guerrero, the manager of Florist in the Garden in downtown Moses Lake.
Guerrero said Mother's Day is the second-busiest time of year after Valentine's Day, though she noted the Mother's Day holiday in Mexico falls on Monday, May 10, the day after the U.S. celebration of Mother's Day.
"That will be a busy day as well," Guerrero said, adding she hopes at some point next week to get a breather from what has been a very busy few days so far.
Guerrero said there hasn't been any one item selling particularly well this year, and customers have been coming in for "a little bit of everything."
"I think this year, with COVID, people are okay with whatever we have," she said.
Lisa Villegas, the owner of Seed Cupboard Nursery, near Royal City, said the most popular items she's been selling this year are hanging flower baskets and garden decor.
"Lots of plants and lots of gifts. It's been extremely busy," she said.
Seed Cupboard Nursery sells plants and gifts, as well as hosts classes for people looking for decorating and gardening hints, Villegas said. This week, a lot of mothers and their daughters have come in to do planting projects.
"It's fun," she said. "The whole week is a big week for sure."
Russell said Porterhouse — which isn't open on Sundays except for Mother's Day, when it is open from 9 a.m. to 3 p.m. — will have a special menu Sunday, but because it won't be allowed to have its normal buffet, the kitchen staff will be exceptionally busy cooking to order rather than amply supplying the buffet.
"We can't do that. It's a totally different service," he said. "We'll see how it works. It's 2021, and you never know until it happens."
The menu as planned is expected to feature brunch items, such as biscuits and gravy, blueberry French toast, bread pudding, breakfast burritos, and regular menu items, like prime rib.
Russell said Ten Pin's other eateries — Papa's Casino and the Tap House — are not really Mother's Day destinations and don't see much change Sunday.
"It's kind of a sports bar and casino, so we get a little bit of business, but it doesn't 100% affect us," he said.
But it's all about showing a little appreciation for mom, Russell said.
"That's the theme for a lot of restaurants on Mother's Day. It's a special day and you want to treat your mom," he said.
Recent Headlines
---