Ybarra urges people to get COVID-19 vaccine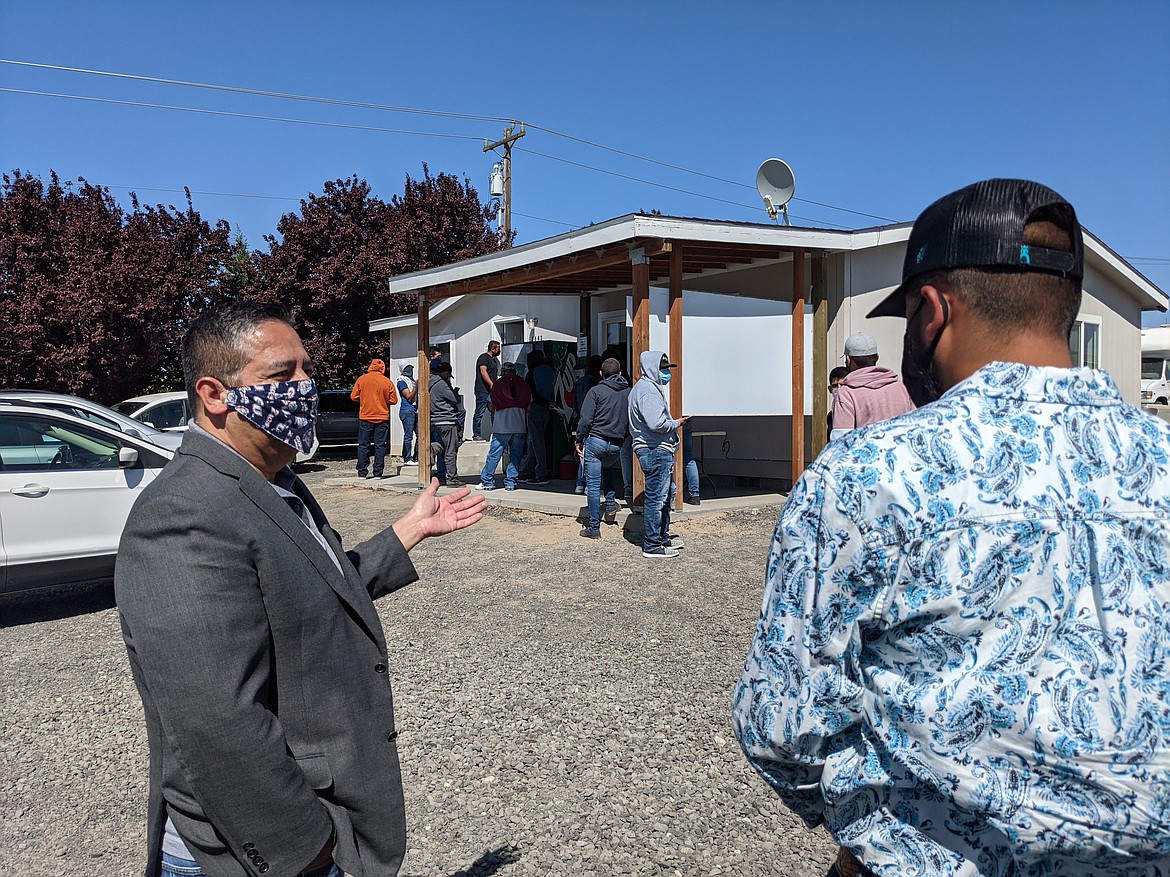 State Representative Alex Ybarra talks with a farmworker while waiting to get his COVID-19 vaccination Wednesday in Royal City.
Courtesy photo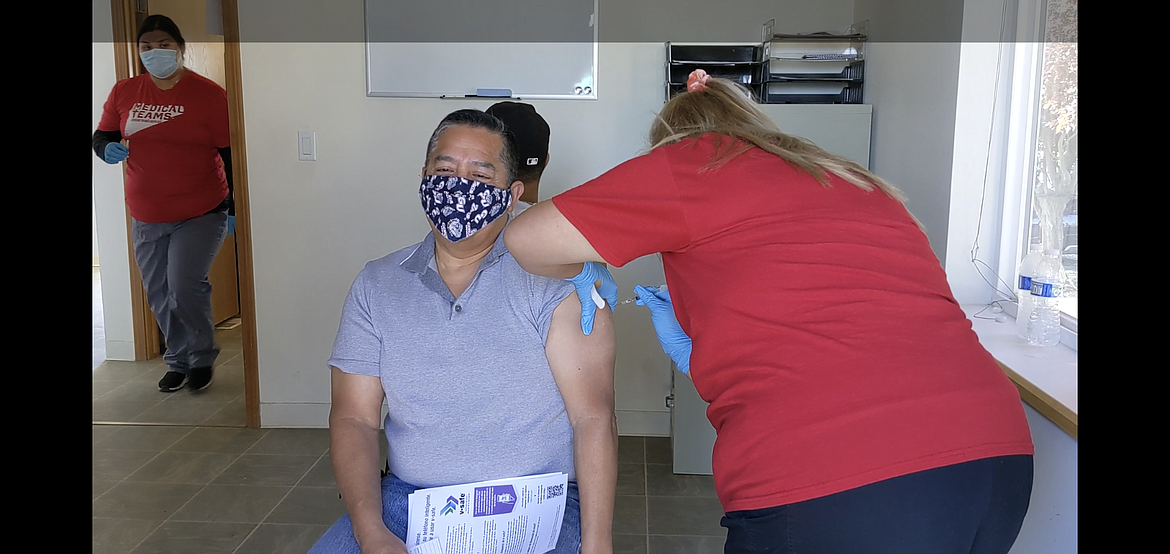 State Representative Alex Ybarra (left) gets his first COVID-19 vaccine shot from Sara Maldonado of Medical Teams International at a mass vaccination clinic Wednesday in Royal City.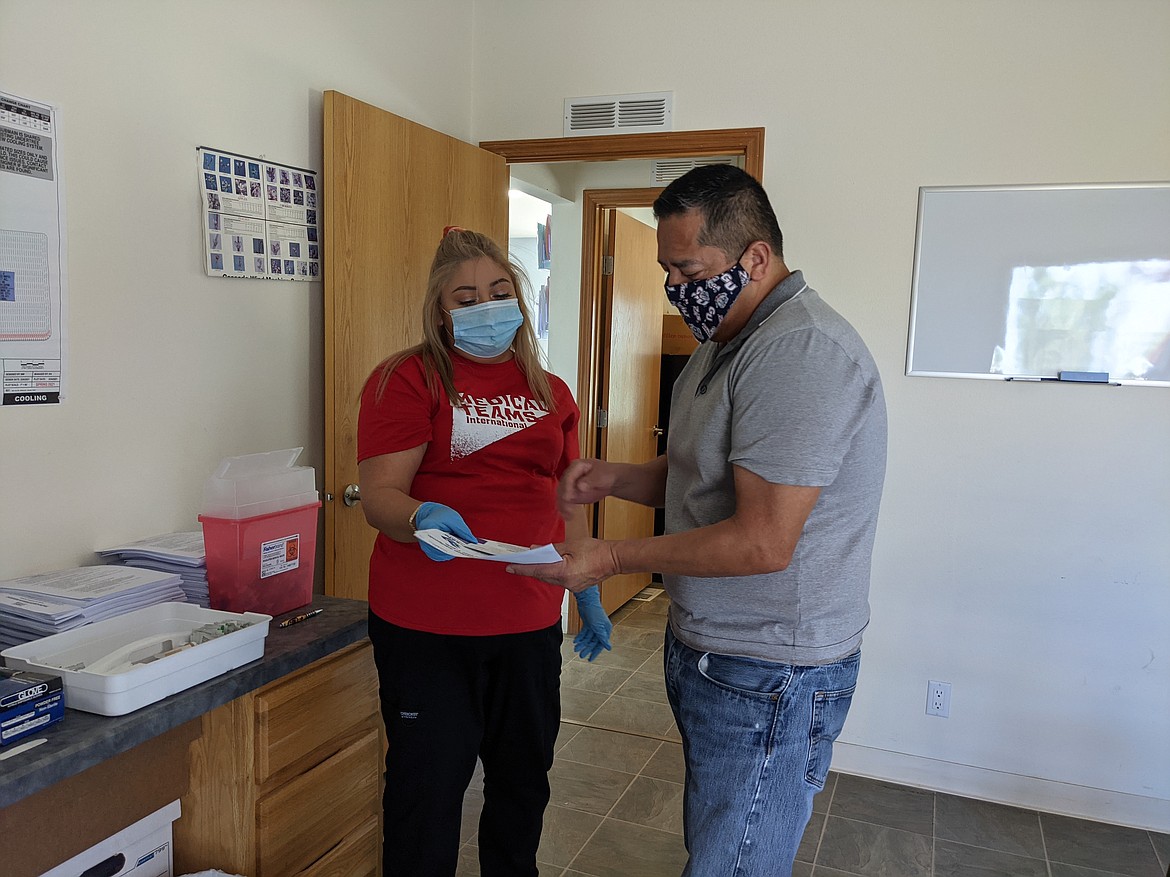 State Representative Alex Ybarra hands over his paperwork to Sara Maldonado of Medical Teams International before receiving his first COVID-19 vaccination shot in Royal City Wednesday
Previous
Next
by
CHERYL SCHWEIZER
Staff Writer
|
May 6, 2021 1:00 AM
ROYAL CITY — State Rep. Alex Ybarra, R-Quincy, said he's getting the COVID-19 vaccination in part because he wants to promote vaccinations, especially among the Hispanic population, in the state and his district. And he's getting vaccinated in part because he's done with coronavirus.
"I've had COVID, so I know what people will go through if they get it. And it's not fun. Not fun," he said. "That's why I did it for myself. I do not want to get COVID again. That's for sure."
Ybarra represents District 13. He got his first shot Wednesday at a vaccination clinic for farmworkers in Royal City.
"I had COVID in October, and because of that the doctor told me at the time I would be okay, probably wouldn't get COVID again for four or five months or so," he said.
But enough time has passed, he might be susceptible to the disease again, so he said it's time to get vaccinated.
The vaccination clinic was organized by the Center for Latino Leadership, and Maia Espinoza, the group's founder and executive director, said it was targeted at farmworkers. Most of the people vaccinated at Wednesday's clinic were H2A workers.
The H2A program brings agriculture workers to the United States on short-term visas.
People who receive the vaccine will not be charged out-of-pocket costs, according to the state Department of Health. Insurance providers are billed, or, in the case of people who don't have insurance, the U.S. government is picking up the costs.
Of the 136 people who were eligible, 120, including Ybarra, got vaccinated, Espinoza said.
The Grant County Health District reported Tuesday that 29% of Grant County residents have received one or both shots, below the state average of 44%, and one of the lowest in the state. Ybarra said part of that can be attributed to low vaccination rates among Hispanics.
Ybarra said there's information about the vaccine in Spanish, but it's not always easily accessible, especially for farmworkers. As a result, a lot of Hispanics are taking a wait-and-see attitude. He could serve as a role model, he said, and he wanted to promote vaccination, to let people know that it's free to the recipient.
"I think they're genuinely a little bit apprehensive about getting the shot," Ybarra said.
Grant County does not, at present, meet the requirements to stay in Phase 3 of the reopening plan announced by Gov. Jay Inslee, and would have been required to return to Phase 2, but Inslee announced Tuesday reevaluation of each county's status is on hold for two weeks.
Ybarra said that was another reason he's urging people to get vaccinated.
"I don't want to go back to Phase 2, and I think everybody understands that," he said. "All I want to say is it's available, it's free, and if you want to do it, there are a lot of locations to do it."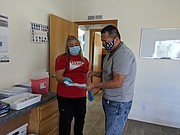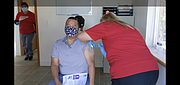 ---