Inslee decides on a two-week pause on phase changes for counties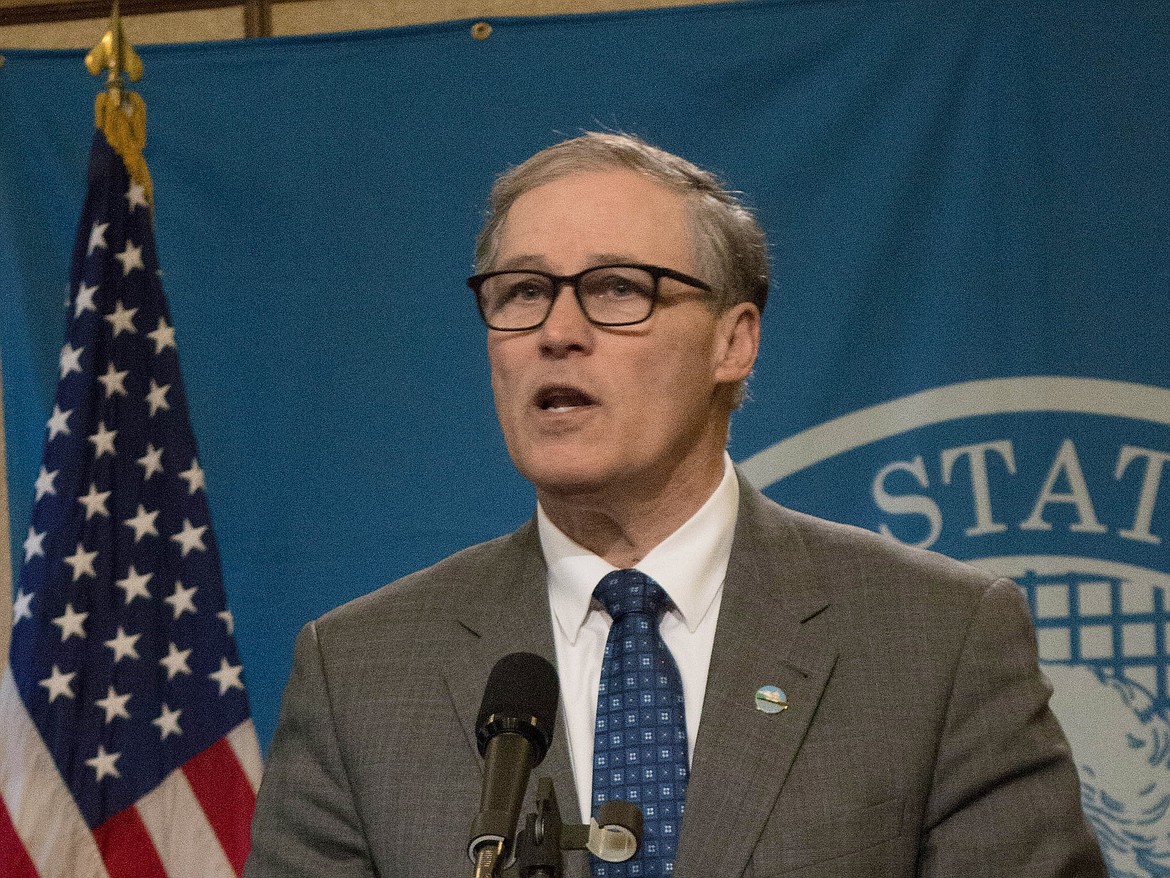 Gov. Jay Inslee
File photo
by
CHARLES H. FEATHERSTONE
Staff Writer
|
May 4, 2021 4:30 PM
OLYMPIA — Grant County will not move down to Phase 2 of Gov. Jay Inslee's COVID-19 recovery plan this week. Inslee announced a two-week pause Tuesday on the state's phase change plans to evaluate the progress of the pandemic.
"All counties will stay in their current phase," Inslee said during an online press conference Tuesday morning.
Washington's counties are in Phase 3 except for Cowlitz, Pierce, Whitman and Ferry counties. Inslee said public health officials in Ferry County voluntarily moved the county back to Phase 2 after a massive super-spreader event caused nearly 1% of the county's 7,500 residents to fall ill with COVID-19 during the past two weeks.
The pause will allow restaurants and public accommodations in counties in Phase 3 to remain at 50% of capacity, rather than the 25% for Phase 2 under the state's Roadmap to Recovery plan.
Insee said the decision was made after data collected during the weekend showed the number of COVID-19 cases statewide appeared to be leveling off and possibly even showing signs of decline. The governor said the state's response to the pandemic is driven by the data obtained and analyzed by public health officials, and that allows the state's approach to pandemic closures to evolve as well.
"As the pandemic has changed, so have we," Inslee said. "Flexibility is a virtue."
Inslee said some kind of restrictions will probably be in place statewide until "sometime in summer" when enough people will be vaccinated or have had the disease that "more normal activities" can resume across the state.
For that to happen, the governor said he has heard figures of 75% to 80% of state residents needing to be vaccinated. But state health officials have not yet determined just how many Washingtonians would need to be vaccinated for that to be possible.
"We don't know what that number is at the moment," Inslee said.
He said every Washington resident has a role in combating the pandemic by getting vaccinated. Since April 15, every Washingtonian 16 and older has been eligible to receive a COVID-19 vaccine. According to the Associated Press, 54% of state residents receiving at least one dose and 39% of the state's 7.6 million residents were fully vaccinated.
According to data from the Department of Health, as of Tuesday morning, statewide 250 new COVID-19 cases per 100,000 state residents were reported in the previous two weeks — more than the department's goal of fewer than 200 cases per 100,000 to stay in Phase 2.
Case rates in Grant County were reported at 269.6, while case rates in Adams County were at 195.6 during the prior two weeks.
Since the outbreak of the pandemic in early 2020, there have been more than 377,000 confirmed COVID-19 cases, 30,000 probable cases and 5,507 related deaths in Washington state, according to the Associated Press.
Recent Headlines
---