Long-awaited honor: Quincy man is recognized more than 50 years later for Vietnam war bravery
by
CHERYL SCHWEIZER
Staff Writer
|
May 3, 2021 1:00 AM
QUINCY — The mortars and rockets were flying and the radio tower was a natural target, but Vicente Sanchez Jr. said he ignored the order to take cover because he had a job to do.
And more than half a century later, Sanchez was presented the Bronze Star April 17 at the American Legion Post 28 in Ephrata.
Him ignoring orders happened during his 1970-71 U.S. Army tour in Vietnam, he said, at the U.S. base near Kon Tum, which was nicknamed "Rocket City" for reasons that became obvious.
"I was ordered to go to this location, which was well known for getting overrun and experiencing heavy mortar and rocket attacks," he said.
Kon Tum, near the borders of Laos and Cambodia, was a favorite target.
"They targeted the whole base," he said. "They went after communications. Like the (radio) towers."
It didn't help that the radio towers were elevated, 30 feet from the ground or more.
"Usually we were pretty good targets," he said.
Sanchez was an avionics mechanic, whose specialty was troubleshooting radios and navigational equipment on the army's aircraft. And one day there was a call for an avionics mechanic at Kon Tum – a headset needed fixing.
"I flew from Bien Hoa on a Huey helicopter and upon arrival I headed to the radio tower to check what other problems they were undergoing besides the damaged headset," he said.
That was when the trouble started.
"The sirens went off and we were plagued with heavy mortars and rockets. I could see from the tower everybody was heading for cover, any place they could find," he said.
The radio tower controller told Sanchez to leave the tower and take cover, but he had a job to do, he said. The radio headset needed to be fixed, and he ignored the order.
"I said, 'nope.' For some reason I wasn't scared. I just kept doing my work," he said.
All these years later, he still doesn't know why he wasn't scared, he said, but he wasn't.
"It didn't faze me at all. I just did what I had to do, whatever it took," he said.
The air traffic controller had to stay, and was communicating with helicopters in the vicinity -- mostly telling them not to land, since the base was under attack.
"While the air traffic controller was warning the incoming Hueys, his headset stopped functioning," Sanchez said. "I had just fixed a headset and tossed it to him. Then I complied with the order and went to the bunkers."
When the attack was over, he went back to the radio tower to see if anything else needed fixing. The answer was no, but the air traffic controller had something to tell him.
Sanchez had fixed that headset in the nick of time. Two Huey helicopters carrying troops were coming in just as the controller's original headset went out. He told Sanchez he wouldn't have had any way to warn them the base was under attack if Sanchez hadn't had the backup headset fixed and ready.
"As I boarded the helicopter to return to my home base, the pilot informed me that the tower I was at had escaped a rocket hit by a couple of feet," he said.
But as far as Sanchez was concerned, it was just another day's work.
"I felt this was our job, and just another day closer to going home," he said.
He was in Vietnam from June 1970 to May 1971. It was a controversial war, and when they came home, Vietnam veterans were not treated as Sanchez thought they should be.
"Instead of receiving the support for the men and women who risked their lives, we were not well received, and those who served were vilified and denigrated," he said. "Most service men and women tried to slip quietly into a normal pattern and tried to hide the fact they served to avoid the wrath and contempt of many."
But over time things have started to change.
"Today, I feel that Vietnam veterans are slowly but surely getting the respect we deserve," he said.
He received a commendation for his bravery at Kon Tum, and as the tensions over the war eased, told his story to a local paper. There it was seen by another Vietnam veteran, Walt Cordova.
Cordova thought Sanchez deserved more recognition than he had received. He encouraged Sanchez to apply for a higher award. Sanchez said he started the required procedure, but there was a lot of paperwork. A lot – so much that he got discouraged and stopped the application process.
But he kept thinking about Cordova's advice, especially after Cordova died in 2016.
"I decided to honor his wish," he said, so he restarted the application process. "Col. Mike Pierce helped me complete the required paperwork. Brig. Gen. Oscar Hillman was informed by retired Staff Sgt. Walter Kehn about me submitting the paperwork for an upgrade medal. Gen. Hillman did some investigation and felt I deserved a higher medal and actively helped me with the process of achieving the award."
Sanchez was on active duty with the U.S. Army from 1969-1972 and joined the Army National Guard in 1985. He also served with the Army Reserve and Air National Guard.
"I proudly retired as master sergeant from the Air National Guard stationed at Fairchild AFB in 2006," he said.
Sanchez is one of eight brothers and sisters and is the son of farm laborers.
"If I remember correctly, I started to work in the field when I was 13 years old," he said.
He's a 1968 graduate of Quincy High School and volunteered for the U.S. Army. He wanted to serve his country, he said.
"I often ask myself, 'Would I serve my country again?' My response would be, 'Yes'," he said.
He said he's proud of the current military, too.
"Serve your country. It's an honor to do that," he said.
Cheryl Schweizer can be reached via email at cschweizer@columbiabasinherald.com.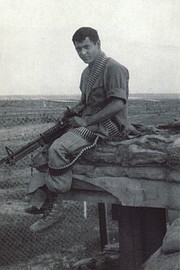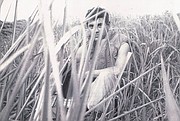 ---