Moses Lake growth: Olsen Homes moves Barrington Point Phase 4 forward
by
SAM FLETCHER
Staff Writer
|
May 1, 2021 1:00 AM
Othello-based Olsen Homes LLC is in the application process for Phase 4 of Barrington Point, a 50-lot residential development extending Polo Ridge Drive between Paxson and Crestview drives in Moses Lake.
Phase 1 of Barrington Point began in late 2018, said Pete Olsen, owner and namesake of Olsen Homes. While Phases 1 through 4 have about 50 lots each, 5 through 7 will split the remaining 75.
The neighborhood offers seven floor plans, Olsen said, ranging from 1,260 to 2,000 square feet. Prices have been fluctuating so drastically with part orders, he doesn't want to list a firm price until an application is set in stone.
Starting in 1990, Olsen Homes has done developments in Othello, Moses Lake and Ephrata, he said. It is always looking for new opportunities, which is how Barrington Point came to be.
Through the application process, Olsen Homes must go through the municipal code, environmental, subdivision, zoning and development regulation processes for each phase.
The new phase will go before the hearing examiner at a virtual public hearing at 10 a.m. May 11.
Olsen anticipates starting construction on the new phase in late May, he said, following with phases 5, 6 and 7 sequentially.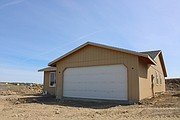 ---