Royal picks up first win against Wahluke, 3-0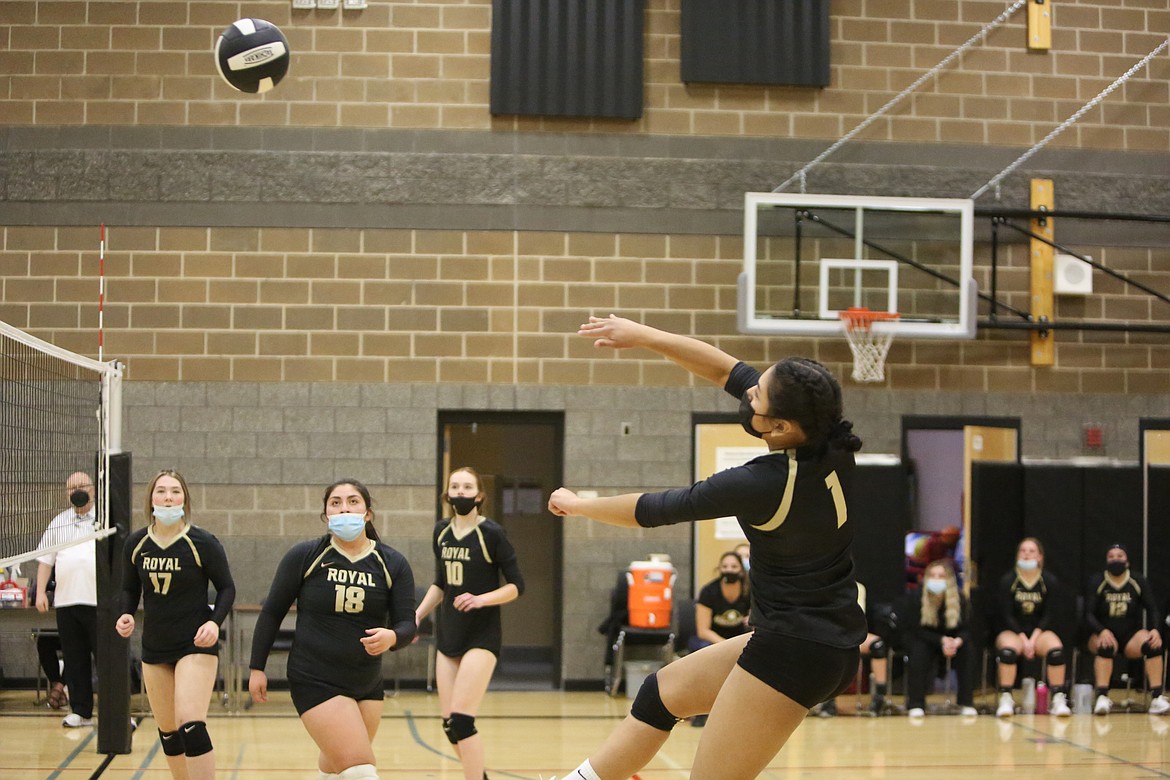 Royal freshman Jaya Griffin goes up for the hit against Wahluke on Saturday afternoon at Royal Intermediate School.
Casey McCarthy/Columbia Basin Herald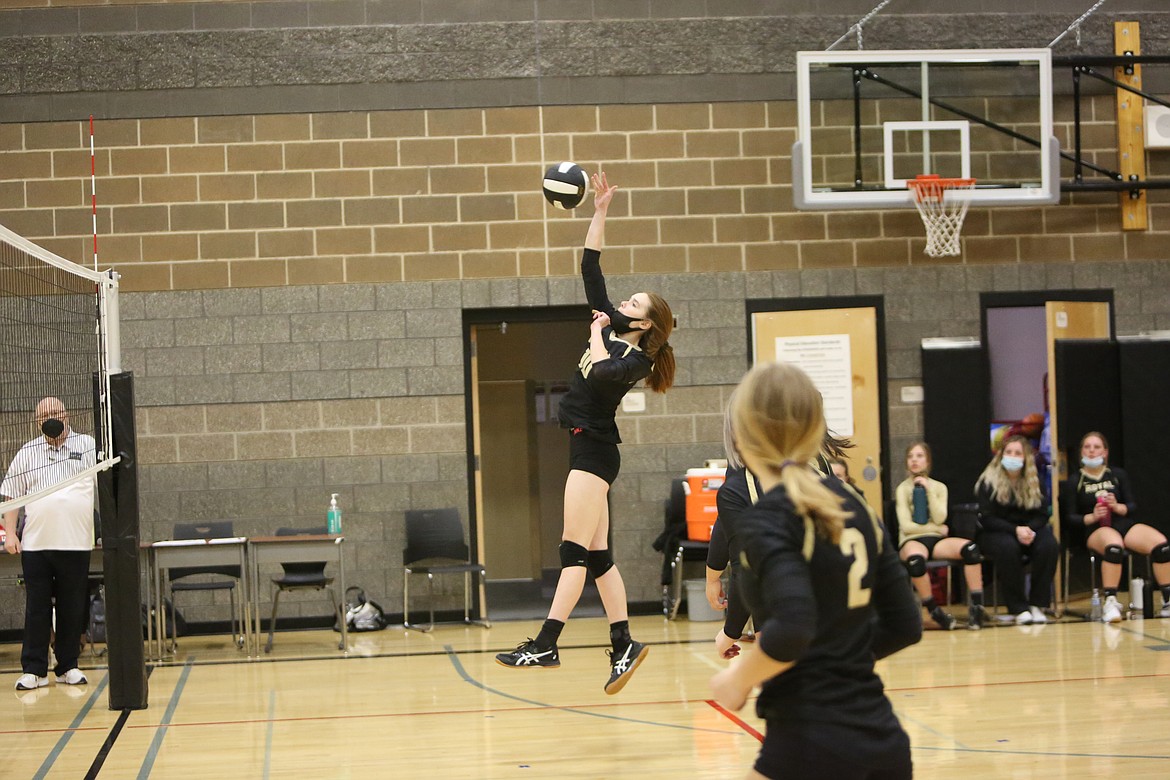 Royal's Kate Larsen goes up for the kill in the match against Wahluke on Saturday at Royal Intermediate School.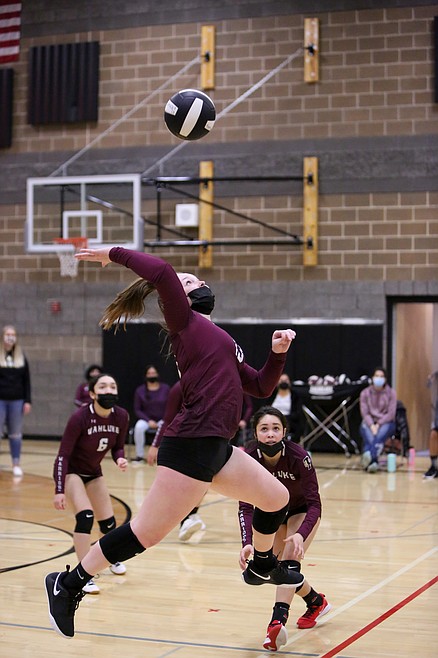 Madison Harlow skies up for the shot for Wahluke against Royal on Saturday afternoon in Royal City.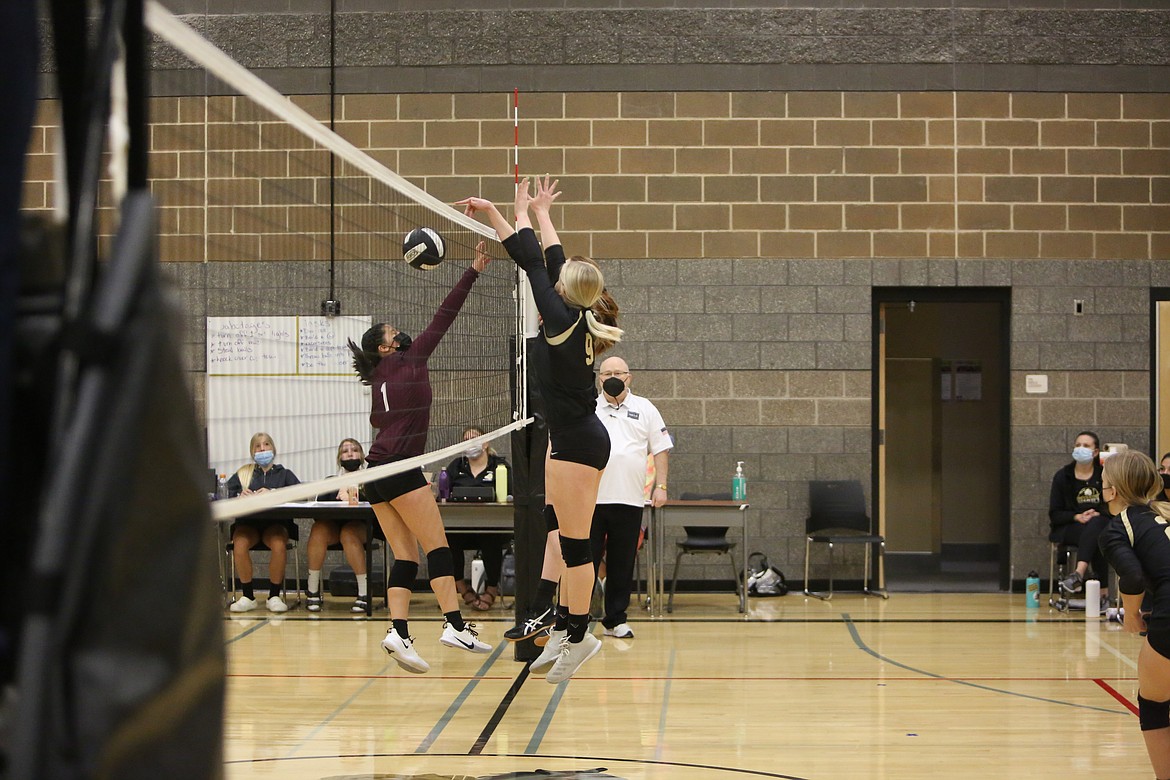 A pair of Royal players go up for the block against Wahluke's Glendy Corrales in the final set of the match on Saturday afternoon at Royal Intermediate School.
Previous
Next
by
CASEY MCCARTHY
Staff Writer
|
March 31, 2021 1:00 AM
Royal High School volleyball picked up its first win on Saturday afternoon at home in Royal City in its opening match of the day against Wahluke, 3-0.
The Knights fell behind early in the opening set before clawing back to tie at 15-15. Wahluke pulled away again, before Royal was able to fight its way back late for the 25-22 win.
Royal jumped early in Set 2, managing to pull away around the middle for the 25-15 win and two-set advantage. An early barrage in the third set helped the Knights build a double-digit margin early on their way to the sweep and first win this spring.
Kate Larsen and Avery Anderson led the way for the Knights up front with their blocking, with Larsen leading the Knights in kills.
Continuing the tournament-style schedule this spring, both teams faced off against Quincy later in the afternoon with the Jacks taking both matches.
Knights first-year head coach Amanda Saenz said with a young team this season, the confidence has grown as her players have learned to compete against some bigger schools they wouldn't normally face.
"When you have a 25-20 loss, and you're losing like that to a good team, it's very big for you're confidence," Saenz said. "That's something they never thought they'd be able to do, and they've learned a lot."
After falling behind early in the opening set, Saenz said she was talking to her players about "staying up" even after a mistake. She said she wants to keep things simple and have fun, force the other team to make a mistake.
Kate Larsen is a player up front for Royal who can really get going when they're on fire.
"I'm excited to see what that girl can do," Saenz said.
With this revised season this spring, the Royal head coach said she told her players the results aren't as important as long as they're continuing to build and grow toward the fall.
Wahluke head coach Everardo Corrales said after the opening match on Saturday he encourages his players to keep their heads up and look forward to the next match. The bright side of this unusual year is getting a lot of extra time on the court that wouldn't normally happen in spring, Corrales said.
"We'll get this season done and come right out of there into summer practice and then fall right in to our season," Corrales said. "So we've got tons of time to build these underclassmen up and hit it hard and get ready for next season."
With most games this season in the double-header scheduling, Corrales said it seems like his team always tends to come out of the gate a little slower in the opening game. He said once they've had some time to build up some energy, the second game is completely different.
Next up, Wahluke (3-8) will face off against Warden on Wednesday as the "fall season" draws close to an end. Royal will face off against the Cougars on Saturday in a double-header with Cashmere.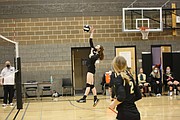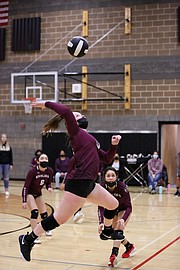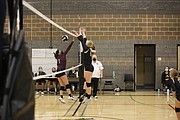 ---