Road rebuilding planned around new Love's Travel Stop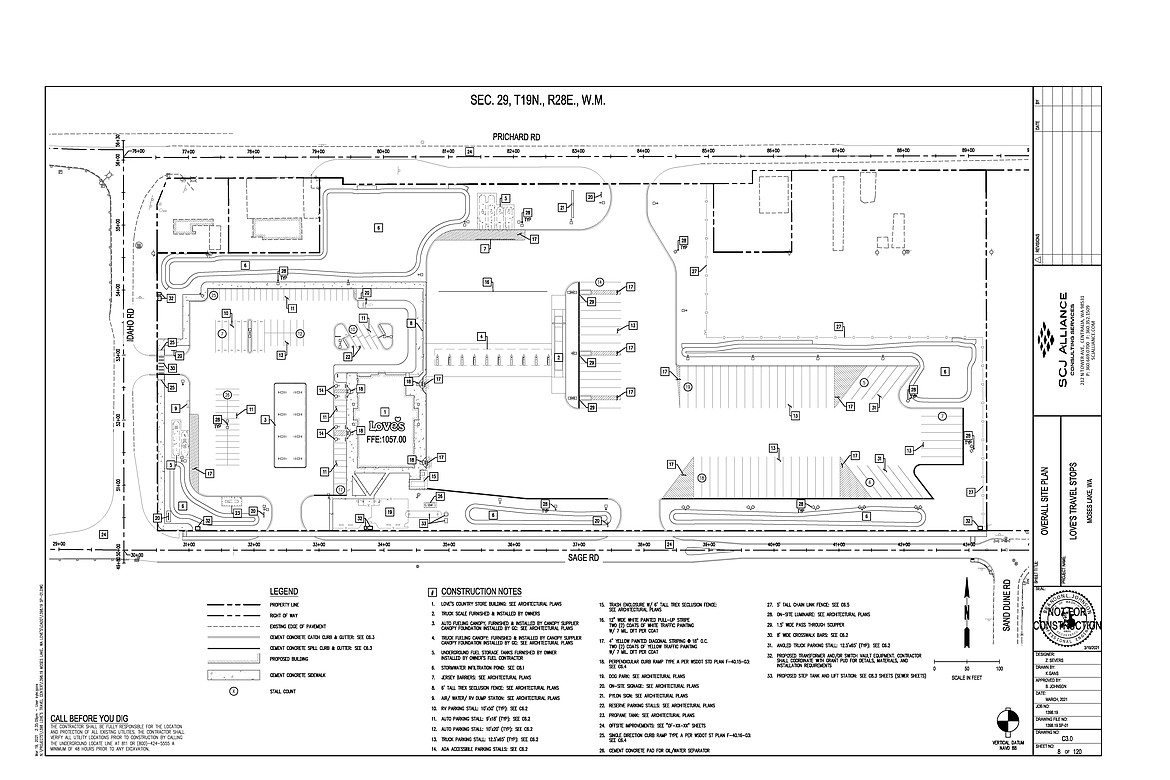 The submitted site plan for Love's Travel Stop shows entrances and exits from Idaho Road, Prichard Road and Sage Road.
Image courtesy of the city of Moses Lake
by
CHERYL SCHWEIZER
Staff Writer
|
March 31, 2021 1:00 AM
MOSES LAKE — The plans for the new Love's Travel Stop on the south side of Interstate 90 in Moses Lake include major upgrades to the two roads that provide access to the property: Sage and Prichard roads.
The new truck stop and convenience store will be built near the eastbound freeway exit at milepost 174. The company has submitted building and site plans to the city for its review.
The announcement of the project generated concerns among nearby residents, especially over the possible impacts to traffic on Hansen, Sage and Prichard roads.
The facility is designed to have trucks on the east side of the property and passenger vehicles on the west side. There is no route from one side to the other through the parking lot. Traffic must exit to Prichard Road or Sage Road to access the other side of the property.
The site layout has entrances and exits on Prichard, Idaho and Sage roads. Passenger vehicles will enter and exit the site from Idaho or Sage roads. Trucks will use Prichard Road or Sage Road.
Lynne Lynch, public information officer for the city of Moses Lake, said the company will be required to rebuild a section of Sage Road, from Sage Road's intersection with Idaho Road and the intersection with Sand Dunes Road.
The Love's development will extend from Idaho Road to Sand Dunes Road.
"The road is required to be designed to handle heavy truck traffic on a native sand base," Lynch said.
Love's Travel Stop owners also are making major changes to Prichard Road. Currently, Prichard Road is two lanes, east and west. It will be reconfigured to a one-lane road, heading east, and will be widened and the roadbed will be strengthened.
The city is considering changing the speed limit on Prichard Road.
Currently, Laguna Drive is two lanes and open to north-south traffic. The segment of Laguna between Prichard and Sage, which cross Laguna, will become a one-lane road going south.
Hansen Road is the easiest access to I-90 and the rest of Moses Lake for residents of Mae Valley, and Sage Road to Prichard Road will be the easiest access for residents of developments south of the freeway.
Mae Valley has experienced substantial residential growth in the last year, and more development is planned.
Moses Lake city officials, looking at the growth in Mae Valley and the Love's development, have commissioned a traffic study of the area to recommend changes to ease congestion. The study is scheduled for completion in June.
---