Vaccine eligibility to expand on April 15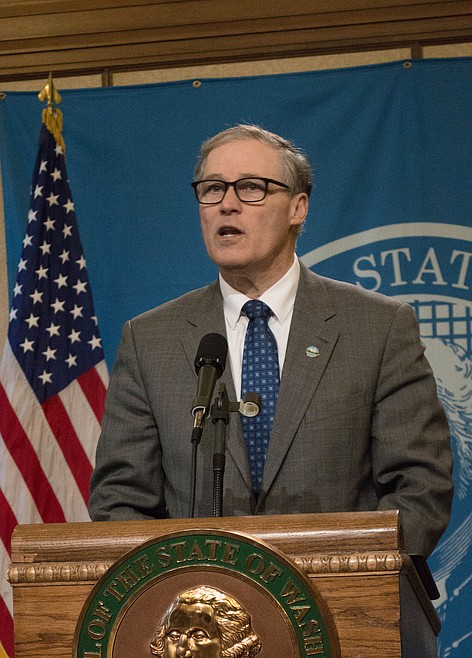 by
CHARLES H. FEATHERSTONE
Staff Writer
|
March 31, 2021 6:20 PM
OLYMPIA — Gov. Jay Inslee announced Wednesday that as of April 15, all Washington residents older than 16 will be eligible for the COVID-19 vaccination.
During a press conference, Inslee said 5 million people will have access to COVID-19 vaccinations in Washington state. The announcement comes when vaccine supplies are increasing, but the number of new COVID-19 cases are in a "disturbing uptick," Inslee said.
"We are saving lives in the state of Washington. Big time," he said.
Inslee said he was concerned a number of those older than 65 who are currently eligible to receive the vaccine have not gotten their shots, and suggested family members who are waiting to be eligible to get their shots in the middle of next month should do all they can to convince reluctant or avoidant loved ones to get the jab.
"I can't stand the thought of losing folks we could save with a simple vaccine," the governor said. "It's like driving around without seat belts. Or worse."
However, Washington Secretary of Health Umair Shah said those who will become eligible for the vaccine on April 15 will not be able to make vaccination appointments until that date, and those who were eligible before April 15 will continue to remain eligible for the shots after that date.
Shah said the state is vaccinating around 54,000 people every day, well above the initial daily vaccination goal of 45,000.
As for the ongoing state of emergency he put in place a year ago in response to the pandemic, Inslee said he didn't have a "crystal ball" and so has no idea when it will end.
"I can't tell you. I would tell you if I knew," the governor said.
Charles H. Featherstone can be reached at cfeathestone@columbiabasinherald.com.
---