House passes bill to limit open carry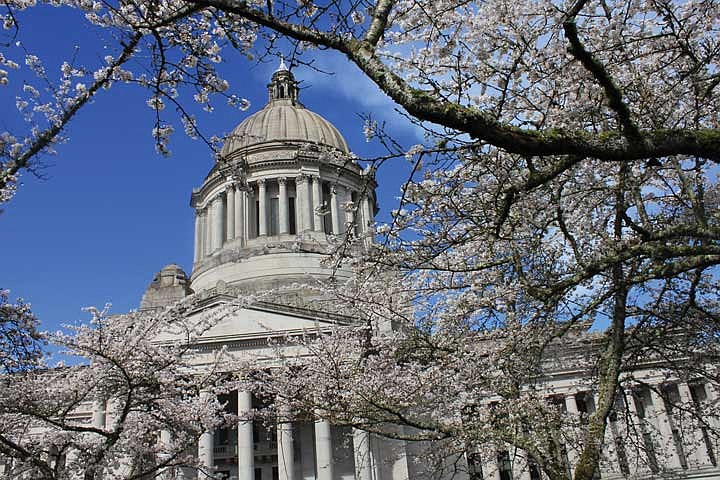 by
Angelica Relente, Herald Legislative Writer
|
March 30, 2021 1:00 AM
Washingtonians may be prohibited from openly carrying their firearms or other weapons at certain locations and events if Gov. Jay Inslee signs a bill into law during this year's state legislative session.
Senate Bill 5038, which passed in a 57-40 vote during a virtual state House floor debate Sunday, would prohibit people from openly carrying their firearms and other weapons at or near "permitted demonstrations" and other legislative locations, according to the bill's text. The Senate passed the bill on Feb. 25 in a 28-20 vote.
Sen. Patty Kuderer, D-Bellevue, is SB 5038's primary sponsor.
Under SB 5038, law enforcement personnel would be exempt from the law "when acting in conformance with their employing agency's policy," according to the bill's text. Those who violate the law would face a gross misdemeanor offense.
If a person gets a gross misdemeanor offense, they can spend up to 364 days in a county jail and/or a fine of no more than $5,000, according to the state Legislature's website.
Rep. Drew Hansen, D-Bainbridge Island, said during the virtual floor debate current state law already prohibits individuals from carrying weapons in locations where court proceedings occur so the atmosphere is "free from intimidation."
"That's what this bill does," Hansen said. "If you come to the Washington state capitol to petition your elected representatives, you should be able to do that in an environment free from intimidation."
Rep. Kirsten Harris-Talley, D-Seattle, said during the virtual floor debate SB 5038 is about the balance of the First and Second amendments, as well as the state's constitution.
Rep. Tom Dent, R-Moses Lake, said during the virtual floor debate the right of the people to keep and bear arms shall not be infringed under the Second Amendment. SB 5038 feels like an attack on people's rights, he said.
"This is not a good bill," Dent said. "If we truly are working together to make a better Washington we should be working together … not just coming up with legislation that is crafted by one side (for) the rest of us to argue over."
Dent said feeling intimidated by a person carrying a weapon is subjective. The Legislature should find "common sense solutions" — SB 5038 will not bring them to that.
"I cannot control feelings of another individual at all," Dent said. "What that person feels is up to them. I can't control that any more than you can control what makes me feel something and that's what we're talking about here."
Rep. Mary Dye, R-Pomeroy, said during the virtual legislative debate SB 5038 does not protect "the equal distribution of human rights."
"People that come to celebrate the right to carry, the right to own a weapon, the right to do so constitutionally and within the laws of the state and federal government — they need to be protected, too," Dye said.
Rep. Alex Ybarra, R-Quincy, had an amendment that would prohibit people from openly carrying their firearms and other weapons within 25 feet of a demonstration instead of 250 feet.
Ybarra said he lives in and represents a lot of small towns, and a lot of farmworkers in that area carry a knife in their pocket for work. The 250 feet requirement could hold those individuals liable for something they may not even be aware of.
Dent, who voiced support for Ybarra's amendment, said it is not unusual for individuals in rural America to have a pocket knife, as it would be used to cut the string on bales of hay, among other things. SB 5038 might "turn them into a felon."
Hansen said SB 5038 only applies to those who openly carry their weapons, so those who have knives in their pockets would not count. Ybarra's amendment is unnecessary, he said.
The bill returns to the Senate to be reconsidered in its amended form.
(This article corrects information on the next step for this bill.)
Recent Headlines
---