Big Bend comes up short in opening doubleheader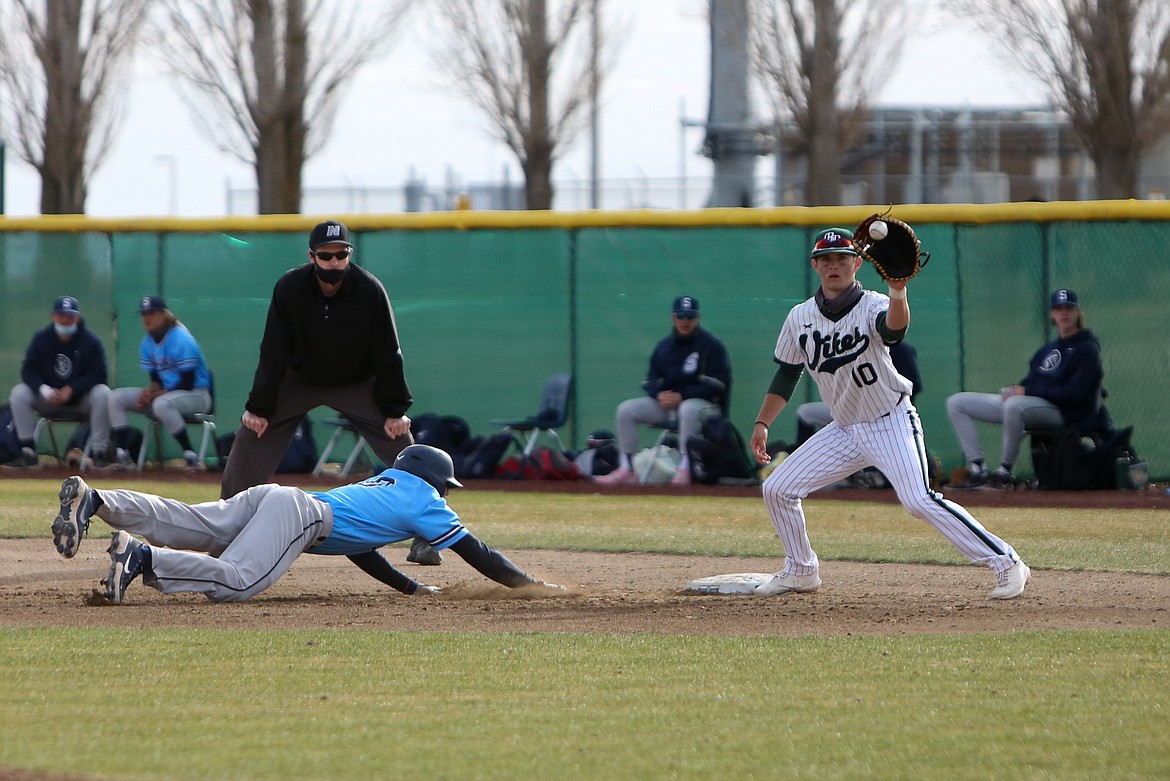 Big Bend first baseman Gabe Passey makes the catch as he looks to make the out early in the second game of the afternoon against Spokane Community College at Big Bend CC on Saturday.
Casey McCarthy/Columbia Basin Herald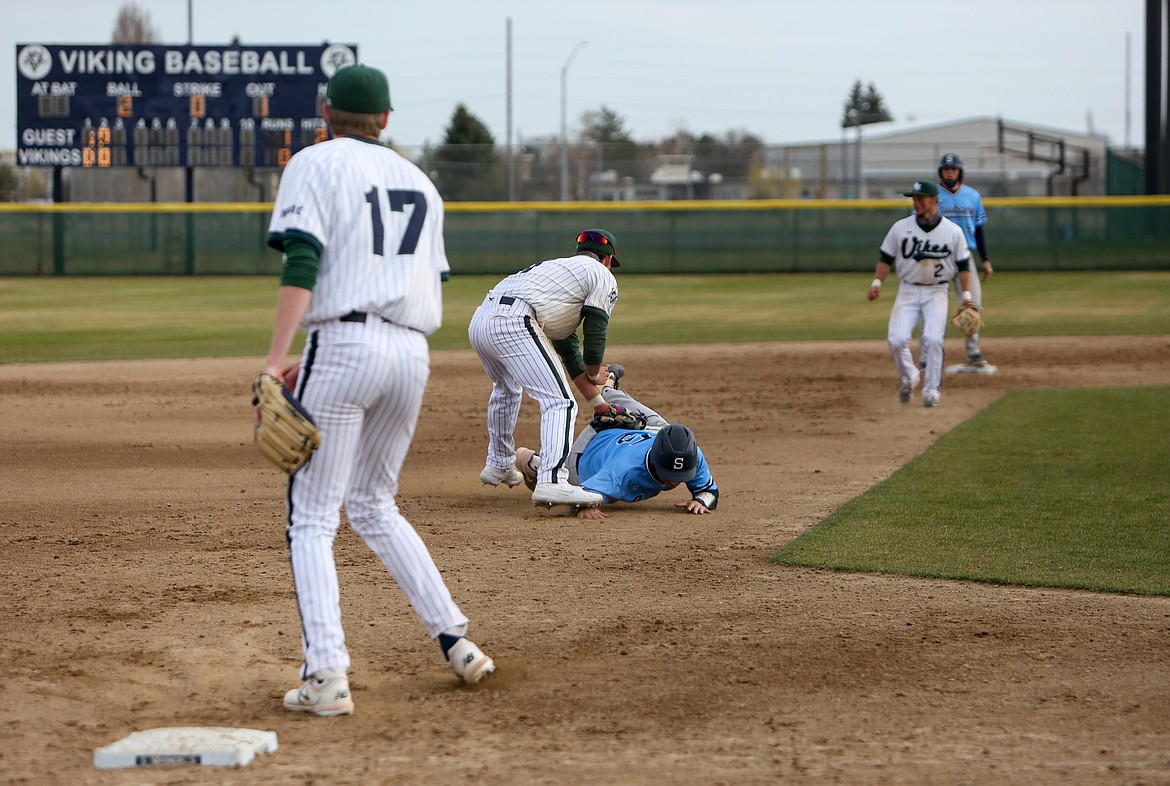 Big Bend third baseman Zach Valdez tags the Spokane runner after he got caught in between second and third base in the second game of the afternoon for the Vikings on Saturday.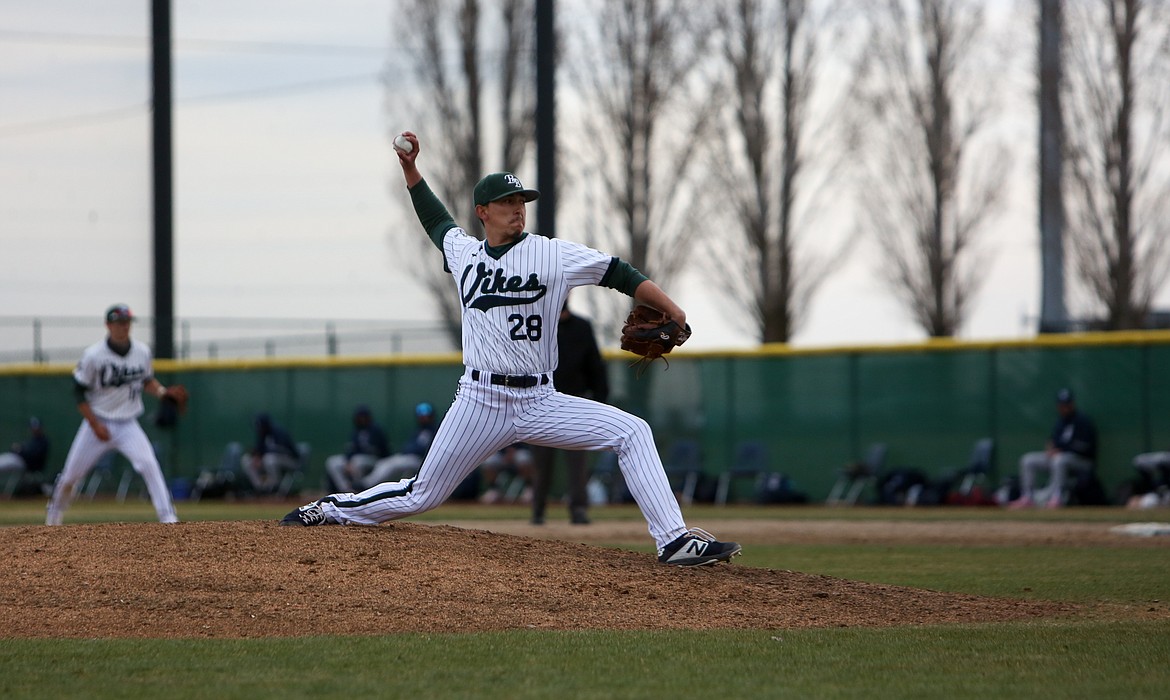 Big Bend's Vance Alvarado makes the pitch after coming in as relief in the second game of the day for the Vikes against Spokane Community College on Saturday.
Previous
Next
by
CASEY MCCARTHY
Staff Writer
|
March 30, 2021 1:00 AM
MOSES LAKE — Big Bend Community College baseball started the season on Saturday afternoon with a doubleheader at home against Spokane Community College.
The Vikings fell in the first game after the Sasquatches jumped out to an early lead. Eric Mast scored for Big Bend in the bottom of the first before Spokane rattled off seven runs in the next two innings to pull ahead 7-1.
After BBCC moved up to 7-2 in the bottom of the fourth, Spokane tacked on two more runs to their lead. Big Bend mounted a comeback attempt late, but ultimately fell short with a final score of 9-6.
Mast finished 1-3 from the plate, with a double and a pair of earned runs. Kristian Saldana, Dominic Signorelli and Brandham Ponce picked up RBIs for the Vikings. Big Bend was outhit 7-3 in the game.
Evan McLean took the loss on the mound, surrendering seven runs on five hits with a pair of strikeouts in just under three innings. Dax Lindgren pitched five innings in relief, giving up two runs on two hits with four strikeouts. Justice Dillman closed the game with one strikeout and no runs earned.
Spokane jumped ahead early in the second game on the way to a 5-3 win.
Up 4-0 after three innings, Big Bend found the scoreboard in the bottom of the fifth and picked up some late energy off a home run ball from Ryde Ishii in the seventh. After Eric Mast trimmed the deficit to two runs in the ninth, Big Bend's comeback came up shy with a runner on base and the tying run at the plate.
Ishii finished 2-4 from the plate for the Vikings with one RBI. Dylan Gardner pitched for Big Bend, surrendering four runs on four hits with one strikeout. Vance Alvarado tossed six innings in relief, giving up just one run on two hits with a pair of strikeouts.
The Vikings' second doubleheader with Spokane CC was canceled on Sunday due to high winds and rescheduled for this afternoon.
Casey McCarthy can be reached via email at cmccarthy@columbiabasinherald.com.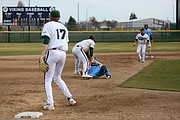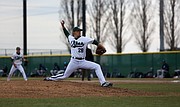 ---