Weekend high school roundup: Othello pummels North Central 39-7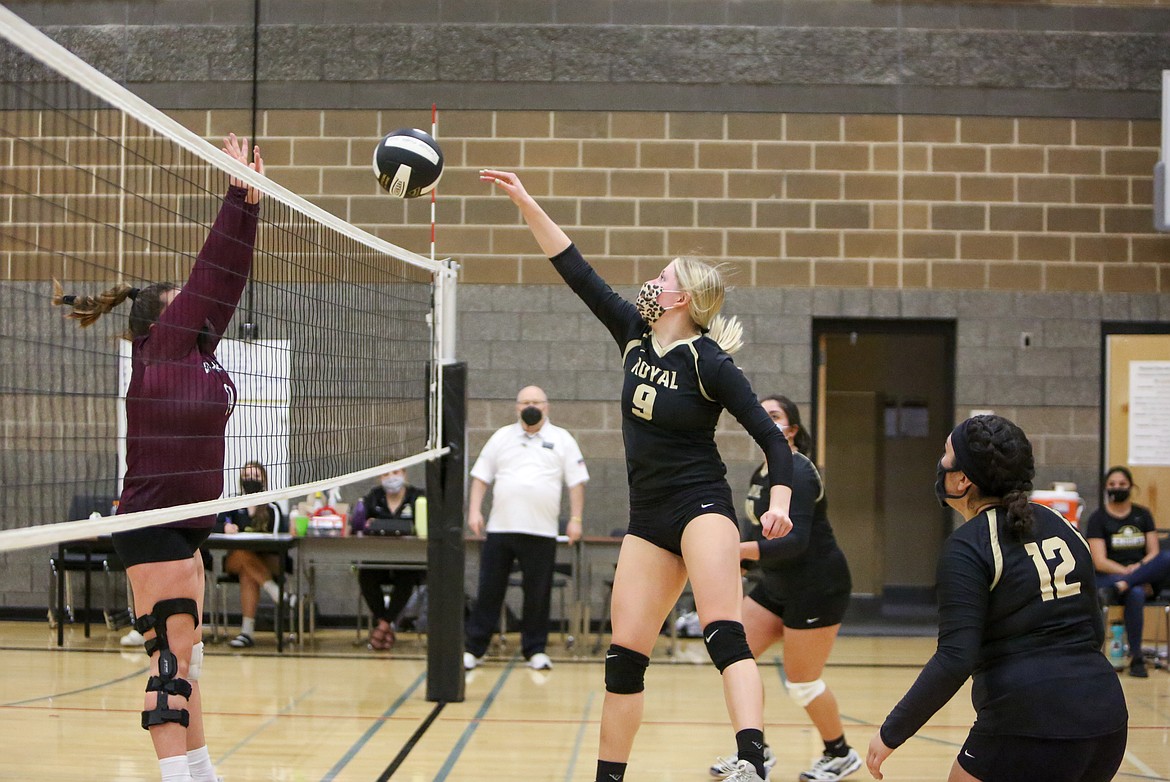 Royal's Avery Andersen goes up for the hit in the third set against Wahluke on Saturday afternoon at Royal Intermediate School.
Casey McCarthy/Columbia Basin Herald
by
CASEY MCCARTHY
Staff Writer
|
March 29, 2021 1:00 AM
Football
Othello 39, North Central 7
The Huskies finished with 368 yards rushing in the win over North Central led by Sonny Asu's 261 and four rushing scores. Julian Alegria and Nelson Barragan also combined for 95 yards rushing and two scores.
The Othello defense kept North Central to just 23 yards rushing and 134 yards through the air. The Huskies defense finished with seven sacks and a pair of turnovers. Othello moves to 3-2 on the season.
Royal 74, Wahluke 0
The Knights continued their dominance of the North Central Region with a huge win at home on Friday night. Royal led 64-0 at the half. Quarterback Caleb Christensen finished with 210 passes on nine attempts with five passing touchdowns. Derek Bergeson led the receivers with five catches for 140 yards and three scores. Bergeson finished with 53 yards rushing.
The Knights defense racked up a safety, three interceptions, one fumble recovery and two defensive scores. Royal moves to 4-0, while Wahluke falls to 0-4.
Soap Lake 35, Pateros 8
Diego Garza finished with 213 yards passing, 55 yards rushing and four touchdowns (three rushing, one passing) in the Eagles' win over Pateros Thursday. Christian Foster led the rushing attack with 125 yards on the ground, chipping in the rushing touchdown. Besim Cassedy led the receivers with five catches for 130 yards and three touchdown grabs.
Ephrata 0, Eastmont 30
Eastmont finished with more than 300 yards rushing Friday. Tony O'Neel led the rushing for Ephrata with 33 yards. Gavin Burns finished with 65 yards passing.
Other scores:
Warden 14, Cascade 35
Girls soccer
Quincy 4, Royal 0
Sheridan Donovan notched two goal to lead the Jacks in the win over Royal on Thursday. Klaritssa Cruz and Emily Wurl each added a goal for Quincy as the Jacks move to 7-2 for the season. Royal falls to 3-6.
Wahluke 8, Warden 1
Ana Andrade finished with six goals at home against Warden for the Warriors. Alondra Lozano added two as the team moved to 8-1. Warden falls to 2-7.
Other scores:
Moses Lake 0, Wenatchee 3
Othello 1, Shadle Park 2
Ephrata 0, Eastmont 6
Volleyball
Royal 3, Wahluke 0
The Knights fought back to claim the first set on their way to the sweep and first win of the season on Saturday afternoon. Kate Larsen and Avery Anderson led Royal in blocks, while Larsen led the team in kills.
Quincy 3, Royal 1
Quincy won the first two sets Saturday, taking the second by a narrow margin, 25-23. Royal fought back to force a fourth set, but ultimately fell 25-8. Kate Larsen finished with seven kills for Royal, while Makayla Ortega Sanchez added four kills.
Other scores:
Quincy 3, Wahluke 0
Almira/Coulee-Hartline 3, Soap Lake 0
ACH 3, Wilson Creek 0
Casey McCarthy can be reached via email at cmccarthy@columbiabasinherald.com.
---