Easterdays: More than $400M debt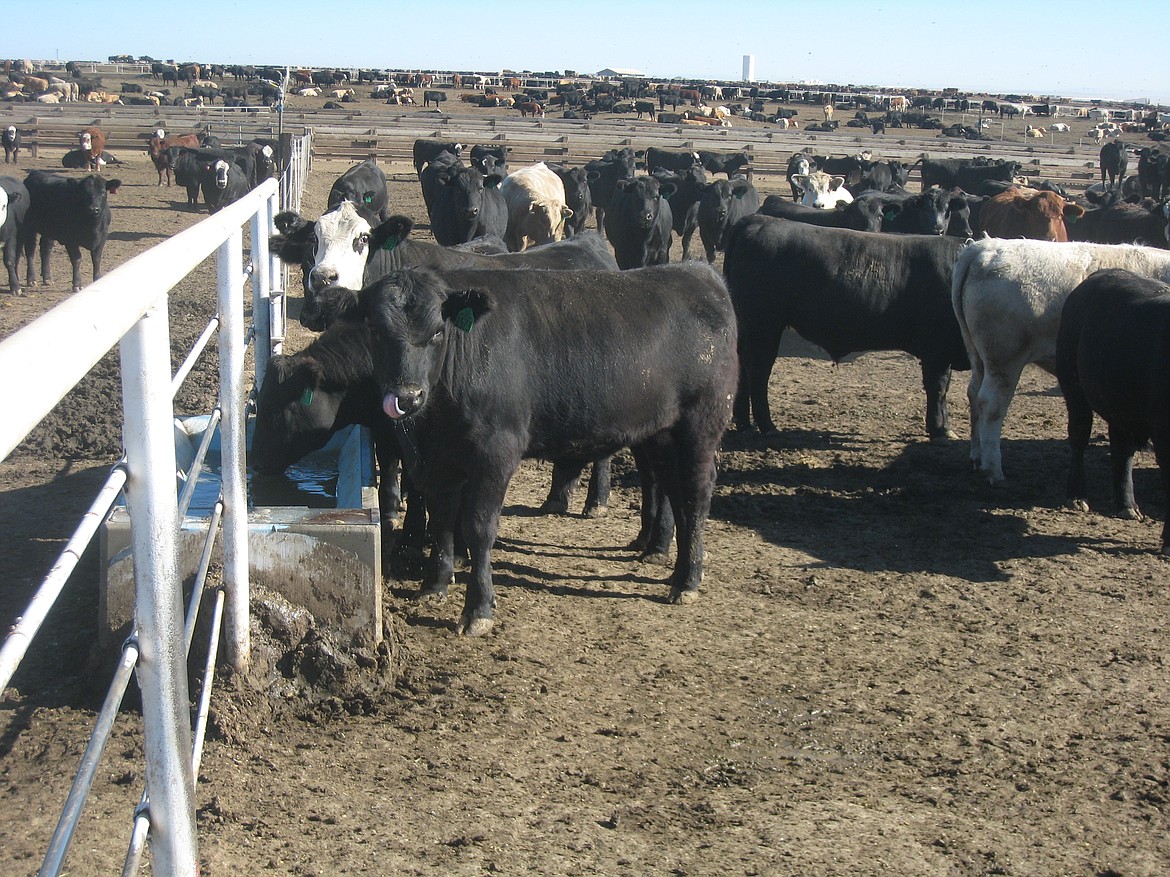 Cattle feed at a trough at an Easterday Ranches feedlot near Pasco.
AP file photo/Shannon Dininny
by
CHARLES H. FEATHERSTONE
Staff Writer
|
March 29, 2021 1:00 AM
SPOKANE — Troubled Easterday Farms and Easterday Ranches, both of which filed for bankruptcy in early February, reported nearly $420 million in outstanding debts.
The two family-owned farming companies reported to the figures in a filing with the U.S. federal bankruptcy court last week outlining company assets and liabilities for February, when both firms were under the supervision of the federal bankruptcy court.
The two Pasco-based companies filed for bankruptcy protection in early February after Tyson Fresh Meats filed suit against Easterday Ranches, alleging Easterday Ranches head Cody Easterday defrauded the company of $225 million over the course of several years by billing the company for 200,000 head of non-existent cattle to cover $202 million in commodities trading losses between 2011 and 2019.
As a result, attorneys representing the companies told Judge Whitman Holt at a hearing in mid-March that it is likely Easterday Ranches will be liquidated — all of its assets sold off to satisfy the company's creditors — and it is possible Easterday Farms will be liquidated as well.
According to a court filing late Friday, Easterday Ranches is seeking court approval to sell around 22,500 acres across five farms in Benton County.
"The U.S. Trustee has stated that Ranches will clearly have to sell and either the Easterdays, which I find beyond unlikely, or Farms will decide to do a reorganization," said Richard Pachulski, an attorney representing both firms with national bankruptcy specialists Pachulski, Stang, Ziehl & Jones. "There's no possibility of a reorganization here, your honor, unless someone is going to come in out of the blue and put money into the estate. And no one has volunteered to do that."
In 2017, Easterday Farms arranged to feed and care for cattle bound for Tyson Fresh Meats' Pasco-area slaughterhouse, billing the company for every animal fed and cared for.
Easterday Ranches, which filed for bankruptcy on Feb. 1, listed assets of $103.8 million — including a $15 million loan to Easterday Farms — as well as total debt, both secured and unsecured, of $295.9 million, including the $225 million claimed by Tyson Fresh Meats.
Easterday Farms, which filed for bankruptcy on Feb. 8, listed assets of $91.3 million and total liabilities — including a $15 million loan from Easterday Farms — of $122.8 million.
Both companies filed for bankruptcy because they share operations and assets, something attorneys overseeing both firms said is making sorting out who owes what difficult. As examples, Easterday Farms supplied feed to Easterday Ranches feed lots at cost and without a contract, and one entity would "lease" land from the other without actually paying any money.
Washington State University Extension Economist Shannon Neibergs said it is very common for family farms, even very large and complex ones, to operate closely and informally.
He said once he advised one member of a larger family farm who was facing foreclosure on his land because his brother, who owned and operated another part of the family farm, wasn't paying him.
"That is common with extended families as they expand and manage farms," he said. "Individually but also collectively, I think that is common as they expand."
In a separate hearing last week, Holt also approved a motion from Easterday attorneys to terminate Easterday Farms' multi-year contract to supply Lamb Weston with potatoes, and authorized the sale of 42,500 tons of potatoes in storage from the company's 2020 harvest be sold to Lamb Weston as quickly as possible.
"It gets better terms for the debtor, who cannot fulfill the Lamb Weston contract, and saves administrative costs. And it allows Lamb Weston to find another supplier," said Paul Labov, an attorney with Pachulski, Stang, Ziehl and Jones.
Instead, Easterday Farms will grow wheat on several thousand company-owned acres because the company simply does not have the financial resources to plant a potato crop this year.
"Wheat is an easy commodity to grow," Neibergs said. "All you need is fertilizer and seed. It has lower input costs."
However, Neibergs said the profit margin on wheat also tends to be lower, and has not been particularly good in the last few years.
Charles H. Featherstone can be reached at cfeatherstone@columbiabasinherald.com.
---