Big Bend's Zach Valdez signs with Western Oregon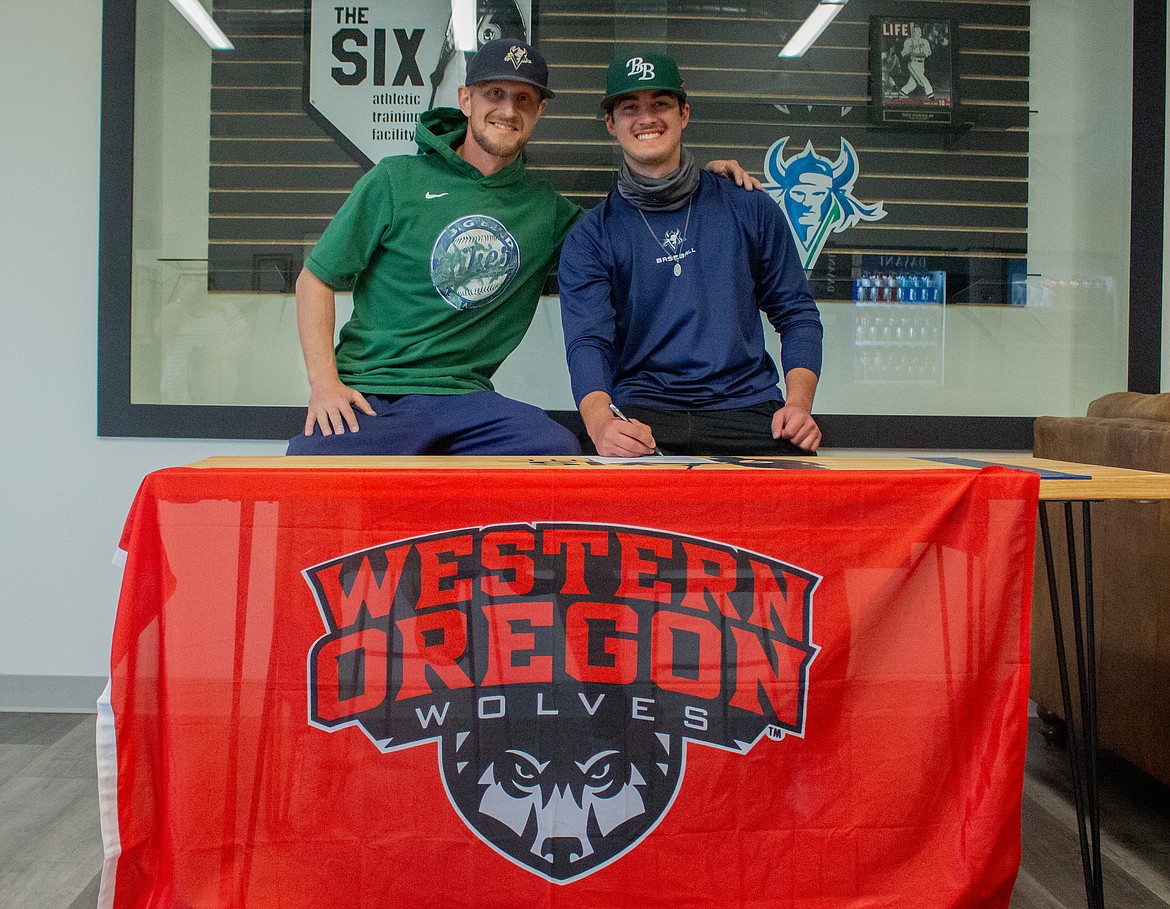 Left to right, Big Bend head baseball coach Jameson Lange and Vikings sophomore Zach Valdez pose together to celebrate Valdez signing to play next season at Western Oregon University.
Casey McCarthy/Columbia Basin Herald
by
CASEY MCCARTHY
Staff Writer
|
March 29, 2021 1:00 AM
Moses Lake High School alum and Big Bend sophomore Zach Valdez will be headed to Western Oregon University in Monmouth, Oregon, to continue his baseball career in the fall. Valdez will have four more years of eligibility left.
Valdez said on Friday afternoon playing at the collegiate level is a dream come true and added he's ready to see what life has in store for him when he leaves his hometown.
"I've been here all my life, so just to get a different view on everything, different atmosphere," Valdez said. "I'm pretty excited to just go out there and live on my own for a few years."
He said he's not sure what his role will be just yet, but was told to be ready when his time comes. He said the coaches told him he'd need to earn his spot and fight for it if he wanted it.
The team atmosphere stood out to Valdez on his visit, and he said he can't wait to join a winning tradition next year.
After seeing his freshman season cut down right as it was beginning, Valdez kicked off his sophomore campaign this weekend. He said keeping up with training under COVID-19 regulations has made it difficult.
"We managed to figure stuff out, putting ourselves into smaller groups and just focusing on a certain thing from day to day," Valdez said. "I think we're ready for the season."
Valdez is joined by a lot of familiar faces from his 2019 4A State Championship team from Moses Lake. Many of his teammates have been with Valdez since he started playing the game.
He said it's awesome to be around these players again and added that they've learned to feed off each other through the years.
"For most of the guys from my high school team to be playing here, it's a nice feeling to have getting back together and doing more special things," Valdez said.
Valdez said he likes the core of players at BBCC this spring and hopes to contend for an Eastern Region Championship. He added his goal at Western Oregon is a championship too.
"Just flat out just play and enjoy the game and enjoy the time I have over there," Valdez said. "I have a little more time with this whole COVID deal, but just go out there and have fun and live life to the fullest."
Valdez said he hopes to keep playing baseball as long as he can, and go where life takes him once that time's up. Having earned his associate's degree in arts and sciences at Big Bend, Valdez said he's looking at pursuing either electrical engineering or a promising business program in Monmouth.
Casey McCarthy can be reached via email at cmccarthy@columbiabasinherald.com.
---