Prep roundup: Moses Lake's Raymond named WIAA Athlete of the Week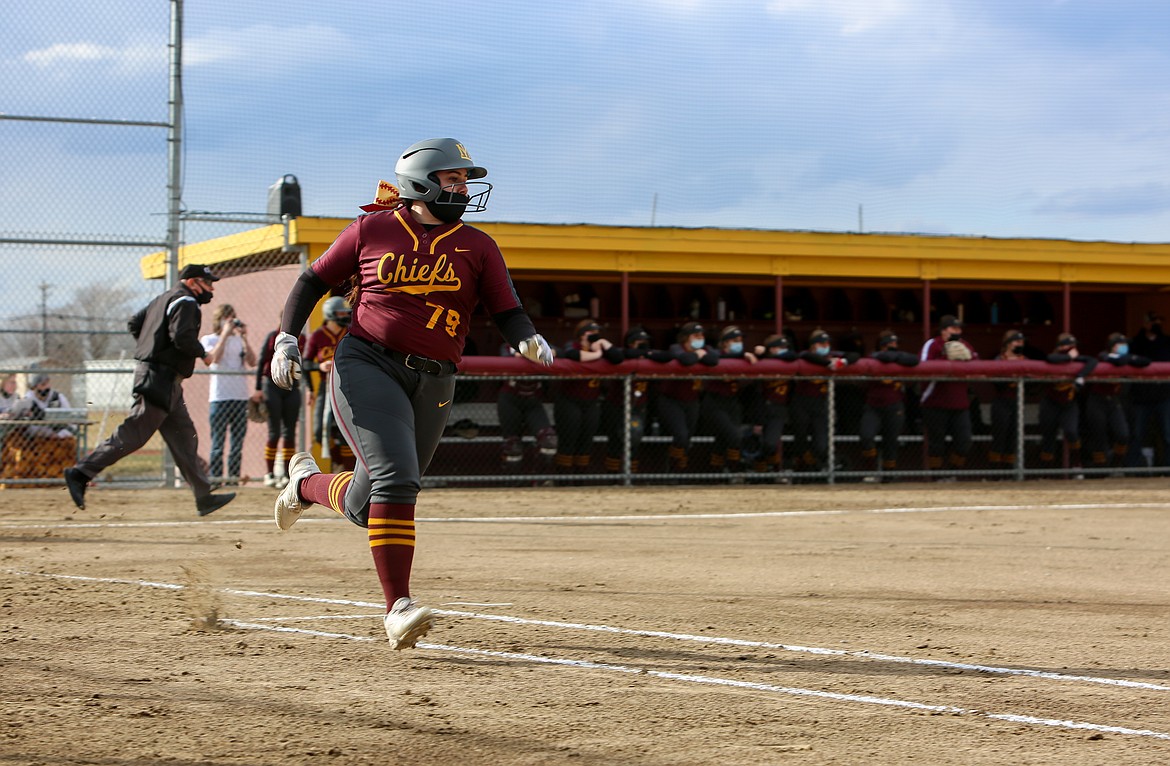 Moses Lake senior Harley Raymond rounds the bases after knocking a deep shot on March 9 at the softball field behind Moses Lake High School.
Casey McCarthy/Columbia Basin Herald
by
CASEY MCCARTHY
Staff Writer
|
March 26, 2021 1:00 AM
Moses Lake senior softball player Harley Raymond was named as a Washington Interscholastic Activities Association (WIAA) Athlete of the Week for her performance this week.
In four games, Raymond finished 13-18 from the plate. She knocked four home runs in that time while racking up 10 runs and 14 RBIs. Raymond also chipped in three doubles as the Chiefs went undefeated for the week.
Girls slowpitch softball
Moses Lake 18, Chiawana 17
In the first game of Tuesday's doubleheader, the Chiefs took the win by a narrow margin. Moses Lake trailed 15-8 after five innings, but managed to even the game at 15-15 in the bottom of the seventh inning with four runs. The Chiefs pulled away for the win in the bottom of the eighth thanks to a sacrifice fly ball from Ali Stanley.
Stanley finished 4-5 from the plate, with two RBIs, two doubles and four earned runs. Rylie Sanchez also finished 4-5 while Harley Raymond led the team with seven RBIs.
Moses Lake 9, Chiawana 13
The Chiefs fell in their final game of the slowpitch season after surrendering seven runs in the top of the seventh to Chiawana. Maddison Pitts finished 3-4 from the plate for the Chiefs. Brenna Rangel finished 1-3 from the plate with a homer and a team-high 3 RBIs. Moses Lake wraps up the slowpitch season at 9-1.
Girls soccer
Ephrata 1, Okanogan 0
Julie Davis scored the lone goal for the Tigers off an assist from Jordan Clark to lead Ephrata to victory on Tuesday. The Tigers offense found plenty of offensive opportunities, finishing the game with 40 shots to just 18 for Okanogan. Ephrata moves to 4-4 on the season.
Wahluke 5, Royal 0
Warriors forward Ana Andrade finished with four goals in the win, with Alondra Lozano added the fifth goal. Wahluke head coach Cele Lopez said it was a great game for his team picking up a strong win against a local rival. Wahluke moves to 7-1 on the season, while Royal falls to 3-5.
Moses Lake at Omak (canceled)
Volleyball
Ephrata 3, Okanogan 0
The Tigers fought back to take three close games in the sweep against Okanogan on Wednesday evening. Ephrata won the three sets, 25-21, 26-24 and 25-22, coming back from an 18-8 deficit in the second set.
Halee Moore led Ephrata with 14 digs, while Lindsay Addink notched 27 of the team's 76 assists. Hayden Mills led the team with 11 kills, while Addink finished with a team-high 7 blocks.
Other scores:
Moses Lake 0, Eastmont 3
Warden 5, Moses Lake Christian Academy 0
---