Turning point: Retired landscaper finds joy in woodwork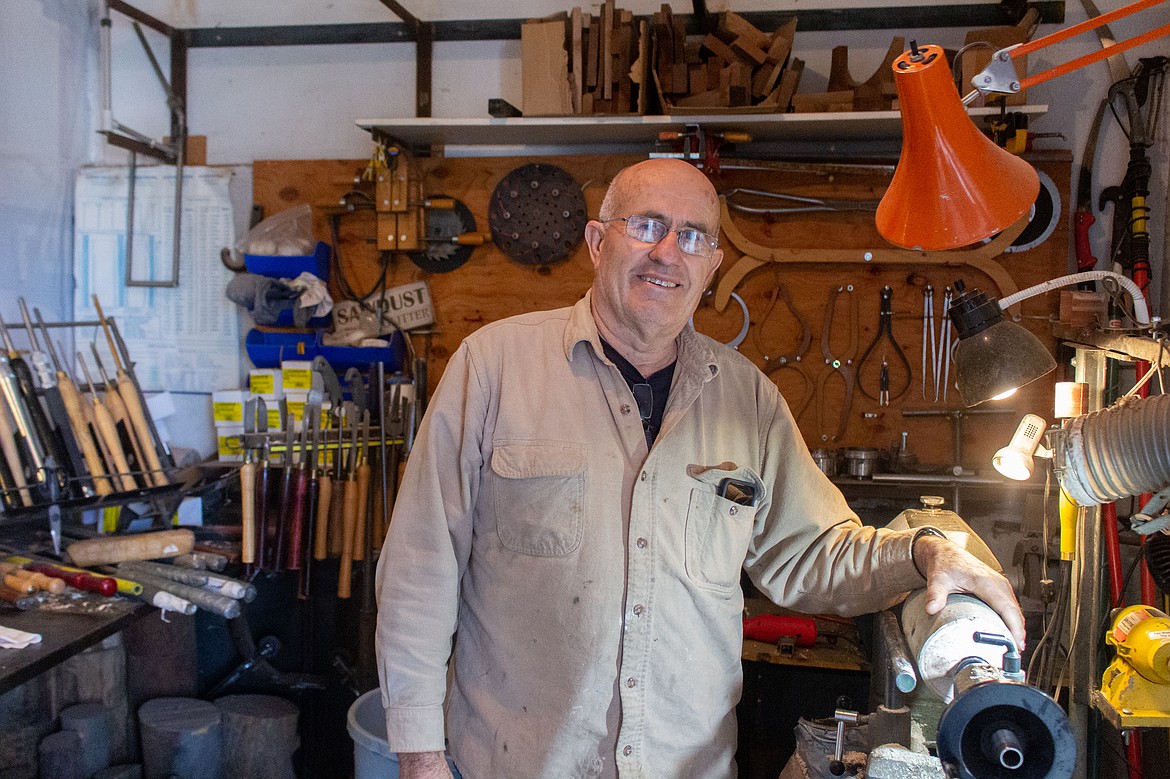 Merle Hardy stands beside his wood lathe in the wood shop area of his garage in Moses Lake on Monday afternoon.
Casey McCarthy/Columbia Basin Herald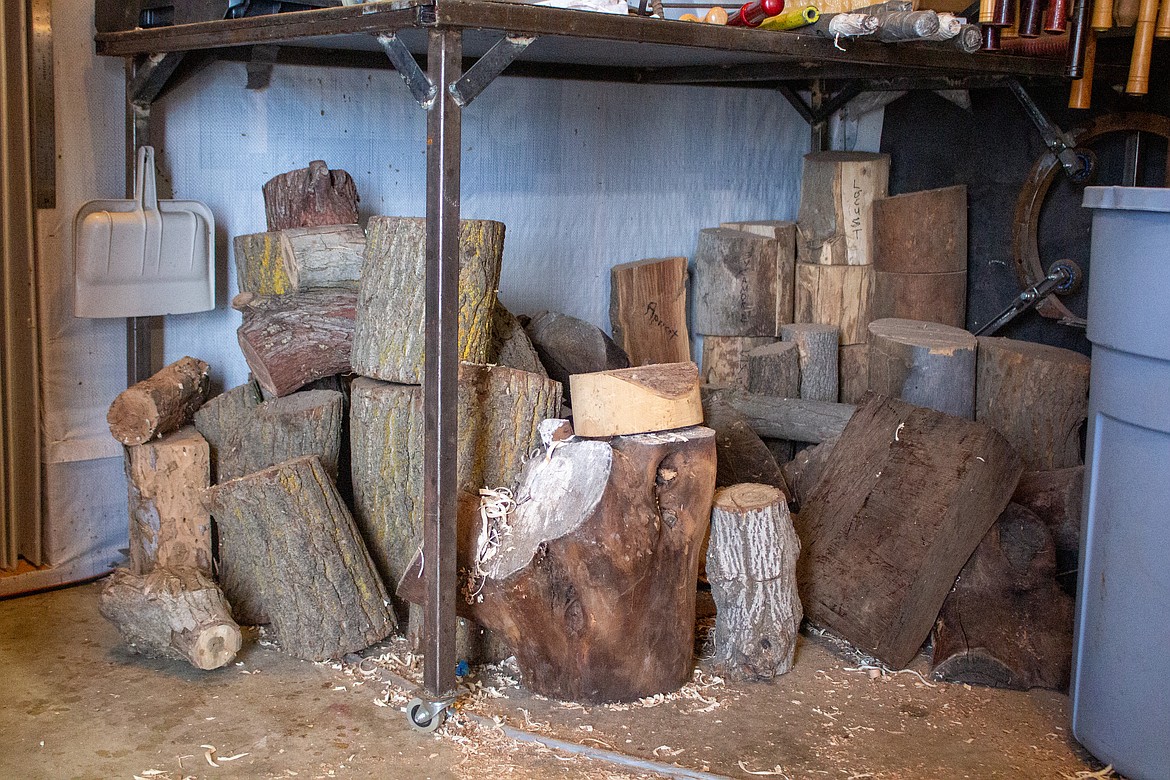 A variety of different types of wood sit ready to go in Merle Hardy's wood shop area of his garage in Moses Lake on Monday afternoon.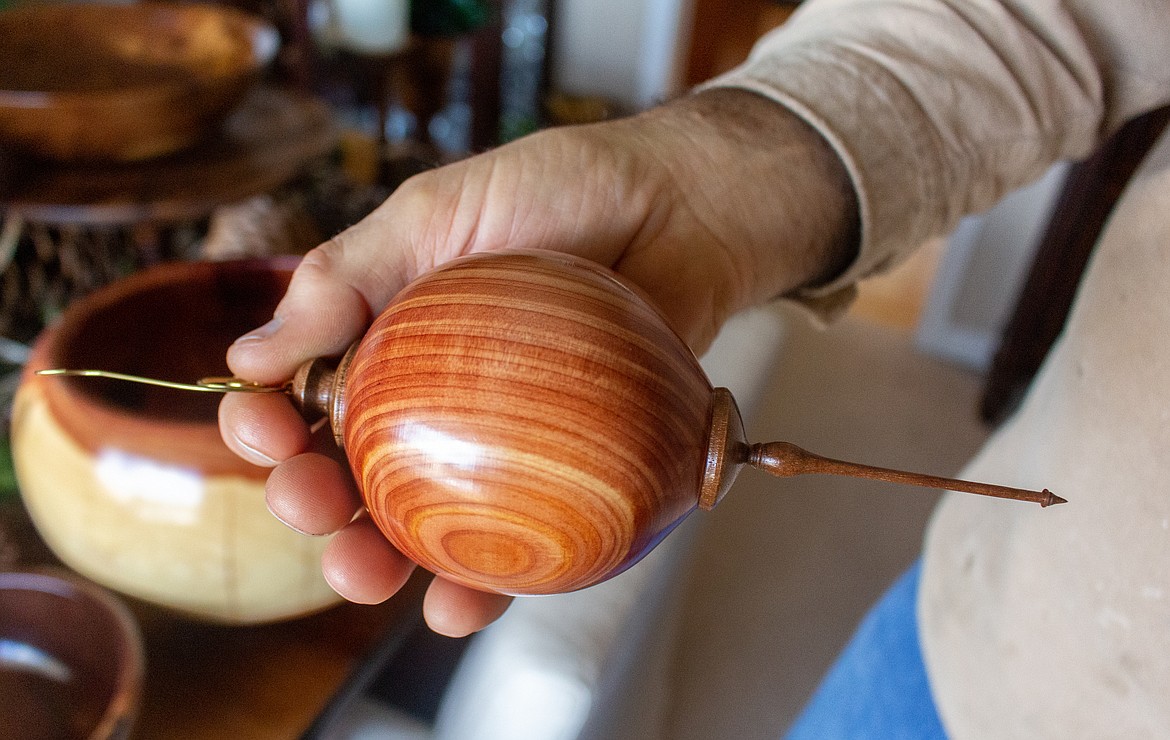 Wood ornaments like the one pictured are some of the items Merle Hardy said he's crafted the most of, along with bowls and pens, on his wood lathe in Moses Lake.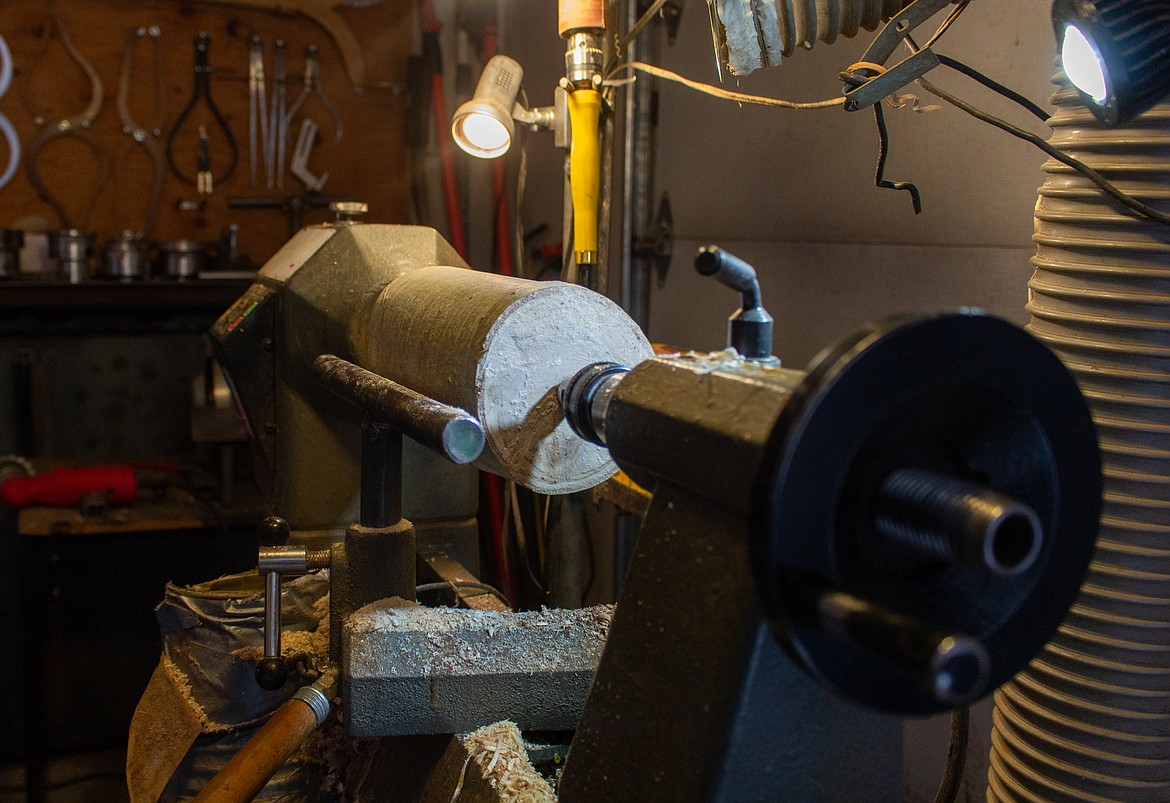 A piece of wood sits ready to turn on Merle Hardy's wood lathe in his garage in Moses Lake on Monday afternoon.
Kitchen utensils fill a wooden container crafted by Merle Hardy, one of many of his works around his home in Moses Lake.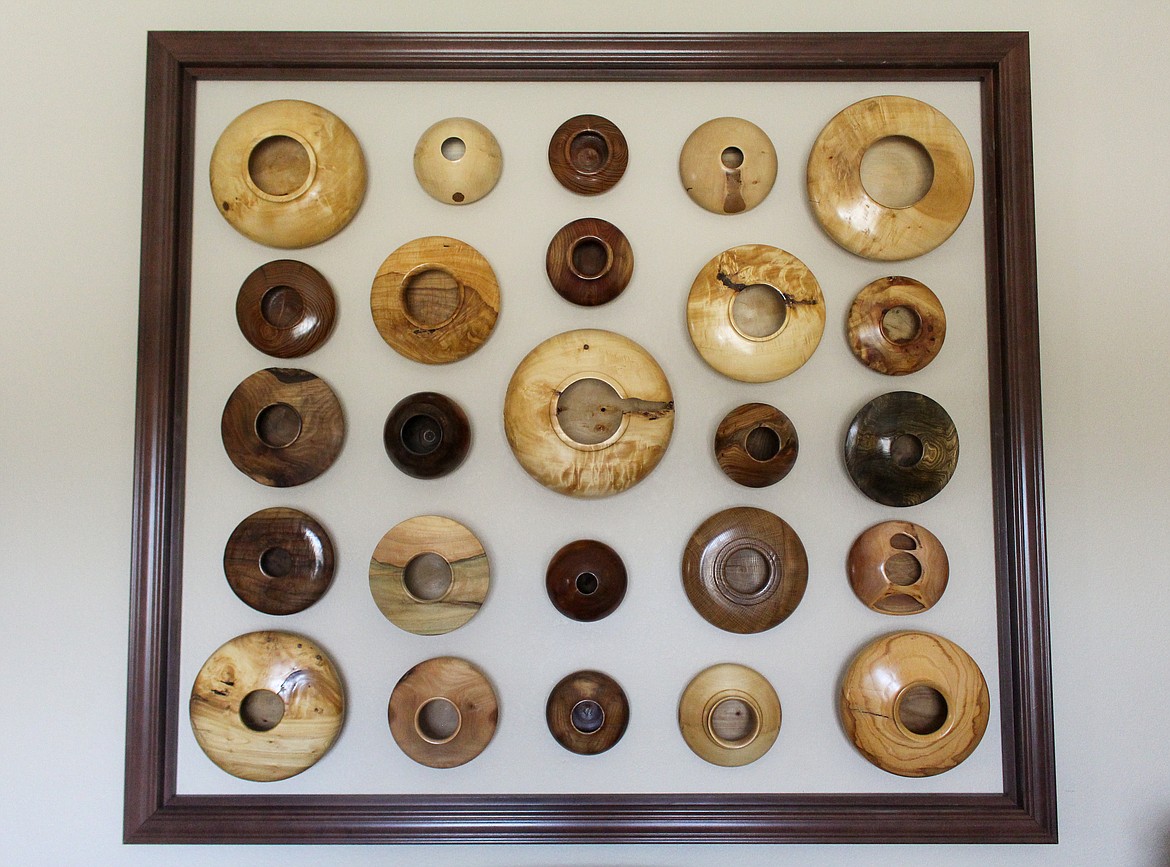 A collection of hollow sphere bowls crafted by Merle Hardy were hung up on the wall in their home as decoration by his wife, Cynthia Hardy.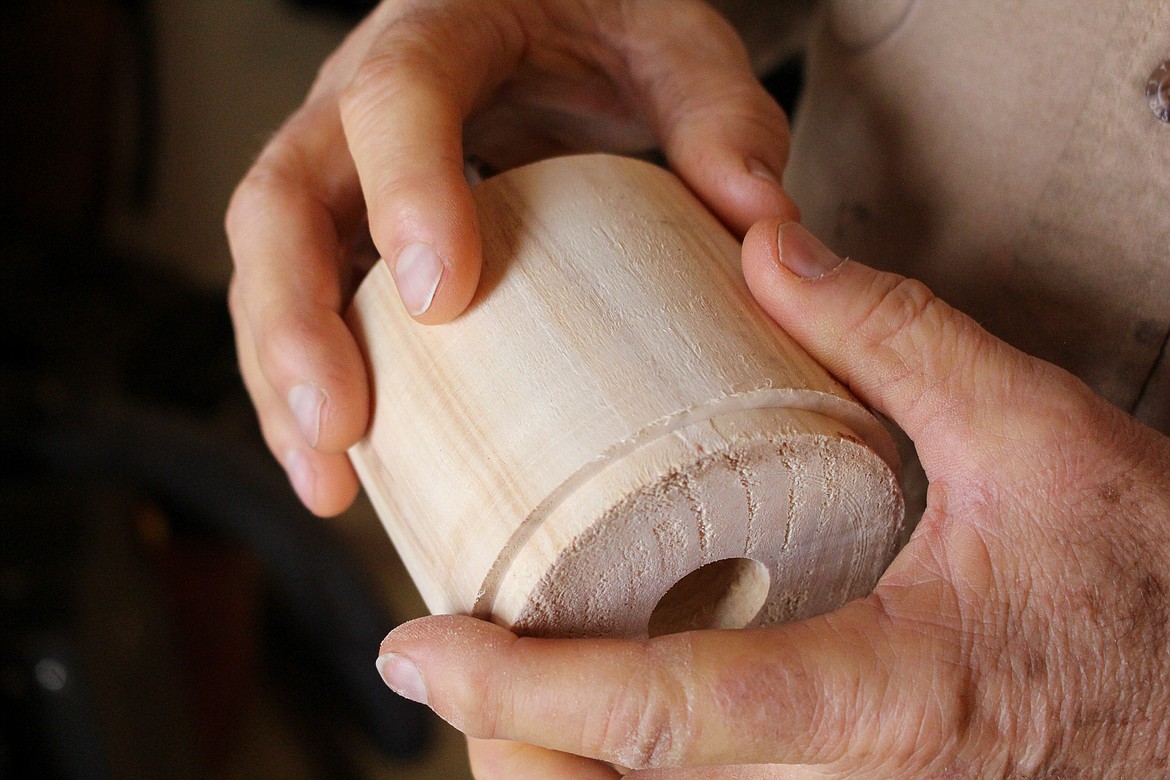 Merle Hardy runs his fingers across an unfinished wood ornament out in his "woodturning shop" in his garage in Moses Lake on Monday.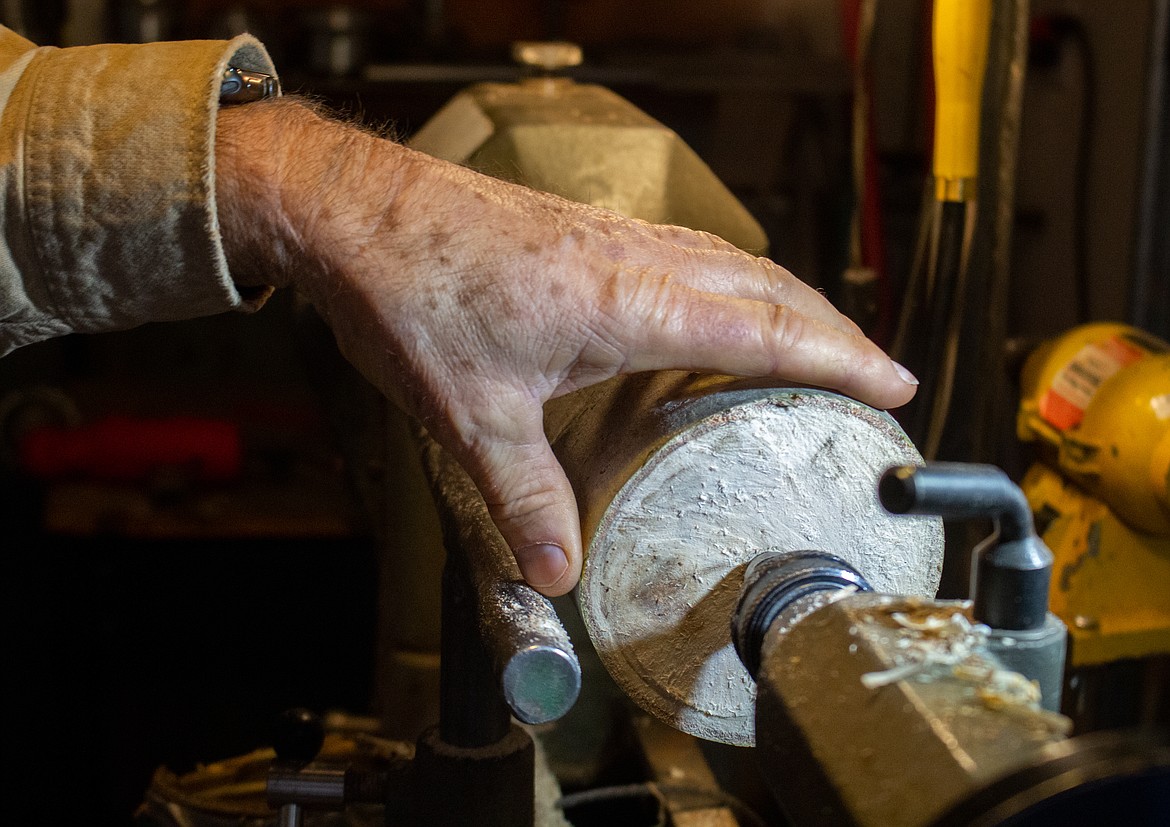 Merle Hardy's hand rests on a piece of wood secured in his wood lathe in his garage in Moses Lake on Monday afternoon.
Previous
Next
by
CASEY MCCARTHY
Staff Writer
|
March 26, 2021 1:00 AM
Merle Hardy of Moses Lake was used to cutting up trees for people while running a landscaping business for more than 20 years, but turning the wood into bowls, vases and ornaments he's made in his garage the past 10 years took longer to master.
Hardy, 68, picked up woodturning as a hobby while settling into retirement. Ken Goodrich, a renowned local wood craftsman, was a friend of Hardy's and certainly someone who helped spark an interest in the craft.
"I knew him and often would take pieces of wood out to him, and a lot of times he'd make me a piece out of that wood," Hardy said.
Hardy's son-in-law purchased a small wood lathe to tinker with while visiting from New York about 10 years ago. He said the lathe stayed behind. One day, Hardy said he decided to take it down from a shelf and was hooked almost immediately.
Something about the long, vertical shavings coming off as the wood was trimmed grabbed Hardy from the start. He said he watched some woodturning videos on YouTube to get a better understanding of the process.
Though he's done plenty of woodworking projects in the past, Hardy said woodturning is a bit more "creative."
"I've done woodworking before, but it's all measuring, everything has to be precise," Hardy said. "This, you can just kind of go at it."
There was plenty of trial and error in the learning process, Hardy said. As he learned to work with wet, or green, wood, he said it had a tendency to crack and split as the wood dried. Hardy said he lost about 50% to 60% of the pieces he worked early on, with some of them too warped to go back on the lathe.
Wet wood can be softer and easier to turn than dry wood. Wet wood is first roughly turned on the lathe, and then set aside to dry out for about a year. As the wood dries, Hardy said sometimes the "stresses" in the inner area of the wood can build up causing the piece to split or crack.
"If I was to turn a bowl that's an inch thick, that's about a year's worth of drying," Hardy said. "The rule of thumb is one inch thickness of wood is one year of drying."
Different types of wood can have certain benefits and drawbacks. As a landscaper in the Moses Lake area, Hardy said he saw a lot of birch trees.
Birch can turn "so sweet" when wet, he said, but can be brittle and blow apart as it dries.
Hardy had a wide assortment of wood on hand, or drying out, in his storage and near his woodturning shop in his garage. He said some people he knows will bring pieces to him they think he might be interested in working.
"The best woods for me that I like are hard maples, black walnut, English walnut," Hardy said. "I have pieces from a lot of different wood. Ash is a good wood to turn. I do turn some fruit woods sometimes."
Hardy said he has done some commissions for people who reached out, but doesn't want his craft to become a business. He said he fears that might drain the creativity out of the process. One commissioned project involved some English walnut pieces from a tree near her family home for a woman to give to her family at Christmas.
Another individual from the apple industry asked for a few pieces to share with his customers made from apple wood. Hardy said he gives a lot of his works away. While he said there are piles of things he's turned hanging around the house, they don't take long to disappear.
Hardy is on his third wood lathe and has finished just fewer than 2,200 pieces, not including pens and pencils.
"I make a lot of pens, pencils for people; I make a lot," Hardy said. "I've always made Christmas ornaments, and I've made a lot of ornaments, hundreds. I don't know how many, and I keep trying to perfect that and get better."
Hardy said his family Christmas tree is covered in his wooden ornaments. He said he'll often stay on a certain project for a long time before moving to something new, whether it be bowls or vases or hollow spheres.
Items he's crafted include cake stands, lamps, wooden mushrooms and pen and pencil holders, with bowls the thing he's probably made the most of. Plenty still fill the shelves, cabinets and walls of his home in Moses Lake.
There is plenty of time spent waiting on wood to be ready to turn, but Hardy said the time working on the lathe for a normal project is maybe three to five hours, followed by about a week's time finishing the outer coat.
Hardy said woodturning might be the "messiest, dirtiest, dustiest" habit there is, and it's a little tougher getting out to the garage to work as the years pass by.
Recent Headlines
---