Committee passes bill backed by Schoesler, Warnick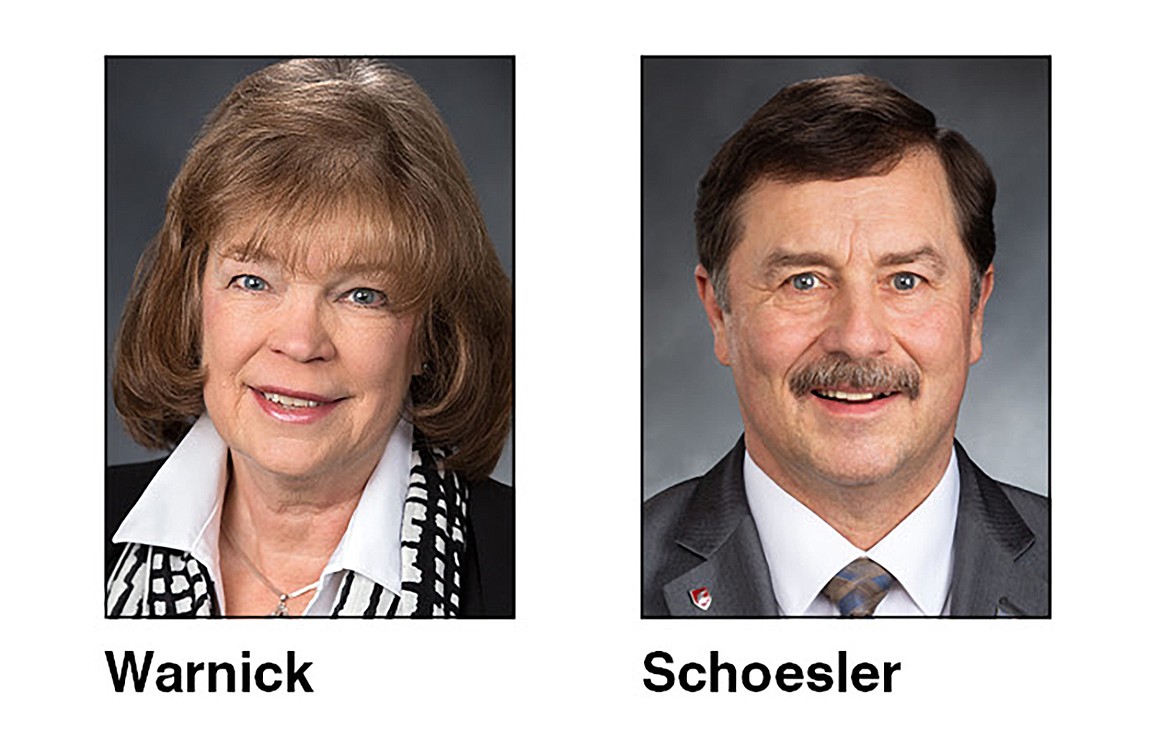 Columbia Basin state legislators Sen. Judy Warnick and Sen. Mark Schoesler.
by
Angelica Relente, Herald Legislative Writer
|
March 25, 2021 1:00 AM
Representatives in the state House of Representatives Education Committee passed a bill, sponsored by two local senators, regarding the creation of subfunds at school districts during a virtual executive session Tuesday.
Senate Bill 5202, which passed in an 11-2 vote, would require school districts to reserve money for "future facility and equipment needs" by placing it in a depreciation subfund, according to the bill's text.
Sen. Mark Schoesler, R-Ritzville, is SB 5202's primary sponsor. Sen. Judy Warnick, R-Moses Lake, is a co-sponsor of the bill.
Rep. Alex Ybarra, R-Quincy, said during the executive session as a former school board member, one of the things he had to do was help approve his school's budget, he said.
Ybarra cited a time his school district had to create one subfund to do maintenance on school buildings and another subfund to supply teachers with more computers. Creating both subfunds ensured the school had money available if needed.
"I'm in favor of the subfund, and I'm in favor of this particular bill," Ybarra said.
Rep. Sharon Tomiko Santos, D-Seattle, said during the virtual executive session SB 5202 provides a "modest tool" to local school districts. The bill would support districts in urban areas with a lot of capital needs, as well as districts in rural areas with a smaller taxpayer base.
Rep. April Berg, D-Mill Creek, said during the executive session SB 5259 mandates the creation of subfunds. Instead, the school district should be able to decide if it wants to create a subfund.
"I want to give the districts the ability to create these funds or not for specific reasons that they feel their localities need," Berg said.
Rep. Jim Walsh, R-Aberdeen, said during the virtual legislative session SB 5259 is "an important bill" that serves a good purpose for school districts around the state. The subfund would help address capital recovery and preservation efforts.
Under SB 5202, a limit would also be placed for the amount of money that can be annually deposited into the subfund, according to the bill's text. The subfund must not be used to compensate employees.
School districts can deposit up to 2% of their general fund into the subfund, according to the bill's text. Money in the subfund can be used for painting exterior facilities, renovation efforts and other things.
The Senate passed SB 5202 on Feb. 24 in a 44-4 vote. The House has yet to vote on the bill's final passage.
---