Four Moses Lake softball players set to play at the collegiate level this fall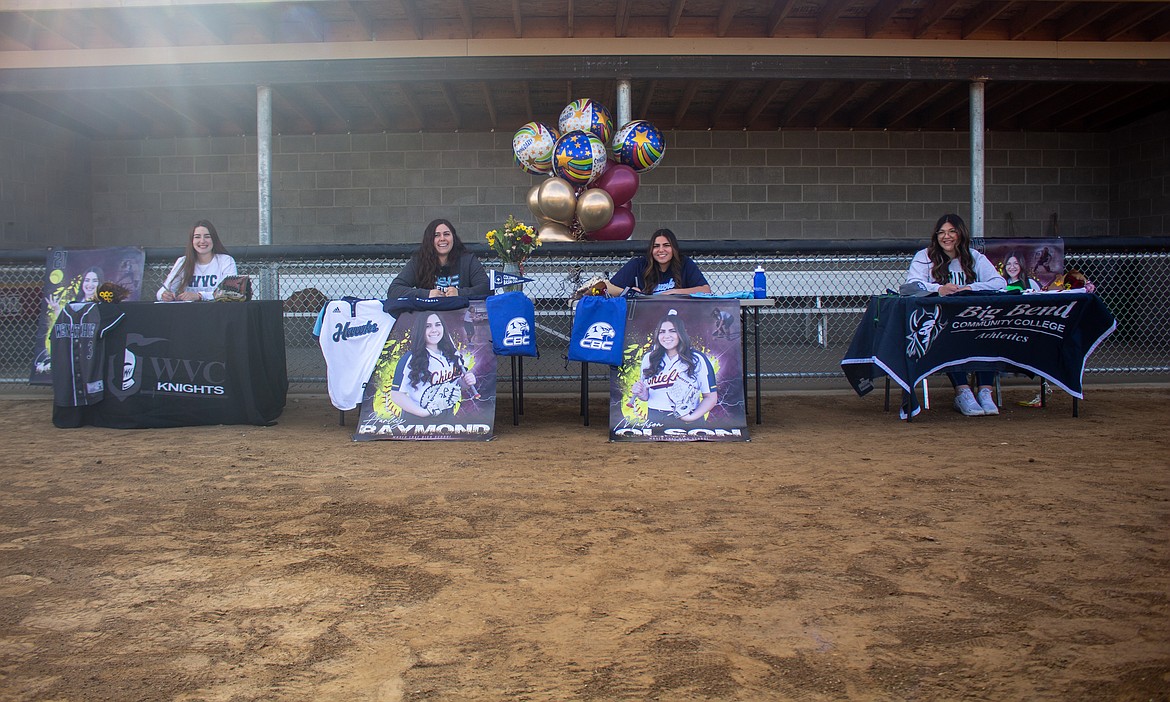 Left to right, Moses Lake's Ciarrah Knoll, Harley Raymond, Madi Olson and Laurissa Martinez all came together for their signing day as all four get set to play next fall in the Northwest Athletic Conference in Washington.
Casey McCarthy/Columbia Basin Herald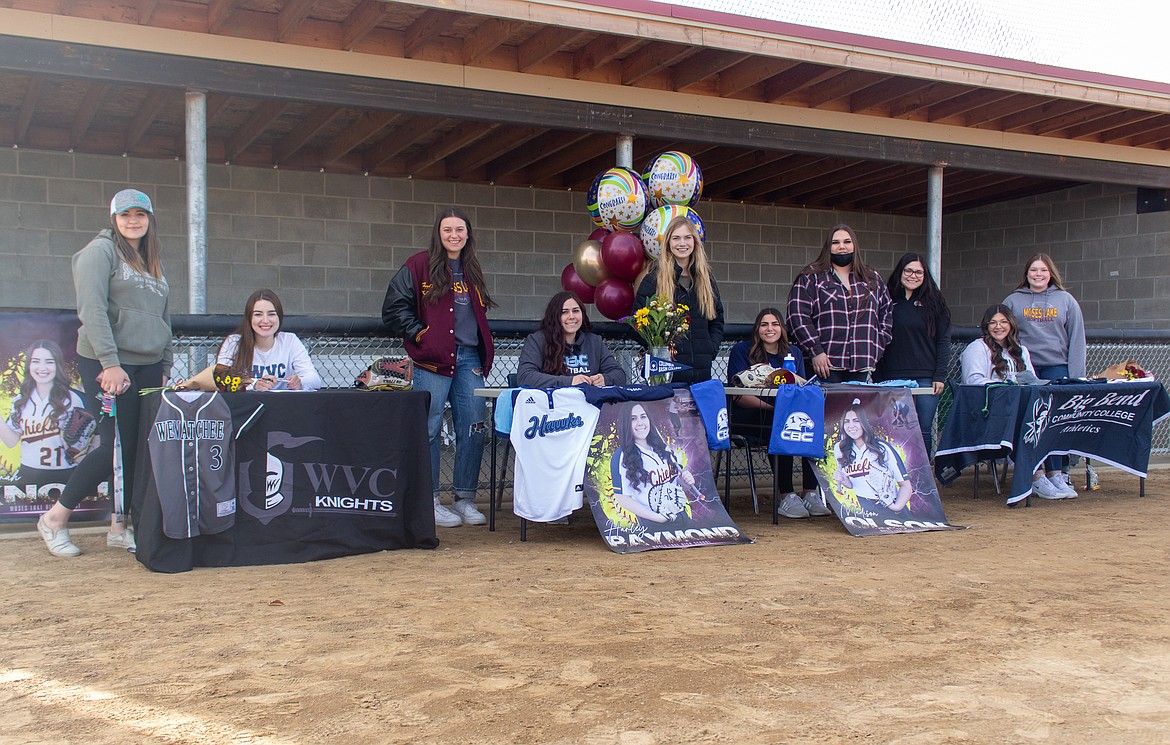 Seated left to right, Ciarrah Knoll, Harley Raymond, Madi Olson and Laurissa Martinez were joined by teammates and family to help celebrate their signings on Wednesday afternoon at MLHS.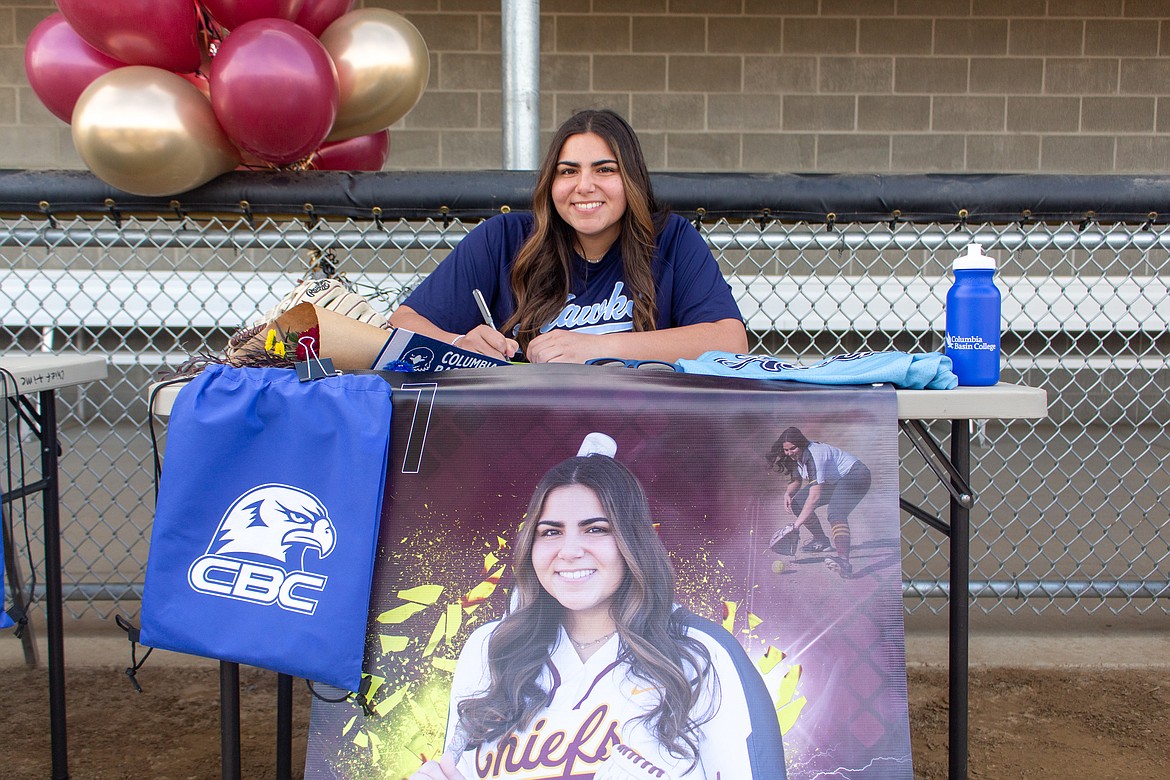 Moses Lake senior Madi Olson secured another two years of softball on Wednesday afternoon as she signed to play next fall at Columbia Basin College at MLHS.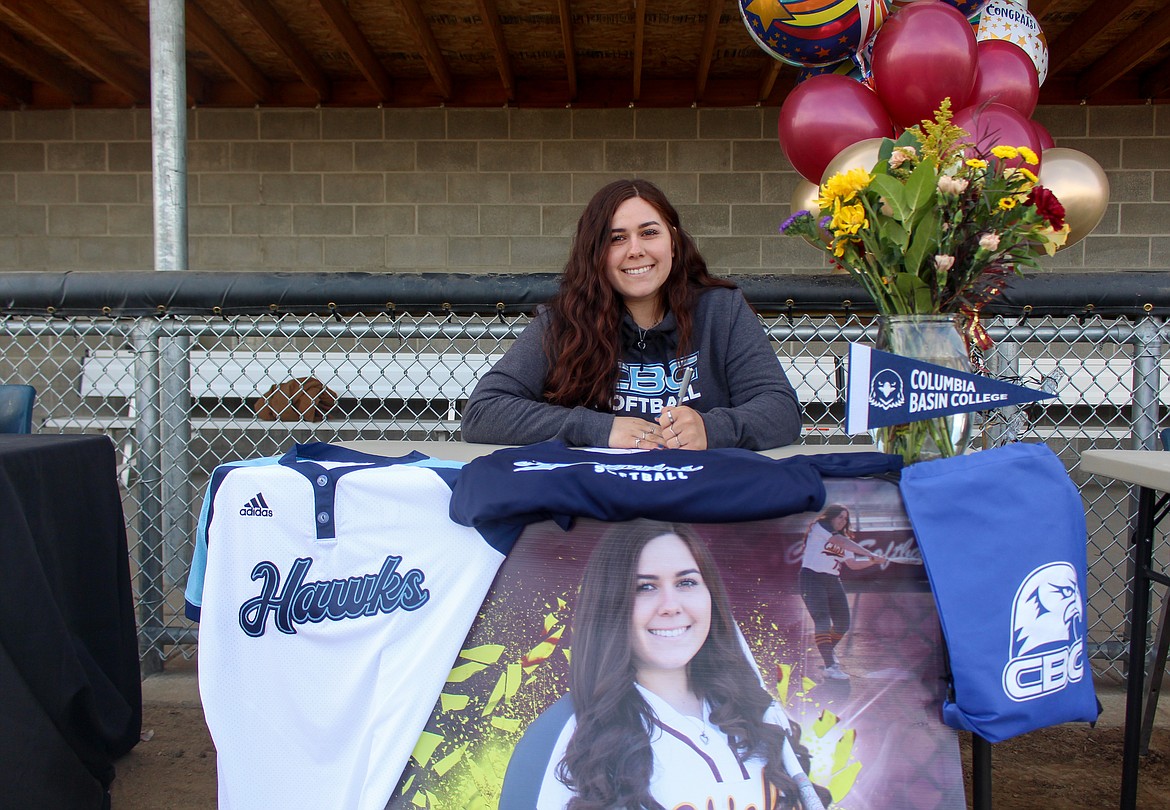 Moses Lake's Harley Raymond signed to play for Columbia Basin College on Wednesday afternoon at Moses Lake High School beside future/current teammate Madi Olson.
Moses Lake's Ciarrah Knoll smiles as she signs to play next softball next season at Wenatchee Valley College on Wednesday afternoon at Moses Lake High School.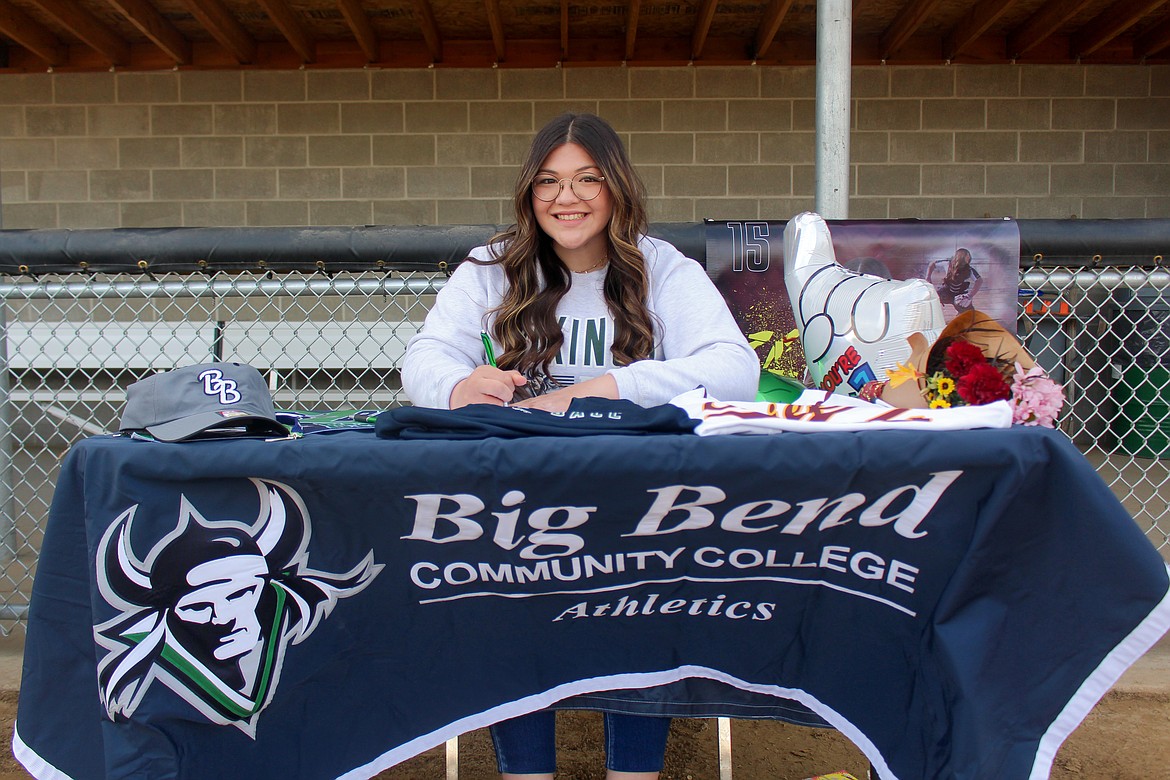 Laurissa Martinez signed to play for Big Bend Community College next fall on Wednesday afternoon at Moses Lake High School.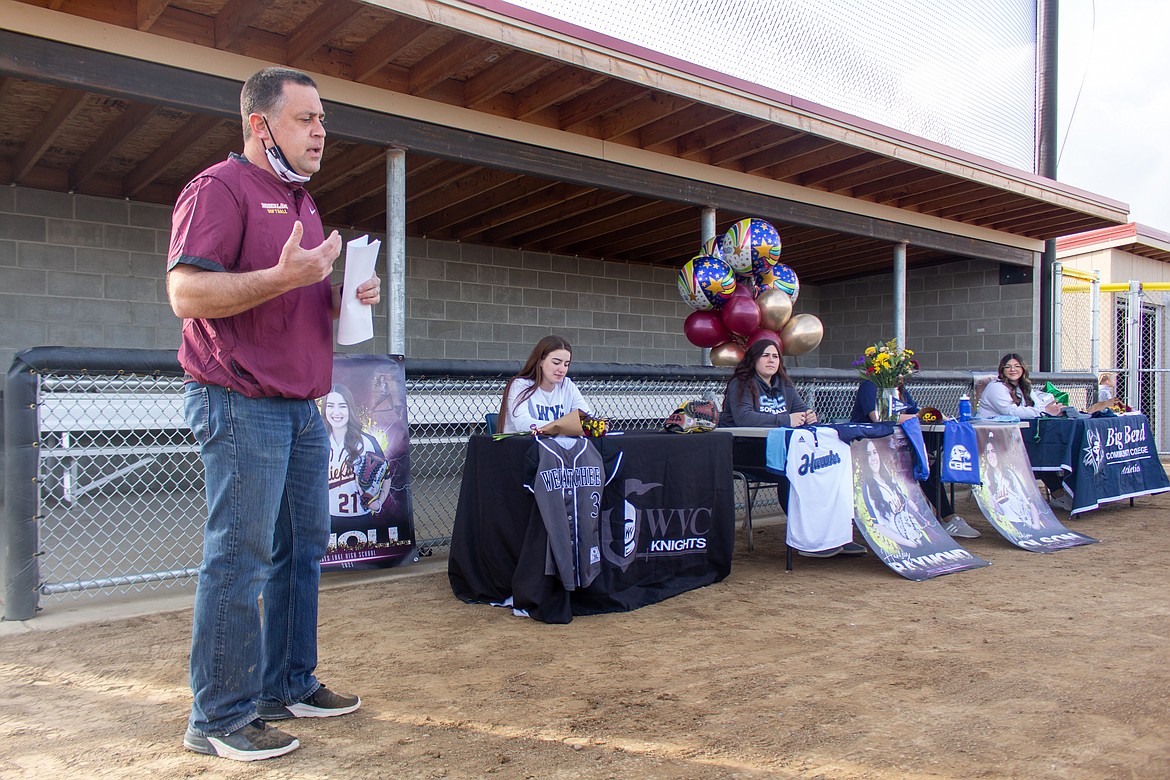 Moses Lake head coach Michael Hofheins talked a little bit about his four players signing to play at the collegiate level next season on Wednesday afternoon at the softball field at MLHS.
Previous
Next
by
CASEY MCCARTHY
Staff Writer
|
March 25, 2021 1:00 AM
MOSES LAKE — Four Moses Lake softball players signed to play at the next level on Wednesday afternoon at the MLHS softball field.
Ciarrah Knoll, Harley Raymond, Laurissa Martinez and Madi Olson will all play college ball next year.
Chiefs head coach Michael Hofheins opened the ceremony in front of family, friends and teammates of the signees. Hofheins talked about his players following in the footsteps of the girls who played ahead of them and being role models themselves for the underclassmen now.
Knoll will head to Wenatchee Valley College to play next season and said it was great checking this off her bucket list.
"It's definitely always been there for any girl that plays softball; it's always a dream to play at the next level," Knoll said. "To be one of those girls is really honoring."
Knoll and her three teammates will have a chance to match up against one another next season in the Northwest Athletic Conference. She said she's faced off against her teammates before in tournaments and expects a similar friendly competition next year.
Knoll sparked up the rivalry by asserting Wenatchee Valley will come out on top next year.
Harley Raymond and Madi Olson will both head to Columbia Basin College in the fall.
Raymond said she wasn't sure this moment would ever come with the pandemic. Seeing it happen, she said, is a big relief.
"I'm just excited to continue to play softball and continue my education next season," Raymond said.
Raymond said she comes from a tight-knit family and always wanted to play somewhere at least somewhat close to home. She said the move to the Tri-Cities will let her get out of Moses Lake and start learning to provide for herself.
Olson said it's a big deal to sign, but doing so with people she's been playing with her whole life made it that much more meaningful.
"We grew up together; we never dreamed we'd be doing this together,' Olson said. "Just being able to do this is special."
Olson and Raymond both met the CBC coach at a softball camp, and Olson said everything fell right into place unexpectedly from there.
Laurissa Martinez called signing to play at Big Bend Community College next year almost "surreal." Future teammates and her incoming head coach at Big Bend came out to support Martinez.
"I can't believe everything is happening. I'm just so excited," Martinez said. "I just feel like the luckiest person to play for the high school for four years and lucky to go on and play at Big Bend."
Martinez said she feels like it's going to help her out a lot being able to stick close to home. While she said she's ready to get out of the house, she believes that staying home for the next couple of years will help her in that transition.
---