Lessons learned: Ephrata teacher picked a tough year to begin her career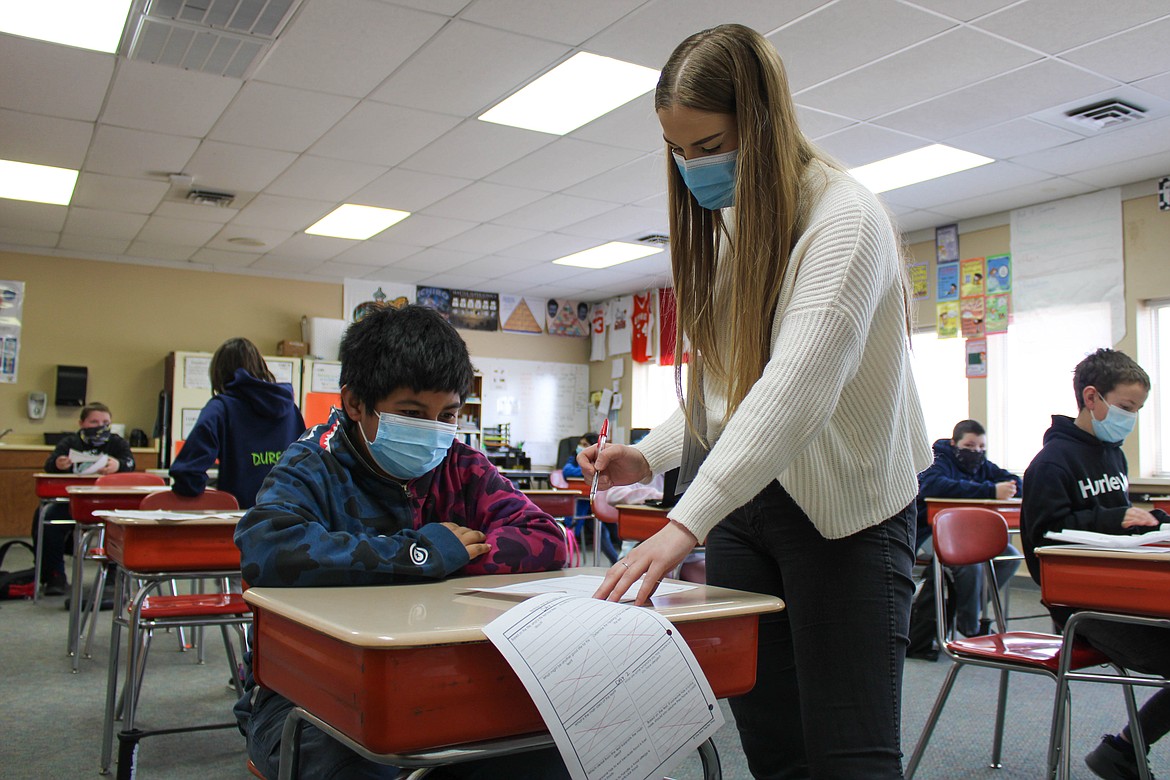 Ms. Mofford helps fifth grader Jair Zaqmez on Wednesday, March 17.
Sam Fletcher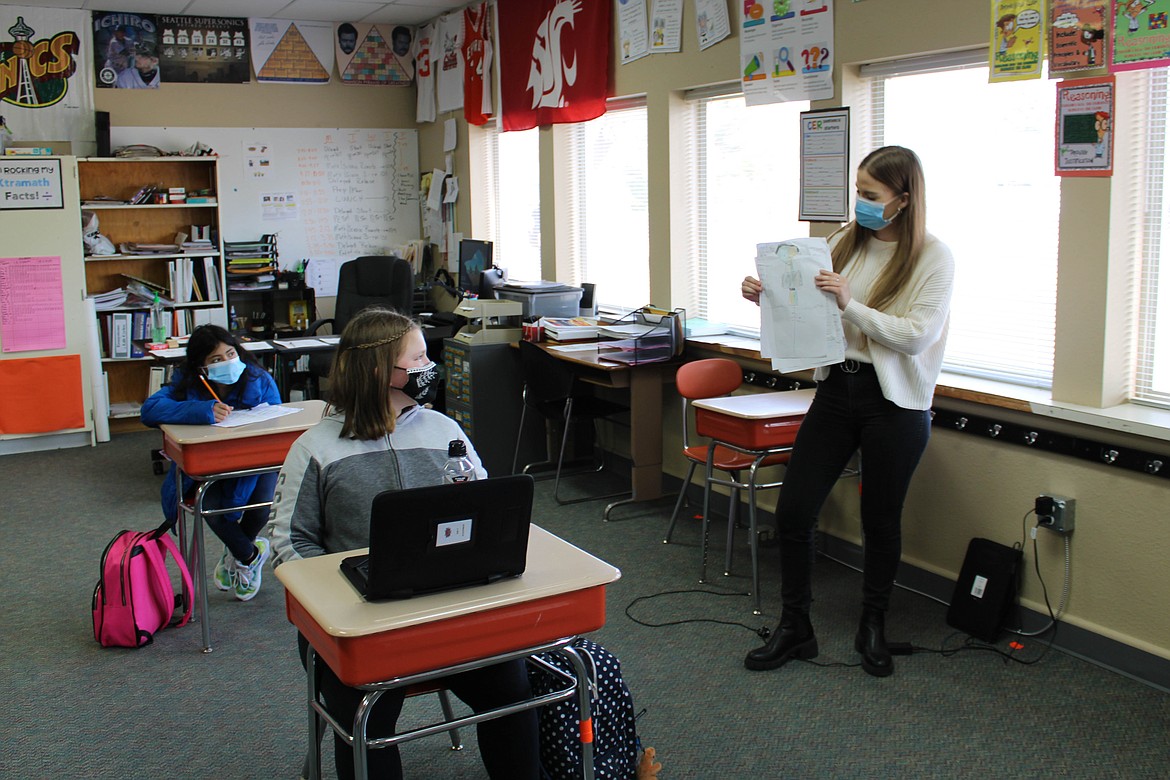 Ms. Mofford shows examples of posters of patriots and loyalists to her fifth grade class on Wednesday, March 17.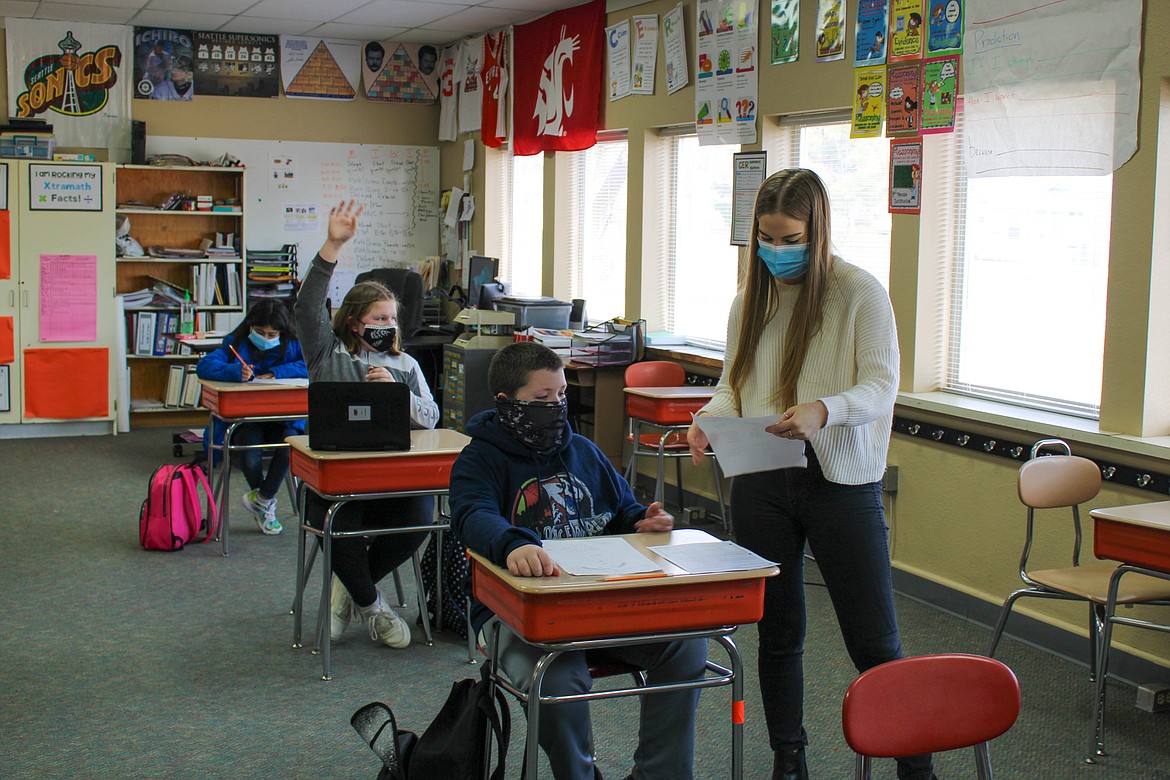 Ms. Mofford helps fifth grader Ryan Jones with his poster of patriots and loyalists on Wednesday, March 17.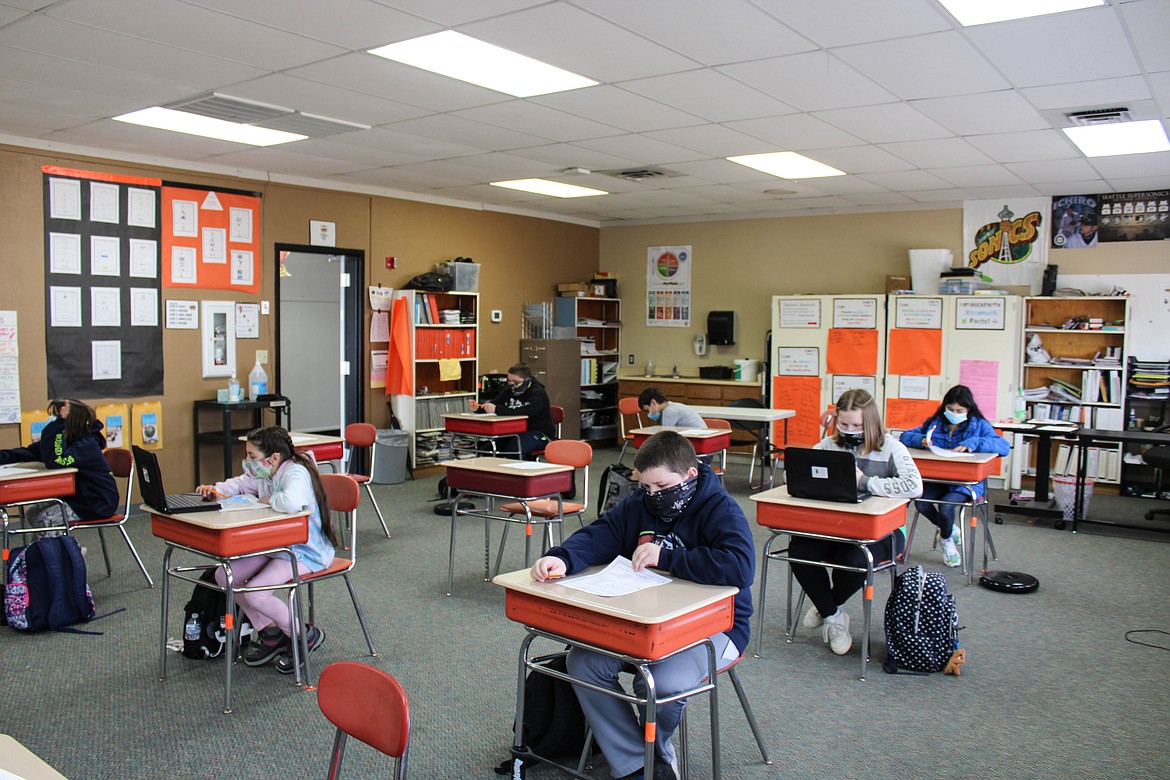 Ms. Mofford's fifth grade class working on posters of patriots and loyalists on Wednesday, March 17.
Previous
Next
by
SAM FLETCHER
Staff Writer
|
March 24, 2021 1:05 AM
EPHRATA — When Ephrata resident Vanessa Mofford imagined starting her teaching career, she anticipated some on-the-job training.
What she didn't anticipate was the entire school – and the school district – would train, too.
Mofford has always been passionate about school, she said. From kindergarten through high school, she never missed a day. So when she went to Eastern Washington University, studying education seemed like a good fit.
"I wanted to make a difference in people's lives," she said. "I wanted to help them in some way, so I did choose education. I thought, 'What better way to help someone than to educate them?' I know it's something they can take with them."
Mofford began her teaching career in September 2020 at Parkway School in Ephrata, a school she attended when she was younger. In fact, Parkway Principal Dawn Turley was her principal then, too.
However, this year has been everything but familiar.
Classrooms started out vacant, she said. Teachers were allowed at school, but not in the same room. There was lots of software to learn to stream her lectures and activities to her fifth grade class. Not only did teachers have to learn how to use several new software platforms, but they had to be experts at them, she said, to help students if they couldn't figure it out.
It didn't take long until teachers realized this wasn't going to work long term, Mofford said. Many students with Individual Education Plans were struggling to learn virtually.
But since it was still warm enough in the fall, the first in-person classes at Parkway were outside, she said.
"It was kind of crazy, just the unknown really. Nobody knew what was going on," she said. "We're just trying to help these kids as much as we could."
When winter hit, Parkway transitioned to their current schedule. The day is split; half of Mofford's students come in the morning, half in the afternoon. In addition, she has online classes.
The early meetings of what the year would look like were challenging, she said, as she had no frame of reference like the other teachers did.
But in many ways she was able to adapt more quickly. She was used to using software in college. In college, too, every quarter was completely different from the last. That part, at Parkway, was only new to the veteran teachers.
While all the changes have been challenging, she still loves coming to class every day, she said. She wanted a job that didn't feel like a job, and that hasn't changed.
The students are the best part, she said.
"I love how honest students are," she said. "It's kind of a bad thing and a good thing, but I just love working with them. There's something every day."
Some of the changes this year were permanent, Mofford said. The pandemic forced structures in place to improve the educational experience from here on out.
Much of next year's preparation will involve going through the checklist, she said. What worked and what didn't?
Students will continue to receive Chromebooks, she said, so they can tune in when they're sick. Sick days and snow days are now virtually nonexistent.
Classes will continue to run an hour later Monday through Thursday, she said. Students will have the same educational time, and teachers will use Fridays to prepare.
Mofford looks forward to starting the next year, even with an onslaught of changes.
"I want that full classroom again," she said. "I want that chaos."
No matter what happens in the coming year with the pandemic, no matter how "back to normal" school gets, it will still be Mofford's first time with a full classroom and a long-term schedule, she said.
This year, every teacher in the country had to adapt. Next year, it will be her turn.
Sam Fletcher can be reached via email at sfletcher@columbiabasinherald.com.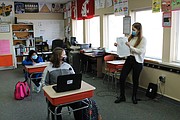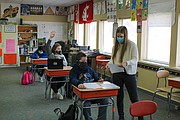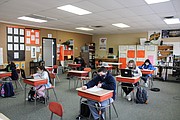 ---