Othello outruns Clarkston, 34-19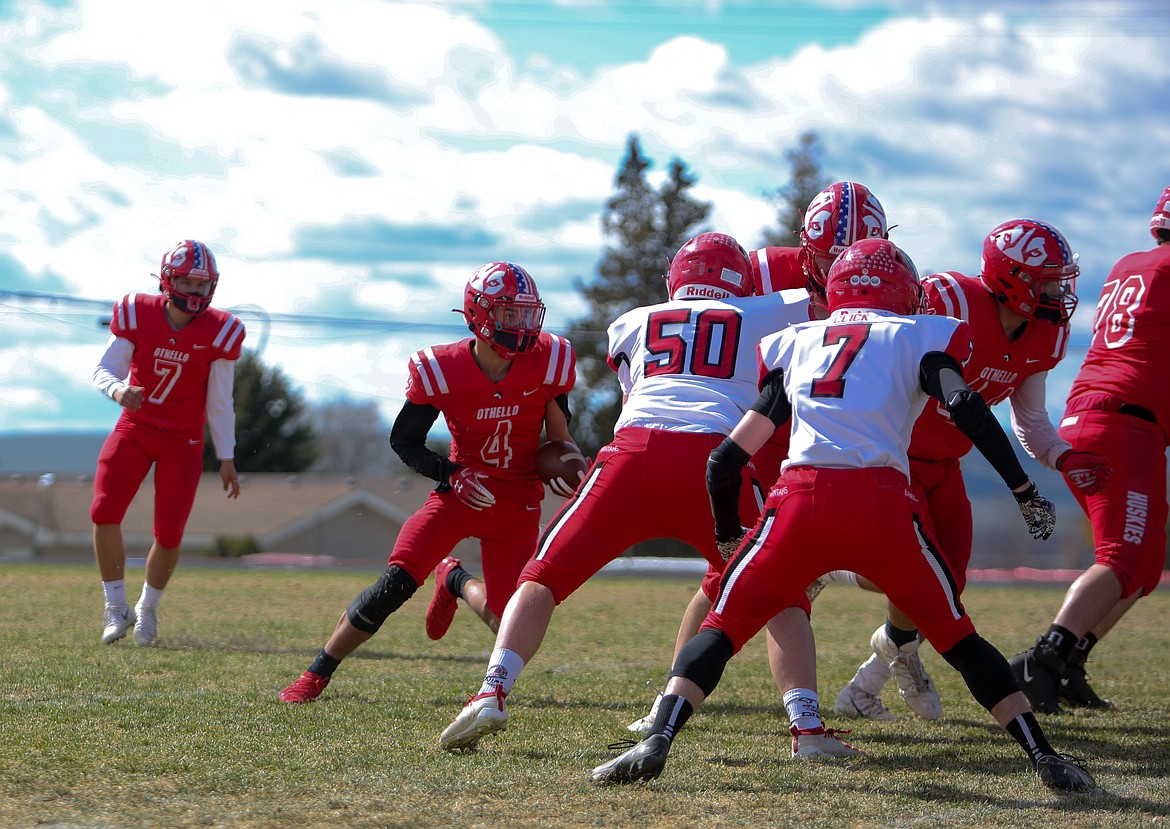 Othello's Sonny Asu (4) looks to make his cut out of the backfield against Clarkston on Saturday afternoon at Huskie Stadium at Othello High School.
Casey McCarthy/Columbia Basin Herald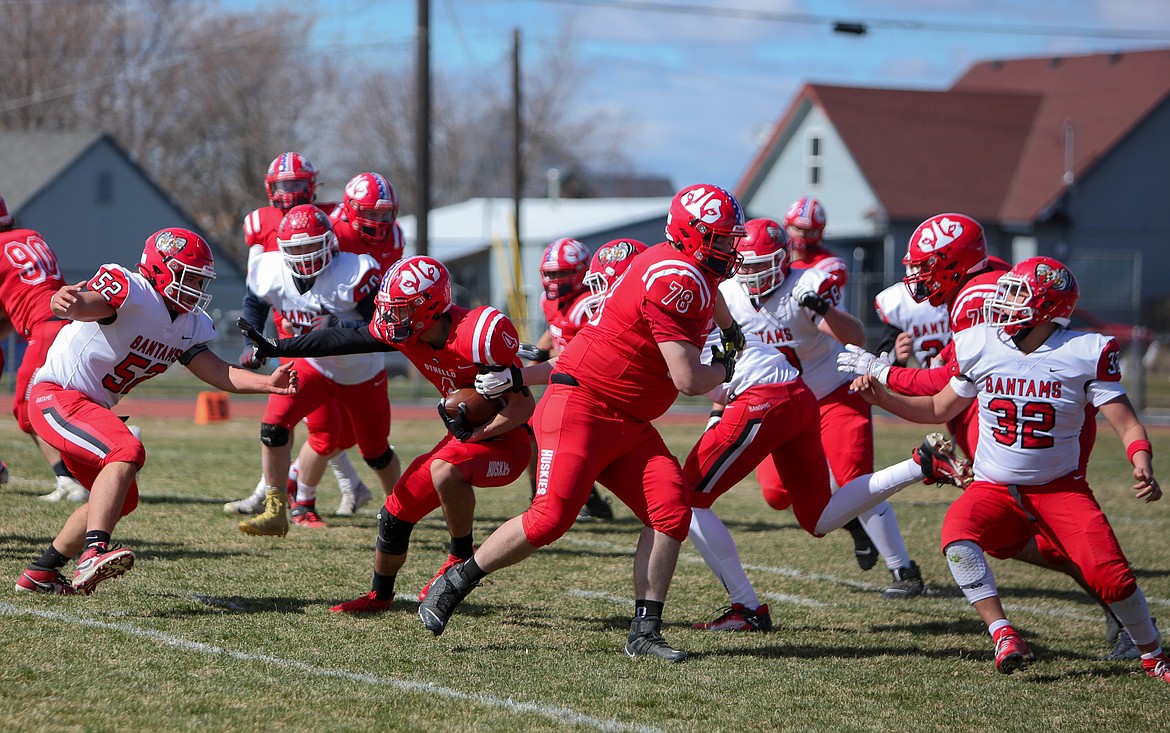 Othello running back Sonny Asu makes a cut in traffic after bursting out of the backfield on Saturday afternoon against Clarkston at Huskie Stadium.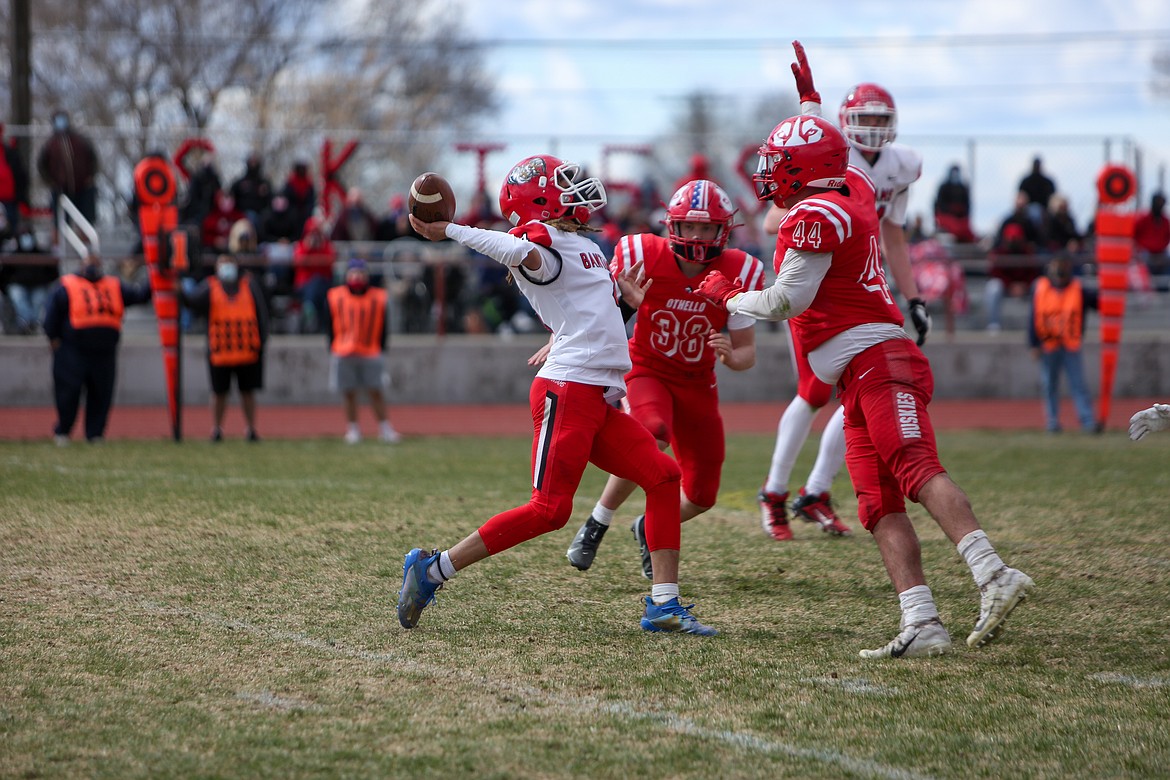 Othello's Julian Alegria jumps up to contest the pass, leading to an interception in the Huskies' win over Clarkston on Saturday afternoon in Othello.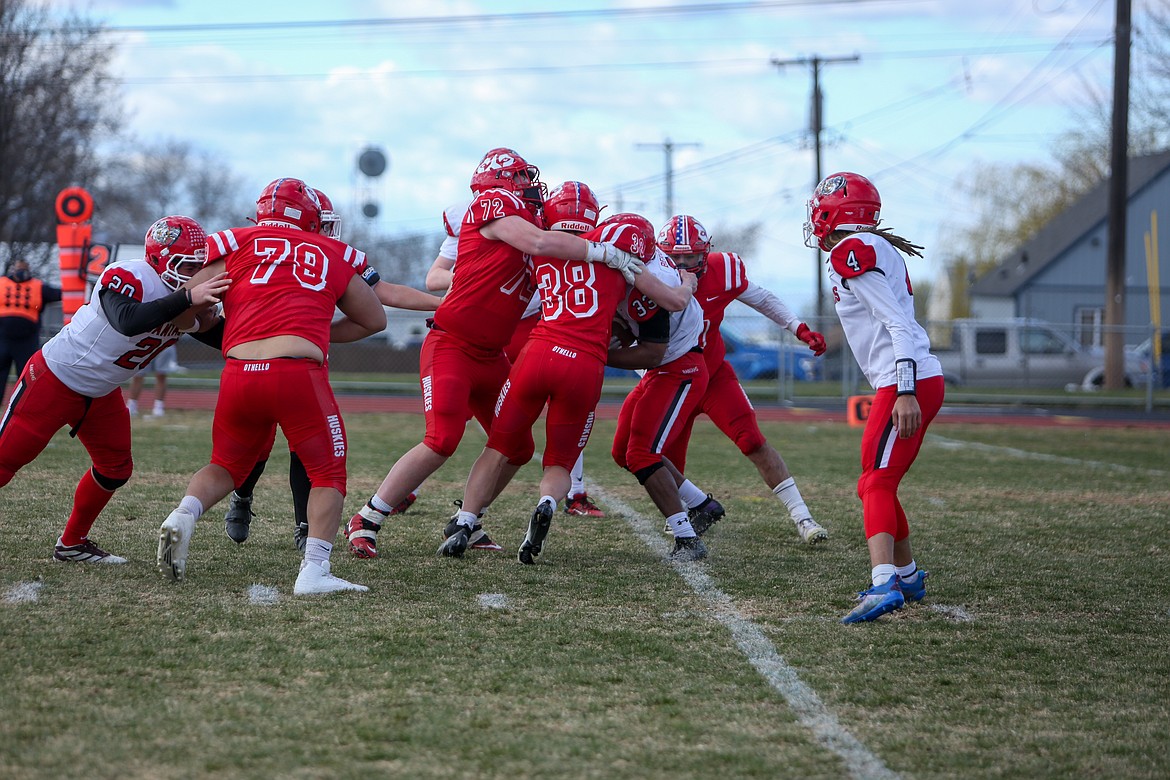 A trio of Othello defenders combine to take down the Clarkston running back behind the line on Saturday afternoon at Huskie Stadium in Othello.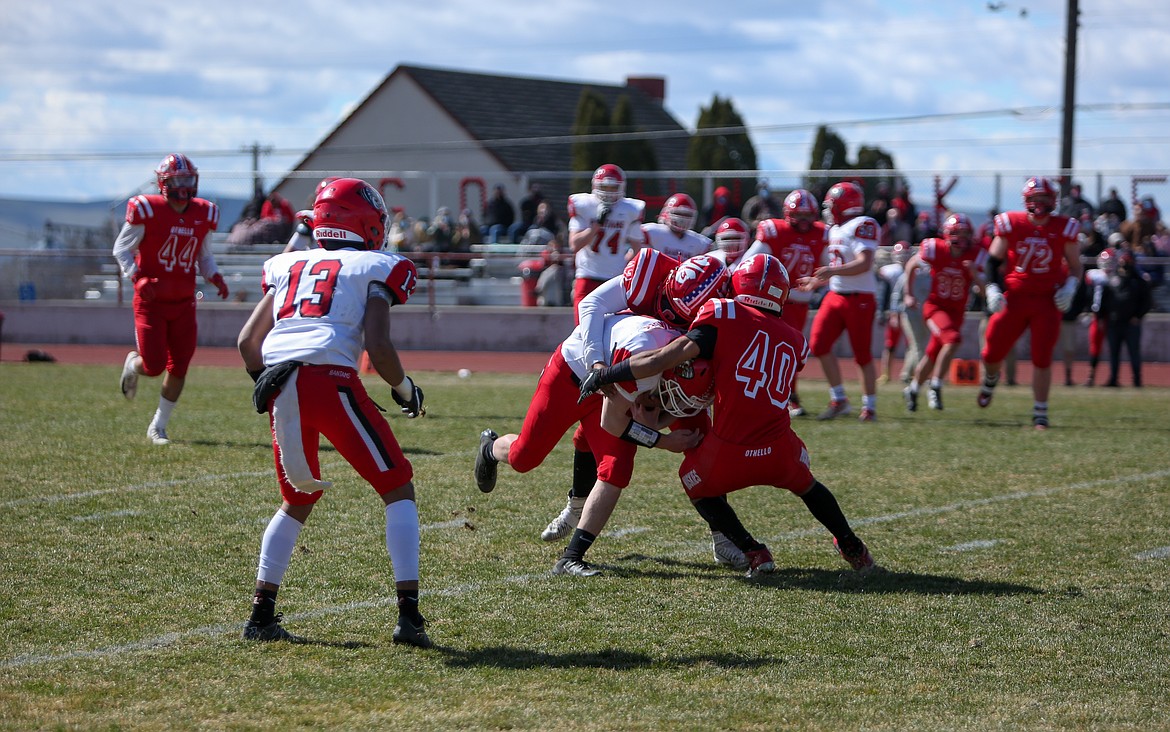 Othello's Ethan Medina combines with his teammate for the tackle on the Clarkston ball carrier on Saturday afternoon at Othello High School.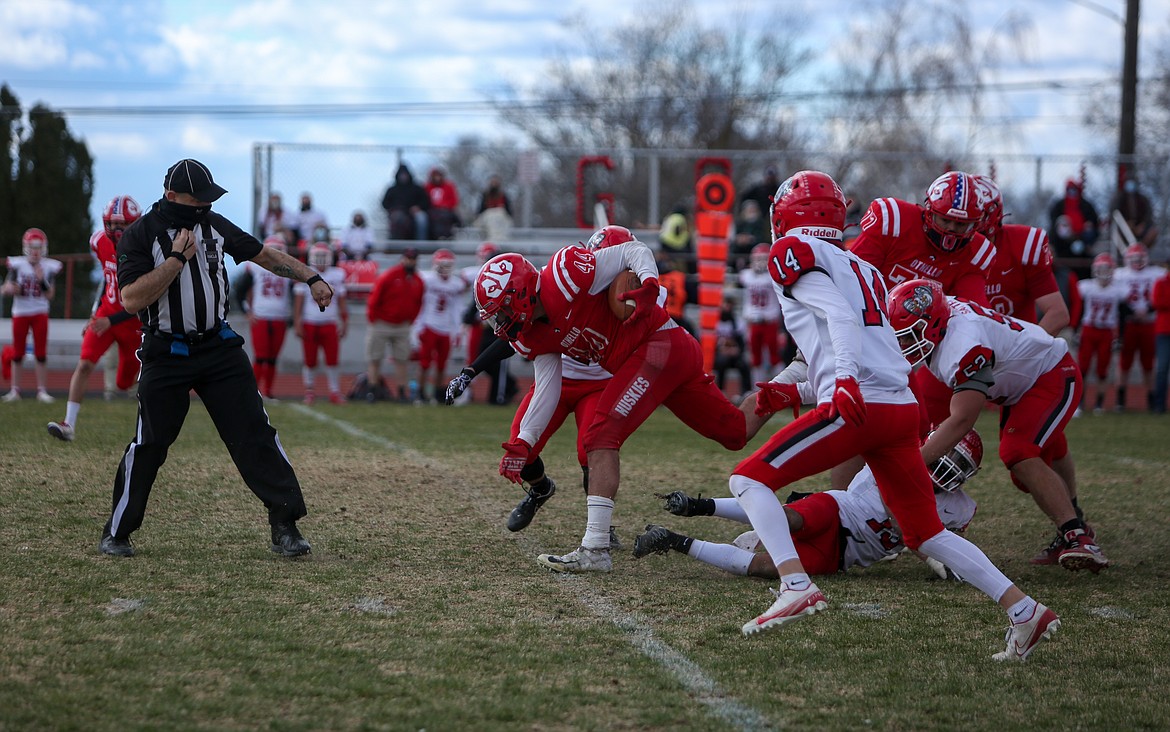 Othello running back Julian Alegria rumbles forward against Clarkston at Huskie Stadium on Saturday afternoon in Othello.
Previous
Next
by
CASEY MCCARTHY
Staff Writer
|
March 24, 2021 1:00 AM
OTHELLO — After a heartbreaking loss to Shadle Park the week before, the Othello High School Huskies (2-2) football team came away with a 34-19 victory over Clarkston High School at Huskie Stadium in Othello Saturday afternoon.
Sophomores Sonny Asu and Julian Alegria led a rushing barrage for the Huskies on offense, finishing with 323 combined rushing yards. Asu scored the first of three rushing touchdowns just minutes into the first quarter.
Asu converted a big pass play on fourth down to set up Alegria for a touchdown in the second quarter, bringing Othello's lead to 13-7.
On the defensive side, Algeria managed to block a Clarkston punt in the third quarter with Ezra Gonzalez recovering the loose ball. After being backed up by penalties near the goal line, Sonny Asu tore away for a big run to score again.
A Clarkston rushing touchdown cut the deficit to 19-13 at the start of the fourth quarter. Alegria and Asu would each find the end zone once more time in the final 12 minutes for the win.
Asu led in rushing with 227 yards on 28 attempts, while Algeria finished with 95 yards on 14 attempts. Alegria also added a tipped pass that was intercepted.
Asu said after the game he owes almost all the credit for his success to his offensive line.
"They open up the gaps," Asu said. "It was a tight game in the beginning. We all came together during halftime and we knew what we needed to do to pull out this win."
Asu said the footwork drills he and Alegria do both on and off the field have helped them see their cuts and hit the gaps their line creates for them.
"I think we've got a really good chance at going to state next year," Asu said. "The confidence is really up there. I'm feeling really good about this season."
Alegria said it's important to go into the game with a mindset that "you're going to kill" and be ready to make the big play. As a running back and defensive end himself, Alegria said he looks up a lot to former Othello standout RB/DE Isaiah Perez.
"He was a really good runner and defensive player, so I just want to learn from him and keep going this season, try and get some wins," Alegria said.
Othello defensive coordinator Kevin Hale said coming back with a win after losing to Shadle Park is a credit to the players.
"Last week, we lost our heads there a little bit at the end," Hale said. "But today, they just kept coming, kept coming. We made our mistakes there, but a tribute to the boys, they just kept going after it and we ended up with the win."
Having a strong rushing performance from the two sophomore backs helped Othello on both sides of the ball, Hale said. He added it kept the defense fresher by keeping them off the field for long stretches of the game.
Hale said the defense's tackling could have been better and is something he will focus in on in practice.
"I felt like we were in pretty good position for the most part on defense, but we've gotta be better tacklers," he said. "We can have a shutdown defense if we can fix that one thing."
Othello will host North Central High School Friday night at Huskie Stadium for one of three games left on the schedule.
Casey McCarthy can be reached via email at cmccarthy@columbiabasinherald.com.
---