Phase 3 begins: Move forward encourages local business owners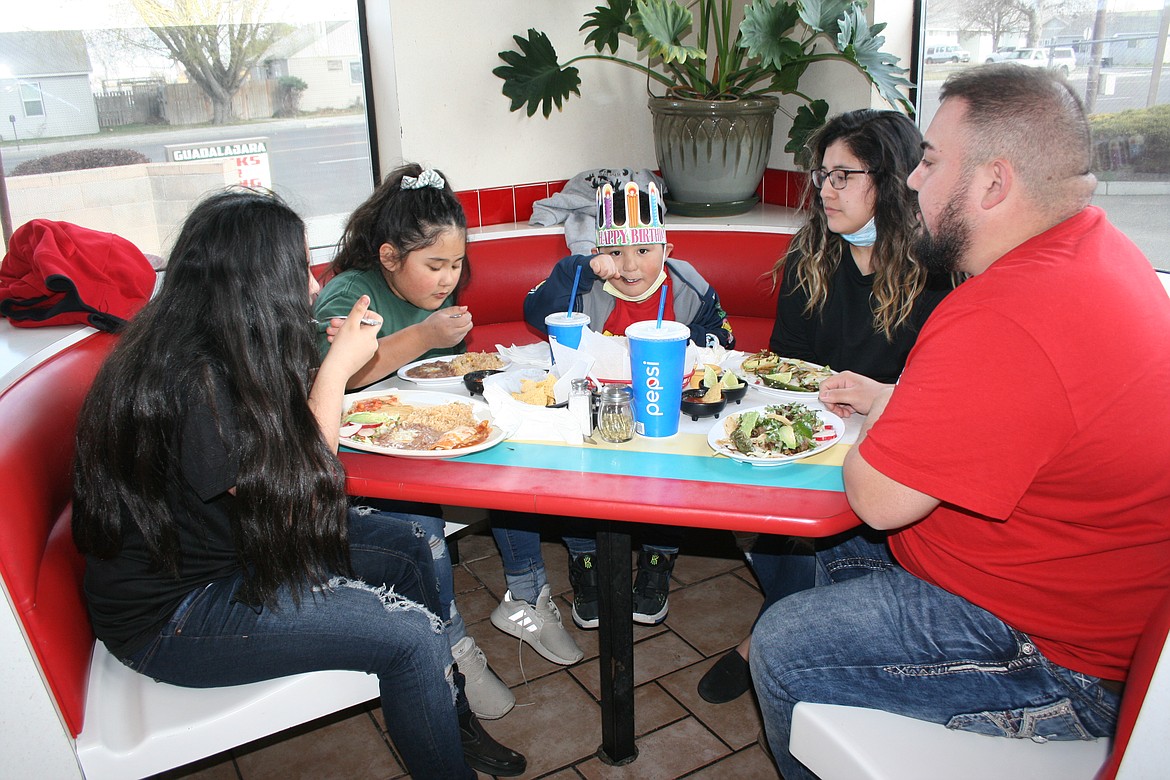 (From left) Giselle, Mila and Armani Fuentes, their mom Karina Marroquin and dad Mike Fuentes celebrate a birthday at Guadalajara Restaurant Monday in Othello. Monday was the first day of the third phase in the state's reopening plan.
Cheryl Schweizer/Columbia Basin Herald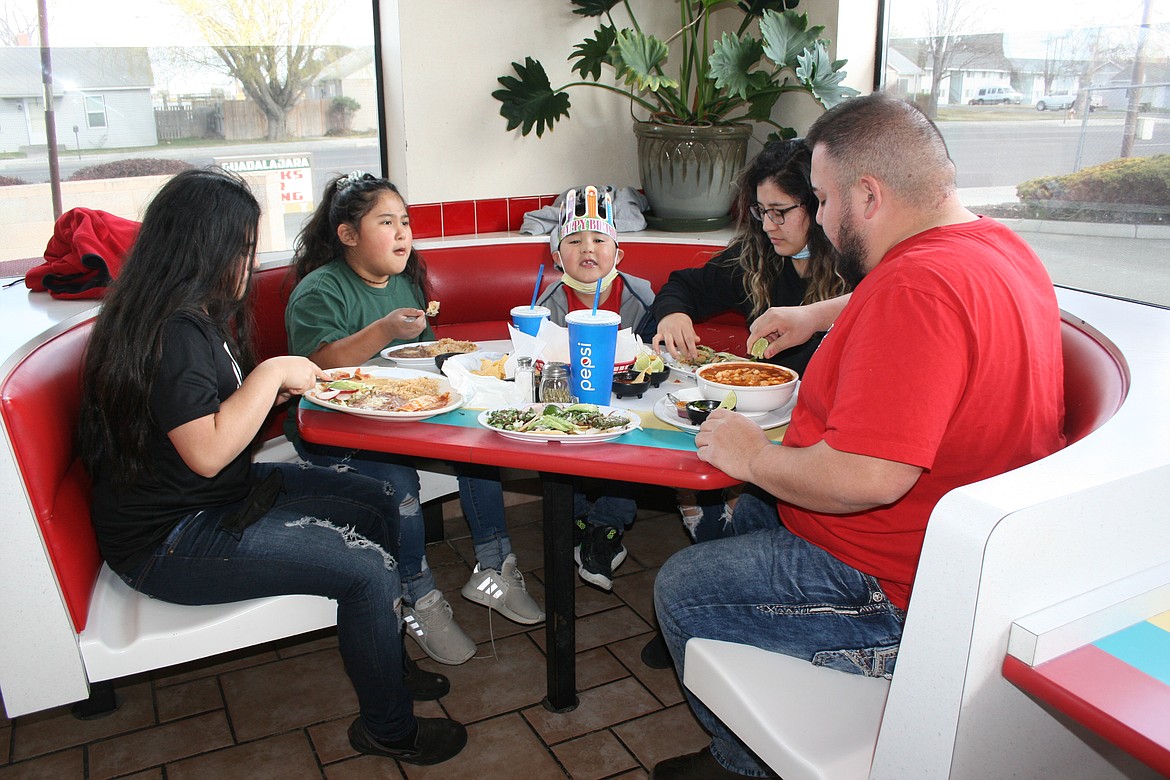 (From left) Giselle, Mila and Armani Fuentes, their mom Karina Marroquin and dad Mike Fuentes celebrate a birthday at Guadalajara Restaurant in Othello. Monday was the first day Businesses were allowed to operate at 50% of building capacity
Previous
Next
by
CHERYL SCHWEIZER
Staff Writer
|
March 24, 2021 1:00 AM
MATTAWA — The first day of Phase 3 of Washington's reopening didn't produce much additional business at Tiddaly Diddalys sandwich and pizza shop in Mattawa. Owner Ken Broda said business has been picking up for a couple weeks.
"I've already experienced returning to almost normal," Broda said. "I've had to turn people away."
Businesses are still subject to restrictions, and the demand at his shop has exceeded the available space imposed by social distancing rules, he said.
Businesses were allowed to expand to 50% of building capacity Monday, the first day of Phase 3 of Gov. Jay Inslee's reopening plan. In Phase 2, capacity was limited to 25%.
Businesses were ordered closed and allowed to reopen at limited capacity in the last year in an effort to combat the COVID-19 outbreak.
"It's a roller coaster," said Edgar Gonzalez, manager of Checo's Mexican Grill in Othello.
The timing helped some businesses. The Garden Grill food truck in Royal City shut down for the winter just as restrictions were reimposed in November.
Owner Lisa Villegas said she's hoping business will get going as more restrictions are lifted.
"It's been a really hard time this last year," said Chino Lopez, owner of the Guadalajara Restaurant in Othello.
Lopez said he was forced to close one of his two businesses, Las Palmas restaurant and grocery store, during the last year. He's working hard to keep his restaurant open, he said, and he expects to see more business as he's allowed to serve more people.
Businesses that weren't under so many restrictions are starting to see increases.
We've definitely gotten busier," said Julia Fernandez, manager of the Subway sandwich shop in Mattawa.
Gonzalez said Checo's benefited from loyal customers who kept buying even when the restaurant only was allowed to do takeout.
The dining room was busy on Monday.
Larry Myrick, owner of the Old Hotel Cafe in Othello, said doubling his restaurant's capacity definitely will be a benefit.
"It'll make some difference," Myrick said.
He, too, had loyal customers who bought takeout, but his location does not really work to provide drive-thru, he said.
"Being shut down for almost a year has been a tough pill to swallow," he said.
But Myrick said he's looking forward to having customers come in and sit down for lunch and dinner. In fact, he had customers in the dining room Sunday night.
"I actually got to hear customers talking and laughing and having a good time," he said.
Cheryl Schweizer can be reached via email at cschweizer@columbiabasinherald.com.
---