Quincy restaurant owners hopeful about advance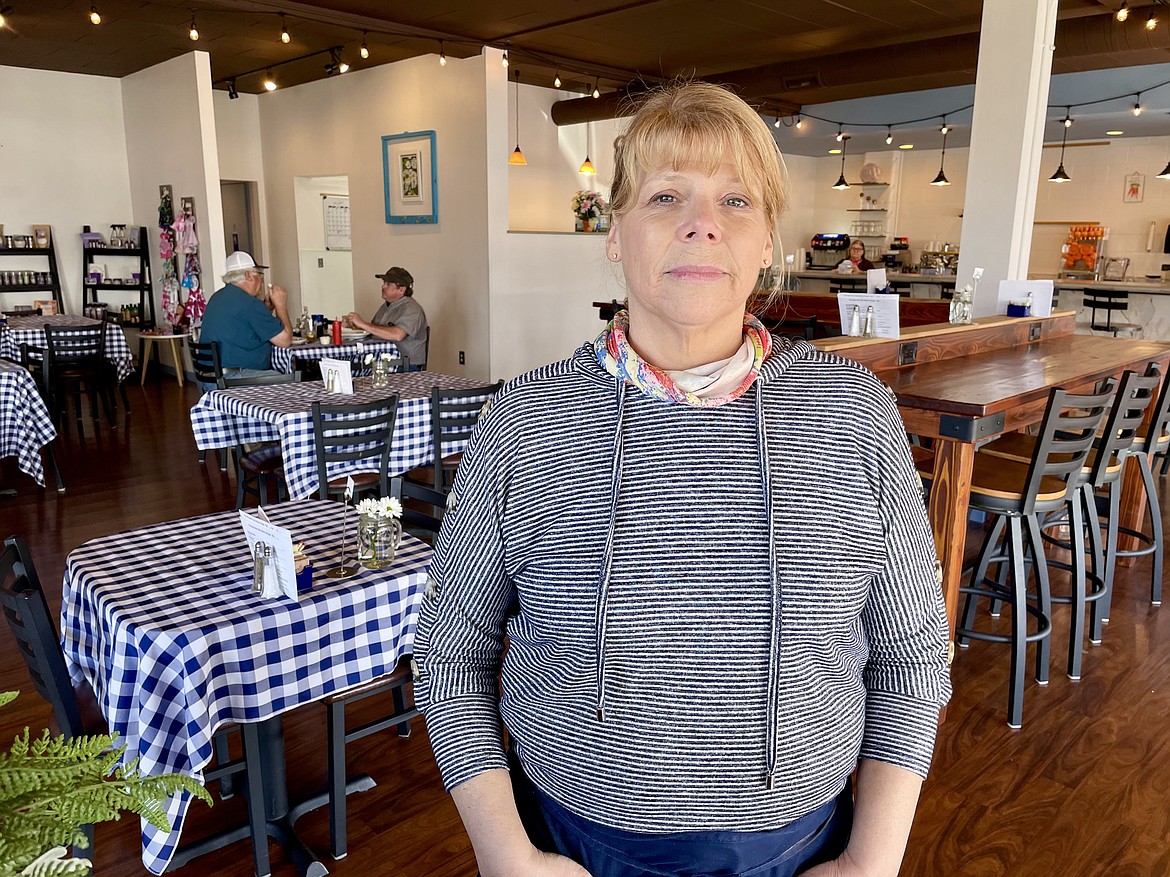 Deborah Freese, one of the owners of the Blue Bell Cafe in downtown Quincy, during lunch on Monday. Freese said she is excited about the start of Phase 3, and said that business has been picking up since the restaurant was allowed to re-open in mid-February.
Charles H. Featherstone
by
CHARLES H. FEATHERSTONE
Staff Writer
|
March 23, 2021 1:00 AM
QUINCY — It may be a slow Monday for The Blue Bell Cafe owner Deborah Freese, but that doesn't mean she isn't excited about the prospects now that Washington State is in Phase 3 of its COVID-19 recovery plan.
"It means yay to me!" Freese said. "Today is very slow, but actually we've been picking up really well."
For restaurants and tasting rooms, Phase 3 means they can operate at 50% capacity, instead of 25% they have been operating at since mid-February, with alcohol sales now to continue to midnight instead of 11 p.m.
Freese and her husband bought the space in the building at 101 E St. SE in the fall of 2019, and were getting ready to open last spring when
Gov. Jay Inslee ordered the closure of schools, government offices, restaurants, bars and a number of other businesses in response to the outbreak of COVID-19.
Freese said they were forced to delay their grand opening until June, and were managing to make it work, when Inslee again ordered restaurants closed to in-person dining in November.
"We're not really a to-go kind of place," she said. "We've only been open again for a few weeks now, and we're excited about being open."
Freese said she hopes Inslee will let restaurants remain open this time so "everything will be good."
Janet Jones, the owner of Country Fresh Market (1004 F St. SW), a small sandwich shop and cafe in the Quincy Public Market, said the start of Phase 3, which will allow restaurants and wine tasting rooms like the one winery Jones of Washington has in the public market, doesn't mean much for her business or the public market itself, but does suggest the end of the pandemic might be nigh.
"People are more hopeful, and we're seeing people come out, and we're starting to see some happiness return," Jones said. "Everybody was so pent up, and now they can see the end in sight."
Jones said doubling capacity won't mean much either for her business or for the Quincy Public Market, a small mall which was largely empty Monday afternoon, but it could mean the public market's one major restaurant, Jack's at the Market, will be able to reopen soon.
"It's been closed about a year," she said. "Been a tough year for a lot of people, anybody who's in the restaurant business or public service or any kind, it's been a tough year."
However, Jones said Quincy itself has weathered the pandemic year better than many other larger communities, in part because so many of the people who work there were in essential businesses like food processing and the data centers.
"The only people that were out of work were people who worked in restaurants," Jones laughed. "We have to count our blessings about that, that people were able to work."
Charles H. Featherstone can be reached at cfeatherstone@columbiabasinherald.com.
---