Ephrata's Roberts, Royal's Burke first at Gorge event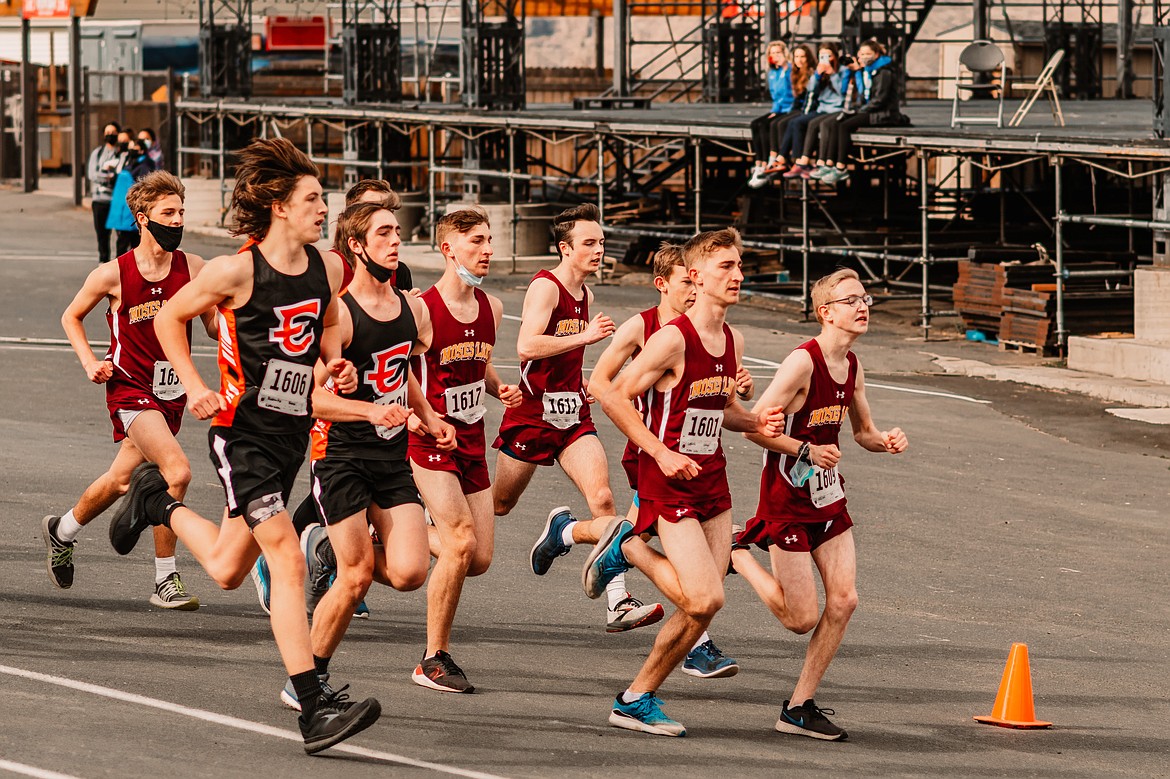 Ephrata and Moses Lake runners pass by the stage at the Gorge Amphitheater during the 5,000 meter race in George on Saturday.
Courtesy Photo/Kyrissa Morigeau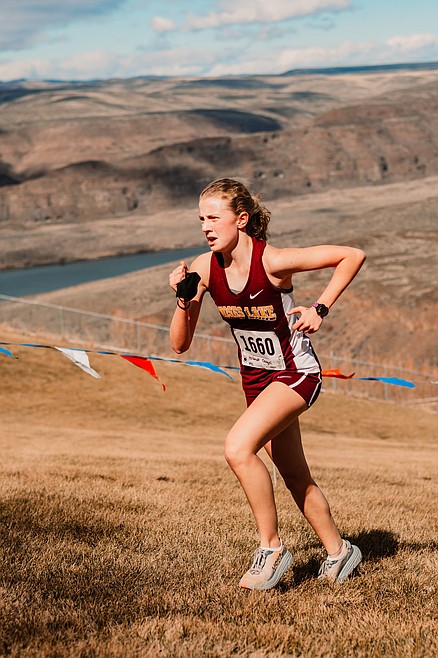 Moses Lake captain Camryn Holterhoff climbs the elevation at the 5,000 meter event at the Gorge Amphitheater on Saturday in George.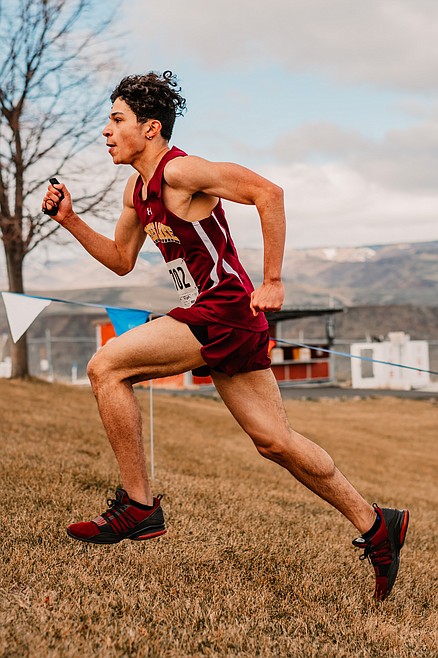 Moses Lake junior Elijah Serrano climbs the hill at the Gorge during the 5,000 meter event on Saturday in George.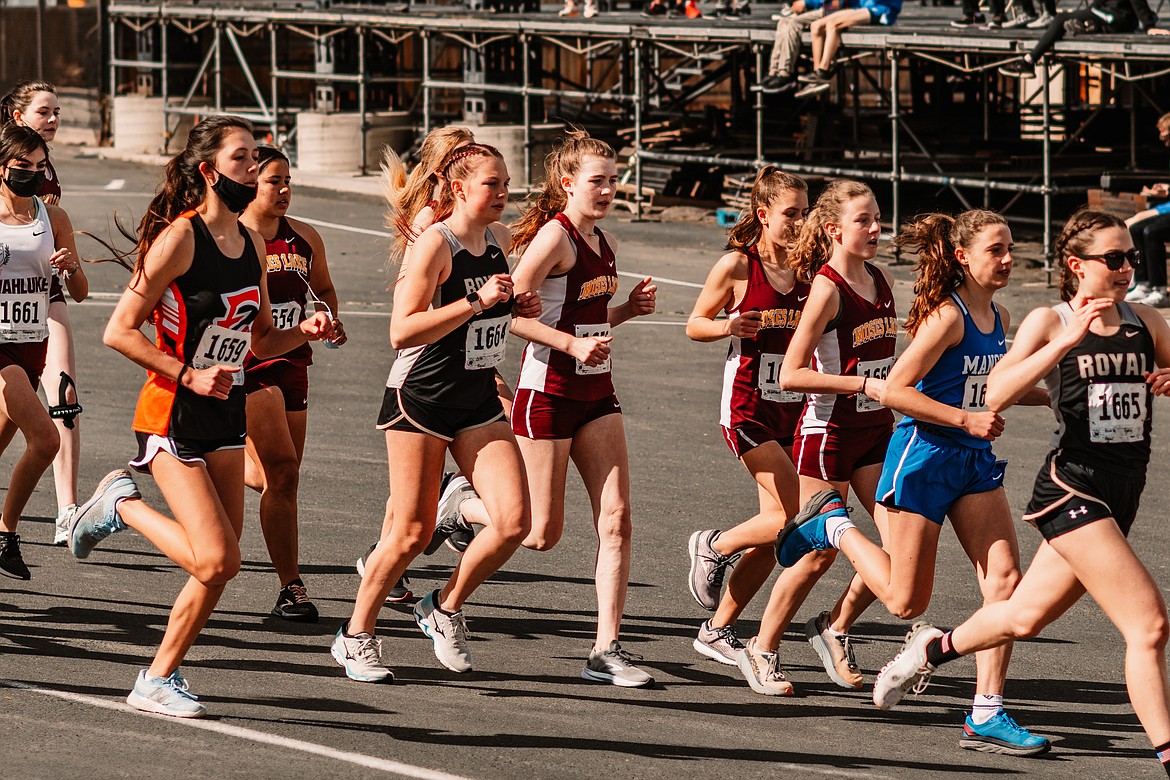 A mix of cross country runners from North Central Region schools pass in front of the stage at the Gorge Amphitheater on Saturday in George.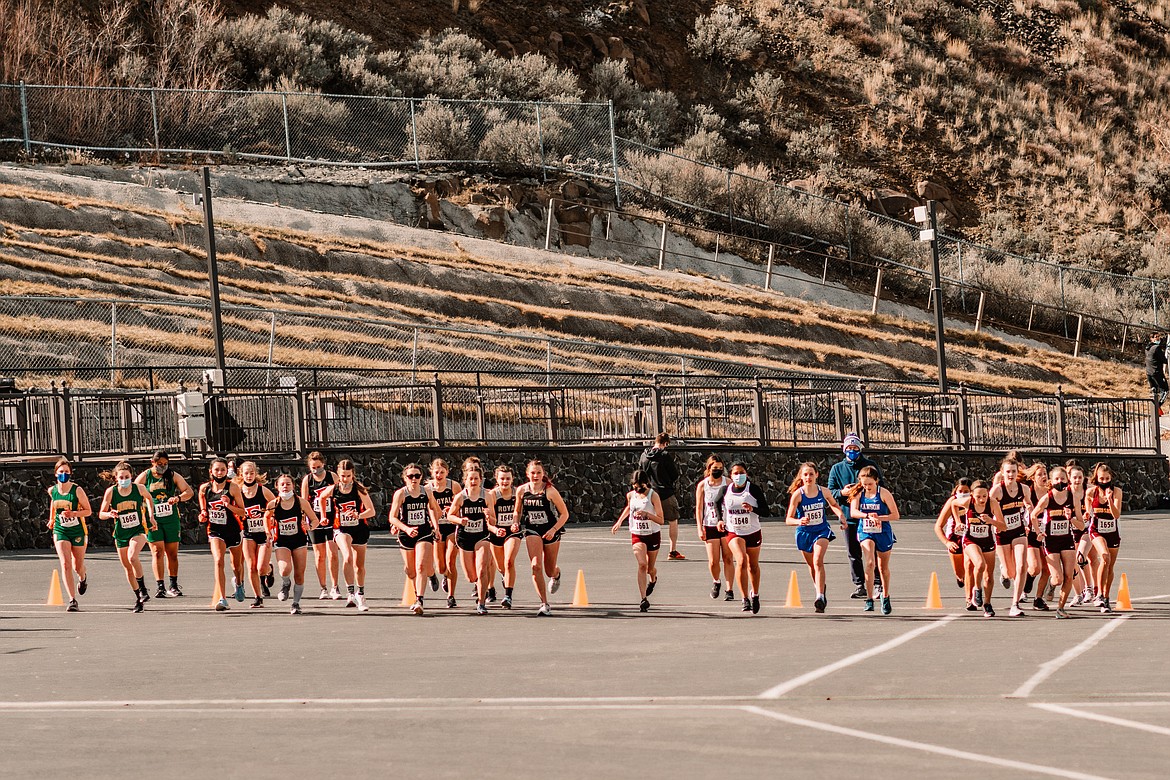 Runners leave the starting line as the girls 5,000 meter race kicks off the North Central Region cross country meet at the Gorge Amphitheater on Saturday.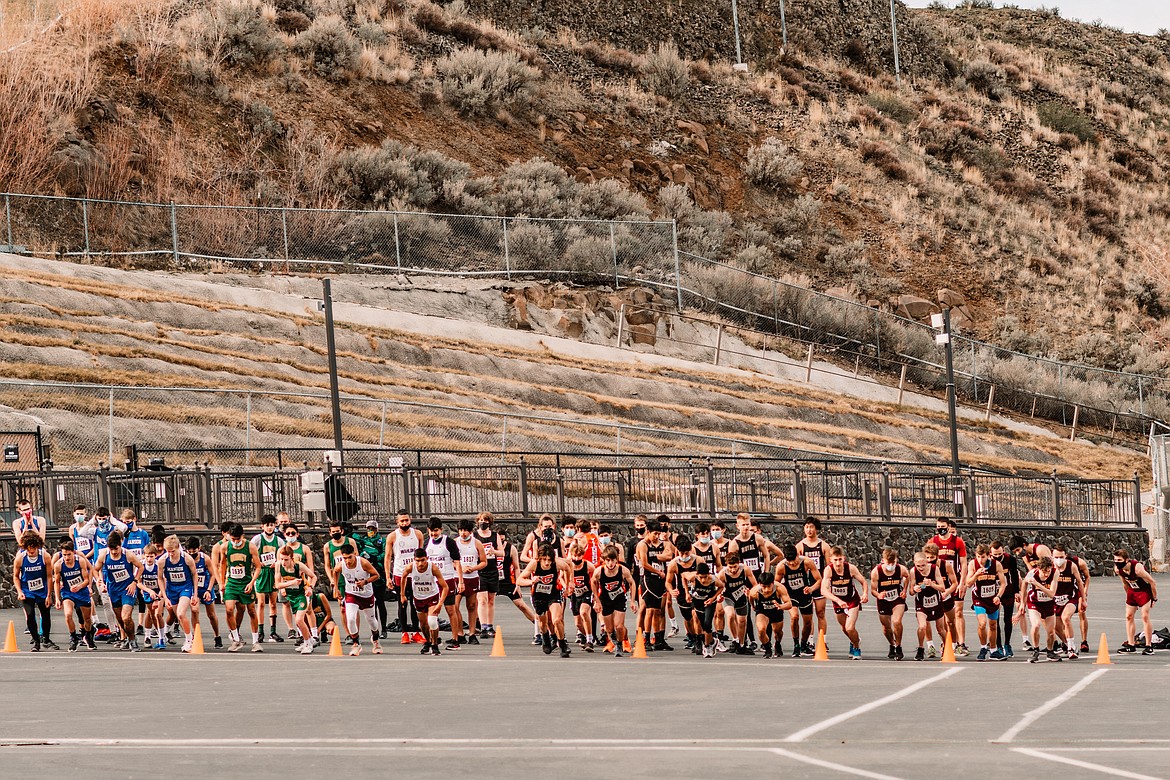 Runners leave the starting line in masses as the boys 5,000 Meter Cross Country meet kicks off at the Gorge Amphitheater in George on Saturday afternoon.
Previous
Next
by
CASEY MCCARTHY
Staff Writer
|
March 23, 2021 1:00 AM
North Central Region high school cross country teams ran a 5,000-meter meet at the Gorge Amphitheatre Saturday.
Ephrata's Hayden Roberts took first in the boys event, while the Tigers took first place as a team. Moses Lake's Nicholas Elliott took second place, followed by teammate Ethan LaBonte.
Royal's Joaquin Meza and Abraham Montoya finished fourth and fifth respectively. Moses Lake finished second as a team, followed by Royal in third. Wahluke took fifth as a team, and Quincy finished sixth.
On the girls side, Royal's Sydney Burke took first followed by Moses Lake freshman Paige Perkins in second. Ephrata's Alexa Laughlin finished third, followed by Royal's Kenia Orth in fourth and Quincy's Jane Kennedy in fifth.
Ephrata's Adrianna Redstar finished sixth and Camdyn Cox eighth.
Moses Lake took the first place as a team in the girls meet, followed by Royal in second and Ephrata in third.
Moses Lake senior Jack O'Shea said it was interesting running at the Gorge, with some severe elevation to deal with.
"The scenery was beautiful, especially coming into the finish you have a loop almost right up to the edge of the cliff where you can see the whole valley in front of you," O'Shea said.
O'Shea said it was incredibly mentally challenging trying to stay in shape during winter and the COVID-19 shutdown. Fortunately, he said, his parents would drag him out to run a few times a week.
Elliott, a senior, said he still wishes the season would have been in the fall. He said winter is typically the hardest time to motivate himself to get out and run, so he still feels like he's getting back in shape.
"I've had fun with these races and still trying to get back in shape still," Elliott said. "I have track right after this, so hopefully I'll be in better shape for that track season."
Perkins, a freshman, said she didn't expect to have this level of success in her first year, but said she's been running since about fifth grade.
She added that she's hoping this success can motivate her to hit her training even harder heading into the fall season.
"I'm already a four-sport athlete so I'm already going to be doing a lot of conditioning during the summer," Perkins said. "But, it just helps me want to run more during the summer, a lot more than usual."
Ephrata cross country head coach Frank Moore said it's always exciting seeing athletes have success, and he credited his players for sticking to their training in this "super-long offseason."
"Coaches can only do so much; the kids kind of have to take the reins themselves and go do it," Moore said.
Moore said while he's cautious of students overexerting themselves with the back-to-back-to-back seasons this spring, he believes a lot of runners will have phenomenal times this fall.
Other top runners:
Boys: Devon Taylor (ML), 11. Hayden Malone (EPH), 12. Angel Vasquez (WAH), 13. Santiago Gonzalez (ROY), 14. Logan LaBonte (ML), 15. Jack O'Shea (ML), 16. Fernando Alvarado (ROY), 17. Max Hewitt (EPH), 19. Sam Elliott (ML), 20. Raul Sandoval (WAH), 21. Skyler Hinkey (EPH), 22. Yahir Morales (ROY), 23. Josue Sanchez (EPH), 24. Edwardo Alvarado (ROY), 31. Levi Kukes (QUI).
Girls: Adamaris Arellano (WAH), 11. Sylvie Gephart (ML), 12. Sydney Gilbert (ROY), 12. Ashlee Scheel (ML), 13. Abigail Wood (ROY), 14. Katelynn Lustig (ML), 15. Emma Scriven (ML), 16. Marissa Bischoff (ML), 17. Jesse Burke (ROY), 18. Yesenia Bonilla (ROY), 19. Gracee Frank (ROY), 20. Maren Blair (EPH), 22. Dorismar Ochoa Sanchez (EPH), 23. Miyah Lee (ROY), 24. Karen Arellano (WAH), 25. Bridget Jones (QUI).
---