Senators discuss bill on long-term care program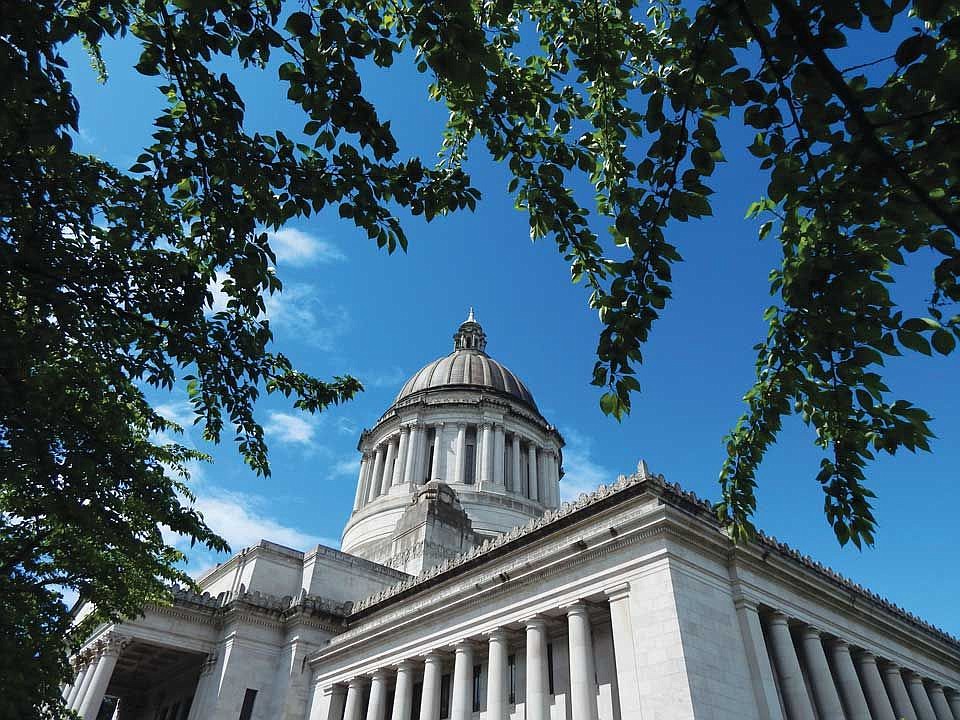 An exterior view of the capitol dome in Olympia, as seen in spring 2014. 
by
Angelica Relente, Herald Legislative Writer
|
March 23, 2021 1:00 AM
Washington's Senate Health and Long Term Care Committee heard from individuals testifying in support and opposition to a bill that would make changes to the state's newly established long-term care program during a virtual legislative hearing Monday.
The Long-Term Services and Supports Trust Program was established in 2019 and will be funded through premiums paid by working Washingtonians, according to the state Department of Social and Health Services website.
Beginning January 2022, employees will pay $0.58 per $100 of their wages into the program, according to the website. Three years later, the program is to begin providing benefits to eligible beneficiaries worth up to $36,500, which can be applied to long-term care costs.
House Bill 1323 would require employees who choose not to participate in the LTSS Trust Program to affirm they have a long-term care insurance plan before the bill's effective date, according to the bill's text.
Rep. Steve Tharinger, D-Sequim, is HB 1323's primary sponsor. Tharinger said during the Monday hearing more than one-third of working adults do not have a retirement savings account. Medicare does not pay for long-term care costs, either, he said.
"The long-term support trust (program) was created to address this need," Tharinger said.
Tharinger said typical, median earners who receive $52,000 per year would pay an average of $302 per year for the LTSS Trust Program.
"I think this is a very important piece in meeting our needs for long-term care support," Tharinger said.
Under current law, employees who already have a long-term care insurance plan and want an exemption from paying premiums into the LTSS Trust Program may apply to the Employment Security Department between Oct. 1, 2021, to Dec. 31, 2022, according to the bill's text.
Cathy MacCaul, advocacy director for the American Association of Retired Persons in Washington state, said during the Monday hearing AARP has been supportive of the LTSS Trust Program since day one.
"What we know for certain is that people have not saved adequately for retirement or for the care they will need as they age," MacCaul said. "AARP supports all the provisions in HB 1323."
Chris Bor, president of the National Association of Insurance and Financial Advisors of Washington, said during the virtual legislative hearing the premiums he pays for long-term care support are cheaper than the premiums required for the LTSS Trust Program.
"It keeps being (referred to) as a 'premium,' but a premium is something that I have the option to pay or not to pay," Bor said. "This is just a tax."
Mark Ingersoll, president of Washington Brokerage in Seattle, said during the online hearing Monday HB 1213 provides a narrow window for individuals to opt-out of the LTSS Trust Program.
"This is especially unfair to Washingtonians who have less than nine years until retirement because they will pay the tax up to nine years and not receive any benefits when they're needed," Ingersoll said.
HB 1323 would also require self-employed workers who want coverage under the LTSS Trust Program to "exercise that option" no later than Jan. 1, 2025, or within three years of being self-employed.
Those who were disabled before the age of 18, as well as employees who are a part of a federally recognized tribe, would also be permitted to participate in the LTSS Trust Program under HB 1213.
The House passed HB 1323 on Feb. 23 in a 56-41 vote. The Senate has yet to vote on the bill's final passage.
---