In-person instructions: Local school districts meet Inslee's requirement differently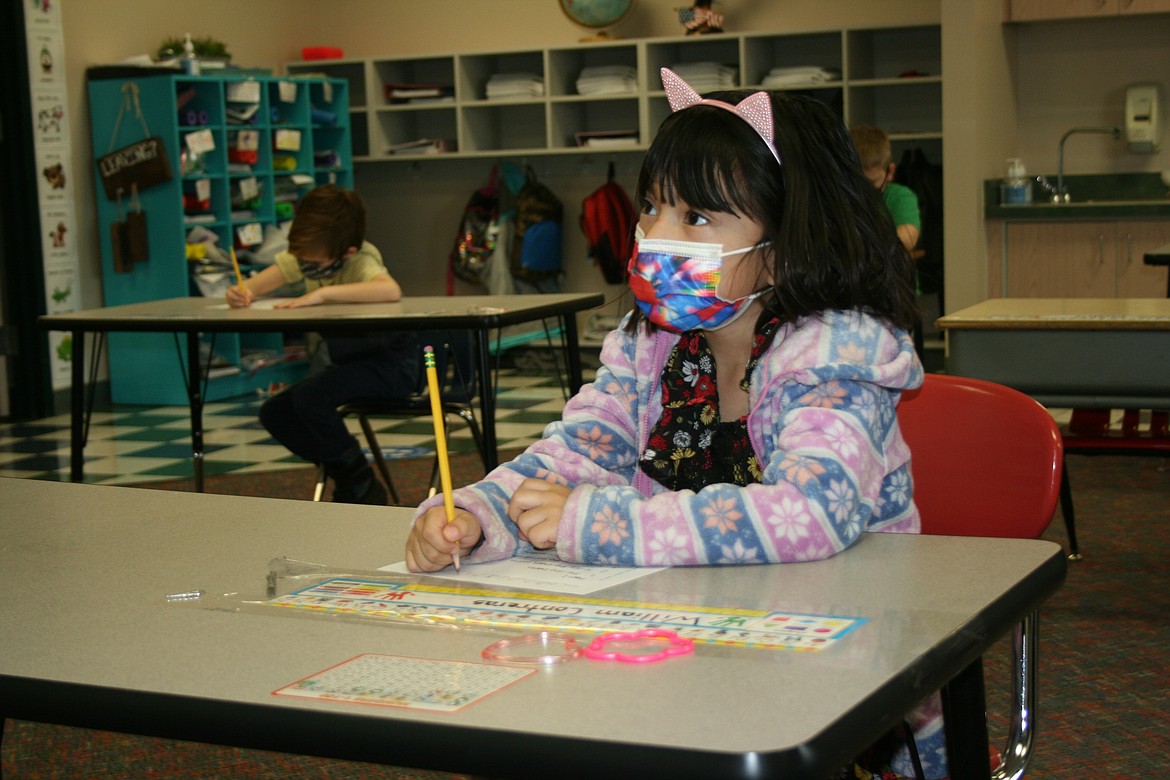 Camila Bastida, a first grader at Soap Lake Elementary School, works on a grammar lesson Thursday. The experience of reopening has been different for different schools around the county.
Cheryl Schweizer/Columbia Basin Herald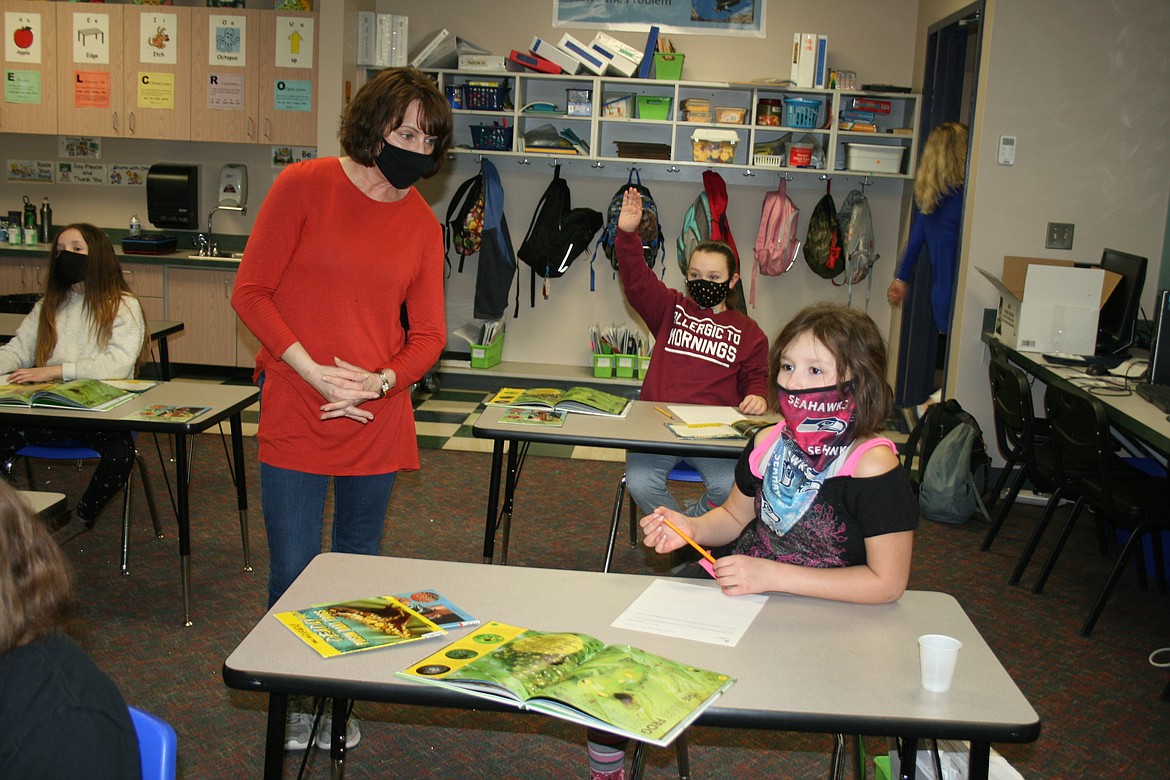 Soap Lake third grade teacher Sherry Fair (left) discusses a lesson with her student Cynful Meria. The experience of operating schools during the COVID-19 pandemic has been different for different districts.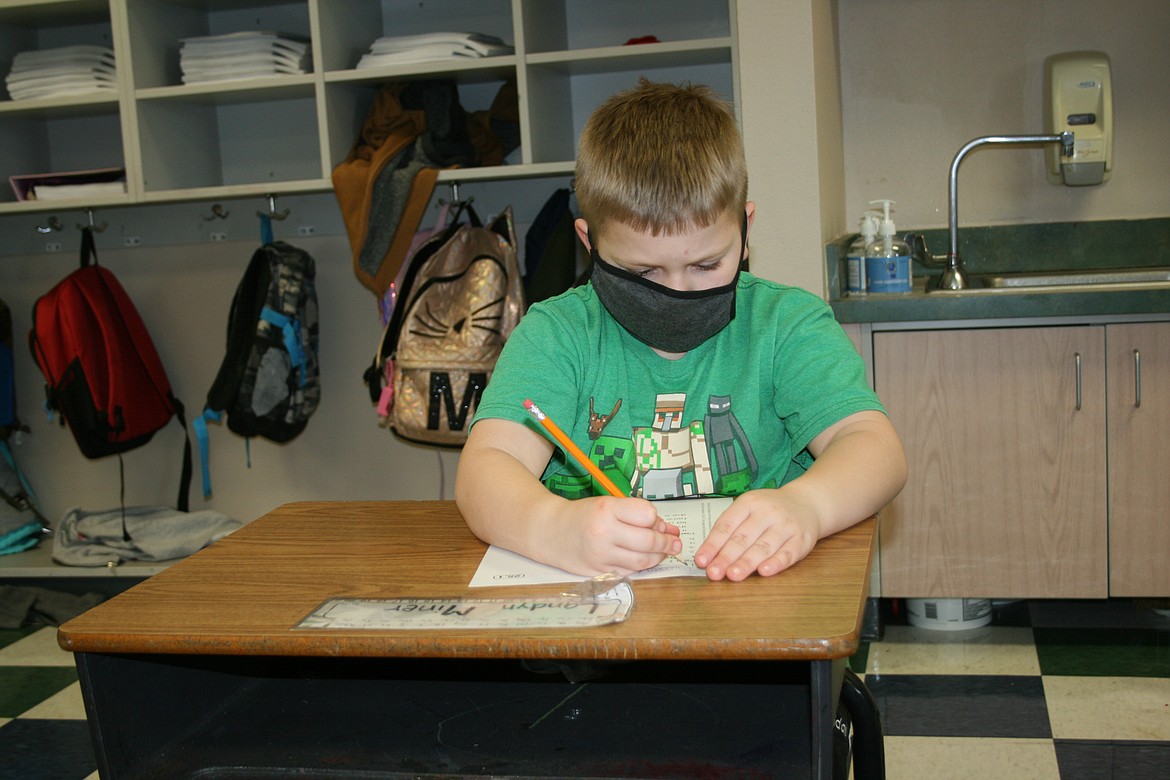 Soap Lake first grader Landyn Miner works on a lesson Thursday. Operation in the time of the COVID-19 pandemic has been different for each school district in the area.
Previous
Next
by
CHERYL SCHWEIZER
Staff Writer
|
March 19, 2021 1:00 AM
School districts in Grant County and the Othello School District (in Adams County) have one thing in common: they all meet the criteria established by Gov. Jay Inslee, requiring schools to reopen for some kind of in-person learning by mid-April.
But that's pretty much the only thing they have in common when it comes to reopening.
All local school districts have resumed in-person instruction in some form, but each district's timing, its experiences with distance learning, hybrid schedules and on-campus instruction have been different.
Schools were closed statewide in March 2020, and stayed closed through the end of the 2019-20 school year. State officials gave school districts the option of where and how they would reopen for the 2020-21 school year.
Soap Lake Superintendent Sunshine Pray said it's been an experience.
"I hope we've learned something from the last year," she said.
Quincy schools meet the governor's criteria, said district superintendent John Boyd, but a lot of families in Quincy have opted for online instruction. Boyd estimated about half of Quincy High School students have opted for online, as well as 30 to 40% of middle school students and a slightly smaller percentage of elementary school students.
Boyd said many middle school and high school students in Quincy provide child care for younger brothers and sisters. Once enrollment increases in elementary grades, enrollment should go up at the high school, he said.
In contrast, about 10% of Soap Lake families have opted for online-only, Pray said. Soap Lake was all-online for the first two weeks of school, with a phased return, starting with elementary students, in October.
The Royal School District opted for on campus instruction from the beginning of the school year and opened with what's called the hybrid model, where classes were split and only half the class was on campus at any given time. Elementary students up to fifth grade have returned to school five days per week.
"We are adding a temporary sixth grade teacher so we can bring our sixth grade back every day, with the exception of online learners," Royal superintendent Roger Trail said.
Seventh- and eighth-graders and Royal High School students are still in a hybrid schedule.
The Moses Lake School District also opted for on campus class from the beginning of the school year, at least at the elementary school level. The district's middle schools followed in mid-September and Moses Lake High School in November. Parents were offered the option of all-online, a hybrid schedule or complete in-person instruction.
District Superintendent Josh Meek said MLSD already meets Inslee's guidelines.
"We will continue to use this momentum to get more kids back in school. We have already implemented an upcoming change doubling the amount of on-campus time for Moses Lake High School students starting Monday, April 12, which is the Monday after spring break," Meek wrote.
The hybrid schedule at most local school districts either has different groups on campus different days of the week, or, as in Othello and Quincy, some kids on campus in the morning, others in the afternoon.
But Wilson Creek School District came up with something entirely different for its middle school and high school students. Middle school students are on-campus four days per week during one week, and Wilson Creek High School students are at school the next week. All students K-12 have online classes Friday.
District Superintendent Laura Christian said the week-on, week-off campus schedule meets criteria for building capacity and social distancing.
In Wilson Creek, as in Othello, the high school and junior high schedules were changed from eight class periods to four.
"It worked okay. It's not ideal. But we're tweaking it and making it work," Christian said.
The Othello School District had planned to reopen in August in a hybrid model, but a surge in coronavirus cases caused reopening to be pushed back. Pre-kindergarten through-third graders returned briefly in November, but another surge in cases prompted a return to all-online until January.
Assistant superintendent of teaching and learning Pete Perez said at the March 8 Othello School Board meeting operations have gone smoothly so far.
"We've really been living in the blended model for several weeks now. We are not seeing outbreaks of illness in our schools," Perez said.
Boyd said schools could add more on-campus instruction if the rules governing social distancing are relaxed. Currently, students must be at least six feet apart, and Boyd said if that rule is relaxed -- if social distancing is shortened to three feet, for example -- Quincy will start looking at bringing more kids back.
Perez echoed that.
"If we get some flexibility there (in social distancing rules) and the numbers (of coronavirus cases) continue to be low in Othello, I think we'll have to respond, specifically K-6, to see if we can bring more kids on campus," he said.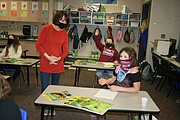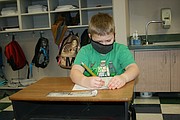 ---