Royal student wins award in regional art show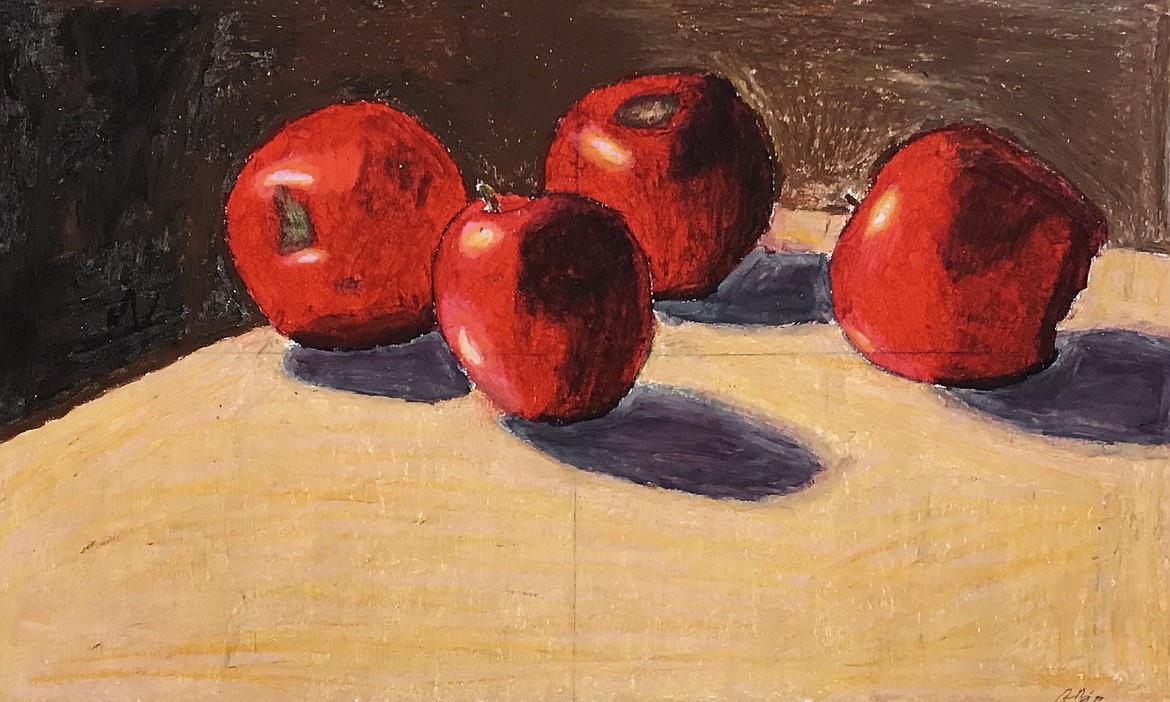 An oil pastel of apples on a table won Royal High School student Fernando Ruiz-Cisneros a scholarship for art classes at Central Washington University.
Courtesy photo
by
CHERYL SCHWEIZER
Staff Writer
|
March 17, 2021 1:00 AM
ROYAL CITY — Royal High School senior Fernandez Ruiz-Cisneros said he was looking for something to draw one afternoon in art class. The resulting piece won him a $2,000 scholarship from Central Washington University.
"I won what?" he said.
His oil pastel drawing of apples on a table was entered in the annual art contest sponsored by Education Service District 105. He was one of eight students in the district to win a scholarship to CWU.
"Oh, that sounds great," Ruiz-Cisneros said.
"It's really awesome," said RHS art teacher Heidi Allen.
He was looking for a subject during a free drawing period one day, he said.
"I was just sitting there, didn't know what to do," Ruiz-Cisneros said.
Allen had some apples on a table, and he took that as his subject.
He used to focus on painting, but now he's more interested in drawing, he said. He doesn't have a favorite subject when it comes to creating art.
"If I see something like that looks good, then I'll draw it," he said.
Sometimes it's just whatever subject comes to mind, he said.
This is the 48th annual art show sponsored by ESD 105, and for 2021 was moved online to www.esd105.org/2021ArtShow. Ruiz-Cisneros was one of eight RHS students to have artworks accepted for the gallery show.
The show attracted 81 entries by 64 students, representing 13 high schools in the ESD.
The art show will be online through the end of May.
Ruiz-Cisneros said while he likes art, he's planning to pursue a career in medicine, with the intention of becoming a surgeon. He's also looking at a career in business.
---