Rev. Klockers: A lesson from a trio of felines watching their YouTube channel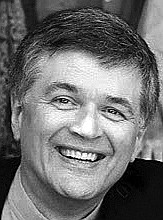 by
Rev. WALTER KLOCKERS
|
March 17, 2021 1:00 AM
Romans 14: 19, from the New Revised Standard Version of the Bible, says, "Let us then pursue what makes for peace and for mutual upbuilding."
We own what is called a "Smart TV." It not only receives DISH Network channels but also provides access to the internet. So, we can watch YouTube videos on our television.
Our feline family members enjoy YouTube a lot. There is a category of videos on YouTube they favor. It is called "Cats TV."
So, our cats can choose from a plethora of options. They include videos of real squirrels and birds at a feeder, in a park or the edge of the woods, exotic fish swimming around their coral reef home, or mice gathering food as they exit and enter a small hole in the wall.
There are also animated videos. I found it surprising that each of our cats favors a different animation.
Abby loves chasing the animated mice and rats as they scurry across the screen. Toney's eyes widen with the sight of an ever-moving red string. Ellie is absolutely fascinated by a single butterfly that flutters about.
Cats TV has provided great entertainment for them, and they can get quite serious about trying to catch the object of their passion. So, close supervision is a must. Without such controls, in the past, they occasionally ended up hanging onto the top of the television screen.
They didn't care about anything else. They had tunnel vision and went all out, desperately trying to capture what they were laser-focused upon.
It was no use trying to explain to them they had been fooled – simply chasing an illusion. Being cats, they couldn't understand.
In the New Testament book of Romans, the Apostle Paul urges his readers to seek peace and those things that build up one another.
However, we live in a time when it is all too easy to do the opposite.
Besides our polarized political climate, people are feeling quarantine fatigue. I've recently witnessed displays of temper that ordinarily would not be. I thought these two items might have something to do with these outbursts.
There is also great sadness. Personally, I know two families that have lost a loved one to COVID-19. Emotions are running high.
At such times as these, we may need to take a deep breath and earnestly ask ourselves some questions.
Are we, in some way, fooled, chasing an illusion? And perhaps destructively so, fueled by emotion?
Yes, right now it may be easier to be a spoon to stir things up than a peacekeeper to calm things down.
Yes, right now it may be easier to make assumptions than to seek truth, compassion and understanding.
Yes, right now it may be easier to shout your displeasure than to listen patiently and reply thoughtfully.
Being a flawed human can be difficult. I know all about this.
No one said being a follower of Christ would be easy. In fact, it should prove to be more difficult.
In times when it is all too easy to break down, it is time to live by faith and build back up.
Can we be mindful of this?
Close supervision is a must. God can do that for us if we wish. It might keep us from destroying something.
Walter is pastor of Immanuel Lutheran Church in Moses Lake and has served as parish pastor for more than 30 years.
---