One student at a time: MLSD program gives kids a little extra boost with learning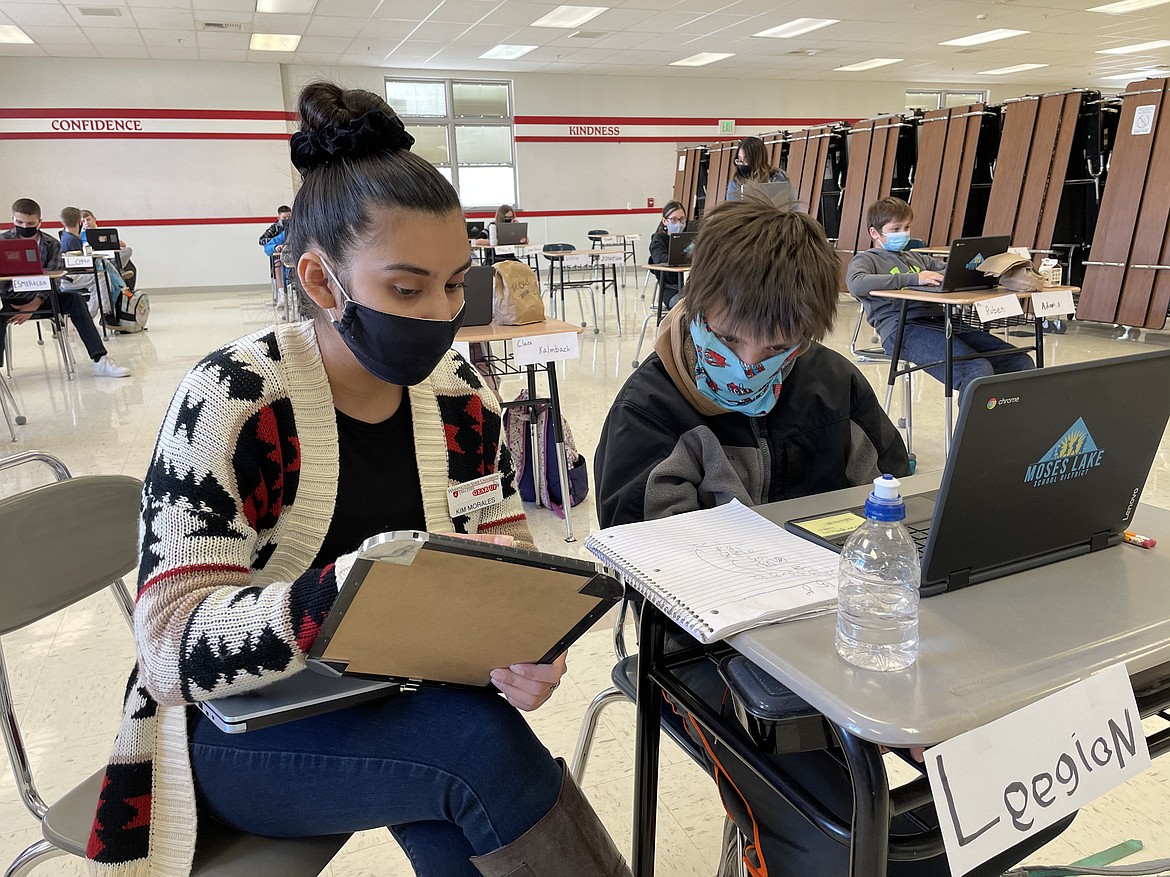 Moses Lake School District tutor Kim Morales helps talk sixth grader Leegion Luxner through a long division problem. Luxner is one of 24 students who signed up for full-remote instruction this year to do part of his school work on campus, where he can get help from teachers and tutors and be with other students.
Charles H. Featherstone
by
CHARLES H. FEATHERSTONE
Staff Writer
|
March 17, 2021 1:00 AM
MOSES LAKE — Kim Morales sits in the cafeteria of Chief Moses Middle School with sixth-grader Leegion Luxner and helps him think through a long division problem.
"What's 333,522 divided by 21?"
She writes with a big blue erasable pen on a small whiteboard she carries around with her, helping Luxner figure out how many times 21 goes into 172 and which number you carry next.
Luxner works the problem through using a pencil in a lined notebook. Very old school compared to the Chromebook laptop sitting open in front of him.
He clearly gets the idea behind long division. But like anyone learning something, it just takes time and practice to get the hang of working through a problem.
"For me, it's a little easy, a little hard, it's in the middle for me. For other kids, it might not be," Luxner said after getting the right answer — 15,882. "I have ADHD, and it makes me do things faster. I can't just sit here for a long time or I'll space out."
"They're all at different levels," said Morales, who started working as a tutor with the Moses Lake School District in January. "This is where we are with Leegion, and he's getting really good at it."
Luxner is one of 24 students sitting — masked and six feet apart — at a desk in the Chief Moses cafeteria on Wednesday afternoon, getting help with his online studies as part of an effort by the Moses Lake School District to aid students with their studies or just to get out of the house for a while.
Of the 1,917 sixth-, seventh- and eighth-graders in the MLSD as of the end of February, 772 have opted for a full online education using the district's specialized, self-paced Apex curriculum, according to CMMS Assistant Principal Michael Nordsten.
"A lot of them didn't, I don't think, realize what they were getting into when they signed up for it," Nordsten said. "A lot of them thought, well, last spring we did full remote and we had our teachers and all that, but they don't have that."
Not with Apex, Nordsten said, which is entirely online and works at the learner's own pace. Because of that, a number of kids who opted for full remote instruction, and teachers overseeing it all, realized they needed to some help — they were falling behind, never got started or they just needed to be with other kids.
Nordsten said they have space at Chief Moses for 48 kids — 24 in the morning, and 24 in the afternoon, each session around two-and-a-half hours — who want to come in and continue their full remote instruction, but do some of it at school.
It's a drop in the bucket at Chief Moses, where about half of the school's 1,000 students are doing full remote instruction.
It's part of the MLSD's district-wide effort to engage students who have fallen behind or simply checked out of the online instruction school districts nationwide have implemented in response to the outbreak of COVID-19 nearly a year ago.
"It's a mixture of special ed, a mixture of general ed, English language learners, and a mixture of kids who are doing well with Apex and are not doing well," Nordsten said. "At least they look around and go, wow, there's 23 other kids in here, and some of them are my friends, and I'm not having to deal with whatever is going on at home."
"They're here and working, and I've had teachers tell me this is the first time I've seen this kid do much of anything," Nordsten added.
Nordsten said it turns out there is a social element of teaching and learning, and it's actually a lot more important for many kids than anyone realized.
"I don't know if I'm surprised, because it seems to make sense," he said. "But it's one of those, holy smokes, I never saw that coming. I mean, I didn't really see it coming, and it's become more of a thing than I thought it might."
The hope is to get everyone back in class by next fall, Nordsten said. Until then, Nordsten said it is important for the MLSD to try and catch as many students as possible who like they're about to fall through the cracks.
Like sixth-grader Ruben Koval, who sat reading his Chromebook in the Chief Moses cafeteria, reviewing math and civics.
"It's going good," he said quietly. "It's easier now since I came here."
Charles H. Featherstone can be reached at cfeatherstone@columbiabasinherald.com.
---