In the right place: Royal City's new police chief has found his niche
by
CHERYL SCHWEIZER
Staff Writer
|
March 17, 2021 1:00 AM
ROYAL CITY — Royal City Police Chief Rey Rodriguez said he decided early on Royal City was the place for him.
"I've been here since 2009. A little bit into my career, I decided to stick it out in Royal City," he said.
"The school district, the community, definitely grew on me," he said.
Rodriguez was hired as the RCPD chief earlier this month. He replaces Darin Smith, who retired in January.
Rodriguez had been acting as interim chief since November 2019, when Smith went on medical leave.
Rodriguez said he didn't intend to spend his whole career in Royal City when he joined the force, but he decided the town was the place he wanted to be.
"I absolutely love the community. Everyone knows everybody," he said.
And its residents support each other.
"Everyone says, 'Hi.' They know my kids, I know their kids. So it's a tightknit community, and that's what grew on me. As well as the school district," he said.
Rodriguez and his wife, Myra, have four children.
He credited his brothers Juan and Rick with getting him interested in law enforcement.
"I'm the youngest of six kids and the youngest of three brothers. My oldest brother got into law enforcement, and my middle brother looked up to him and got into law enforcement. I looked up to both my brothers and got into law enforcement," Rodriguez said.
Both his brothers work for the Moses Lake Police Department. When he was in high school he would ride along with them, and got a close look at the job.
"I definitely knew this was what I wanted to do," he said.
He started as a reserve deputy with the Grant County Sheriff's Office. He was hired as a provisional, or full-time temporary officer, in Royal City before being hired for the permanent position.
"What got me into it was helping the community," he said. "When we go to a call, it's usually people at their lowest points or not in a normal situation ... and helping them through that," he said.
"Recently, what I love about it is, some people who when I started here back in 2009, weren't making very good choices. And to see them now, having a family, having a full-time job, and coming up to me and saying, 'Hey, thank you for doing this for me, even though I was a knucklehead back in the day, thank you for straightening me up, helping me through it,' and they're doing very well now. Being able to see that is a major pro in my career," Rodriguez said.
Police work is as much about – or more about – adjudicating disputes as solving crimes, he said.
"We have to listen, we have to know what's going on and be able to solve what's going on," he said. He estimated 80 to 90% of police contacts in Royal City are cases of adjudicating disputes.
Royal City has remained supportive of its police department, even as it's a challenging time for police officers everywhere.
"That is very satisfying, very humbling, knowing that we still have support from our community. That's one thing I've never doubted about the community, is that they've always supported us," he said.
Being the interim chief, and now the chief, was and is a whole different role, he said. Smith's medical leave meant he wasn't available to answer questions, but Rodriguez said officers from other agencies rallied to help him.
"I had very, very, very good support from local agencies around here," he said.
Chiefs and administrators from the Quincy Police Department, MLPD and GCSO all answered questions and showed him the procedures, he said.
"Those people definitely made it easier to transition to what I'm doing," he said.
The department will add a new officer at the end of March. The city also is in negotiations with the Royal School District to hire a school resource officer.
Cheryl Schweizer can be reached via email at cschweizer@columbiabasinherald.com.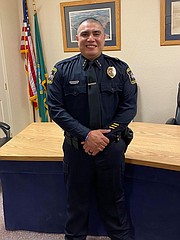 ---