Going live: Ephrata Drama Club gears up for Monday theater performance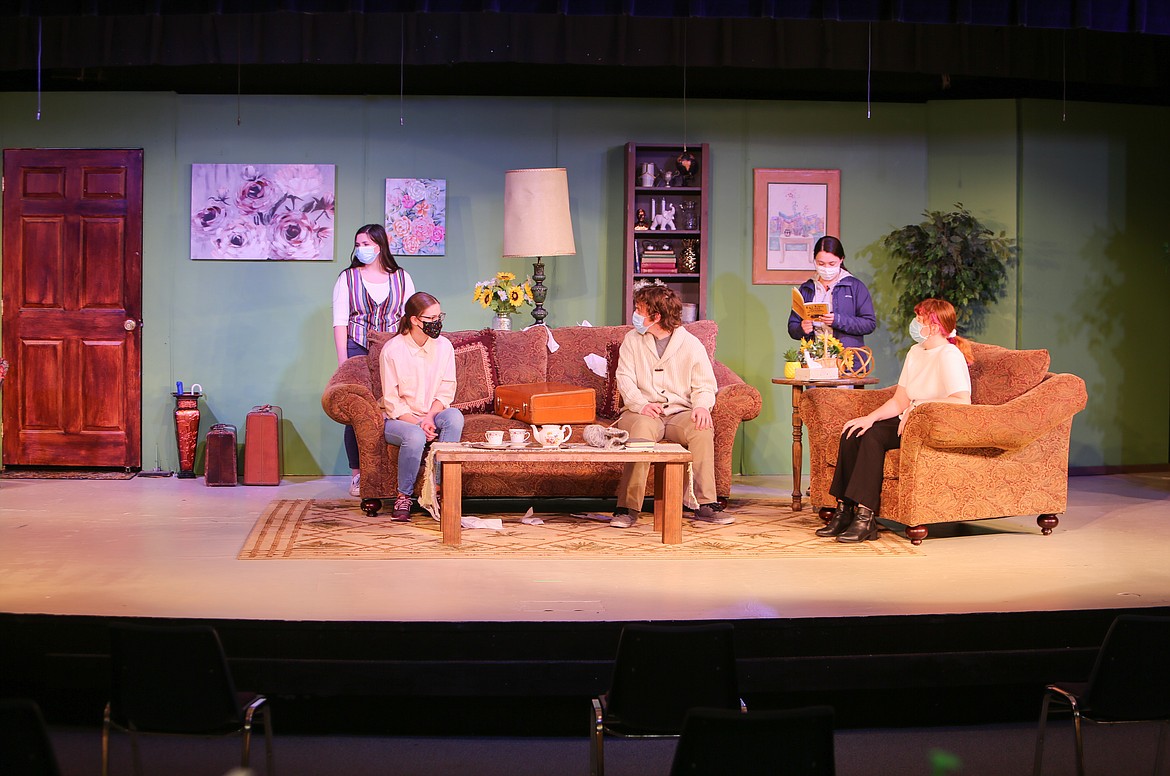 Drama students, left to right, Destiny Bunney, Samantha Somes, Miles Plagerman, Emily Pugh and Emma Coats run through a scene during rehearsals at Ephrata High School on Tuesday afternoon.
Casey McCarthy/Columbia Basin Herald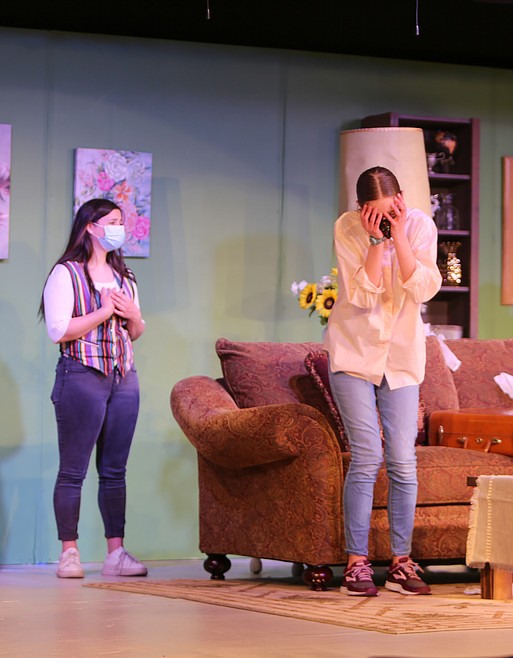 Destiny Bunney, left, reacts to her costar Samantha Somes' emotional performance on stage during rehearsals on Tuesday afternoon in the PAC Building at Ephrata High School.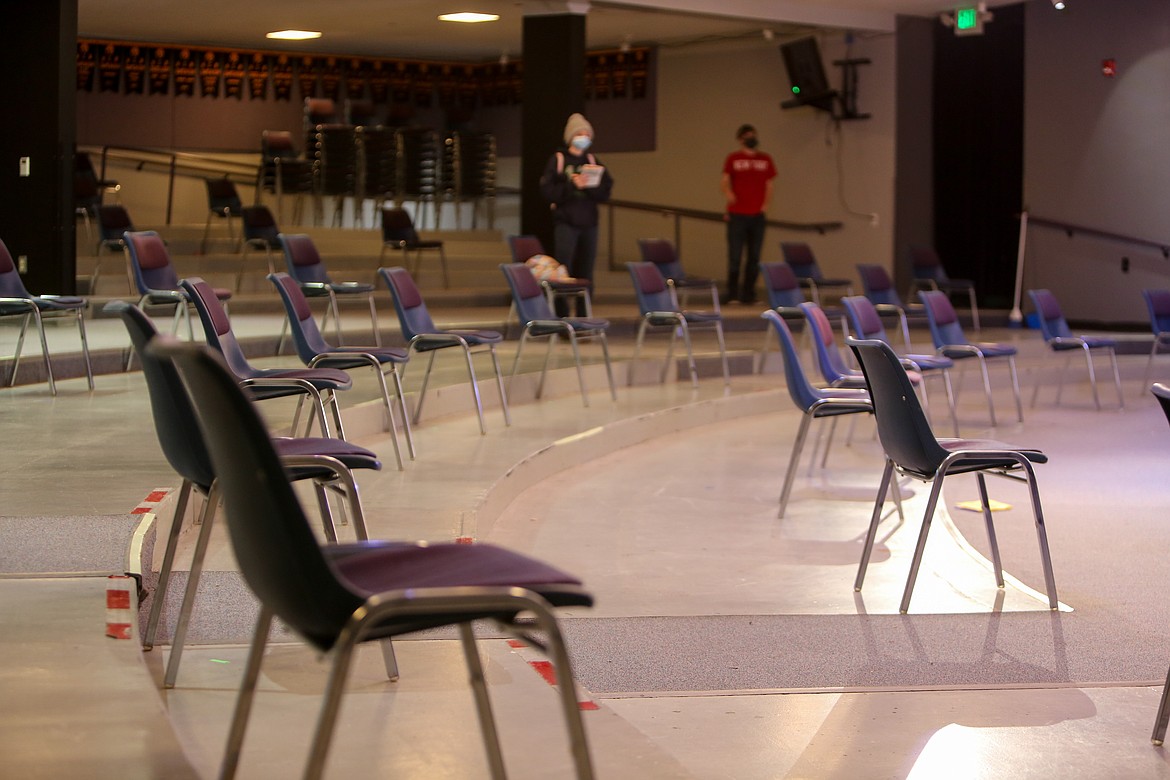 Seats are spread out in the Performing Arts Center building on Tuesday at Ephrata High School ahead of next week's live theater performance on Monday, March 15, at 7 p.m.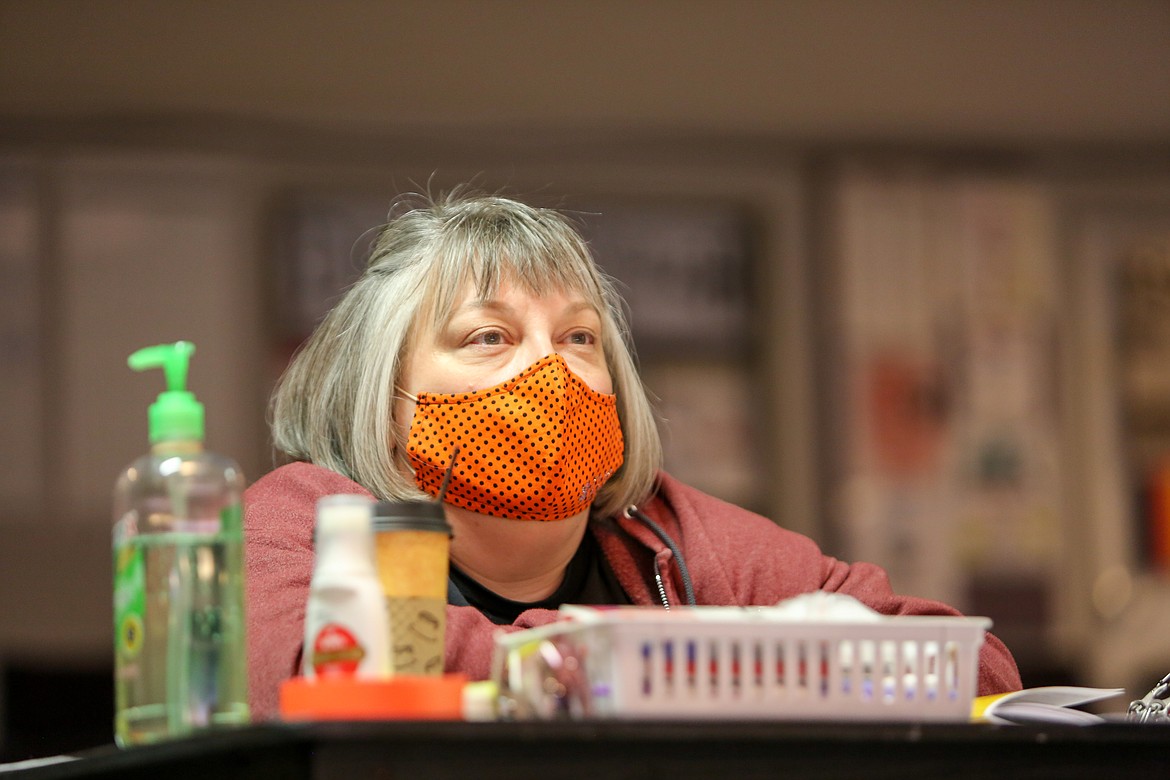 Ephrata Drama Club Director Marla Allsopp watches her students run through rehearsals on Tuesday afternoon at Ephrata High School.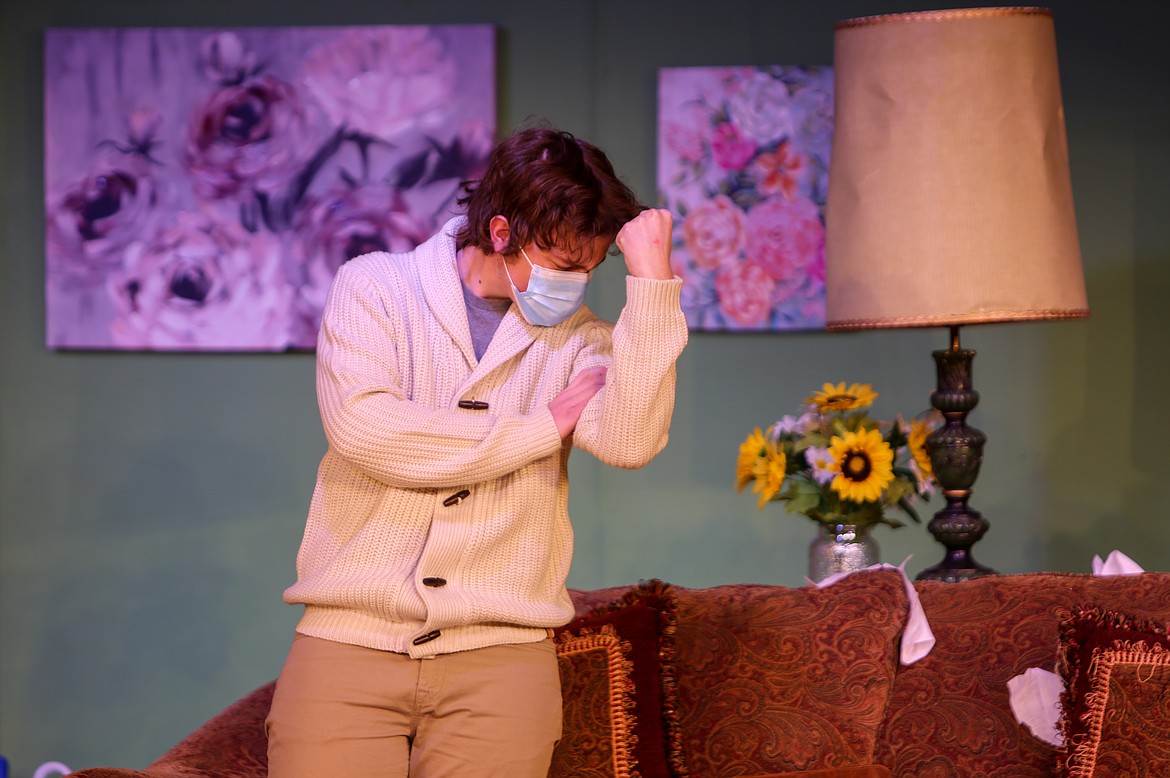 Ephrata senior Miles Plagerman "flexes his acting muscles" onstage during rehearsals at the Ephrata High School Performing Arts Center on Tuesday afternoon.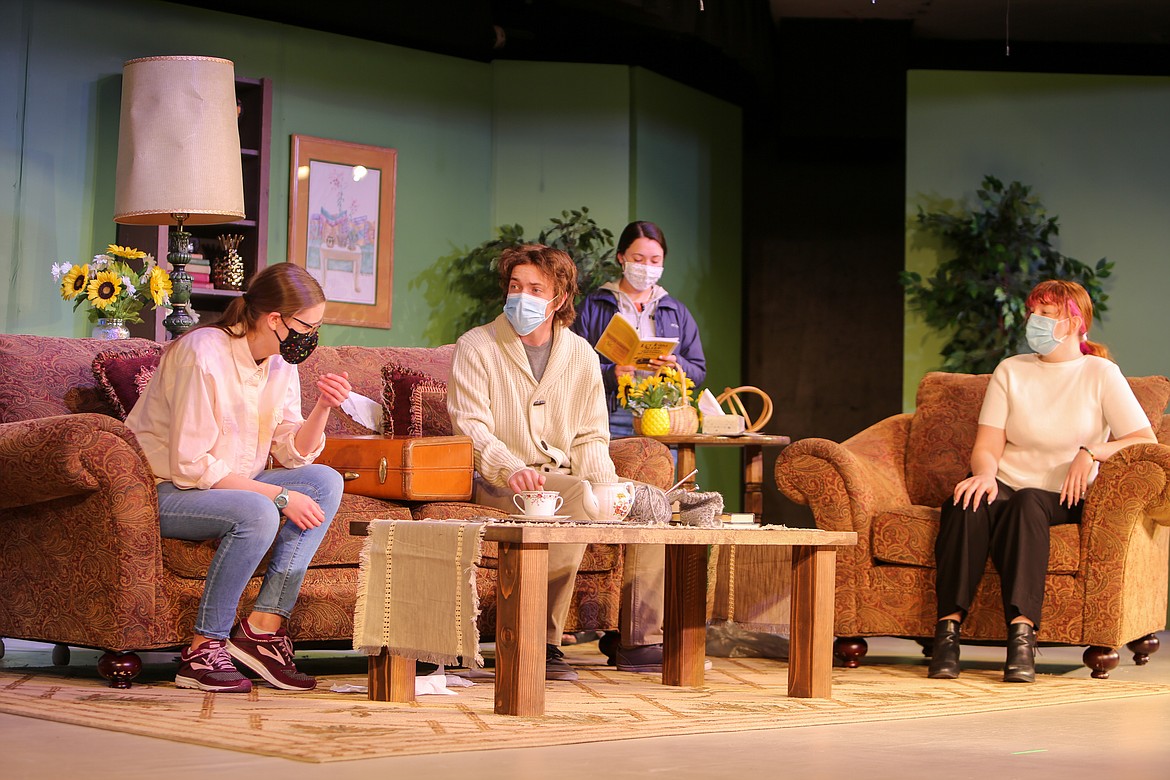 Left to right, Samantha Somes, Miles Plagerman, Emily Pugh and Emma Coats go through rehearsals before next week's live performance at the Performing Arts Center building at Ephrata High School on Tuesday.
Previous
Next
by
CASEY MCCARTHY
Staff Writer
|
March 12, 2021 12:55 AM
The stage is set, the lights are warmed up, and the masks are on, as Ephrata High School drama students prepare for their first live performance in a year on Monday.
EHS students will perform the comedy, "Let Him Sleep Until it's Time For His Funeral," after having a livestream performance in the winter. Seating for the show will be limited to about 25% capacity under the current health guidelines.
Ephrata Drama Director Marla Allsopp said their spring performance last year came just before Gov. Jay Inslee announced schools would close due to the pandemic.
After the approval to continue shows for the final weekend, Allsopp said she told her students last spring to leave everything where it was because they weren't allowed in the building anymore. Set pieces sat on stage until this fall when students and Allsopp were finally able to return to the theater.
Allsopp said they were able to start some "in-person" work with students in separate classrooms around the end of November.
After months of students meeting through Zoom in separate rooms, Allsopp said they got some bigger group work when the region shifted into Phase 2. She said it's been exciting having the kids back in the theater.
"Once we were able to move into Phase 2 and have an audience, that's when you could really tell it changed their perspective on it," Allsopp said.
Allsopp said the livestream performances went well, but it just wasn't the same atmosphere her students were accustomed to and thrive on. She said that's what her students are there for, and students' excitement has ramped up significantly since they learned they'd perform in front of an audience next week.
Allsopp said she tried following the same extracurricular guidelines for social distancing and group work athletics teams have. She said students keep up "airplane arms" while on stage to ensure they're keeping their social distance.
Allsopp said her students got accustomed to wearing their masks while performing on stage, overcoming some of the hurdles that creates in performing.
"They don't even notice them anymore; they're acting in other ways," Allsopp said. "They're using their bodies more, they're using their eyebrows more, they're relying on their voice because they can't rely on their faces for so much."
Allsopp said they've gone through the performance for next week scene-by-scene and made adjustments for certain parts to ensure they keep their social distancing while performing. She said some of the adjustments might seem a little odd, but that's just the norm of putting a show together during a pandemic.
For example, scenes where a wife might greet her husband with a kiss when they walk on stage is now replaced with the pair just blowing kisses to one another.
Allsopp said students are panicking a little bit.
"It's stressful the last week before performances, but I love seeing them have this type of stress instead of the other kind of stress they've had in this last year with other things," Allsopp said.
Miles Plagerman, an Ephrata senior drama student, has the lead role of John Dollefson in his last performance with the program. Plagerman said it's really special having that spot at the top of the casting list for his last performance.
Coming into this spring, he said he wasn't sure what to expect.
"To be able to have a live audience here is really special," Plagerman said. "It means my parents get to see my last performance."
Plagerman added it meant the world to him.
He said it has been an adjustment learning to convey emotions when people can't really see your mouth or much of your face.
"I think we've gotten really good at adapting that into body language, and, on stage, I think we've gotten a lot better at playing off each other to show emotion," Plagerman said.
Senior Destiny Bunney said it's really nice to be back together with her "family" in the drama community in the past few weeks. Bunney said even though it won't be a packed house on opening night, it will still be really special to perform in front of an audience one final time.
"Let Him Sleep Until it's Time For His Funeral" will open Monday night at 7 p.m., with a second performance set for March 18.
Casey McCarthy can be reached via email at cmccarthy@columbiabasinherald.com.
Recent Headlines
---