Reopening: State to move to Phase 3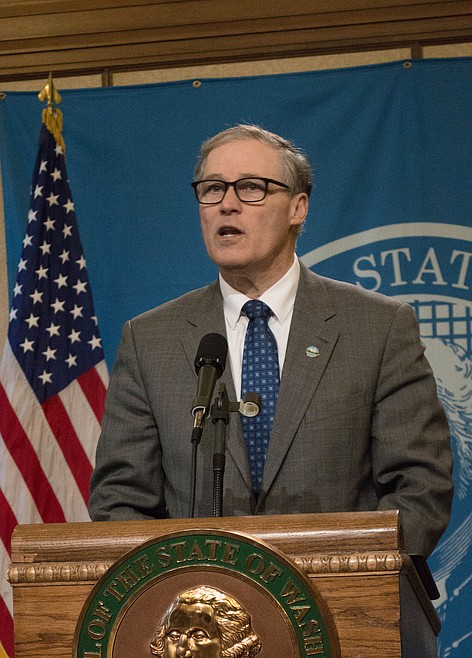 by
CHARLES H. FEATHERSTONE
Staff Writer
|
March 12, 2021 1:00 AM
OLYMPIA — Gov. Jay Inslee announced Thursday the entire state will move to Phase 3 of his COVID-19 Healthy Washington: Roadmap to Recovery plan effective March 22.
He also said the state will be transitioning from a regional approach to a county-by-county evaluation process.
"Because of the progress we've made by decreasing our case rates and hospitalizations, as well as our tremendous efforts to get more people vaccinated, our reopening plan is once again based on counties, not regions," Inslee said during an online press conference.
"We are excited to take this step and we will keep evaluating our progress, and the impacts of these changes, to determine how and when we reopen further," the governor added.
In Phase 3, businesses currently limited to operating at 25% capacity, such as gyms and restaurants, will be able to operate at 50% capacity. In addition, the size of gatherings can increase to 400 people, so long as it's 50% of a venue's capacity.
Sports can have in-person spectators at events for the first time in a year.
"Spectators will be allowed to attend outdoor venues with permanent seating with capacity capped at 25%. The change affects both professional and high school sports, as well as motorsports, rodeos, and other outdoor spectator events," according to an email from Inslee's office.
The governor said in all instances, social distancing and face mask rules will still remain in place.
"Some of the hardest hit businesses in Washington will be able to return to 50% capacity as we continue on the road to recovery," Inslee said. "On March 22, we make one more step to beating this virus and rejuvenating our economy."
In a press release, the governor's office promised to release a complete list of "industry-level changes" for Phase 3 next week.
Besides that, on March 17, "everyone in Phase 1B, Tier 2 will be eligible for their COVID vaccine. This includes workers in agriculture, food processing, grocery stores, public transit, firefighters and law enforcement, among others. Phase 1B, Tier 2 also includes people over the age of 16 who are pregnant or have a disability that puts them at high-risk," the email from Inslee's office stated.
"That's great, that's great. He heard us loud and clear," said Debbie Doran-Martinez, president of the Moses Lake Chamber of Commerce, regarding Phase 3. "Last week we were talking with representatives from his office asking him to tie the next phase to the vaccination rate. With more vaccines in arms, needs to be more (business) capacity."
However, Doran-Martinez said it would be better if there were more details not on just what Phase 3 will look like, but also what Phase 4 will entail.
"Fifty percent is better than 25%, no doubt, but is Phase 4 fully opened?" she asked, noting communities like Moses Lake have events coming and planners need to know how many people will be allowed to attend.
"Getting us to Phase 3 is great, but tell us what Phase 4 looks like so we can be planning appropriately," Doran-Martinez said.
According to the governor's office, counties with more than 50,000 residents, like Grant County, will need to maintain a 14-day daily average of new COVID-19 cases at 200 per 100,000 or fewer and a seven-day average of hospitalizations of five or fewer.
Counties with fewer than 50,000 residents, like Adams County, must maintain a 14-day average new case count of 30 or fewer, and a hospitalization rate of three or fewer.
However, if at any point statewide ICU capacity hits 90%, the entire state will move down a phase, the governor's office said.
Charles H. Featherstone can be reached at cfeatherstone@columbiabasinherald.com.
---