Big Bend women's wrestling picked up first dual meet win in program history last Saturday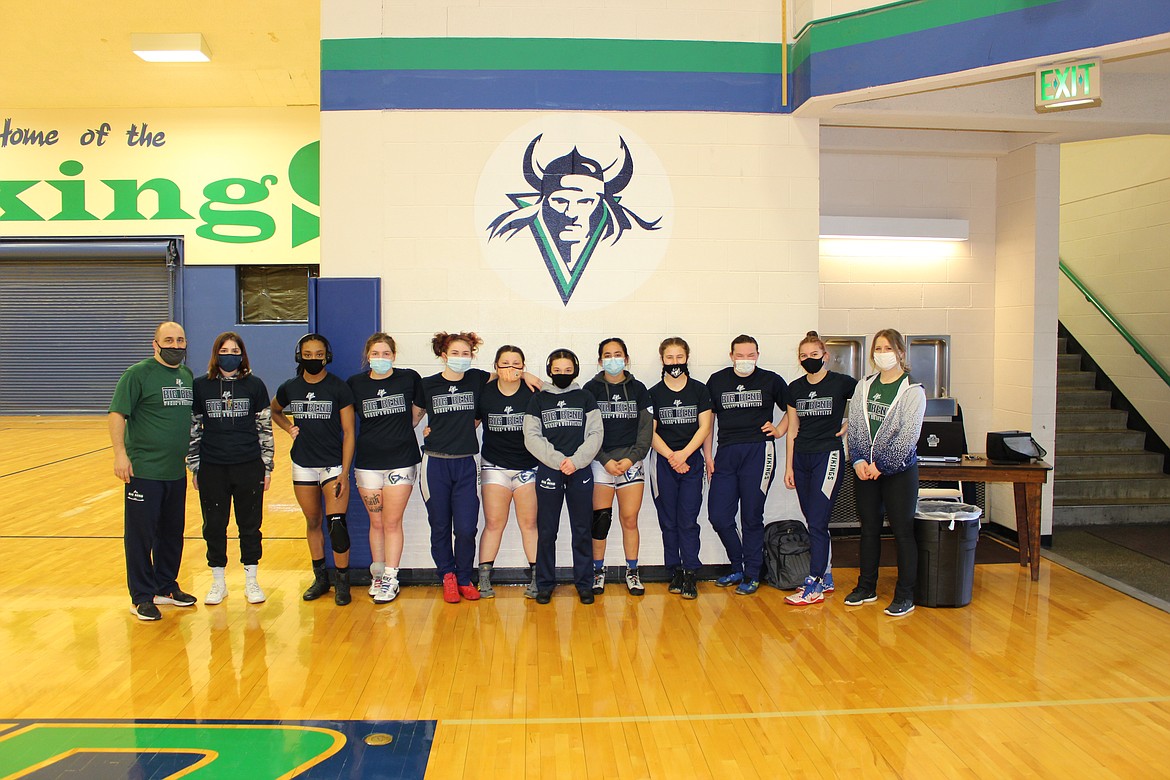 Left to right, Coach Bryan Seibel, Cora Orton, Aliyah Yates, Sierra Mason, Araya Boday, Sarah Hamilton, Kayla Rogers, Kayla Trujillo, Kaitlyn Lemmon, Adele Moulton, Alexie Donahue and Coach Tatam Sparks pose for a photo together at Big Bend Community College on Saturday afternoon.
Courtesy Photo/Matthew Killebrew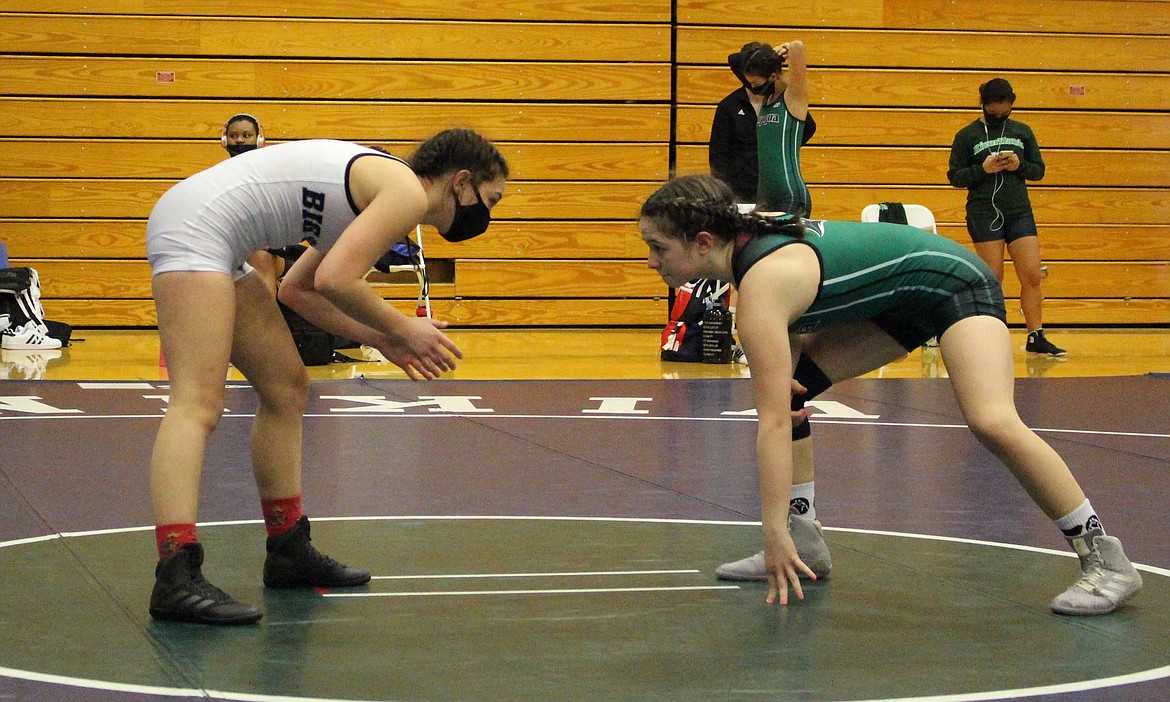 Big Bend wrestling team captain Kayla Rogers, left, squares up with her opponent on the mat on Saturday afternoon at Big Bend Community College.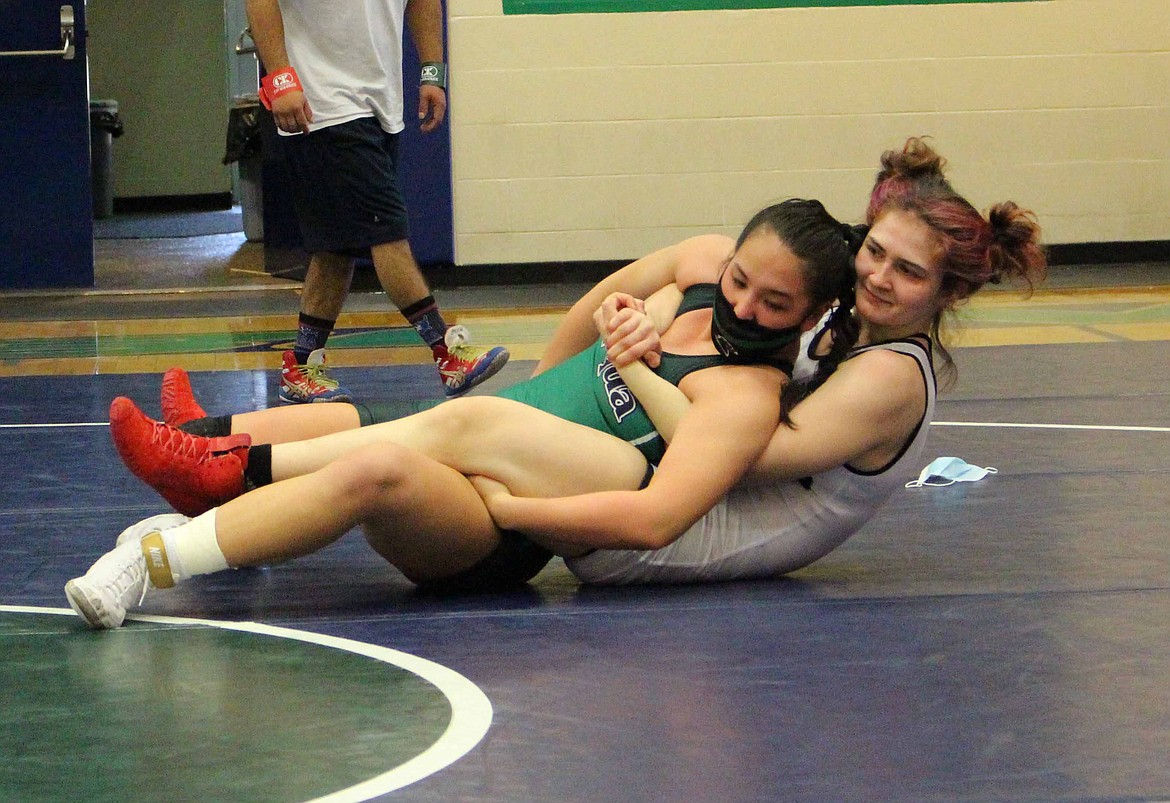 Big Bend's Araya Boday picked up the win on Saturday afternoon against Umpqua's Maya Lindskog in their bout at 155 in the Vikings' home duel meet.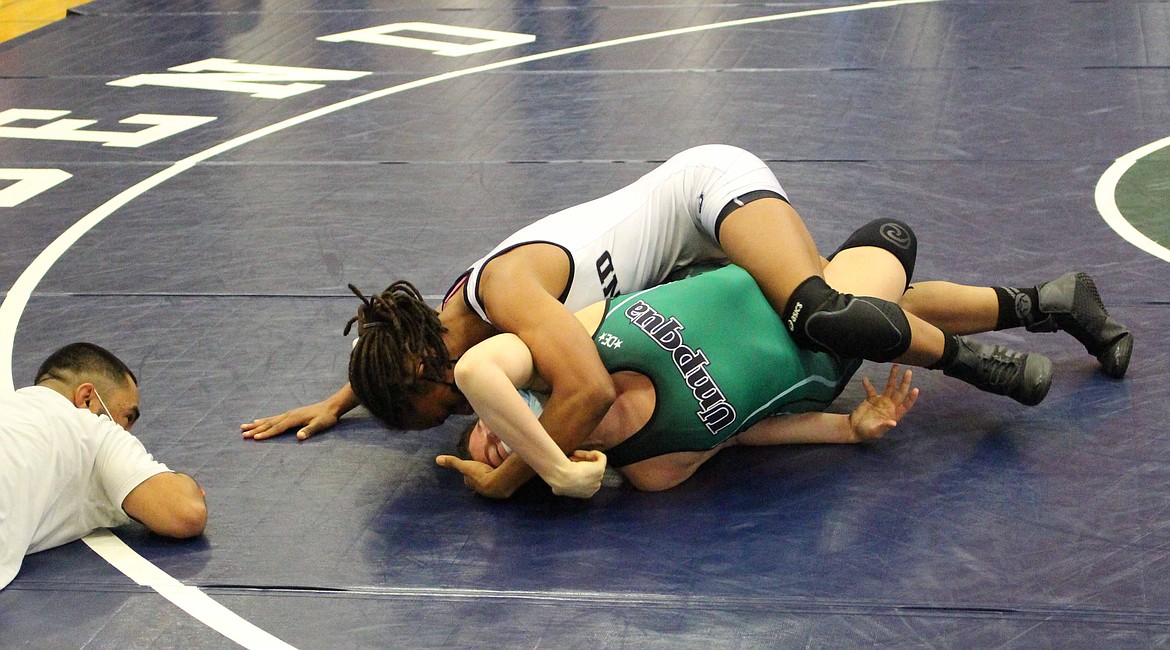 Aliyah Yates works on flipping her opponent to her back on the mat on Saturday afternoon at Big Bend Community College.
Previous
Next
by
CASEY MCCARTHY
Staff Writer
|
March 11, 2021 1:00 AM
MOSES LAKE — Big Bend women's wrestling kicked off their 2020-21 season on a hot note, winning their first-ever home dual meet in the young program's history against Umpqua last Saturday at Big Bend Community College.
The Vikings fell behind early after a slew of forfeits, but were able to claw back to take a tight victory in their opening meet, 25-25, winning by pins 4-1. Big Bend head coach Bryan Seibel is in his second year as head coach of the program. He said they only had about seven wrestlers for most of the year and now have about 15 women.
"In previous years, we never had that full lineup, so going to duals and not being able to completely compete was tough," Seibel said. "This was our first home dual win in school history, so it was definitely nice to get a little tradition going."
Seibel said it has been a difficult year for any program, navigating all of the challenges that have went into hosting this season. For wrestling, those hurdles were only greater.
He said he had the team together through Zoom meetings since last July, starting some work in small pods in the middle of January. Now, he said they're able to work together as a team in practice.
Athletes had to have a negative COVID test 48 hours before the match on Saturday and had symptom checks done at the door. Seibel said he tips his hat to the executive team at Big Bend for helping make this season happen.
Seibel said he's had a lot of fun working with his team this year and said his players are all ready to learn every day in practice.
"Being out there and being involved participating in something great, wrestling gives you so many abilities from building your character to success in life," Seibel said. "You don't find many wrestlers that were successful on the mat that weren't successful in life."
Seibel said he plans to work on the foundation heading toward the WCWA National Championships in April and inaugural Community College National Championship in May.
Sophomore team captain Aliyah Yates said it was exciting being back on the mat for the first time since she was at Nationals last year. Yates said she focused on weight lifting and training on her own while the team was unable to practice.
"The key was to stay at it every day because it's so easy to get lazy when there's nothing to do," Yates said.
She said it's been great having so many more teammates to train. After catching herself by surprise with her success last season, Yates said she's focused on keeping that motivation at an all-time high.
Big Bend captain Kayla Rogers said she was nervous before the meet, but quickly came up with a plan to beat her opponent. Finishing the day at 3-0, with two exhibition wins and no points earned against her, let her see that planning pay off.
Rogers said it was great starting with a win against an Umpqua team she saw numerous times as a freshman.
"I saw them like every weekend," Rogers said. "To win against that team felt really good to have the numbers finally. It was really nice to kick everything off with a positive note."
Casey McCarthy can be reached via email at cmccarthy@columbiabasinherald.com.
Meet results
101: loss by forfeit
109: Kayla Rogers (Big Bend) wins by fall over Angelina Barrett
116: loss by forfeit
123: loss by forfeit
130: Aliyah Yates wins by technical fall, 12-2, over Karen Belio
136: Alexi Donahue lost by fall to Sofia Pablano
143: Kayla Trujillo wins by fall over Abraham Jolley
155: Araya Boday wins by fall over Maya Lindskog
170: Sierra Mason wins by fall over Tiyanna Leal
191: Sarah Hamilton lost by technical fall, 17-7, to Melia Cuevas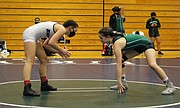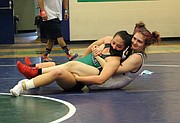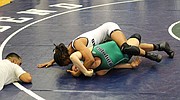 ---