Virtual concert, real smiles: Moses Lake's Brews and Tunes goes digital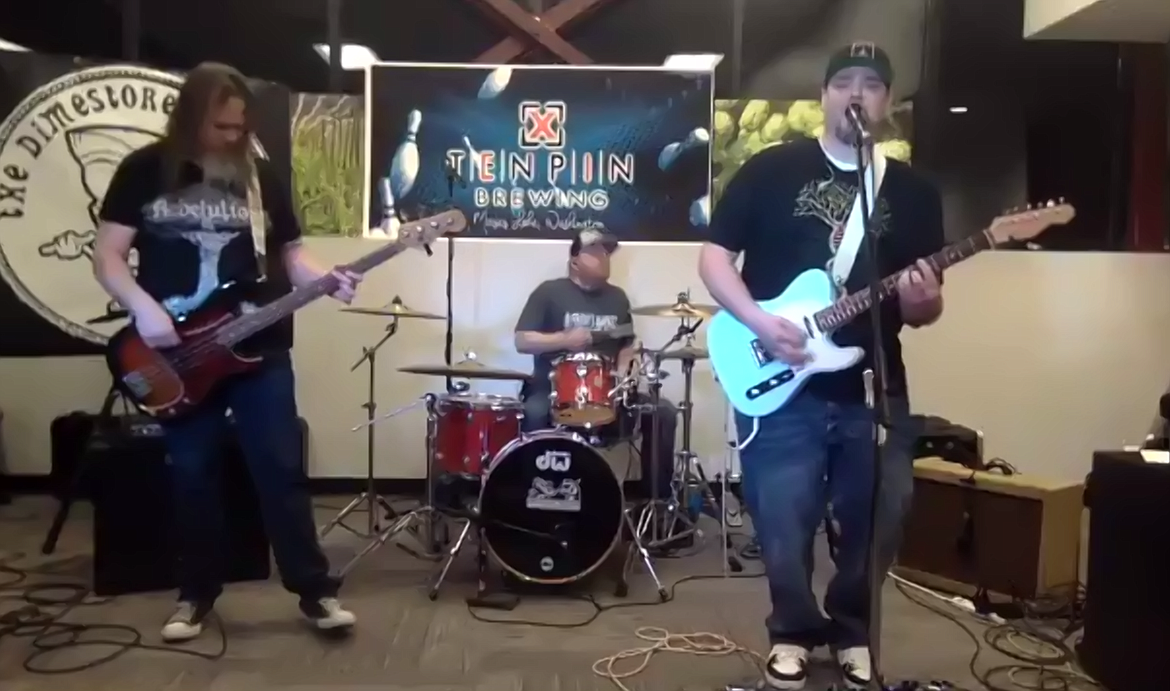 Left to right, Eric Groff, John Wilson and Ray Glover of Dimestore Prophets play at Ten Pin Brewing Company for Brews and Tune-IN on Saturday.
Sam Fletcher
Saturday's Brews and Tune-IN event shirt.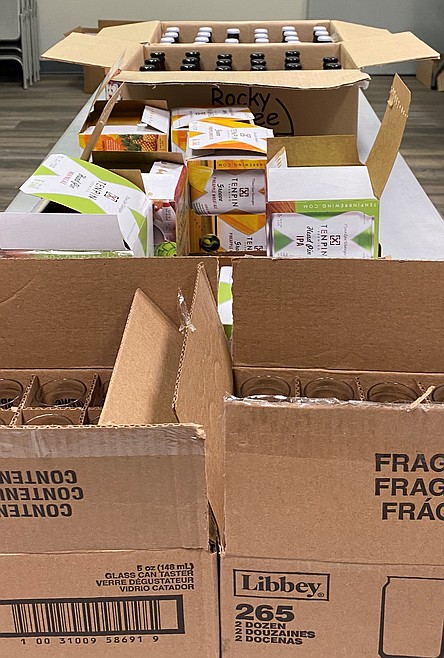 The Brews and Tune-IN brew selection came from Paradise Creek Brewery of Pullman, Rocky Coulee Brewing Company of Odessa and Ten Pin Brewing Company of Moses Lake.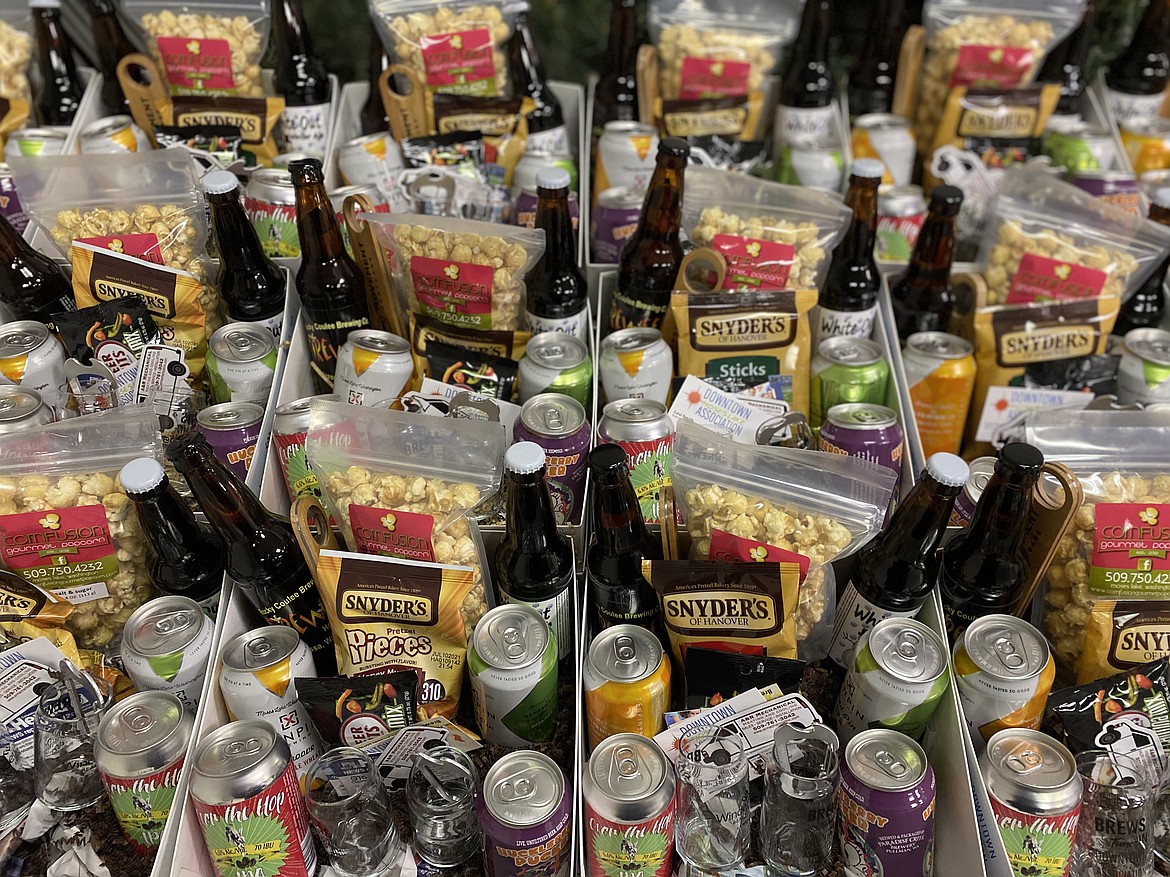 Brews and Tune-IN baskets included snacks, bingo cards to downtown businesses, tasting glasses, and a wide selection of beer and a ticket to Saturday's virtual concert.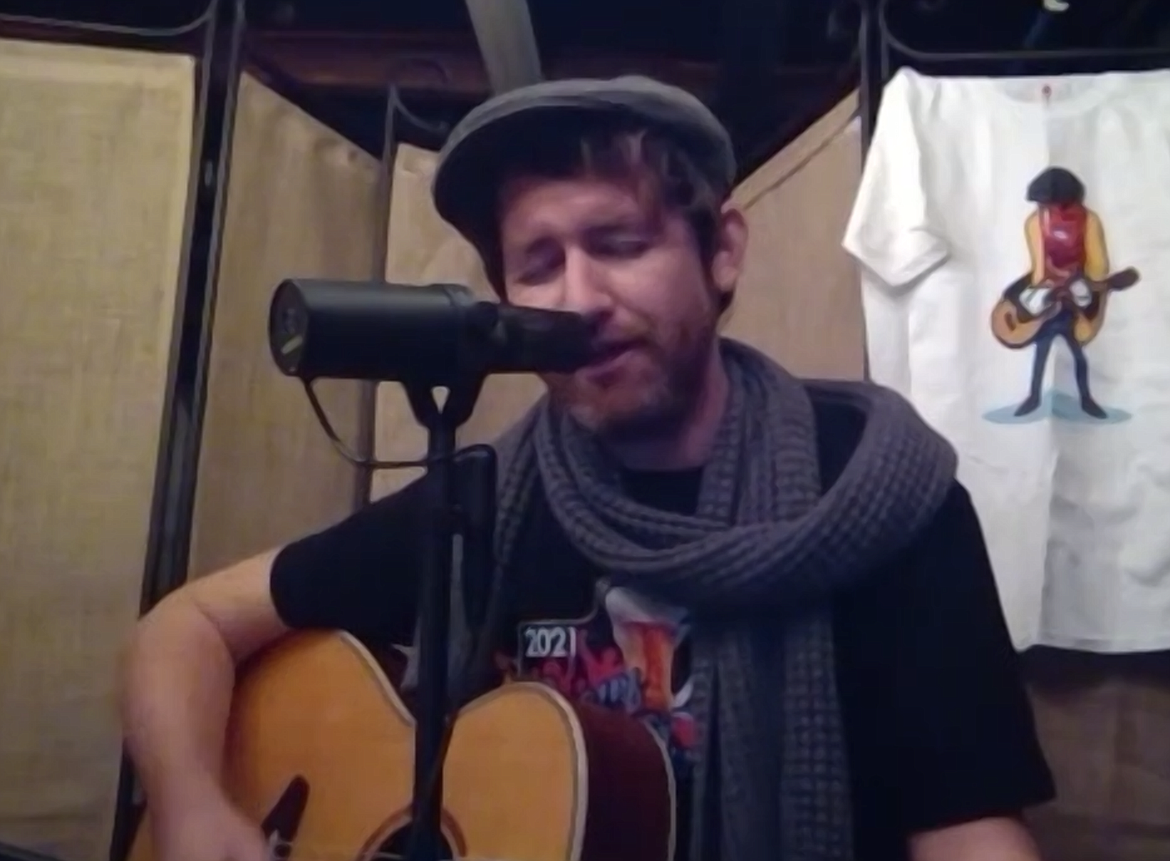 Wenatchee based musician Rylei Franks plays for the Brews and Tune-IN event on Saturday.
Previous
Next
by
SAM FLETCHER
Staff Writer
|
March 3, 2021 1:00 AM
Moses Lake's annual Brews and Tunes event, Downtown Moses Lake Association's festival of local breweries and bands, went virtual for the first time Saturday night, becoming Brews & Tune-IN.
It was important to keep all of the aspects people love about the in-person event, said Lexi Smith, business association executive director. It took some creativity to make the digital event just as engaging, she added.
This included providing baskets with snacks, bingo cards to downtown businesses, tasting glasses, and of course a wide selection of beer and a ticket to the virtual concert.
"It's not the same over Zoom, but it's close and it works," Smith said. "We're able to still do a lot of the same traditions and same things at Brews and Tunes that people love so much, which is having all these different breweries in one place and being able to taste all these different kinds of beers."
Rick Serra, the event's emcee, kicked off the night with Pullman brewery Paradise Creek's Huckleberry Pucker Shandy and Over The Hop IPA.
Next came the acoustic beach stylings of local band One Soulution from the comfort of a dining room colored in concert lights and homemade posters.
About 45 muted attendees tuned in, inundating the chat box with all-caps cheers and clapping emojis.
Odessa brewery Rocky Coulee Brewing's Fireweed Honey Blonde and Whiteout Winter Ale were next on the flight, enjoyed to Wenatchee-based musician Rylei Franks.
Last but not least was Moses Lake's own Ten Pin Brewing Company's Head Pin IPA and Groove Pineapple Wheat Ale, the latter of which was a collaboration with local groove reggae rock band Dimestore Prophets, who closed out the night.
DSP, performing on the second floor of Ten Pin, broke up their Sublime and Michael Jackson covers, old originals and new songs with jokes and virtual hugs, even freestyling about Brews & Tune-IN and Moses Lake over Buffalo Springfield's "For What It's Worth."
Post show, the band felt on top of the world, said DSP lead singer Ray Glover. The digital audience didn't hold them back at all.
"The whole thing about us three is, like, we get to hang out together and play music and then at least seeing people's faces. That's super important," said drummer John Wilson. "Would I have rather smelled (the crowd's) bad breath? Probably. I don't know. But it was cool to see everyone. It was awesome."
Smith said she considers her first Brews & Tune-IN a success, she said, and is determined to keep that energy throughout the year.
"We're still going to see each other whether it's virtually or social-distanced or however we're going to do it," she said. "It's going to be an innovative year, and we're going to find a way to be able to do all of our events no matter what."
Recent Headlines
---