New Moses Lake football coach Brett Jay laying the groundwork in summer practices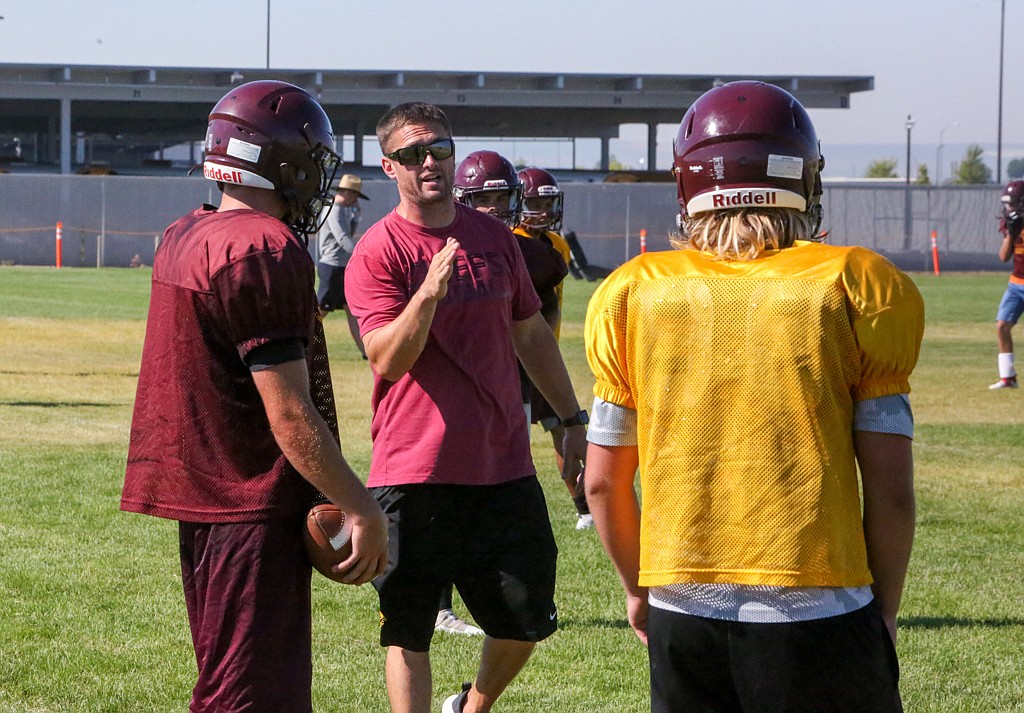 Moses Lake High School head football coach Brett Jay talks with his players in between action Tuesday morning at practice at the high school.
Casey McCarthy/Columbia Basin Herald
by
CASEY MCCARTHY
Staff Writer
|
June 30, 2021 1:00 AM
New Moses Lake High School head football coach Brett Jay finished up his seventh practice with his new team Tuesday morning at Moses Lake High School as he begins to build toward his first season with the program this fall.
Jay said the Moses Lake Chiefs team is in their second week of summer practices, having moved practice times to the morning this week due to the heat. Initially work on instilling the basics with his team, he said the players are starting to overcome that initial learning curve.
"Guys are starting to play fast and we're starting to see some of our athleticism, so it's been great," Jay said.
He said there's nothing quite like the sweat and hard work that comes on the practice field.
Meeting the players and building the brotherhood with his team and coaching staff is one of his favorite parts of coaching, he said. Football is about relationships, so Jay said it's been nice starting to build those bonds with this group.
These first few weeks of practice help the new coach learn where his guys are at and get an idea of where players will fit best on the field when the season rolls around. Jay praised former head coach Todd Griffith for building a great foundation with the program and has a wide number of players that can step on the field on Friday nights in the fall and make a difference.
Jay said he knows what teams faced last season not playing until the spring and dealing with pandemic protocols and restrictions and is excited to get started with a hopefully "normal season" this fall.
"I know what they went through last year was brutal, not just for coaches and planning but for players," Jay said. "Now you can see kids acting like kids, acting like student athletes instead of not being around people."
With graduated senior quarterback Everett Ashley moving on, Jay said there are two candidates that have emerged to compete for the starting spot under center on offense. Brock Clark and Joel Middleton are two "great football players" that Jay said have come in to practice each and every day with enthusiasm and excitement.
He said both players have embraced the competition and knows both athletes will be on the field in one spot or another when Friday nights roll around. Jay said a big part of building trust with his players and helping them understand that the coaching staff is focused on finding the best spot for them to succeed on the field.
Zack Reyer has been named a captain for the team, someone who Jay said has the leadership and selfless attitude to lead the 4A program. With 30 more workouts left this summer before the end of August, he said he's excited to see what other leaders emerge with hopes of naming three or four more captains before fall.
After wrapping up practice this week, the Chiefs will continue with weekly workouts with a few seven-on-seven tournaments toward the end of July. The last week of will be a week-long camp for the players.
"Everything has been introduction so far, so when we get back in July, we'll forget some things
so we'll be able to recall some of that and finalize our install so everything is in and fresh in their minds when we come back for two-a-day's," Jay said. "If we stop, they might forget some things."
After a dead period at the beginning of August, it will be time for two-a-day practices to kick off ahead of the season in September. Jay said it's been a warm reception for him from the community, players and coaches and is excited to finally start laying the groundwork for his future with the program.
Recent Headlines
---