Heat relief: Serve Moses Lake distributes cold water on hot days
by
CHERYL SCHWEIZER
Staff Writer
|
June 29, 2021 1:07 AM
MOSES LAKE — For the second year, volunteers working with Serve Moses Lake will be offering cold bottled water on very hot days to unsheltered individuals and to people volunteers meet on the street.
Serve Moses Lake director Brandon LaBonte said he plans to distribute water all summer on days when it's 100 degrees and hotter.
"The homeless are who we're really trying to target to get water," LaBonte said.
Volunteers will be out distributing chilled water and other cold beverages, as well as hygiene packs for unsheltered people. Serve Moses Lake also has shower vouchers for the Moses Lake Sleep Center for people who are new to the area, he said.
Lupe Hernandez, who runs the Helping Hands Ministry, summed up the motivation for the volunteers when replying to a rhetorical question from Moses Lake Alliance Pastor Dave Watson.
"So, why are we doing this?" Watson said.
"To help thy neighbor, man," Hernandez said.
Volunteers come from churches all over town, LaBonte said. They are of a range of ages, including youth groups.
Monday's crew encompassed teens and adults, including Jane Borg, who works at Youth Dynamics.
"I just thought I'd come help," Borg said.
The heat is either breaking records or coming close, and Borg said she recognizes her good fortune – she has the option of going home to a house with air conditioning.
"I don't have to live in it," she said. "I have it pretty good."
Volunteers will be going around town for about two hours every day while the heat wave lasts, not necessarily at the same time every day. On Monday, the volunteer crews went out early in the afternoon, but they could go earlier in the day, or later. It just depends, LaBonte said.
"We want to make sure we're reaching those on the street," he said.
While the volunteers concentrate on unsheltered people, LaBonte said the crews also give water to people they encounter, who are just walking around town on a very hot day.
Serve Moses Lake started the program in 2020, and LaBonte said the organization learned a lot in the first year – where homeless people hang out on hot days and how to approach them.
People who want to volunteer or donate should contact LaBonte at Serve Moses Lake, 509-764-8276.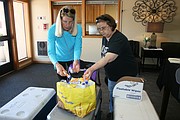 Recent Headlines
---