Warden girls win invitational, finish season 14-0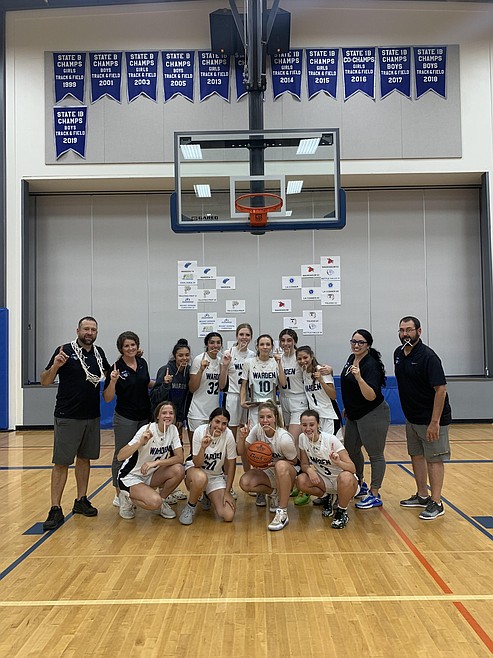 Warden High School girls basketball coaches and players pose together for a photo Friday night after winning the 2B/1B Invitational State Tournament at Mount Vernon Christian High School.
Josh Madsen/courtesy photo
by
CASEY MCCARTHY
Staff Writer
|
June 28, 2021 1:00 AM
The Warden High School girls basketball team ended the season undefeated Friday with a 72-66 overtime win against La Conner High School in the championship game of the 2B/1B Invitational State Tournament at Mount Vernon Christian High School.
The invitational tournament was organized by Mount Vernon Christian girls basketball coach Jeff Droog, who started reaching out in January to coaches and teams to participate in the event.
There were no state championship tournaments this season.
The Warden Cougars went into the tournament in the number one overall seed, and didn't disappoint, kicking off the tournament Wednesday with a 74-24 victory over eighth-seed Onalaska High School. Kiana Rios led the team with 19 points, while Lauryn Madsen and Jaryn Madsen made 16 apiece.
Thursday, Warden overcame some foul trouble on defense to defeat Tri-Cities Prep Catholic High School, 76-68. Jaryn Madsen led the team with 28 points. Lauryn Madsen finished with 19 while Kiana Rios chipped in 16.
Kiana Rios, named Most Outstanding Player for the tournament, dominated the championship game against La Conner Friday, with 35 points and 17 rebounds. Jaryn Madsen earned First Team All-Tournament honors and finished with 22 points and five three-pointers.
Warden finishes the 2021 season at 14-0. Cougars head coach Josh Madsen said the team faced plenty of adversity, but his team pushed through.
"There were some opportunities for us to roll over and be done, but the girls just didn't quit," Madsen said. "I think having some resistance playing some really good teams and still figuring out ways to win even if we weren't at our best is really important for us moving forward."
Recent Headlines
---