Inslee creates 'bridge' on eviction moratorium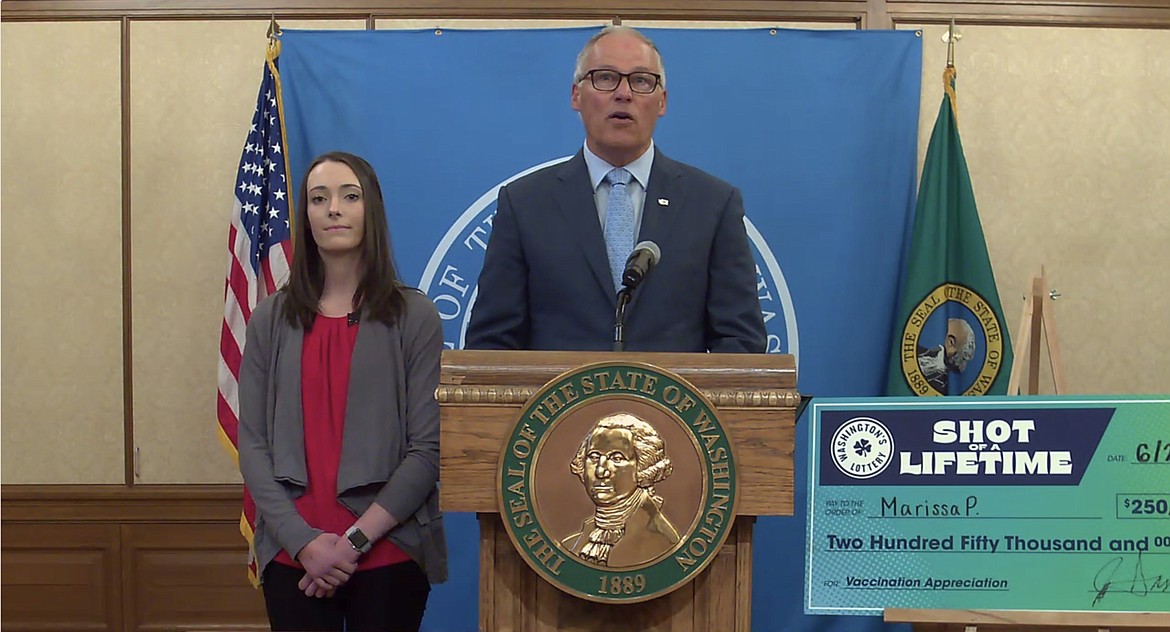 Gov. Jay Inslee (center) with Spokane nursing student Marissa P., the winner of this week's $250,000 "Shot of a Lifetime" drawing, at an online press conference Thursday to announce some temporary changes to the state's renter and landlord assistance programs.
by
CHARLES H. FEATHERSTONE
Staff Writer
|
June 25, 2021 1:05 AM
OLYMPIA — As the state's eviction moratorium prepares to end on June 30, Gov. Jay Inslee on Thursday announced a short-term "bridge" to help both renters and landlords as the state gets its rental assistance process in place.
Speaking during an online press conference, Inslee said while he is not extending the moratorium on evictions, the three-month "bridge," which begins on July 1 and ends on Sept. 30, will give landlords and renters time to apply for state financial assistance for back rent and make arrangements to pay rent going forward if those arrangements are needed.
"The bridge is necessary to protect against homelessness," the governor said, adding as the state is preparing to open up and get back to something resembling normal business, it's important not to see "a wave of homelessness" as the result of evictions.
Under the proclamation, Inslee said renters are expected to begin paying their full rent on Aug. 1, or seek assistance with rent or make arrangements with their landlords. In exchange, no landlord may start eviction proceedings against any tenant until Aug. 1, and then only after first offering the tenant a payment plan.
The proclamation overlays a law passed during the spring session, which Inslee signed, creating a series of programs, including dispute resolution and financial assistance designed to help both landlords and tenants. However, how all of this will work is still being determined.
Under both the new law and the governor's proclamation, no tenant may be evicted for rent not paid during the 17 months of the COVID-19 emergency from March 2020, through July 2021, and landlords are not allowed to take legal action or attempt to collect rent from a tenant who has been reimbursed by the state.
"It cannot be treated as a debt," Inslee said.
Inslee said there is more than enough money to help renters and landlords affected by the COVID-19 restrictions, though how that help would be disbursed and to whom was not made clear. Inslee said it will take time to get procedures written and processes put in place for county officials to receive and approve applications for rental assistance. And that's why he issued the proclamation Thursday.
"Money is available, but the process is not," Inslee said.
According to Inslee advisor Jim Baumgart, the Washington State Department of Commerce has calculated around 8% of the state's renters — roughly 80,000 people — have not paid around $1.2 billion in rent beginning in March 2020.
"That's down from 13% earlier this year," Baumgart said. "That's a lot of applications for local governments to process and a lot of rental assistance to get out."
In response to a reporter's question, Baumgart also said the new state law, as well as the governor's "bridge" proclamation, does not prohibit landlords from raising rents beginning July 1.
Charles H. Featherstone can be reached via email at cfeatherstone@columbiabasinherald.com.
Recent Headlines
---