Rev. Klockers: A reevaluation of prayer in the face of distressing news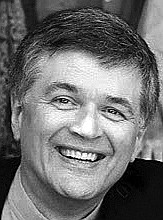 by
Rev. WALTER KLOCKERS
|
June 24, 2021 1:00 AM
In 1 Thessalonians 5:16-18 from the New Revised Standard Version of the Bible, it says: "Rejoice always, pray without ceasing, give thanks in all circumstances; for this is the will of God in Christ Jesus for you."
On May 20, our son Benjamin refused to put any weight on his right leg.
On that morning, he complained about a pain in that leg and pointed to the back of the knee.
We reasoned that Benjamin experienced some sort of muscle strain or cramp during the night and that things would be just fine in a few days.
This had happened with the other leg about three years ago. So, we reasoned, he was likely doing this again.
However, after a week, there was no improvement. So, we called his doctor for an appointment. Unfortunately, the doctor was on vacation. More time passed. We were able to be squeezed in soon after he had returned.
The doctor set up a number of tests for Benjamin. Nothing unusual was revealed.
The thinking was that Benjamin had indeed experienced another minor cramp or strain as he had before. He was scheduled for physical therapy in order to get his leg working again properly; the muscles in the leg had tensed up.
After a couple of sessions we thought our son was on the road to recovery.
However, one evening, as he was sitting on the couch wearing his shorts, Jeanne noticed that Benjamin's right leg looked odd. It was swollen. She wondered out loud if he had a blood clot. Jeanne called his doctor. An MRI was quickly scheduled. Sure enough, a substantial blood clot was discovered in the leg that had been bothering him.
It was then that we asked for prayer from the folks of our congregation. Matters had changed. Things were more serious than what we originally thought.
Ben was prescribed medication to dissolve the clot. The complete healing process will be over the next few weeks.
We are so thankful that we caught this in time.
Today I was reflecting back upon when we asked for prayers for Benjamin. It happened when things began to get a little scary.
This reminded me of a type of prayer that has long been lacking in my life. This is prayer for thanksgiving that is given every day. It is given no matter what the circumstances, good or bad, in happiness or sorrow. It is constant. It is a recognition of God's presence and does not treat prayer as a "break glass in case of emergency" type of thing.
So, my renewal of prayer begins today. Can you join me?
Walter is pastor of Immanuel Lutheran Church in Moses Lake and has served as parish pastor for more than 30 years.
Recent Headlines
---