Tri-Cities artist featured at Othello's Old Hotel Art Gallery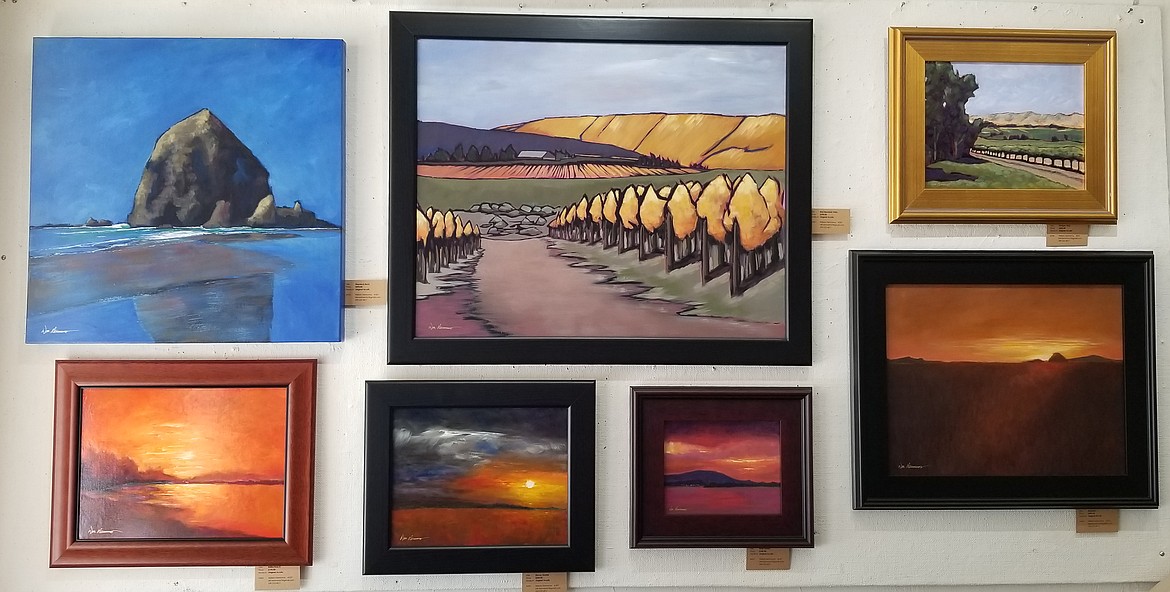 The works of William Hermanns are on display at the Old Hotel Art Gallery in Othello through the end of June.
Rachal Pinkerton/For the Columbia Basin Herald
by
Rachal Pinkerton, For the Columbia Basin Herald
|
June 23, 2021 1:00 AM
OTHELLO — Original paintings by artist William Hermanns are on display at the Old Hotel Art Gallery in Othello through the end of June.
Painting has been a longtime hobby for Hermanns. The Tri-Cities resident started painting as a teenager after watching his father.
"My dad was very busy in his career," Hermanns said. "He traveled the continental U.S. and overseas doing construction. But he always made time for painting. That's always stuck with me."
As an adult, Hermanns also worked construction, raised a family and painted sporadically. While work sometimes prevented him from painting much, the hobby stuck with him. After retiring in 2017, he began painting full time.
"It's still kind of a hobby," Hermanns said. "It's something to fill my time."
When Hermanns first started painting, he did a lot of abstract art. Over the years, he has turned to landscapes and figures with an abstract feel.
"People look at my work and say, 'It doesn't look like the same artist did this,'" Hermanns said. "I tell them, 'I'll figure it out when I grow up.'"
Color is fascinating to Hermanns. He likes looking at other people's paintings to see their color combinations and how they compose their paintings.
"I enjoy looking at art as much as I enjoy painting," Hermanns said.
As a teenager, Hermanns started out his painting hobby using oil paints because it was what his father used.
"Naturally, I borrowed his paints," he said.
Now, Hermanns uses acrylic paint on both canvas and paper. Hermanns said the reason for the switch in paints was the ease of cleaning up after using acrylic paint. While he doesn't miss the solvents needed to clean up oil paint, he does miss the longer drying time that oil paints have.
"I do miss the fact that oil has a little bit more time to work with it," Hermanns said. "You can achieve some effects that you can't achieve with acrylics. I'm constantly trying to achieve the oil look."
That isn't the only thing about Hermanns' art that has changed. Hermanns used to only paint for himself and his family and didn't display his work outside of his home. But in recent years, he has started displaying his work in public. He joined the artist cooperative Cyber Art 509 and now has his work permanently on display alongside other artists at Gallery Underground, located in the historic Roxy Theatre Antiques and Gifts in downtown Kennewick.
While Hermanns doesn't need to sell his art work to have a comfortable retirement, displaying and selling his paintings does solve an issue he has: what to do with all of his completed paintings.
"I can't store all the paintings," he said. "I'm pleased if someone likes my pieces enough to buy them. I've sold two pieces at the Old Hotel."
Hermanns' work will be on display at 33 E. Larch St., Othello, through the end of June. His work can also be found on Facebook at @wmhermannsart and on cyberart509.org under Bill Hermanns.
Recent Headlines
---