Prep roundup: Royal wins NCR, Warden girls go undefeated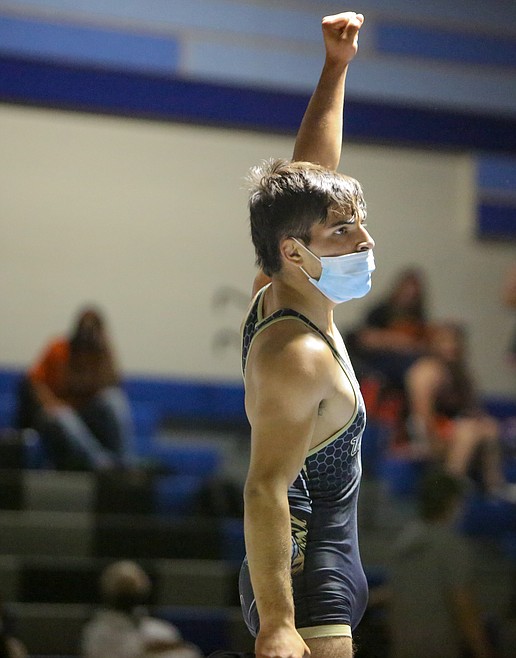 Royal High School senior Dominic Martinez holds his hand high after winning his match against Wahluke High School's Sergio Tapia on Saturday afternoon in Warden.
Casey McCarthy/Columbia Basin Herald
by
CASEY MCCARTHY
Staff Writer
|
June 23, 2021 1:00 AM
Wrestling
North Central Regional Championship
Royal High School won the NCR Championship Thursday with a final score of 136.5 over second-place Tonasket High School with 133.5. Ephrata High School finished fifth, Warden High School took sixth and Quincy High School finished eighth while Almira/Coulee-Hartline finished 13th.
Royal's Yahir Morales (132 pounds), Dominic Martinez (138) and Brian Hernandez (160) finished at the top of their respective weight classes. Mark Martinez (160), Clinton Garnick (170) and Benji Bustos (220) finished second overall. Rayce Eilers (170) placed third, while Eric Myrick (152) finished fourth.
For Ephrata, Evan Boyd (113) and Rashann Olsen (140) finished first overall in their weight classes. Zander Boyd (106), Lucas Tucker (285) and Kadie McMullen (140) placed second. Hudson Sager (152) took third while Kelvin Sager (145) placed fourth.
Warden's Manny Canales (113), Cael Cox (126) and Brenton Cole (145) finished second. Cason Cox (132) took third while Nathan Mendez (195) and Gio Castro (106) finished fourth overall.
Quincy High School's Israel Perez finished first overall for the Jacks. Christian Silva grabbed the third-place finish while teammates David Medina and Adiel Sandoval both finished fourth.
Big 9 Wrestling Finals
Moses Lake High School's Dayton Regan grabbed the first place finish Thursday. Josh Grubb, Cody Byers, Brock Clark and Joey Freidig all picked up third-place finishes. Derek Grubb placed fourth overall.
Girls basketball
Warden 84, Tonasket 28
Ten Warden Cougars scored against Tonasket Saturday. Lauryn Madsen finished with 20, Jaryn Madsen finished with 16 and seven assists and Kiana Rios had 14 points.
Warden will compete in an invitational 2B summer state tournament this week, the top seed in a field of eight teams. The Cougars open the tournament Wednesday against eighth seed Onalaska. Warden finished the season undefeated.
Warden 83, Ephrata 40
Kiana Rios recorded her 1,000th point as a Warden Cougar Thursday, finishing with 28 points. Lauryn Madsen finished with 21 and senior Grace Richins finished with 10.
Other scores:
Othello 56, Pullman 48
Quincy 39, Cascade 22
Moses Lake Christian 70, Bridgeport 44
Almira/Coulee-Hartline 32, Okanogan 82
Boys basketball
Quincy 54, Cascade 37
TreyVaughn Bierlink led Quincy with 21 points Saturday. Aidan Bews finished with 15 points while Aidan Heikes chipped in 11.
Warden 65, Tonasket 69
The Cougars led most of the way through a tightly-contested battle with Tonasket High School Saturday. Kyler Cox led with 21 points, Oziel Martinez finished with 15 and Andrew Owens added 12.
Miguel Tamoya finished with 11 points and 11 rebounds. The Cougars hit 14 three-pointers as a team, with Cox and Martinez each finishing with five.
Other scores:
Ephrata 57, Warden 41
Moses Lake 68, Sunnyside 72
Othello 48, North Central 64
Moses Lake Christian 70, Bridgeport 45
Almira/Coulee-Hartline 57, Okanogan 63
---