Mint juleps, fancy hats and a horse race at Moses Lake Business Expo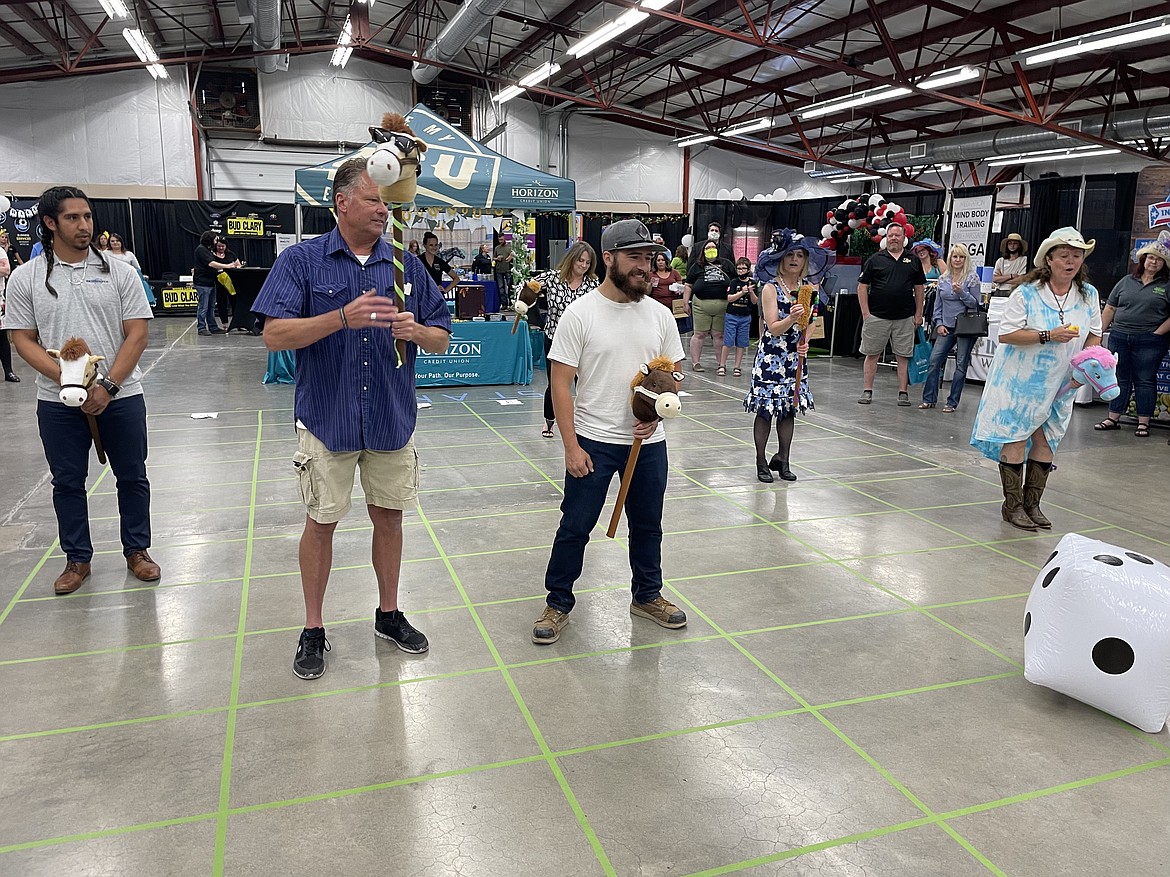 "Racers" Esteban Miron, Rich Victor, Daniel Mende, Danielle Boss, Vicki Rivers and Shannon "Shanbo" Waters near the end of their race held as part of the 2021 Kentucky Derby-themed Moses Lake Business Expo.
Charles H. Featherstone/Columbia Basin Herald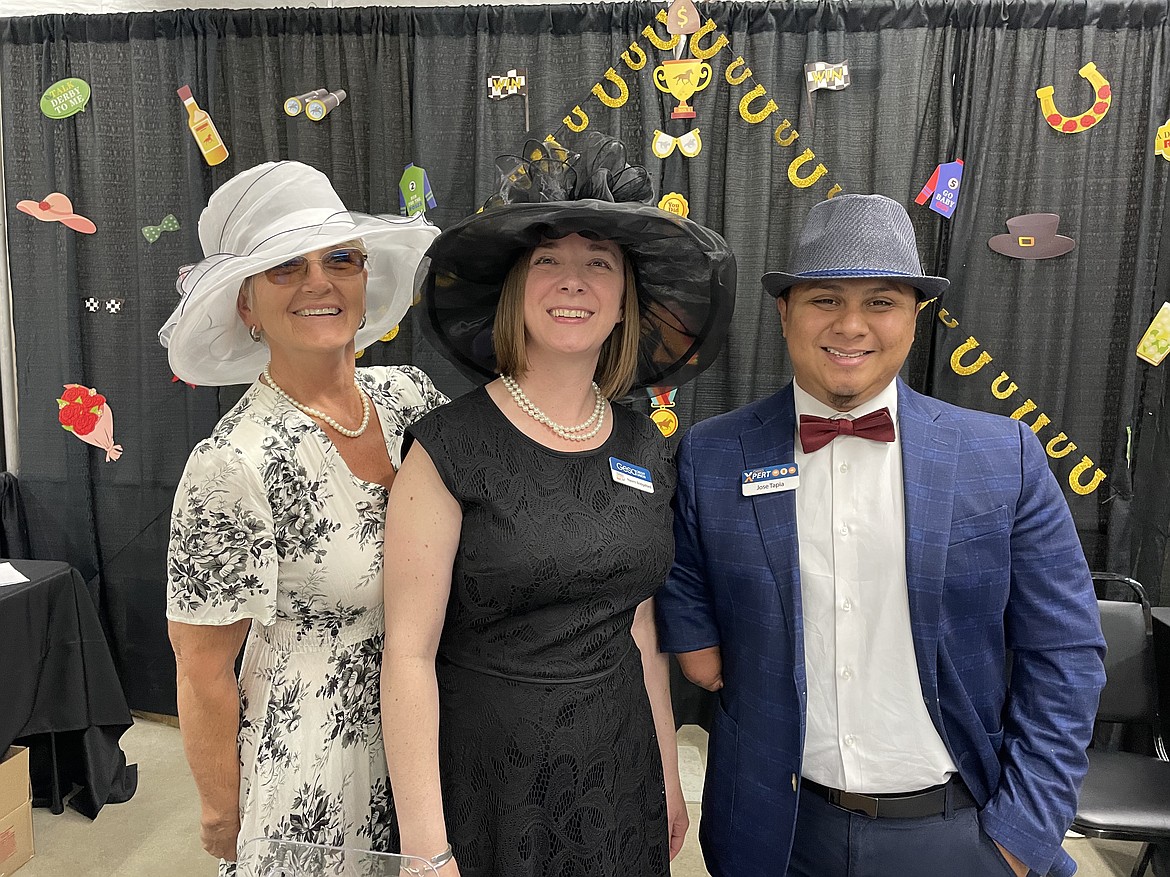 Joey Hansen, Naomi Bridgeford and Jose Tapia of Gesa Credit Union show off their Kentucky Derby finery at this year's Moses Lake Business Expo, held last week at the Grant County Fairgrounds.
Previous
Next
by
CHARLES H. FEATHERSTONE
Staff Writer
|
June 21, 2021 1:05 AM
MOSES LAKE — Getting business back on track.
That was the theme of this year's Moses Lake Business Expo, organized by the Moses Lake Chamber of Commerce and held at the Grant County Fairgrounds last week.
Titled "A Day at the Races," this year's expo modeled itself after the southern stylings of the Kentucky Derby, featuring a fancy hat competition and even a "horse race."
It's all about getting out from under more than a year of lockdowns, restrictions and limitations imposed in response to the COVID-19 pandemic, according to Chamber of Commerce President Debbie Doran-Martinez.
"We need to get back on track and that's our theme," Doran-Martinez said.
Attendance was brisk at the three-hour soiree, with business people from across the area arriving to eat, drink and socialize – both for business and pleasure – and show off their wares and services after a year of being locked down.
"It's good," said Travis Kohlrus, the regional Vice President for Vyve Broadband, which merged with Northland Communications in 2019. "It's good to see smiles and people running around and kind of working their way back to normal."
Jim Duzon, co-owner of Top Gun Concessions & Catering at the fairgrounds with his wife Joy, said the last 18 months have been "pretty slow" and he was not only glad to cater the business expo, but looking forward to traveling around to serve food and do business.
"Things are looking good. We've done several nice events over the last three or four weeks and people are ready to come out," Duzon said.
Duzon said his business would typically run concessions and serve food in 19 counties in three states, though that didn't happen in 2020.
"It seems like we've done more in the past two weeks than we've done in the last year and a half," said Mykiah Hollenbeck, who was named Miss Moses Lake Roundup.
Despite her mad equestrian skills, Hollenbeck was not one of the riders in the "horse race," which involved six people with hobby horses in a grid, each racer advancing one square when a giant pair of inflatable dice rolled their lane number.
That race was won by Shannon "Shambo" Waters, but only after real estate broker Doug Robins flipped a coin to determine who won, when the dice roll prompted both Waters and Rich Victor to finish at the same time.
"Winners win," Waters said. "It was destiny."
Charles H. Featherstone can be reached at cfeatherstone@columbiabasinherald.com.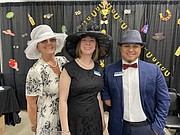 ---